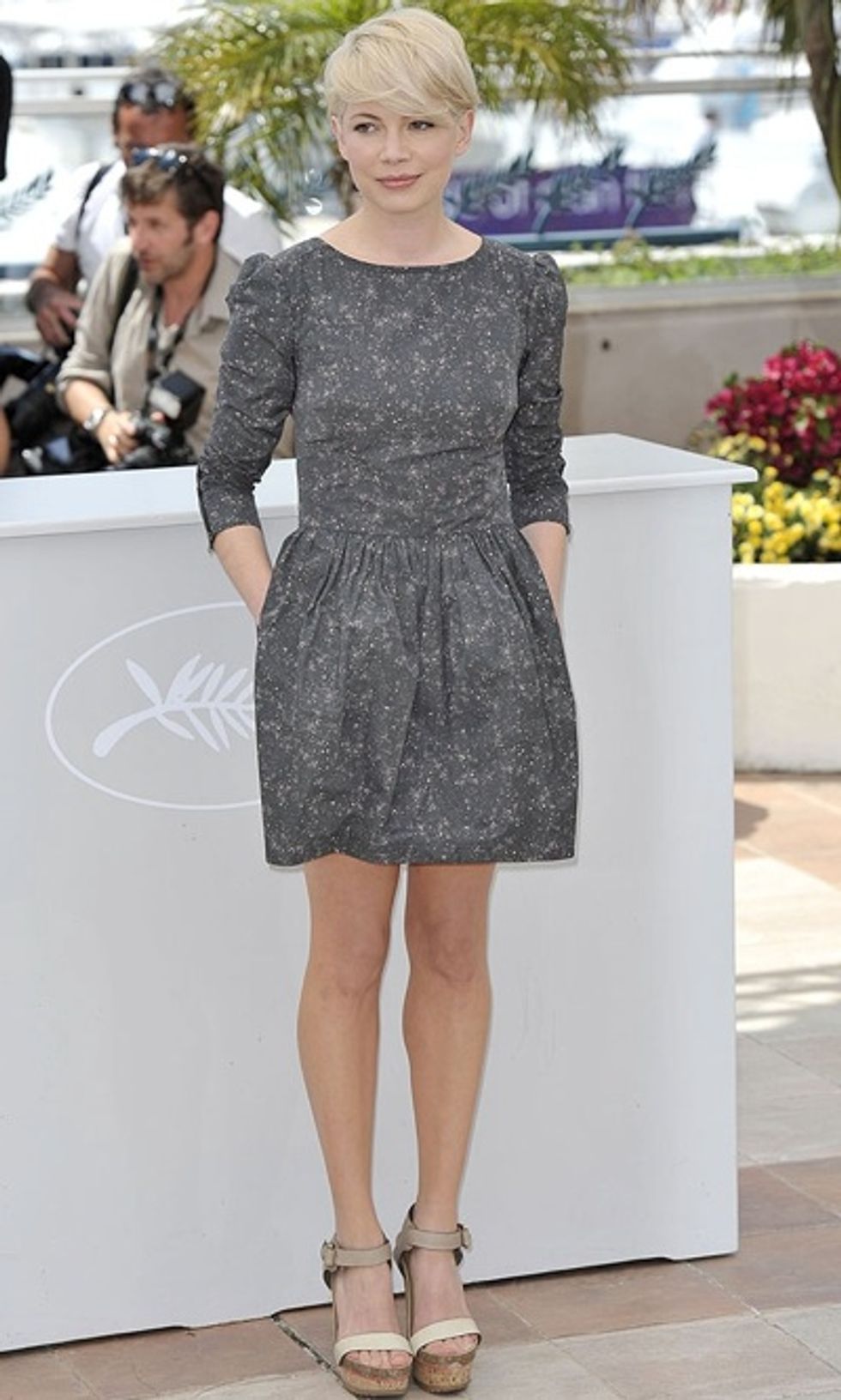 "
Who
made that dress?" is what we asked ourselves when we saw snaps of
Michelle Williams
sporting a jaunty little puffy-sleeved number in
Cannes
at the premiere of her new film
Blue Valentine
. Turns out the frock was designed by
SUNO
, a young line founded in 2008 that's already a PAPER favorite. Helmed by socially conscious designers
Max Osterweis
and
Erin Beatty
, SUNO takes its inspiration from Osterweis's vast collection of African textiles and employs local Kenyan artisans who make the garments in a workshop they oversee in Nairobi. We asked Osterweis some questions about the lovely dress.
So how did Michelle Williams come to sport this dress?
She borrowed it from us for Cannes.  She reached us through her stylist, Ezra Woods.
As someone with a background in movies [Osterweis was a screenwriter and director prior to becoming a designer], does film at all influence your designs?
Visually, the women from Almodavar, Bertolucci, Fellini, Antonioni, and Lynch films are burnt into my visual memory. The screenwriting process also has an influence on the way we design each collection.  We think about character, themes, places, and stories before we even begin the design process. 
Tell me about the print/fabric of the dress. What's the story behind it?
The fabric is from one of our favorite mills in Italy.  It's a really high-end techy fabric, similar to some Prada fabrics -- it has a gorgeous hand feel and holds shape beautifully.  The print we designed in house, and was influenced by a vintage fabric we bought last year.   The mill we worked with had never printed on the fabric before , but took a risk with us and we love them for it. 
And it was produced in Kenya, yes?
The actual dress Michelle wore was the sample we used in our show and was produced in our sample factory here in New York City, in the garment district. The production run, however, will be produced in our workshop in Nairobi, Kenya. 
What was the general inspiration behind your F/W 2010 collection?
Suno's Autumn/Winter 2010 collection had a range of influences including late 1960s American interiors, traditional East African textiles, Klimt, travels to Turkey, Paris, and India, as well as our friends in NY and Paris. 
Have lots of folks been getting in touch following all the photos of Michelle wearing your dress?
The photos hit the Internet in the last 24 hours, but, yes, the requests have started rolling in.
Speaking of famous Michelles.... Michelle Obama is a fan of SUNO. Have you met her?
I have not yet met the First Lady, but would love to.
When and where can people who love the dress get their hands on it?
It will be available at Opening Ceremony NY in September.
P.S. The shoes are Stella McCartney, which we're dying over as well.