Hello, my name is Michael, and I'll be your server today. Today's specials are…more "bests"! The places, people, and things that make NYC more exciting than a Bingo parlor in Hohokus. Enjoy—and learn it.
MOST FAB BOOKSTORE: Book Culture
There are three Book Culture shops in Manhattan, and at the 112th Street one, they will buy your unwanted books (if they feel they have value for them). The two-level store is comfortable, breezy, and filled with culture-heavy titles from Moby's memoirs to a Barbara Stanwyck bio. It's sort of a smaller, more manageable uptown answer to the Strand. 536 W. 112th Street; 212-865-1588
BEST GALLERY: Howl! Happening: An Arturo Vega Project
Howl! Happening: An Arturo Vega Project is so much more than just a gallery. Helmed by Jane Friedman and Ted Riederer, it's a home for regularly changing art shows, performances, and panel discussions, all centered on the golden days of the East Village's bohemian past. Drop by and you might well learn about the old Pyramid club, Warhol drag stars, singer/writer/photographer Lydia Lunch, and of course, "Howl" author himself, Allen Ginsberg. 6 E. 1st Street; 917-475-1294
BEST GAY GALLERY: Leslie-Lohman Museum of Gay and Lesbian Art

The Leslie-Lohman Museum of Gay and Lesbian Art is a priceless repository for queer history, with exhibits like "The 1970s: The Blossoming of a Queer Enlightenment," "Seduction, "and "Trans and the Notion of Risk." In addition to the main space—which is being expanded—there's a Wooster Street window gallery and the Prince St. Project Space. As the first and only gay art museum in the world, Leslie-Lohman takes its role as seriously as you should—and they have good parties, too. 26 Wooster Street; 212-431-2609
BEST PLACE TO BUY A BIKE: K Mart
If you're brave enough to not go with Citi Bike, but to actually get a vehicle of your own, you'll find that the two K Mart locations in Manhattan have reasonable bicycles that are in good shape and also aren't so spectacular looking that they'll get stolen right away. My girls' bike is perfectly functional, and I got it there for $129 (though their prices go up and down, albeit not by that much). The only problem is they have no service at the store--in other words, if a tire needs air, they won't provide it for you--but you can always buy a pump there for real cheap. 770 Broadway; 250 W. 34th Street
BEST CASINO IN NYC: Resort World Casino
It's also the only one, but still, it's a potential goldmine. It's Resorts World Casino, which is near JFK—and therefore pretty accessible—and which is filled with the clanking sound of slots and electronic versions of various games including baccarat and craps. If you've never been, you'll be amazed at the size and scope of the place. There are several floors, and different eating options, including a food court which has a well attended Popeyes, and on the second floor's Fifth Avenue casino, RW Prime steak house is a good bet. The crowd is multi ethnic, with lots of Queens residents, and they have the requisite joie, though you can't fault them for not getting too excited by the house cover band, especially since sports games are run on the large screen behind them. 110-00 Rockaway Boulevard, Jamaica; 718-215-2828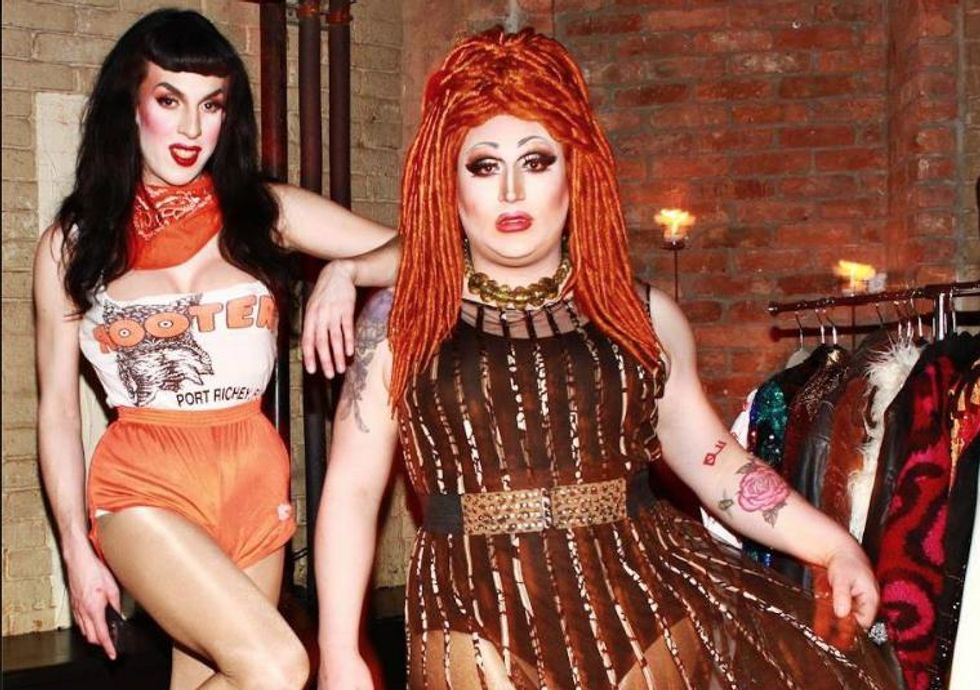 Alotta McGriddles (R), photo via Facebook.

BEST RACK OF DRAG CLOTHES: Strut!
Whether you're a drag queen or just want to be one, the flashiest, most affordable ensembles are waiting for you at the Tuesday night weekly party Strut! at Acme. Drag star Alotta McGriddles is there, selling an assortment of sparkly blouses, jackets, and gowns, and for just a handful of cash, you will leave looking like a fabulous queen of queens! 9 Great Jones Street; 212-203-2121
BEST ITALIAN RESTAURANT: Patrizia's of Woodlawn
In the Bronx, Patrizia's of Woodlawn is a comfy, friendly, reasonable, and delicious haven for pizza, pasta chicken, seafood, antipasto and desserts. I'd go there every day if I had a better Metro card. 4358 Katonah Avenue, the Bronx; 914-595-2970
RUNNERS-UP:
Cafetal Social Club. Amazing meatballs, sausage, bragioli, and pasta, like my mama used to make. 285 Mott Street; 212-966-1259
Novita. If you like wonderful Italian cuisine in a tasteful setting, this is a dream place for you. 102 E. 22nd Street; 212-677-2222
BEST PIANO BAR THAT USED TO BE A GAY HUSTLER BAR: The Townhouse
The two-level the Townhouse is a well appointed boite that used to be filled with enterprising young males and their cadaverous sea of johns. But hustling went online some time ago, so now there's no sexual (or financial) charge in the air here. It's just a fun hangout, with a pianist playing tunes from Cabaret as the boozers sing along. Some of the mature gentlemen don't seem to have gotten the memo that the male prosties went elsewhere—and it's fun to not tell them and try to get them to buy you a drink or two. 236 E. 58th Street; 212-754-4649
BEST BIG BAND THROWBACK: Joe Battaglia & the New York Big Band
On various dates throughout the year, Joe Battaglia & the New York Big Band play the Edison Ballroom and fill the place with people of all ages jiving and jitterbugging as if out of a 1940s Abbott and Costello film. The band really pumps out the old Glenn Miller and Benny Goodman classics (a sultry female singer helps them out), restoring the horn-y sound that made people leap to the dance floor while actually touching each other. The most shocking thing is how many well trained ballroom dancers there are, and how unselfconscious they are about showing their skills at a venue like this. The second most shocking thing is how you'll find you are jumping in to join them, and how you're not that bad at it! Swing, swing, swing…

Photo via Facebook

BEST THRIFT SHOP: Housing Works
Housing Works has no fewer than 13 thrift shops all around Manhattan and Brooklyn—plus a Bookstore Café in Soho—and they're filled with amazing and reasonably priced donated items. Proceeds go to helping provide services for people with HIV, so there's a feelgood aura as you pick through old books, needlepoint art, clothes, and furniture items, aiming for a buy. There are some great online auctions, but going down in person is good too, so you can check out the latest entries, whether it be a $5 beaded clutch, a $20 clown painting, or a beautiful $125 glass table. You can furnish your house and fill your closet in just a few trips, and it's all in the height of taste (and not as bad as that sounds). Housing Works truly works for me.
Splash photo of Book Culture via Facebook


You May Also Like
America
Story by Katherine Gillespie / Photography by Dana Trippe / Styling by Rebecca Grice
America
Story by Mikelle Street / Photography by Renell Medrano / Styling by Anatolli Smith / Hair by Evanie Frausto / Makeup by Marcelo Gutierrez