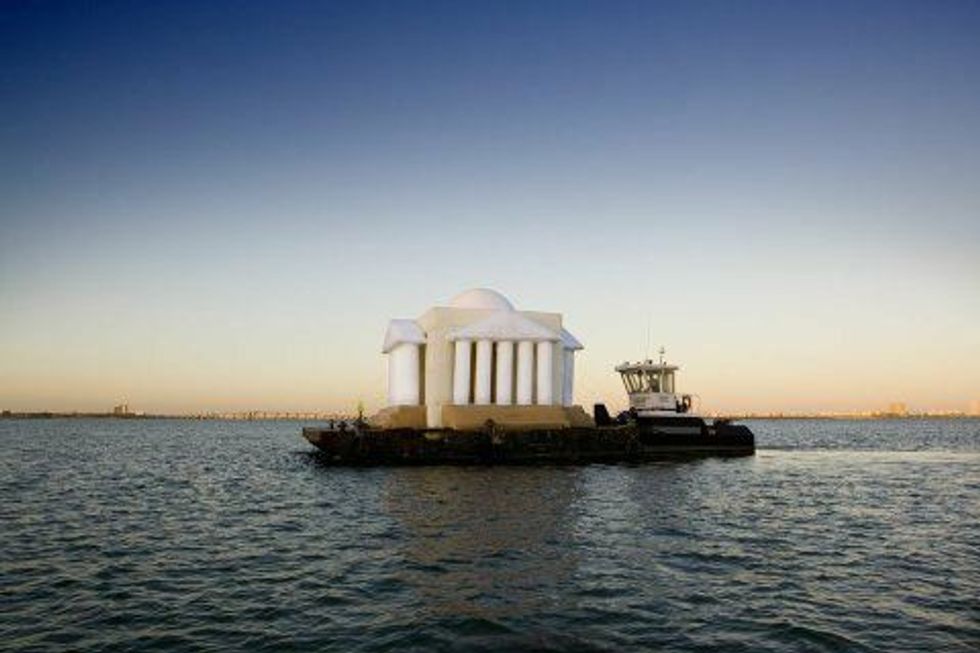 SPECIAL CORRESPONDENT SNOWBIRD REPORTS

Many may already think Miami's housing market is inflated. But leave it to Venezuelan-born architect Luis Pons to create The Fabulous Floating Inflatable Villa and send it on the waters of Biscayne Bay. If you're on Collins Avenue near 63rd Street during Art Basel next week, look out for Miami Beach's newest "residence" bobbing around on Indian Creek's waters. The Floating Villa is part of a series of inflatable installations and objects designed by Pons, in reaction to Miami's real estate boom and the rise of the McMansions. The columns and dome of Pons' white, cream and beige villa will be illuminated at night to show off its "timeless classic design" and moored at Dacra Development's Aqua, Allison Island during Art Basel Miami Beach from November 30 – December 4. (MiamiSun)

Miami is about to become the third test market for Starbuck's latest foray into music retailing.  After acquiring small indie label Hear Music in 1999 and using the brand name to sell CD's next to their cash registers, the coffee chain is opening a free-standing Hear Music store in the Sony Building on Lincoln Road. Customers will be able to sit at a workstation and create their own CD's from a list of over 200,000 songs for around $7 for 5 songs and $1 for each additional song, as well as choose from a large selection of pre-packaged  CD's.  Similar stores are already open in Berkeley and Santa Monica, California.  Starbucks is hot to diversify as a retail "destination" and according to Chairman Howard Schultz wants to become the "third place in consumer's lives after home and office.'  The coffee company has already incurred the wrath of record retailers for their "exclusive" CD distribution deals - Alanis Morrisette acoustic CD - but there is a rapidly changing retail pie that recently saw iTunes move up to #7 U.S. music retailer ahead of Tower Records.  Some coffee with that pie?