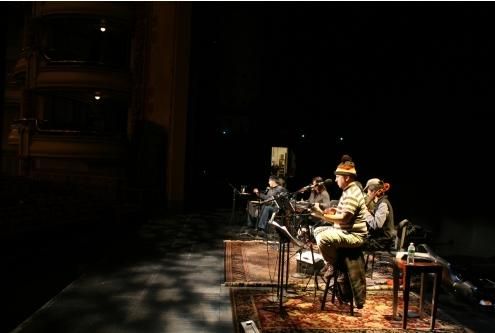 The day before Valentine's Day is the perfect time to see the Magnetic Fields -- you're in the romantic spirit, so all the band's love-themed songs seem appropriate; but it's not the big day yet, so their signature good-natured cynicism doesn't go unappreciated either. (Their most romantic song does, after all, open with the line "The book of love is long and boring.") Pair the perfect date with the perfect venue -- BAM's Howard Gilman Opera House, with its unbeatable acoustics and, thankfully, assigned seating -- and you've got a hell of a show.
One of the night's more memorable moments came before the intermission, when the Fields played both of their Wolfboy songs, but out of order. Before the second, Stephin Merritt announced, "This song introduces a character." He paused. "No, it doesn't." Per usual, Merritt -- wearing a brown-and-white striped shirt and an oversized beanie complete with pompom -- played the deadpan straightman to Claudia Gonson, and the two were even loopier than normal: Gonson introduced one song as one in which Lee Hazlewood and Nancy Sinatra are vampires who love each other even though their hearts are cold. Aww.
The setlist tended toward both extremes of the band's 20-year catalog -- the band only played a couple of songs from 69 Love Songs, i, and Distortion ("The Nun's Litany" was a highlight). Instead, they favored early-'90s material, as well as songs from their newest release, Realism. Those unacquainted with Realism would be well-advised to check it out. The album occasionally strays into too-twee territory (all you need to know about "The Dolls' Tea Party" is right there in the title), but thanks to Sam Davol's masterful, mournful cello, "From a Sinking Boat" just might be the loveliest song you hear all year.
If you couldn't catch them on Saturday, the second-most-perfect time to see the Magnetic Fields might just be March 10-12, when they'll be playing Town Hall. Let us know if Stephin smiles this time.

Photo via wearehavingahootenanny.wordpress.com