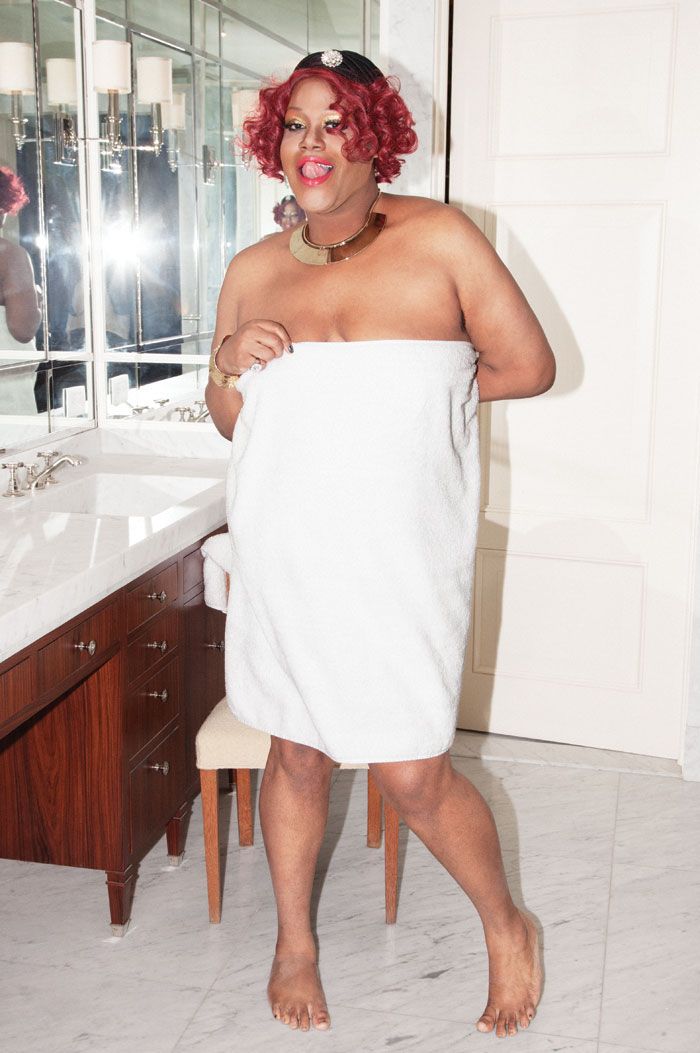 Merrie wears a necklace by Lanvin, cuffs by Alexis Bittar, brooch by Lulu Frost and rings by nOir.

After moving to New York from Berkeley, California, in 2010, Jason Daniels -- better known as his magnetic drag persona Merrie Cherry -- eventually quit his job as a special events assistant at a non-profit and started performing in drag full time. And the gamble paid off.
Over the course of the last year Cherry has immersed herself in the Brooklyn drag scene, starting with her monthly drag competition show, DRAGnet, at Williamsburg dive bar Metropolitan. That was followed by more parties and performances, which culminated in Cherry organizing (and hosting) the first Brooklyn Nightlife Awards in late January of this year. "I don't know if it's a good position to be in," Cherry says. "Now I feel like I have to continually wow."
The quick-witted queen, who's helped shape the performance art renaissance happening in north Brooklyn, is all about the artists supporting their community. But don't expect her to hold her tongue for your sake. "If I feel something, you're going to hear it," she admits. That's part of why she left the security of a nine-to-five job for nightlife. "Why should I have to change who I am seven hours a day, five times a week?"
Cherry says her particular brand of drag isn't anti-"fish" (drag jargon for beauty queen impersonations) so much as it's willing to push the boundaries of what drag is, working everything from glam to tribal looks. One thing's clear though: "I've always been a performer," Cherry says. "I've been taking dance classes since I was four years old. So that's always been a part of me. And Merrie's been doing shows, honey, for her whole life." Trust.
MEET THE REST OF OUR 2013 BEAUTIFUL PEOPLE