In our 'Girl Crush' series, women with mutual admiration for one another get together for conversations that offer illuminating looks into what it's like to be a woman right now.
Perfect Pussy's 2013 EP I Have Lost All Desire for Feeling and 2014 full-length debut Say Yes to Love established Meredith Graves as one of the most confrontational singers in punk, and her writing for the Village Voice, The Talkhouse and Pitchfork established her as one of today's most insightful and uncompromising cultural critics. CHVRCHES' shimmering electronic pop is less caustic and more danceable, but frontwoman Lauren Mayberry, also a sharp cultural writer in her spare time, suffers fools no less lightly; last year's Every Open Eye excoriated an unworthy ex without mercy, and she's told online haters where they can stick their opinions. After their photo shoot, the two gathered at a Bushwick Cajun restaurant to talk about death threats, not reading the comments, and how much fun they're having.
So how long have you two known each other?
Meredith Graves: We get pulled into each other in articles. People love misogyny porn, so when people want to do "20 worst things that women in music have experienced this year," it's always you and me sitting there next to each other.
Define misogyny porn?
Graves: When people talk to women in music about music, the primary topic is suffering, because people love to read about how hard it is to be a woman. They love to have it validated that we are really struggling; it's never just, like, fun and easy for us. Misogyny porn is "tell us the worst thing a music writer has ever written about you," or "tell us about the times when people privileged your appearance over your music," or "tell us the most sexist thing anyone has ever said to you." Why don't you ask me about my guitar tone? Why do you want me to recount, for free, the times that I have been abused? Why is that the story? That is misogyny. Focusing every single story on my suffering instead of allowing me to talk about things that are good.
Lauren Mayberry: I read the Carrie Brownstein book last year, and there's a bit in that where she is talking about people asking her "what's it like to be a woman in music." She used to get so frustrated about it, and then she decided that talking about being a woman in music is a separate, additional job that she does as well as being a musician, basically she said "I've never had any experience as a musician which didn't involve me being a female, so this is always going to be a thing that comes up, regardless of whether I want it to or not."
Graves: Given that a lot of the sexist, awful, disgusting people in the music industry are men, I want to see male musicians asked the same question: "Do you ever feel like people think you're a piece of shit just because you're a dude?" I want to talk to male musicians about what it feels like to be a male musician in an age and era where more men in music are total garbage pieces of trash. I just want to see them held to the same standard.
Mayberry: When the other members of CHVRCHES get asked about any of the stuff that has happened to us, it's, "how do you guys feel about what Lauren has to deal with?" It's an interesting question, but it's also a blinkered way of looking at it. (Bandmate Iain Cook) had a good answer where it was like, "it's not really important how I feel about it, insofar as how I go into the world and conduct myself and how I want other people to work with me, because I'm coming from a place of privilege anyway, and not recognizing that is worse."
Graves: The guys in my band will be like, "do you think we need to protect Meredith in any way? Meredith can handle herself." They're full on like, "just let Meredith be Meredith." I feel really lucky. A lot of people might not agree with this, but in my head it's very difficult for me to trust men, and it's very difficult for me to be around men, and I assume that all new men are unsafe until proven otherwise. I feel the same way about other people's dogs, like I don't pet strange dogs, and I don't engage with strange men. They might look friendly and then turn out to be very dangerous, so all men are shit until proven otherwise. I've lived that way for a couple of years, it's improved my quality of life exponentially. The guys in my band, I have zero hesitation. Sometimes people will call me out and call me a misandrist and say, "oh you hate men." I have a dad, a brother, a boyfriend, three male bandmates, and most of my friends are dudes, and it's like, "yeah, I'm such a dedicated misandrist."
Mayberry: You can tell what perception people have of you with the kinds of questions they are asking. At the beginning of our band, there were a lot of people who'd say, "oh she's got nice hair, they got her to be at the front of the band because it will sell better, it will look cute," so the questions would be based on, "what's it like to be in a band with two boys?" rather than, "how do you write the music?" Then there was a definite flip, where people would be like, "do you not feel like you're pigeonholing yourself by talking about feminism in public," and then, "do you not worry that people are going to think you're an angry person?" I'm like, "no, because I'm not either of those things." I spent a lot of time knowing things I didn't want to do, and I was worried about not doing those things, but I never really thought about how I do want to do it. So we took time off before the second record. I thought, I need to take a minute and think about if this is reality, which is amazing that we get to play all these shows, and if these are actually our lives, I want to be more on the offensive, instead of feeling like I'm constantly defending my turf. Reframing it slightly has made it feel more present and allowed us to enjoy what we are doing. On the first album, I felt like I was keeping my shit together, but not enough to actually enjoy what we were doing. I just felt like I was getting up every day to fight in my corner, and that's not how I want to make art.
Graves: Imagine all of the books you could buy, and how much of your rent you could pay, if you got paid for just explaining why you deserve to be here. I could pay my rent much more efficiently if I got paid every time someone questioned my politics, whether or not they were real.
I don't feel like being a feminist is that lucrative of a marketing technique.
Mayberry: Not at all.
Graves: But it's great, I'm rich in death threats.
Mayberry: It makes the backstage walls look less bare when you have to print out people's faces and stick them on the wall and say "don't let any of these people in."
Graves: You're giving names to the door person like, "if you see any of these names on a driver's license, don't let them in."
Wow.
Graves: Oh yeah, especially now. We're not a big band, we play venues where there are 18-year-old kids taking five bucks from every person at the door. There are people out there where I wouldn't feel safe with them coming to my shows. Most nights, we are not playing big venues with big security. I have a notorious ex who's extraordinarily violent and very crazy, and whenever we play in the Buffalo area or Rochester or Toronto, he could show up and blow my brains off. Nobody would question him as he walks through the door, because he goes to a lot of hardcore shows. This guy has lived in three states and has sexually assaulted people in every single one of them, so I've done my best to publicize who he is, so people know that. 99% of our shows, any random dude with a gun could walk in and blow my brains out while I'm on stage, and no one would think to check him at the door.
Mayberry: It's weird for me because most of the stuff we would get would be online, so when it started to become a thing in real life, it made me feel like I had been right to take that stuff seriously in the first place. People play that, "oh it's just the Internet, just don't read it." Fine, that's just a person's opinion, but then those people start coming to your shows. We, like you guys, have a list of the people who are banned from all radio stations meet and greets, and we give briefings to the security guys. We are playing bigger venues now, but we want to run things on an underground level, with a small team around us. I don't have a personal security guard following me around. When you go to those shows, I'm like, "I'm not going to go outside." I don't want that. There were a few shows on our earlier album tour where this guy came to several shows on the East Coast and he kept getting turned away from the door of the venue, and it does get inside your head, where you're like, "I don't want to go sign in the parking lot because that dude might be there." When there's a dimly lit parking lot with little security, you never really know how that's going to be.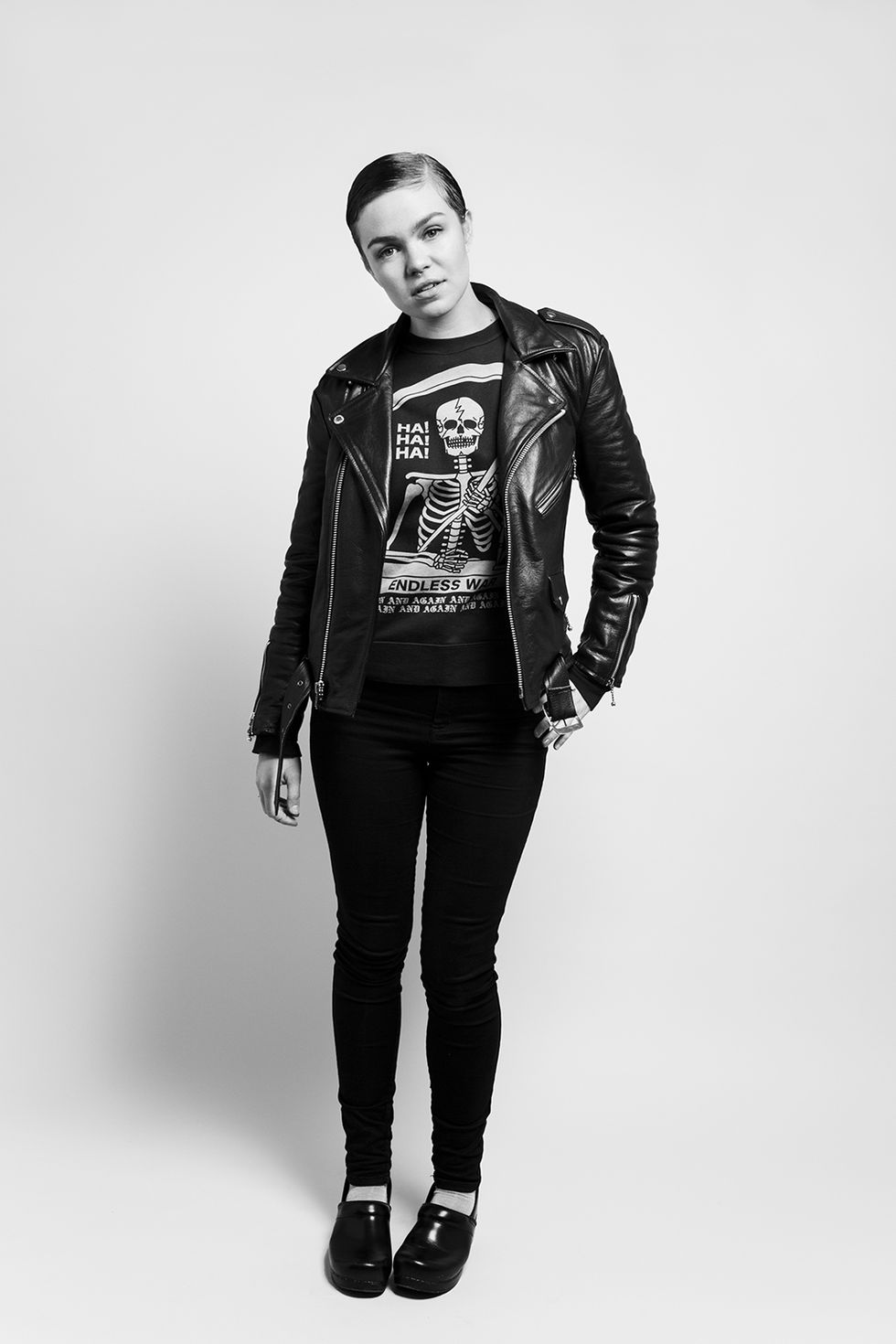 Meredith Graves. This (and splash photo) by Kate Owen

I'm sorry to hear all of this, this is terrible.
Mayberry: But there are a lot of good things about what we do too!
Graves: It's true, we have the best job in the world. Two years ago I was a small-minded seamstress in Syracuse, New York, and I was happy, I had a great garden, but now I get to fly to Australia. It's great, and all I have to put up with are threats of death and rape.
Mayberry: The problem is letting that stuff change the way you approach things. I had a conversation with our tour manager, she knew that this guy was coming to venues but didn't want to talk to me about it. Well, there's a difference between scaring the shit out of me for no real reason and the times when I do need to have the shit scared of me so I can be aware. At the same time, I was like, as uncomfortable as that might make it, I don't want it to change the way we approach things. You are lucky enough to have all the people who do care about your band and the music. If I don't want to go to shows because it makes me feel uncomfortable, that's not right, and then you've been intimidated into not doing what you love.
Graves: Any night where I don't feel safe leaving the green room is not a good night for me. I get messages on Tumblr from kids who say, "is there any chance I can meet you before the show?" and I'm like, "dude, it's a three-band punk show at a bar in such-and-such town, like, I'm going to be sitting at the bar having a beer, just come say hi." I don't sign autographs, I don't have a security guard, I'm just Meredith who goes to shows. I still watch every band, I'll talk to kids, I'll take pictures with kids if they want to, even in places where it wasn't always safe for me to do that. Where I don't feel safe doing that, it's not a good night for me, because I get on stage and it's a total disconnect. Even on our last tour in certain cities, there were times when I felt a certain pressure to stay in the green room, because I would see people in the audience, and I would get really paranoid. When we were in Europe last summer, I got in two fights. I'm in a weird place, though, and it forces me to think really critically about myself. Whether it's because of my appearance or because of my age or because of my politics, or any variety of things, I'm not at all considered sexy. I've never made the hottest women in music list, men don't flirt with me. People very much see me as a destructive force, more so than a babe of rock, so I don't get hit on at our shows. I have gotten in fist fights, though. I really don't know how to navigate that shit.
Mayberry: For me, the nice thing is when you talk to people after shows and they want to talk about how your music means something to them. I've been in bands where there's probably more people on stage than in the audience, and we drive for seven hours to get to a show, and then nobody comes and you get paid less than you were supposed to, you sleep on someone's floor, and you leave. We are in such a lucky position, and when people say that they love your music or they love the way you conduct yourself, that makes me quite emotional inside. I don't cry at them, because that's not what they want, they want the stoic performer version of yourself, but then afterwards it's like, that's amazing to me, that 17-year-old girls are saying that to us, and as cheesy as it sounds, that for me makes up for the bad stuff. It's been better, for me, to act as a tougher version of yourself. I always went right into the person who would be completely invested in that, and eventually I kind of realized that I want the performance element to be genuine, and I needed to be removed from being completely me, because then when you get into it, you don't feel quite as bad.
Graves: I like what you said about that, it makes a lot of sense, the idea of the performative self being separated from your actual identity. I'm actually in the throes of that right now. It's the first band I've ever been in that's working well, well-ish, and I was so uncomfortable when I first started playing shows. It's taken me two years to really find myself, and now I'm totally me on stage, just saying shit, like way too comfortable. Now I'm trying to undo some of that before our next record. I'm like, "oh wait, I'm a performer, I'm supposed to be here performing with this band, and not just like having conversations with people."
Mayberry: You have to do it the way you want to do it, cause I feel like everybody has a fucking opinion on something. We went from playing in small clubs to bigger venues pretty quickly, and in my head, I've always said, "I want to get to where we are going on my own time. I'm not going to do a parody version of somebody else to make people who come to the show feel better, or make journalists write about it more kindly."
Graves: Coming in and out of identities is really interesting.
Mayberry: I don't really like to think about this stuff, to read about our band.
Graves: I don't give a shit about that stuff either. I don't read about our band. I read back interviews to make sure that I haven't been misquoted. People joke about like, "don't read the comments," and I've literally never read a single comment on anything.
Good for you.
Graves: People are like, "how do you deal with this shit?" I'm like, "don't tell me." They are like, "people are threatening to…" I'm like, "nope." Don't want to know.
That is superhuman levels of restraint.
Mayberry: Teach me.
Graves: I found out really early on that it's literally people who are like, "if I see that bitch in Brooklyn one of these days, I'm going to cut her throat and rape her through it," and I'm like, "I don't need to read this, ever."
Mayberry: I know that what it's like to be inside our band is completely different from how it looks on the outside.
Graves: That's what I keep thinking in the lead-up to us writing our next record. We never asked to be here, we never wanted to be here, and we need to keep that in mind. Just because we are being considered by some mainstream music publications does not mean that we need to go into this with the mindset that we write records to appease them.
Mayberry: Plus, I think one of the great things about self-production, which is something we're both doing, is that when we were wanting to make our second record, it was like, "you should go here, and meet this person." That's such a pivotal time for the band, figuring out how to take it into the second record. I think we were really lucky in that we could blow everyone else out, go back to a place that the music industry pretty much never really looks at, make what we had wanted to make, and whatever happens after that. We've been very lucky with how it has been received. If we had gone into it thinking, "What would the second CHVRCHES album sound like," that would have been a mistake. If somebody else was telling you, "this is what I personally think it should be," that's not really helpful.
Graves: You don't need that. We're really comfortable in our underwater garbage can of bad guitar tone.
One thing that you also have in common is, like you were saying, you were both in bands that never went anywhere, and then you joined your current groups, and, on different levels, suddenly received far more attention than you had previously. What was the adjustment like?
Graves: It made me act super weird for a minute, cause I was like, "I don't know how to deal with all of this attention," and I was like, "say everything I've never had the opportunity to say." People thought I was mean cause I was like, "I hate everyone and everything and people are going to pay attention to me, let me tell you all of my problems." Then it took me about six months when I was first in this band to realize that's not a good look, cause I'm not a negative person. It's a cool challenge, learning everyday how to handle it better. It's teaching me a lot about myself.
Mayberry: I don't know, we've never done anything I regret us doing, but then part of me thinks that that's probably because I was so hyperaware and so focused. I regret that I didn't really get to enjoy a lot of those experiences because I was so terrified that somebody somewhere was going to fuck us over. I've always been the only woman in any band I've ever played in, but I've never separated so completely. Dealing with the band getting bigger is one thing, but then dealing with the band getting bigger and people trying to tell you what you are is another. I was 23 when we started this band. I had just gotten out of college, and I was trying to figure out what I was doing. At that point, I'm not really sure I had any idea of what I was trying to do as a person, anyway. All of this stuff started happening, then we started getting all of this attention from misogynist, douchey people, and it started to make me really uncomfortable. I started retreating a lot into myself and I started getting panic attacks. I dealt with anxiety when I was a teenager, and it just started to come back, and I was like, "I know I'm not exercising very good self-care right now, but I don't have any energy to do anything else." I wanted to get up and do what we had to do to protect our baby. I remember we put out a video on the start of this record, and people were making comments about it like, "she just puts on a little dress and put her bangs back," and stuff like that, but then to me I read that as it was meant to be a statement. I remember when the last record started, people saying things about it. I just didn't want that to happen again, so I wear baggier jumpers and shorts. I was like, "basically you're just willing to disappear because you don't want to receive that," and then when I realized I was doing that, I was disappointed in myself and I was sad. I don't dress like that in my normal life, it was like a uniform in order to get left alone, but then you're pandering.
Graves: I did the same thing.
Mayberry: I wanted to do the second record in a way that felt more comfortable and more authentic and ultimately that made me less unhappy. I was like, "this is what I want to wear." When people are like, "she's wearing a little short dress," you should be able to dress yourself however you want. We played in Philadelphia on the last tour and someone threw a jockstrap onstage with a roll of condoms taped to the front. It feels like not all that much time has passed, cause it hasn't, but 28 feels pretty different from 23.
Graves: Yeah, thinking about where I am now, and thinking about where I was when this band started, it's like different people. I'm just glad we still have each other's phone numbers and we can talk to each other, because I'm still really in touch with that person, though she is crazy and really fun at parties. It's almost like the more attention people pay to us, the less pressure I feel. When people are paying more attention to me, I'm like, "well, now I know they're going to hate the next record or say something terrible about me," so I no longer feel any pressure to look a certain way on stage. For a long time, it was really hard for me, because I've always dressed like this. When some of the bands started to play shows, I was going through a breakup, so I was like, "I'm going to cut my hair off and start wearing these little dresses and I'm going to be super cute, because screw my ex-boyfriend." When the band started to blow up, I was still dressing like that, and so people started to see me as this person with cropped hair and this makeup and these vintage dresses, and I was like, "this isn't band me, this is post-breakup me." I got my shit together and realized I kind of went crazy, and now I just want to get back on stage in these clothes (gestures to her black sweatshirt), cause these clothes are a lot easier to play shows in. So, do you want me to look a certain way or do you want me to play a better show, cause you can't have both? Do you want to look at me or do you want to listen my band, because you can have one or the other. I guess I will still dress up for photo shoots, but that's the whole constructing an identity thing. What do I want to look like for the next record? I was watching this documentary about David Bowie that came out a couple years ago where he talks about how all of his iterations were for performance, and remembering that you really can change every few years if you want to. I feel that way about women and authenticity in music, and I worry when people talk about "changing styles, changing hair, changing this, she wore baggy jumpers then she wore tight shorts." When David Bowie did it, no one questioned it. "Lana del Rey was trailer trash, then she became this fake movie star." No. You can be six people if you want. It's art, people don't get that. They really want to believe you're the same person all the time. You don't have to be, and nobody should expect you to be.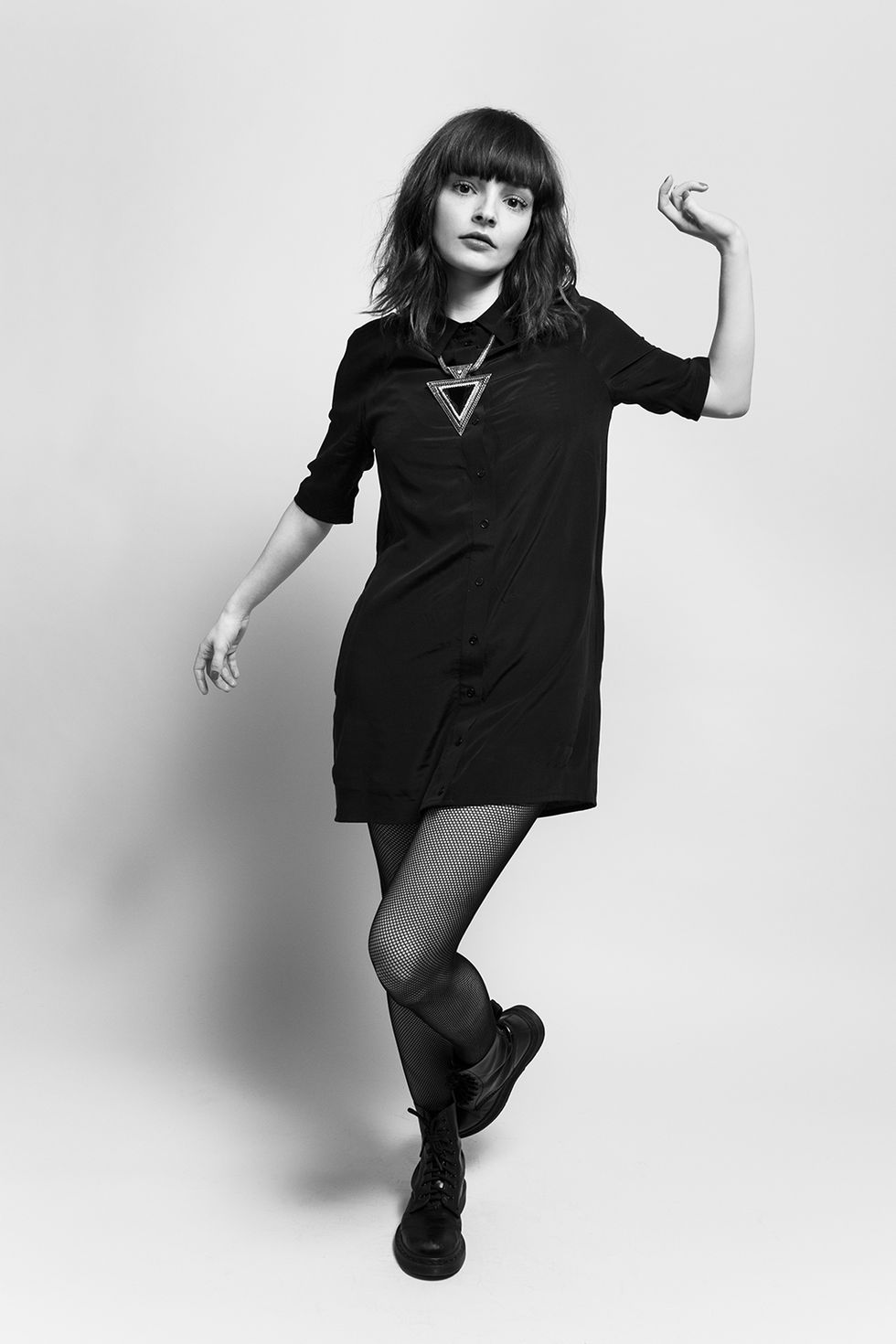 Lauren Mayberry. Photo by Kate Owen

I just edited a piece where Jane Fonda and Lena Dunham were also talking about not reading the comments. Everyone in the public eye has to deal with that.
Graves: The next step after not reading the comments is to not be on social media, which is something I'm working towards. I have fun with it, but it feels like very compulsive to me. There are kids who like to read my Twitter, so I feel like I have to be on Twitter, but really… it's like every time I want to check Twitter I will pick up a book and read it for five minutes instead, and if after five minutes or three pages I still want to check Twitter, then I'll do it, or I'll do five minutes of yoga, or write a couple of sentences in my journal. Usually, at the end of that, I no longer feel the need to check Twitter. Every time I want to post to Instagram or look at Twitter, I'm like, "how could I be better using this five minutes? Getting riled up about something I read on the Internet that I find offensive, or doing five minutes of yoga?"
Mayberry: We've always had band socials when we were unsigned and we were playing shows, and it was a great way to promote our shows. I never had a personal social, because I don't want to give people a more direct way of telling me I'm a piece of shit. It's like Lena Dunham says on Girls: "Any mean thing someone's gonna think of to say about me, I've already said to me, about me, probably in the last half hour."
Graves: It's almost funnier when someone else says it, especially if it's someone who you've never met, who's on the Internet on the other side of the world. I have one very notorious Internet stalker guy who does it to a lot of other women but mostly me, he's a human nightmare. It used to make me very upset because he used to say very offensive things. I've never tried to engage with him, he's just like this boil that harasses me, and after a while I would laugh at him, and then I went through this change of heart where it just makes me really sad because he has two young children, and he has two daughters.
Mayberry: Ugh.
Graves: So every time he's harassing me, it's so easy to not be bothered by it, because I'm just like, "think about his kids." The more I engage with him, the more time he's spending away from his child daughters, harassing women on the Internet.
Mayberry: I used to get very upset about it. I like to think I'm an empathetic person, and I can't imagine wanting to make somebody feel like that. I've never rationalized it as far as, somebody who says something like that, that's not coming from a purely happy, comfortable place. You wouldn't behave like that if there wasn't shit going on for you. I don't need to take you down to the pub and buy you a pint and ask you what's wrong, but I also don't need to let it upset me.
Graves: Honestly, one time a reviewer wrote something really awful about us, just some guy who has a blog who's a photographer, and I wrote to him and I said, "that's super rude, what's wrong?" I don't even remember what it was now. So I wrote to him and I was like, "why would you say something like that, that was not polite and I also don't think it was true, did you think I wouldn't see it?" He wrote me back and he was like, "you're right, I don't know why I said that," and now he's super nice to me at every show we play in the city. So once in a while I can be like, "hey, you don't mean that, you want to tell me what's wrong?" Like this terrible man who will probably never stop harassing me, I've always said, "you are always welcome at our shows, please come," because I know that if you have a face-to-face conversation with me you wouldn't be able to say anything back. Anyone who has ever met me knows I am the most harmless person you've ever met. He would never be able to hold it together. When upset people… when that happens to them, they lose part of their identity. If a person forms their entire identity around being angry, then to not be angry is to not have an identity. They would have to let go of part of themselves, and that's hard, the dissolution of self. We've all experienced that, this idea that your ego can dissolve and you're not who you thought you were. It's kind of like walking around with a bag of hot garbage; your hands are too full to pick up good stuff. It's like you go to take the trash out but instead you just carry it around with you. Free up your hands to hug people and to do nice things with them, don't just walk around with your bag of hot garbage all the time.
I see those angry hateful people for whom the bag of hot garbage has not lost its allure, and I sincerely hope that can change for them. In the meantime, there is no excuse for being a shit human, but I also hope they get better. I hope they get better, because life can be very enjoyable. You can be in a band with all of your friends and have a really good time, and go on the Internet and write about cake and be up on global politics, and try and make the world a better place. You don't have to harass women on the Internet because it makes you feel important. You don't have to do that. I hope that all those people get better, and when they're feeling better, they're welcome to come to our shows. If they can get their shit together and realize the world is not a terrible place, come to our shows. We have a lot of fun, we love to dance, we like snacks; you can come hang out. You don't have to sit behind your computer being an asshole that hates his life. It's a choice, to some extent. You won't lose who you are if you stop harassing people on the Internet.
Hair and makeup by Mari Shten using NARS Cosmetics

More from our 'Girl Crush' series:
You May Also Like