Call them what you will -- inspirations, role models, girl crushes -- I am the person I am today in large part because of the women I've looked up to along the way.
When I was young, the women who influenced me most were the ones who helped me imagine what was possible for myself. Growing up in the 1970s in Dallas, Texas, I didn't know too many women who worked outside the home or who had careers you might call powerful. I definitely didn't know many women who were leaders in the subjects I was most interested in: math and computer science. So the examples I did have were hugely important to me.
One was my high school math teacher, Susan Bauer. She was raising three boys and getting her PhD in computer science at night.That's plenty to admire right there, but the reason she was so special to me is that she persuaded the head nun at my all-girls Catholic high school to buy us computers so she could teach us to code -- an idea way ahead of its time. She knew that there was going to be a lot of opportunity in tech, and she wanted us to have a part in that. I'll always be grateful to her for setting me down the path to my career at Microsoft.
Another woman I really looked up to was Mary Phillips, a mathematician and programmer who worked with my dad at an aerospace company. She spent her days writing software that modeled how spacecraft would perform in space. She didn't fit the traditional image of what a programmer was supposed to look like (i.e., male), which was inspiring to a girl who didn't fit that stereotype either
Today, the two most important women in my life are my daughters Jenn and Phoebe. I love seeing the world through their eyes -- and it makes me optimistic when I reflect on how different the world looks to them than it did to me at their age.Their generation has so many more diverse role models in leadership positions to look up to.
Girls who wonder whether their voices can make a difference turn on the TV and hear Malala Yousafzai speaking to the United Nations. Girls interested in politics have examples like Chancellor Angela Merkel. Girls who share my love of math and science can literally aim for the stars knowing that half of NASA's current class of astronauts is made up of women.And when these girls go to the movies or turn on the TV, they find a much wider range of strong, complex female characters, thanks to women like Reese Witherspoon and Shonda Rhimes who are ensuring these stories are being told.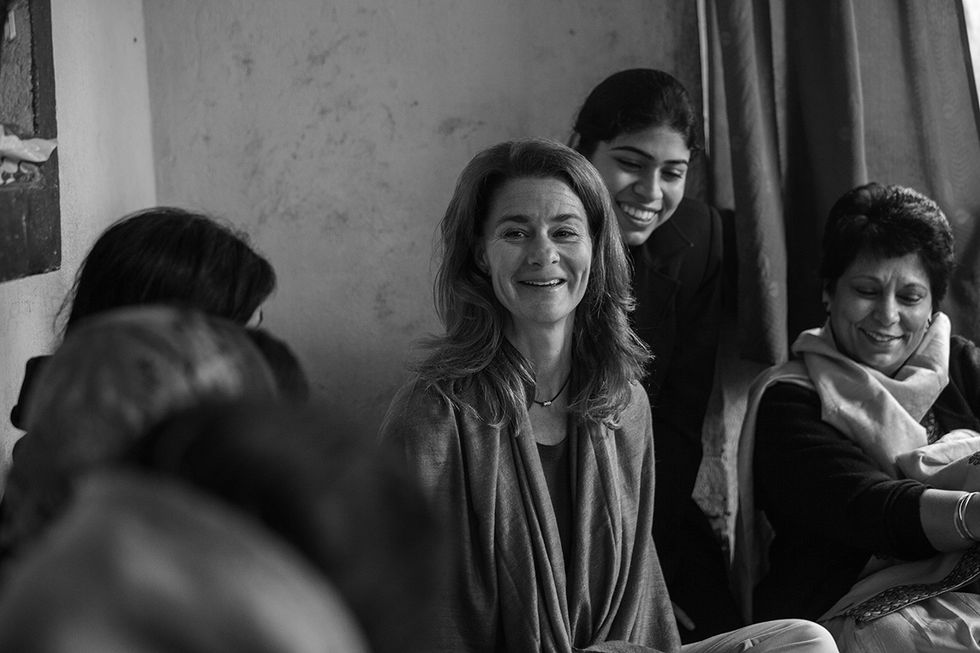 I'm an optimist -- but I'm an impatient optimist. The fact that my daughters are growing up in such a different world than I did is proof that progress is possible. But the fact that this progress hasn't reached everyone means we still have work left to do.
When I travel for our foundation, I meet girls for whom the world is changing much more slowly. I meet girls who can't finish their homework because they have to spend hours every day doing household chores like fetching water. I meet girls who are expected to get married when they're only 15, and to start having kids right after that, with no voice in whether or when to become pregnant. I meet girls who are told again and again that they can't -- can't stay in school or own their land or be who they want to be.Those girls are on my mind all the time, too.
My dream for my daughters is that they live full, happy lives and rise as high as their talents will take them. But I also hope they live to see a world where every girl, everywhere, has that same chance.
When I turned 50, I pledged to make empowering women and girls my life's work. Every girl deserves the same chance to reach her full potential and promise.And every girl deserves to be reminded that she is capable of extraordinary things.
Photography by Frederic Courbet, courtesy of the Bill & Melinda Gates Foundation