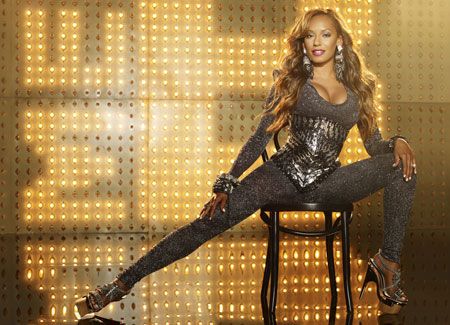 In the late nineties, no one -- whether they liked it or not -- could escape the campy UK pop sideshow that was the Spice Girls. From their gravity-defying platforms to ridiculous dye jobs and  "Girl Power" slogans, the quintet quickly infiltrated Ameican pop-culuture. (I was completely fascinated by them, and my first foray into "journalism" was an online newsletter called The Spice Gazette -- complete with typos, plagiarism and lots of zig-a-zig-aaah! ) Fast forward to today, and the Spice Girls are all grown up, with former members like Geri Halliwell hanging up her latex Union Jack dress to serve as a United Nations goodwill ambassador and Victoria Beckham becoming an increasingly relevant player in the fashion world with her clothing line. Former Spice Girl Melanie Brown, a/k/a Mel B. or "Scary Spice," has kept her status as an American pop culture fixture over the years, becoming a gossip blog mainstay via paternity struggles with Eddie Murphy (the two have a three-year-old daughter, Angel), the Spice Girls' massive reunion tour, and a near victory on Dancing With The Stars. Naturally, the next step was a reality show. The Style Network's Mel B: It's A Scary World, which debuted in September, documents her jam-packed life as a star and a mother and, like all good reality television, is easy to get sucked into on a lazy afternoon. PAPERMAG recently caught up with the lovely Ms. B for a spicy chit-chat (in which I really just wanted to ask every Spice Girl-related question I've had on my mind since I was 11...), to talk about upcoming projects (like a solo album and a Spice Girls musical), crying when Halliwell quit, and why she'll always be Scary Spice. 
What made you sign up for a reality show? 
Well, I figured people are judging me anyway and writing stuff that's completely wrong -- I've been in my own reality show for the past three or four years. My husband and I sat down with each other and were like, "What do we have to lose?" People already are talking shit about us. They're creating an opinion and a judgment off of us that's not even a fact. What the heck? Why not do it?
We're a confident, proud, quirky family and got nothing to hide. Don't get me wrong, it's hard work filming the show. We did a little bit of a test one with our crew for ten days prior to signing the reality show deal. And the kids were the ones that actually loved it. The cameras don't interfere with our life, they just capture what we do on a daily basis. It was really a no-brainer to be honest.
We hear you're working on a solo album! Do you have Details?
I'm in the middle of recording the album. In episode nine or ten, you get to see me record my single and perform it. All of that's coming and I don't want to spoil it.
And there's going to be a Spice Girls' musical?
We're in the really, really early creative stages with Judy Kramer who did Mamma Mia the movie and the musical. Simon Fuller had a great idea to team up with her. We're coming up with scenarios with this story line and that story line. It'll not come out 'til 2012, so we've got quite a ways to go. It's really exciting. We're texting and tweeting each other constantly.
You kicked ass as Mimi in RENT! Are you eyeing any Broadway roles in your future?
Yeah, I was thinking about doing that. It's hard work but it's a lot of fun. There's nothing like getting up and doing eight shows a week. 
Is it safe to say there's a little Scary Spice in Mimi? 
Mimi's on crack! (laughs) But she's very vulnerable and out there. It was a good character to sink my teeth into. Such a great show.
So you're still pretty tight with the girls? I totally sobbed when Ginger left. 
Me too! I think we all did. But that's all water under the bridge.
The Spice Girls' madness was compared to Beatle Mania. How did you deal with all of that while you were so young? 
As it was happening, I don't think we realized the impact we had. We knew we had a message and us five girls were best friends on an exciting roller coaster journey. We didn't get too affected by the cameras or newspapers. We just had each other. It's really nice to say you toured the world with your four best friends.
The Spice Girls didn't have to deal with today's nutty digital age. How do you feel about Twitter, celebrity gossip blogs and the like?

I just started on Twitter a few weeks ago and I became obsessed. It's nice to have a direct contact with fans -- my fans can follow me and see what stupidness I write about. It's fun. As for celebrity blogs, sometimes I look at them and look at pictures and I'm like, "Oh, that dress is nice." It is what it is. In this day that we're living in right now, there's access to everything and anything. To me, I'd much rather hang out with my family. There weren't blogs back in the day, and sometimes it's interesting. But it doesn't really affect my day.
Let's go back to 1996 and the "Wannabe" video. Was it really shot in just one take and with your own outfits? Did you have any idea that the  video would catapult the Spice Girls into international superstardom?
It was freezing cold and we had to get up at the crack of dawn. And we only had one makeup artist for all five of us girls. And we all brought our own clothes. From our own money too. It was definitely fun. We knew we had a positive, important message. 
How do the other Spice Girls feel about your show?
Ultimately, I'm gonna get all the Spice Girls on my show. Now they're watching it. They're such fans of it. Before, they were like, "Oh my God, are you sure you're gonna do this? Let's just see a few episodes and then we'll definitely be a part of it." We're all really supportive of each other -- from Victoria's fashion line to what Emma's doing recently. We're all big fans of each other which is really nice.
The Spice Girls are all grown up! What would the nicknames be now if you could change them? 
I'd never, never, never ever change it. There's always gonna be Scary Spice in me. It was this teeny bopper magazine that nicknamed us all. The fans seemed to like it, we seemed to like it. It just stuck with us. We were just like, "What the heck? That sounds cool."
Can you name your ultimate favorite Spice Girls' song?
That's a really difficult question. Because we wrote every single song with each other. Each and every one have a different scenario or means something different to us. 
What are the proudest moments in your crazy life so far?
I've done so much! From meeting Nelson Mandela with the girls to me having Phoenix 11 years ago. I have four best friends that I love and adore, two beautiful kids, an adorable husband who sometimes does my head in but he's the love of my life. My life is good.
How do you feel about the '90s fashion resurgence. Are you ready to take out the leopard prints and platforms? 
It's great! I still love leopard. I've saved so much stuff from back in the day. I was 18 and I'm 35 right now. I've still got my clothes to prove I wore all that stuff. We didn't have a stylist back in the day -- we just wore whatever we wanted to. As long as we felt good and looked good. 
Do you have a dream musical collaboration?
Oh, it has happened for me! You'll have to wait and see my show...