The Perez Art Museum Miami (aka PAMM) -- designed by Pritzker Prize-winning architects Herzog & de Meuron -- had it's big debut in 2013 in downtown Miami's Museum Park. On December 3rd, 2015, 9 p.m. to midnight, they'll be premiering a collab performance by Devonte Hynes of Blood Orange and Ryan McNamara called "Dimensions" that includes elements of dance, music and sculpture. Also, during this open house for members and VIPs, you can check out their current exhibitions including Nari Ward's "Sun Splashed," Firelei Baez' "Bloodlines," and a show of Aboriginal Australian abstract painting.

Louis Vuitton (140 NE 39th Street, Miami) will be presenting "Objets Nomandes" -- a new collection of foldable furniture and travel accessories -- in their new store in the Design District during AB/MB, as of December 3rd. The pieces are collabs with international designers including the Campana Brothers, Maarten Baas and Nendo. You can also check out the world-exclusive unveiling of a lounge chair designed by Marcel Wanders.
The design team of George Yabu & Glenn Pushelberg return to the BASEMENT nightclub in the Miami Beach EDITION Hotel (2901 Collins Avenue, Miami Beach) for an invite-only party with London's Horse Meat Disco crew and special guest Giorgio Moroder on Thursday, December 3rd. They're also hosting a private luncheon in the hotel's Matador Room on Friday and launching a biannual, hardcover magazine called Y.P. with the first issue, "TRANSFORMATION," available exclusively in the EDITION Hotel during AB/MB.
Absolut Elyx, Sean Kelly Gallery, Paddle8 and Water For People celebrate WATER, "the most important drink in the world," with a private charity auction and party at the Delano (1685 Collins Avenue, South Beach) on Thursday, December 3rd, 7 to 10 p.m. Look for a live performance by the Swedish singer Elliphant and a DJ set by Jasmine Solano.
Ricardo Barroso and Eva Longoria celebrate the launch of "Ricardo Barroso Interiors" at Casa Tua (1700 James Avenue, South Beach) on December 3rd. The book includes 240 color photographs of his past and present work, with an accompanying text by Barroso and Fionn Petch and a foreword by Longoria. Invite only.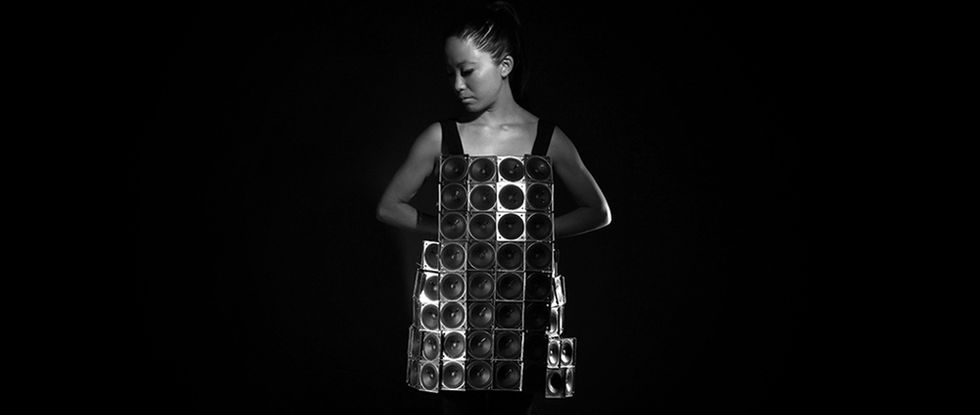 Photo by Juan Pablo Aragón
The Mandarin Oriental Miami (500 Brickell Key Drive, Miami) and Peru's gallery MORBO host an exhibition called "Pure Abstraction" by American artist Alex Brewer, aka HENSE, in the hotel's Peruvian restaurant, La Mar by Gaston Acurio. There's a VIP preview in the restaurant on December 3rd featuring a violin performance by Pauchi Sasaki who'll be wearing her dress made from speakers.
Molteni (4100 NE 2nd Avenue, Miami) celebrates their 80th anniversary on December 3rd, 7 to 10 p.m., with a VIP soiree featuring "Amare Gio Ponti," the first film about the legendary Italian architect and designer.
The Miami Street Photography Festival runs from December 3rd to the 6th at HistoryMiami (101 West Flagler, Miami) and features pro and emerging contemporary street photographers and finalists in their annual competition.

Brown Jordan and Sunbrella are getting together to showcase photographs by Gray Malin at a sneak-peek preview of Brown Jordan's new store in the Design District. The invite-only opening is on Thursday, and the store should be open at the beginning of the new year. Some of the photos from the show will be on view there permanently and others are from Malin's personal collection.
Visionaire is releasing their next issue in a poster format called FREE and, you guessed it, it's free. They are launching Visionaire 65 FREE on December 3rd at an installation on the beach near the Faena Hotel at 34th Street, Miami Beach, December 3 thru 6. The limited editions posters are by artists including Marco Brambilla, Glenn Brown, Marilyn Minter, David Salle and 8 others. Stella Artois is a partner for the issue. The VIP launch is Thursday night at the Faena.
TUMBLR hosts a "Shack-tacular" night featuring art by Marc Dennis and "special treats" at 1111 Lincoln Road, Miami Beach, on Thursday, December 3rd, 9 to 11.

Russell Simmons, David Martin and Jorge Perez host the annual Art For Life auction benefiting Rush Philanthropic Foundation on Thursday, December 3rd, 7 p.m., in the Park Grove (2701 South Bayshore Drive, Miami) penthouse gallery. Simon de Pury will be the auctioneer for works by artists including Romero Britto, Shepard Fairey, Kehinde Wiley, Theaster Gates and more.

"Beyond the Limelight," a photo exhibition of NYC nightlife in the 80s and 90s as captured by Tina Paul, opens on Thursday, December 3rd, 6 to 10 p.m., at the Museum of Fashion (2612 NW 2nd Avenue, Wynwood, Miami). The show was curated by Keni Valenti and it's up until December 12.
Miami's hottest new restaurant/nightclub, El Tucan (1111 SW 1st Avenue, Miami), is presenting a special series of dinner shows by acclaimed Cuban actress and singer CuCu Diamantes performing with Alain Perez and an 11-piece Latin orchestra on December 3, 4 and 5, with two shows nightly. The club was designed by Robert McKinley (Gold Bar, Ruschmeyers, The Surf Lodge etc.).
The Four Seasons Hotel (1435 Brickell Avenue, Miami) hosts an exhibition of new paintings by Spanish painter Antonio Dominguez de Haro from November 30 to December 6, with a VIP reception on December 3rd, 6 to 9 p.m. The 87-year-old artist is known for works that capture a "fantastical" underwater world.

Brooklyn's Rumney Guggenheim Gallery collabs with Miami's Art Bastion for a show featuring new works by Swoon, AIKO, Olek, Olivia Steele and Boxhead opening on December 3rd, 6 to 9 p.m., and up until February 16th at 2085 NW 2nd Avenue,Miami. For the opening, there's a panel discussion led by PAPER's Carlo McCormick along with several artist's in the show, followed by music and cocktails by Hendrick's Gin.

The 3rd annual Celebration of Women in Art, presented by Rocket in My Pocket, honors "Artists Crossing Genres" with a panel discussion and brunch on Thursday, December 3rd, 11 a.m. to 1 p.m., at Omar's Cabana Club in the historic Miami Beach Women's Club (2401 Pine Tree Drive, Miami Beach). Nathaly Charria moderates, with panelists including Natalie White, Millie Brown, Fischer Cherry and Karen Bystedt. Admission with rsvp only. NYC restaurant Omar's is popping-up all week in the same location and hosting VIP events including a Bass Museum cocktail party, a party for a T-shirt line designed by Anthony Haden Guest and a dinner for Rose Hartman with the Wall Street Journal.

Daniel Arsham screens his latest short film "Future Relic 04" starring Juliette Lewis on December 3rd, 8:30 p.m., at a private reception in the Miami EDITION Hotel hosted by Jefferson Hack. Following the screening he'll reveal a new limited-edition relic and then there's a DJ set by A-TRAK.

WeWork hosts the launch party for friendswithyou's new virtual reality experience "Light Spirit" tonight, 8 to 10, at WeWork Miami Beach (350 Lincoln Road, Miami). Music by Arthur Baker and DZA. Admission with rsvp only.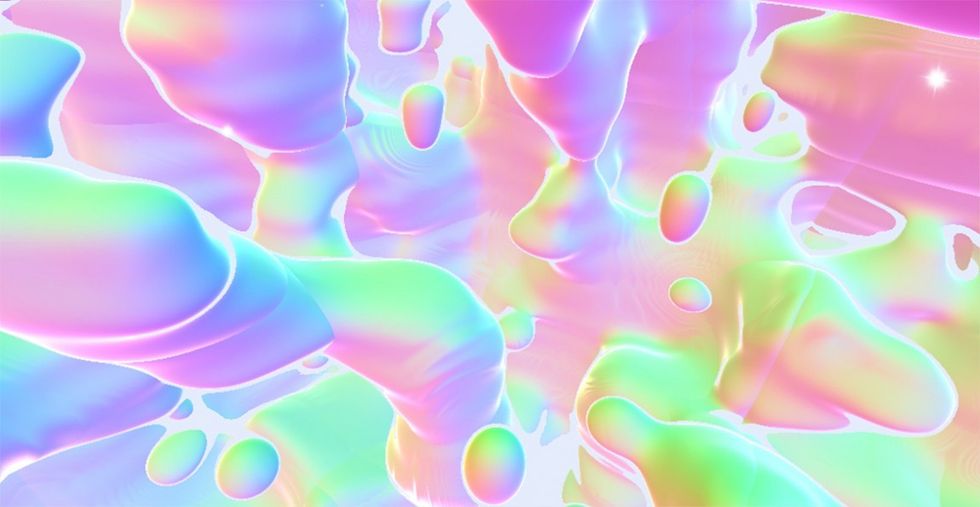 Still from "Light Spirit"
Holly Hunt Miami (3833 NE Second Avenue, Miami) and ELLE Decor's Michael Boodro open a show by LA-based artist Mara de Luca on December 3rd, 10:30 to noon, and on view all week. Also check out the new HH collection.

Nightlife legend Chris Paciello returns with a new Miami spot called Rockwell (743 Washington Avenue, South Beach) in the space that once housed Les Bains and Chaos. 10AK and Up&Down host nights all week. Galore, Tumblr and Delmar Swim host a party there on December 3rd with Miguel performing along with Chelsea Leyland and Mia Moretti.

Ornare's (4040 NE 2nd Avenue, Miami) 9th Annual Tastemakers Showcase is tonight, 7 p.m., in their design district showroom. The night celebrates seven Miami designers and architects. RSVP required for admission.

The Mondrian South Beach (1100 West Avenue, South Beach) is bringing Brooklyn to Miami during AB/MB with a multi-media installation by the Dawn of Man collective and a collab of Bushwick's Momo Sushi X Mondrian Chef Dustin Atoigue. The VIP opening is Thursday evening, sponsored by Objekt Magazine and Ruinart. The hotel also hosts a Gen Art party for William Mackrell's live installation "Arrival" on Wednesday.
Cheryl Dunn will sign copies of her new photo book "Festivals Are Good" tonight, 6 to 9 p.m., at the Standard (40 Island Ave., South Beach). Music by Jacuzzi Boys.
The Electric Pickle (2826 N Miami Avenue, Miami) hosts two nights (tonight and tomorrow) of their annual "Fuck Art, Let's Dance" party with fab DJs both nights including Kim Ann Foxman on Thursday and DJ Spun on Friday.
J. Crew (726 Lincoln Road, South Beach) hosts a private reception with menswear designer Frank Muytjens, illustrator Pierre Le-Tan and Rodman Primack from Design Miami to celebrate the 11th edition of Design Miami on Thursday, December 3rd, 7 to 9 p.m.
Luxury menswear underwear brand The Eighth are doing a collab with artist Richard Phillips on two limited-edition boxer styles with the "unveiling" on December 3rd, 6 to 8 p.m. at The Webster, followed by an afterparty at the EDITION Miami from 8 to 10 p.m. They've also done another collab with New York-based artist -- and former PAPER Magazine cartoonist -- Jim Torok.

Graffiti artist Alec Monopoly is unveiling a new wall of his "Viber Stickers" on Thursday, December 3rd, 7 p.m., at 2407 NW 2nd Avenue, Miami. Messaging app Viber hosts, and there's an "afterparty" at Gramps (176 NW 24th Street, Miami) from 7:30 to 9:30 p.m.

Morrison Hotel Gallery, Motocinema and Loretta Harms host a photo show called "Picture Start" featuring iconic rock images from the 60s and 70s by Norman Seef, Masayoshi Sukita and others at the EPIC Hotel (270 Biscayne Blvd., Miami) from December 3rd thru 6th, 11 a.m. to 8 p.m. daily. Several Gibson guitars will also be on view.

Bon Appetit and Volvo host an event called "Taste What's Next" with Michelin-starred Chef Fredrik Berselius doing tasty treats and multimedia artist Chris Doyle premiering a new projection-driven work. You can also check out the new Volvo XC90 and hear DJ Danny Stern. It's open to everybody, so stop by on Thursday, December 3rd, 4:30 p.m. Chef Berselius plans to open a new spot in Brooklyn in 2016.

The Natulius Hotel's lobby bar is the site of a year-long installation called "Wonderwheel" curated and created by CURA and produced by LA's Depart Foundation. The VIP opening is December 3rd, but you can check it out all week.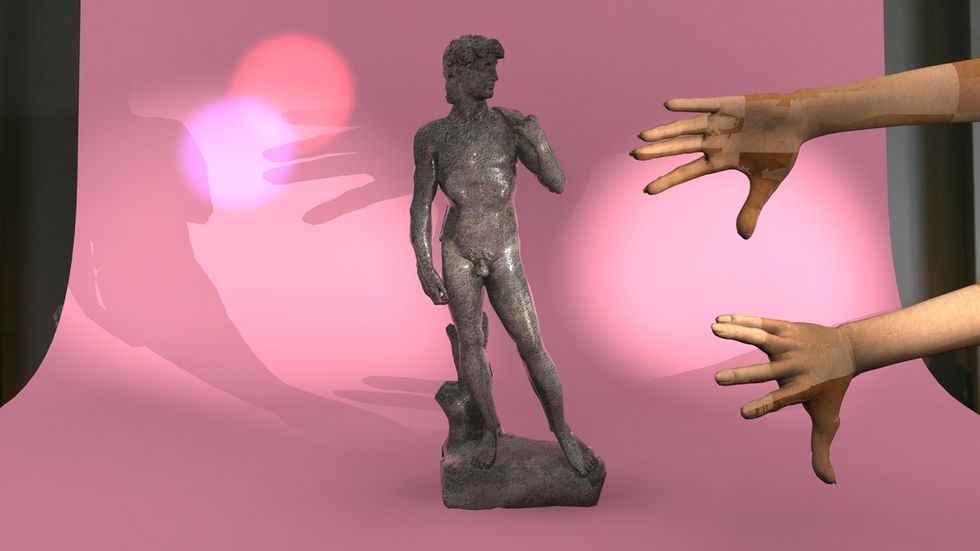 "Dust and Piranahas" by Helen Marten
Valentino (140 NE 39th Street, Miami) celebrates a new installation called "Mirabilia Romae" by Italian artist Pietro Ruffo at a private reception on December 3rd.

The People's Influence, The ONE Group and ME by Melia host "The Art of Opulence" tonight at Private Key (567 NW 27th Street, Miami). This VIP event showcases artists including Havi Schanz, Alberto Van Stokkum, Ju Reams and Delano Brown who'll be painting a Ferrari.

Paddle8 hosts a private lunch for Jean Pigozzi at the Soho Beach House.

New York artist Walter Robinson will sign copies of " Walter Robinson: Paintings and Other Indulgences" and "Spiritual America The Catalog 1983 - 1984" -- co-written with Sandra Schulman -- on December 3rd, 10 a.m. to 1 p.m. at 100 Degrees Gallery (3900 N. Miami Avenue, Miami).

The Hall Hotel (1500 Collins Avenue, South Beach), Juxtapose, Art Alliance and Shepard Fairey host a dinner for Sage Vaughn. Later there's a Smile NYC AB/MB party.

Private party tonight hosted by The DFM and MAMA Gallery with installations by Nick Thomm and "performative works" by Nana Ghana, Lisa Solberg and Double Diamond Sun Body at The Surf Lodge pop-up.
Profound Aesthetic, with Pepsi and Simple, unveil a new capsule collection on Thursday, 8 p.m. to midnight, at FDR in the Delano.
SWRG Gallery (2235 NW 2nd Avenue, Miami) will feature Frederico Massa (aka Iena Cruz) painting their storefront on December 3rd and inside they've got works by Jesse Draxler and Jake Lamagno.
NADA's opening parties are at the Beaches Bar & Grill (4299 Collins Avenue, Miami Beach) from 10 p.m until late on December 3rd and 4th. Music by Sporting Life and Juiceboxx on Thursday and Sadaf on Friday, plus a DJ set from Jon Santos.