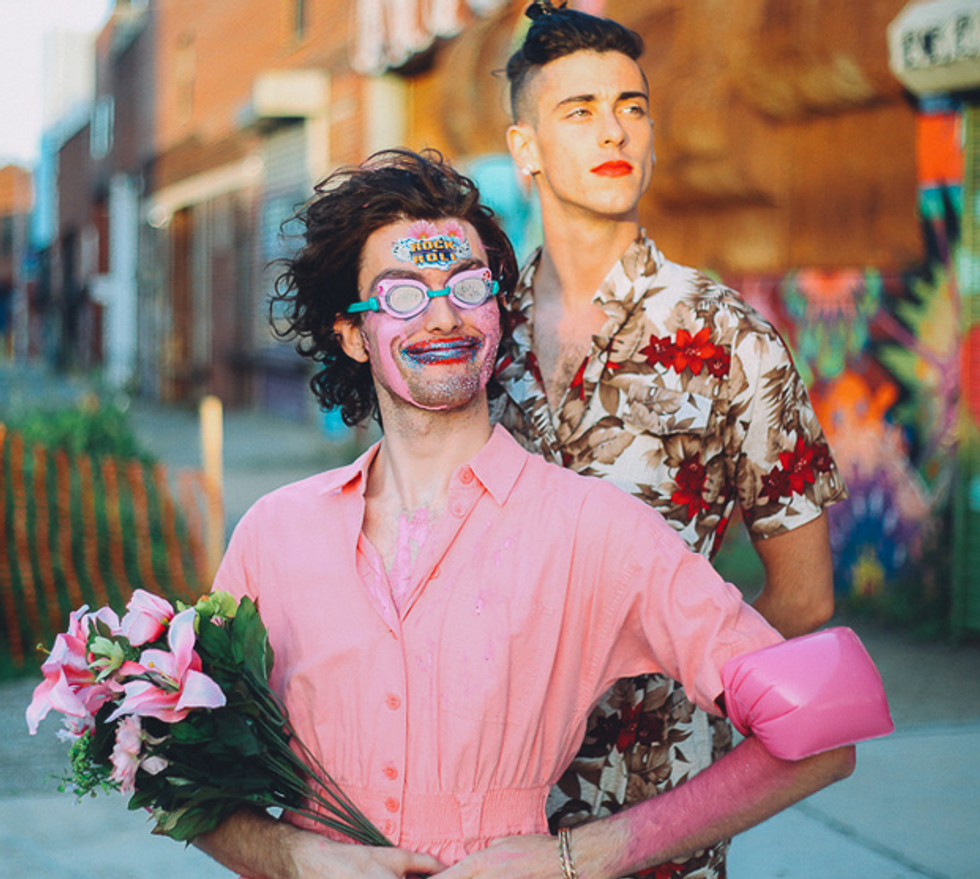 photo by Andrew Piccone
"For me, the most badass thing you can do is to be embarrassing," Ben Hopkins, the 23-year-old vocalist and guitarist for the Brooklyn-based queer punk band
PWR BTTM,
says. Embarrassing is also how Ben describes the group's buzzy debut LP,
Ugly Cherries
, out now. Hopkins and co-vocalist/drummer, Liv Bruce, 22, weave a grungy, thrashing sonic tapestry that's good for everything from head banging (like the crashing "West Texas" and title track "Ugly Cherries") to staring at your bedroom ceiling (the Magnetic Fields-esque "C U Around"). But it's the vulnerability of the band's songs that sets this musical duo apart in the wildly diverse scene of rising musicians in New York.
It's refreshing to hear a band like PWR BTTM, who relocated to Brooklyn from Annandale-on-Hudson upstate (where they both attended Bard College), discuss things like sexuality, relationships, and gender identity with such fiery sincerity. Both musicians identity as genderqueer, and seamlessly rearrange expected pronouns in their lyrics. Some highlights from the album include lines like "Queerer than the brightest day," "My girl's so sad/everything I do makes him mad," and "I want a boy who thinks it's sexy when my lipstick bleeds."
That the duo would be so open and would challenge certain conceptions of gender and sexuality makes sense considering that their very name invites us to revel in discomfort. And with  the experiences of gay and trans folk being brought to the forefront like never before, their arrival on the music scene becomes that much more important. The two started making music together shortly after meeting at a college party; the name came as a result of Liv, who as a teen, Liv was inspired by legendary queercore bands like Limp Wrist, threw around some theoretical band names with a friend like My Ass Hurts, and Hissy Fit, before thinking of PWR BTTM.
"We're living in a time where people are ready to hear queer stories," Liv says. But at the same time, the pop-y visuals and Tumblr-friendly aesthetics also mean they run the risk of being dismissed by skeptics as a gimmick. Rest assured, these two are the real deal; along with the nuanced subject matter their music is built around, PWR BTTM are legit rockers. Ben can fucking shred. 
"All you can do in life is to tell the truth," Ben says. "A friend of mine (NYC performer Jack Ferver) told me that you should take your personal myth, and make it iconic." It's easy to watch one of the band's chaotic, passionate live shows that features the duo in drag and think 'iconic,' even in their early stages of notoriety. 
"Our drag isn't fishy, or club kid," Ben says. Instead they describe their performance looks as  "catastrophic panic attack at Ricky's" (Liv) and "Kabuki falling down the stairs into a Wal-Mart craft store" (Ben). The result is messy and effortlessly true.  
Liv recalled a stint in a "straight boy band" years ago. "I started wearing lipstick when we performed, and it just kind of stuck; it felt empowering." Ben adds to this: "Drag is my armor." 
With their debut album receiving applause from the major music authorities, including a glowing review in Pitchfork, and a tour this fall (with bands MITSKI and Palehound), PWR BTTM's audience is increasing every day, with fans flocking to their mix of unapologetic queerness and biting rock riffs. 
Despite the hints of coming stardom, the two seem firmly planted in the moment, already working on new tunes, new music videos, and most importantly, staying true to themselves. It's something eerily (and hilariously) prophesized in the song "Dairy Queen," when Liv sings, "We could get so famous that we both get shot, but right now I'm in the shower."
Ugly Cherries
is out now, you can buy it HERE