People say that the light in Los Angeles is different; it coats every street in a warm glow and flushes every face with glamour. The art scene, especially, feels like a strangely varnished paradise, with that natural light all year round, giant galleries boasting space to spare, and an eternal lineup of celebrity artists. It's hard not to wonder if there is an indie scene bubbling below all these blockbuster art shows and billionaire-collector-funded museums. Where, exactly, are all the emerging, struggling, almost-famous artists?
Turns out, they're in Koreatown with Young Chung, the leader of L.A.'s underground art scene for years, though he'd never call it underground and he'd never crown himself its king. With over a hundred shows highlighting the city's under-represented artists under his belt, Chung's been spearheading the indie scene since he opened his own art space, Commonwealth & Council (CW&C), in the living room of his apartment in 2010. After getting kicked out by his landlord, he moved the gallery to a cluster of rooms in an apartment building in Koreatown that used to house an AA center (which moved upstairs). The location is spacious but hardly sterile, convertible for a variety of installations, and has a refreshing grunginess. Chung describes the art center as "extending our multiple realities through the shared experience of art," hoping that "generosity and hospitality can sustain our co-existence."
And it has. Chung has shown and supported many of the emerging artists that are putting Los Angeles on the map, like Math Bass and Danielle Dean, as well as Gala Porras-Kim and Kenneth Tam, two artists featured in The Hammer Museum's prestigious Made in L.A. show on view now. Commonwealth & Council's current exhibition presents sculptures by Olga Koumoundouros along with Tam's documentary video work. By working together with artists in his space, Chung has given Los Angeles a center for artists to thrive, choosing to bow out of the spotlight in order to find that genuine glow.
We talked to Chung about launching one of the first art spaces in his neighborhood, how artists are like one-night stands, and the undying myth of the underground.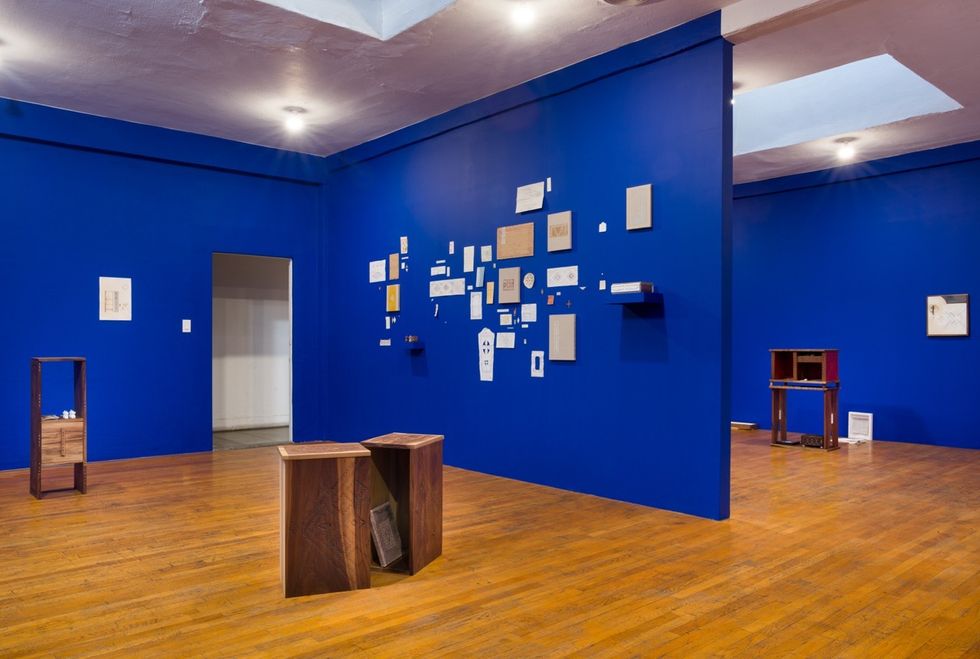 Patricia Fernández, Box (a proposition for ten years), 2016, installation view. Photo by Ruben Diaz.
What is the history of the space?
I came out as an artist and went to Irvine. I went to Art Institute of Chicago. It was the mid-nineties, height of identity politics and multiculturalism. And in L.A. I got sucked into other artist projects where they were invested in a space to show art and I helped them program and curate. Over the years I developed all these relationships with these artists and I thought, Oh, maybe if I open my own space I won't have to compromise so much. So I cleared out my living room and dining room at my apartment on Commonwealth Avenue and Council Street and I had the first artist, Gala Porras-Kim, come stay with me. She slept in my living room for three weeks and made work.
I curated another one-day show downtown of my "collection" of over 40 works. They were either acquired through trade or modest purchases or gifts, so my living room felt more like a storage space than a studio. After three shows we got shut down by the landlord. We were floating around for a while and then we got this space in June of 2011. It was a shared studio, but I held on to the first room for shows. We did 4 G.L.O.W. shows based on the TV show named Gorgeous Ladies of Wrestling, but each team came up with a different meaning for the acronym: Great Lovers Of Women. Gathering Lots Of Wood. Gone Living Out West. Grab Lunch Or Whatever. That's how we relaunched here.
How has this neighborhood of Koreatown changed while you've been here?
Well, no one has accused me of gentrifying the neighborhood, but then again I did grow up here. Otis [College of Art and Design] used to be in MacArthur Park and the first CAL Arts was there. There was a lot of history. And it's only 10 years later we are occupying it. Now there are more and more spaces coming in, including international spaces, like House of Gaga from Mexico. I thought we were geographically undesirable but, I guess all of us are in L.A..
There is a community, but there isn't like a newsletter for the neighborhood--you know, where to grab cheap lunch for under five bucks or whatever. We don't educate the people in the neighborhood, or anything condescending like that. We are on the second floor so we are out of the way, though we do get some AA members from the building.
It feels so chill here, like a hangout for friends instead of like a gallery looking to profit. How do you stay alive?
I mean, no one is coming here with their checkbook, like it's a shop. But what we are getting, for the past five years, is people who are interested in supporting artists and projects instead of just buying an object. Supporting the space. It's more about cultural capital than buying something and then flipping it. The space is changing too. As the artists grow, the space needs to grow.
What do you look for in the artists you show?
It's about personality. Sometimes you think, I love this work, it fits the program. But it's like a one night stand: You witness their bedside manner, and you're like, can I live with this? Sometimes you have to say, "You'll be a better match for someone else." We are not trying to do everything here. That's why we are always happy when another space opens up so we can share the burden.
For the most part, I like learning from artists, discovering things from artists, and artists that shake up the singular narrative. We show a lot of women artists, artists of color, queer artists, and allies. We are trying to find what's good in the pool. If you are Blum & Poe or [another big gallery] and you say you only show the most gifted, the most innovative artists, but then they are 90% men, something is wrong.
Do you consider Commonwealth & Council more "underground"?
You know, we are not underdogs, and really, not too under the radar. People know us, even if maybe they haven't been by. There is always a mythology of being unknown, but sometimes that's what people create, people like journalists. [Laughs] Well, like you.
All photos courtesy Young Chung.

You May Also Like
Pride
Story by Jonathan Borge / Photography by Pol Kurucz / Styling by Marko Monroe / Hair by Gigi Goode / Nails by Juan Alvear