Photographer Setti Kidane loves black women, and leaves no room to doubt that with her gorgeous, carefully-shot calendar-cum-photo series of fellow black female artists called 12 Months of Melanin.
The 24-year-old artist, who splits her time between Toronto and New York, was originally inspired by Kelela's luminous video for "A Message" and subsequently shot a series of portraits in an attempt to highlight these individual artists' multidimensionality and the power that rests in their vulnerability. Check out our Q&A with Kidane to find out more about the project, alongside a few of the beautiful snaps and links to each of the artist's individual Instagrams below.

Tell me a little bit about the project? How'd you get the idea?
I love black women so much. I feel like that's something that everybody knows about me. I really love telling stories about us and I also like to amplify the voices of women in my community, so that they can tell their own stories. So 12 Months of Melanin is a reflection of those desires. It's a photo series that highlights the work of black women and celebrates their lives. The project consists of two parts -- a print calendar and an ongoing photo series. The calendar features black female artists living in Toronto and the series will feature artists from various cities in Canada and the US.
I was asked to put together a portfolio for a class that I was doing through the Remix Project. I wanted to share a portfolio that was both comprehensive and consistent with who I am as an artist. Rather than showing a scattered collection of images -- pulling from my concert work, parties, portraits, lifestyle, and candid -- I chose to create something new. This started off as a spin-off of a series that I had previously worked on, and then it developed into what it is now -- a photo series celebrating black women, embracing our multidimensionality, and positioning our vulnerability as sites of both power and resistance.
What was the creation process like? How did you choose who to model for you? How did you decide on shooting in this particular style, etc.?
I was working with one main reference image -- Kelela's "A Message" [video]. I started asking other photographers for advice about how to recreate the shot. Then I began asking videographers and makeup artists for their insights. I tried all of these lighting and makeup methods on myself at home.
Then I hit up the women in my community, asking for their support. Almost everybody was on board and eager to participate. Some women were unable to contribute because they were burnt out or under-resourced in some way. Most of my friends and mentors are black women. These women are incredibly talented and beautiful people with wonderful stories to share. I wanted to celebrate their beauty and give them another platform to share their work so they could get due recognition as some of Toronto's emerging or established artists.
Although I had my own vision in mind, I also wanted to give the models room to be present in a way that felt good to them. So I structured the shoots in a way that allowed them to be a collaborative process. The models had space to direct themselves, vibe out and go with the flow, or talk through their feelings until they were ready to share different sides of themselves. It seemed like the shoots were transformative for them in some way. I feel like the models walked out feeling good about themselves and about the work that we did together.
Tell me a little bit about yourself, your past work and how you see 12 Months of Melanin fitting into this oeuvre.
I'm a black femme woman from Toronto. I really love to capture the energy in a room when I shoot concerts and parties, and for portraits I think about empowering people by supporting them in telling their stories. This project enabled me to merge those perspectives/intentions into my work.
I don't usually shoot in black and white. That's something new that I've been doing and will continue to do just for this series. I now want my other work to be more colorful and glamorous. I had always been interested in fashion photography. I figured I would get into that much later in my career but through shooting all of these beautiful women I realized that I want to do that right now.
Why also package the project as something you can buy either as a calendar or an individual print? Has one particular format been more popular?
I want people to celebrate black women every day and a print calendar felt like the best way for folks to participate in that. The prints are for folks who want high quality photo prints at a larger size. Both have been pretty popular. I'm very grateful to the folks who are supporting the work.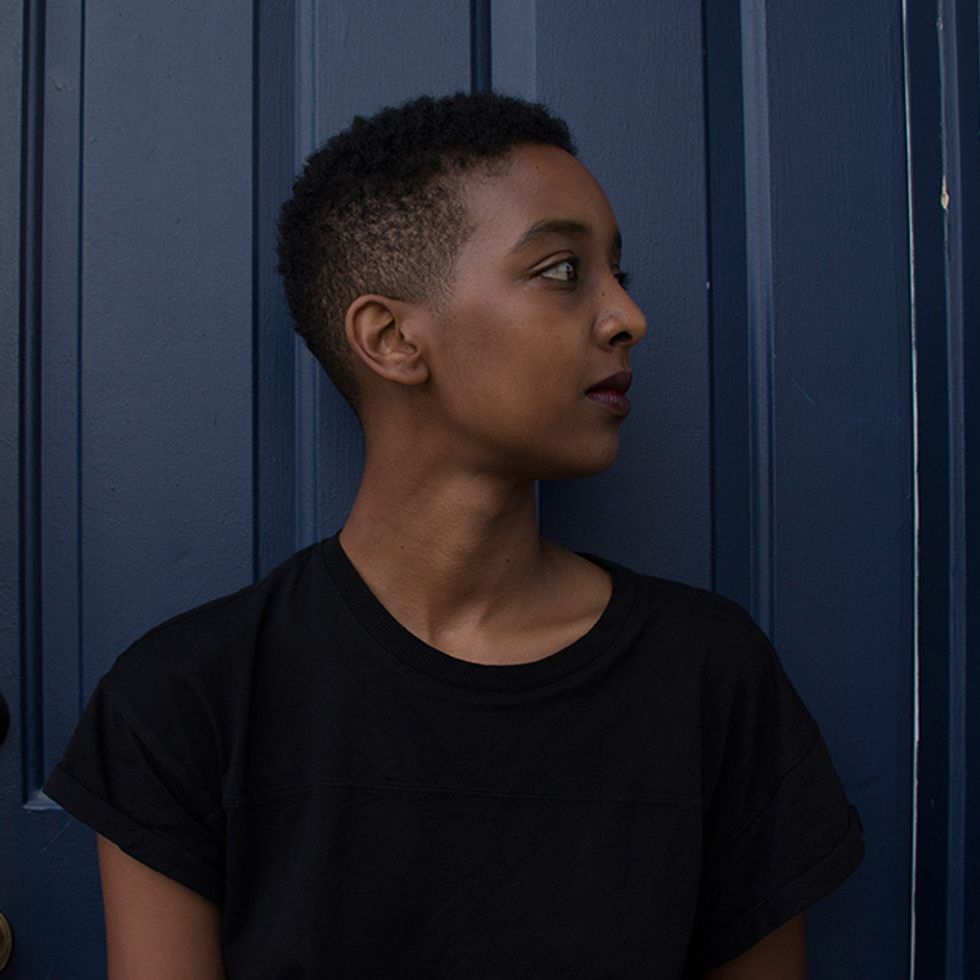 Setti Kidanephoto by Shawntol Drakes
What else are you working on in the vein of 12 Months of Melanin?
I'm shooting more portraits and highlighting work done by the melanin models as well as other black women on Twitter and Instagram. I'm also interviewing the melanin models during their featured month so look out for those -- and I'm currently showing work from the series at two galleries in Toronto.
Is there anything else you'd like to add?
I'm already working on the 2017 version. I'll release details about that later this year.
Check out the 12 Months of Melanin website here.

You May Also Like
America
Story by Katherine Gillespie / Photography by Dana Trippe / Styling by Rebecca Grice