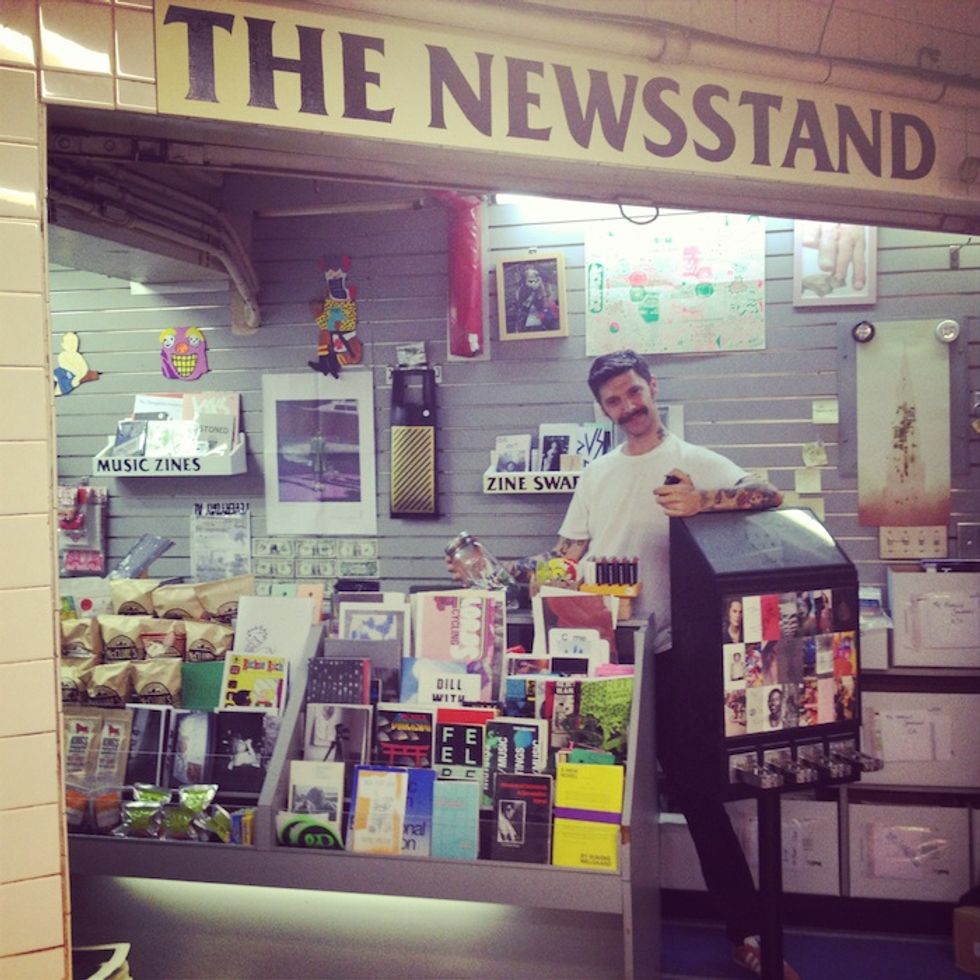 Co-creator Lele Saveri inside The Newsstand
L and G train riders have likely noticed a new addition to the Lorimer/Metropolitan stop: a pop-up newsstand selling zines. Sometimes called the
"hipster newsstand"
or the
"zine stand"
but officially dubbed "The Newsstand," the little kiosk sells all of the basic necessities that a North Brooklyn commuter might need: artisanal jerky, McClure's potato chips and zines curated by artists and indie bookstores like Dashwood and McNally Jackson. After first hearing about the stand from
a tweet by JD Samson
, then scoping it out shortly after its opening and, later, stumbling upon a party down there, we had find out what was up. Below, we chat with three of The Newsstand's creators: Lele Saveri, Kevin Kearney and Jamie Falkowski.

So who are you guys?Lele Saveri
: I'm a photographer and used to work as a photo editor for three or four years at
VICE
[Italy]. I used to run a gallery [in Milan] and I moved to New York about three and a half years ago. Last year I started a zine fair that I do twice a year called
8-Ball
. I've been friends with Kevin for a long time and I've worked on photo and video stuff with him [and Jamie] and they helped me out with the last zine fair.
Kevin Kearney:
I'm one of the partners of
ALLDAYEVERYDAY
[
Ed note: where Jamie also works
], an [agency] that makes original content and entertainment from feature documentaries to TV pilots and also does creative services for brands. The whole [Newsstand] thing started organically: one day Jamie and I were coming back to our houses on the subway and Jamie pointed at the newsstand space and said, "This is such a cool space. I'd love to do something there." And I was like, "It would be really cool if we got Lele to do zines down there." It was pretty easy and obvious, actually. The three of us just met at my house and started talking about it four or five months ago and now we're here. That's how the baby was born.
How difficult was it to rent the newsstand? How do you even go about doing that?Jamie Falkowski
: It's owned by the MTA and they typically lease those retail locations for a ten-year lease so it's normally a much longer-term commitment but they were really receptive to the concept and open to trying it out. They've been pretty flexible with us wanting to do something short term with the space.
How did you find out the space was open to begin with?
Typically the MTA lists all open RFP opportunities for retail
on their website
and provides contact information for the retail department. Since most leases are based on a ten-year agreement, and since we were looking for a short-term deal in a not-yet-priority location, it did take some time to find the right agent to help us out. All told it took about two months from the first meeting to finalizing the deal and setting an open date.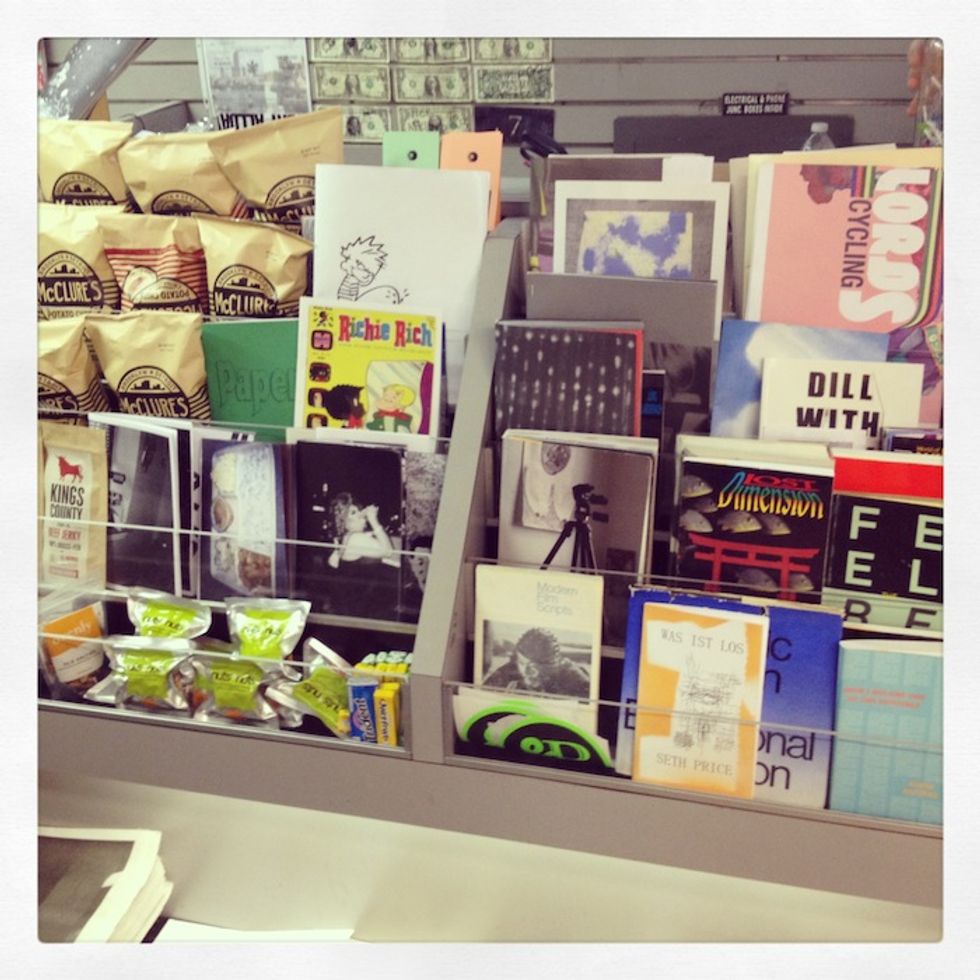 Items on sale
What made you want to open a newsstand that sells zines?KK
: It was to do something different and [provide] something that isn't readily available.
LS
: I think the zine idea was also because of the location. You're in the subway and people are used to grabbing something to read for the train ride. If it's not a newspaper or magazine, you just download [something] on your phone. [Zines] are something people can get for cheap and a unique thing. Also, you're [physically] underground and zines have always been about the underground world.
JF
: I think that space is really interesting because it's so different from going into a regular newsstand. You have to spend time and look at all the different titles and find the thing that speaks to you.
LS
: Everyone who works at the stand are people who have been related to the zine world forever. They know exactly what they're selling. It's not like a dude who sells magazines and doesn't even look at them. Every day there's a new person and every day the person is curating or moving things around. I swear you'll see new stuff every day.
I hear you're going to have visiting artists working at the stand.LS
: Yes. We have a list of friends that also happen to be artists and want to be involved in some way. They were asking if they could get involved so I thought it would be nice for fans of those artists to see them working. [Fans] can get stuff signed. Every artist that comes in selects his favorite books or gets new stuff to put up. People can see the artists' curatorial [choices].
What artists will be there?LS
: We've already had
Nick Atkins
, the guy that did TVTV Channel, we had
Ari Marcopoulos
last Sunday who made ten zines. We'll have Pat McCarthy tomorrow,
Peter Sutherland
and
Maia Ruth Lee
on July 3,
Nick Sethi
that same week.
JF:
In addition, we'll have some one-off events with publishers and magazines.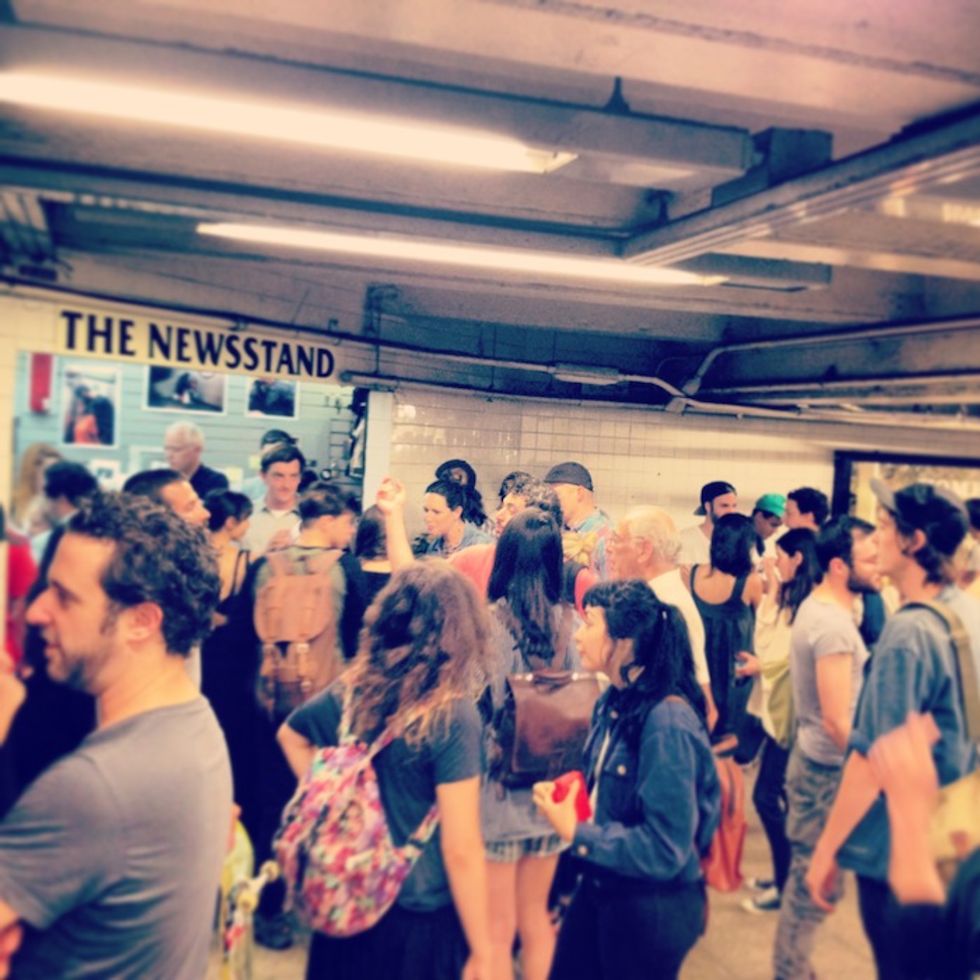 Guests at a Newsstand party
What's been the reaction to The Newsstand so far?LS
: People seem to love it. People seem to love it
a lot
. All of them. Even the people who were first a little skeptical and against it, once they get in and realize what it is, they get into it. There was a guy who came twice and he kept swearing at me because I didn't have [something] and then he came back today with some t-shirts he was trying to sell.
What else are you selling besides zines? You have snacks, right? JF:
We called up a few local brands and tried to bring in some of that to the space. The longer we've been open, we've noticed that there's the opportunity to service the person that's coming in for zines and who has a familiarity with some of the titles, and then there's the regular commuter who might be going in just looking for a water or snack.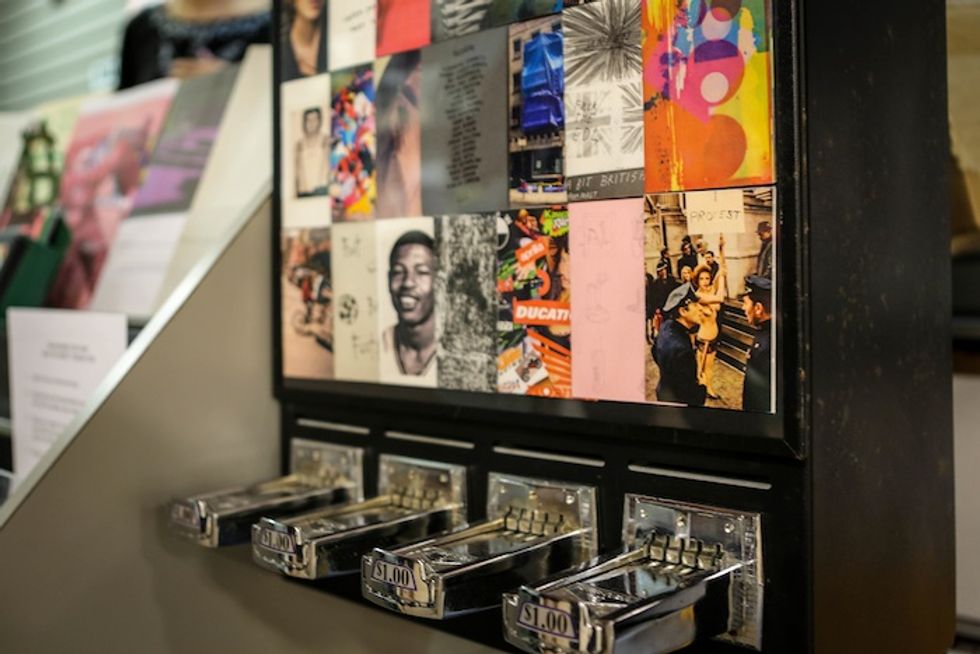 Zine machine. Photo by ALLDAYEVERYDAY
I saw you guys have a zine machine. I read somewhere it used to be an old condom machine? Who made that?LS:
It wasn't a condom machine but whoever said that is good. Friends of ours who have been helping me with the zine fair and who have a small publication bought an old [temporary] tattoo machine for kids and fixed it, cleaned it up and made it work properly. They opened the [slots] to fit the zines and that's more or less it. But you can still write that it was a condom machine. That's funny.
JF:
They pulled 20 different artists together including Lele and it's random so you're not sure what [zine] you're going to get.
What other events do you have coming up?JF
: We have a small event with
Apartamento Magazine
today.
LS:
This Friday we have
Desert Island
, a bookstore that does comics, having a new comic release. They'll also have a [musician] coming to perform live and [an artist making] live drawings.
We also have a poetry reading for
Apology Magazine
at some point in July. [Artist Maurizio Cattelan's]
Toilet Paper
Magazine will do another event in July.
Do you guys think zines have become more popular lately because the '90s have become this new touchstone?LS:
Yes, for sure. As more people do it, more people will buy it because they're aware of it and interested in collecting zines...We're getting a lot of young people [coming by] who weren't really aware [of zines] but have now started collecting them.
KK:
It's interesting to see the rise of self-publication. People are getting less scared to share and put themselves out there and make stuff.
The Newsstand is open Mon-Fri, 10am-9pm; Sat-Sun, noon-7pm. For more info, go HERE.