If you have not yet availed yourself of Solange Knowles' video for "Don't Touch My Hair," drop everything and do it now….we'll wait. Her latest album, A Seat At The Table, is already being touted as a landmark moment in music for the year and for good reason: The soul, pride, and honesty are like nothing we've seen and heard in a minute. And not surprisingly, her first video is suffused with the artists' own singular style, with looks that can only be characterized as so Solange . Notable among them were custom pieces by Los Angeles-based designer James Flemons whose line PHLEMUNS is becoming a go-to for bold and intelligent artists, performers and creative movers and shakers (like actress Ella Purnell in our Beautiful People issue). We spoke to the burgeoning designer about being part of Solanges' watershed moment, what it's like working in Los Angeles vs. New York, and what's next for him (hint: denim!).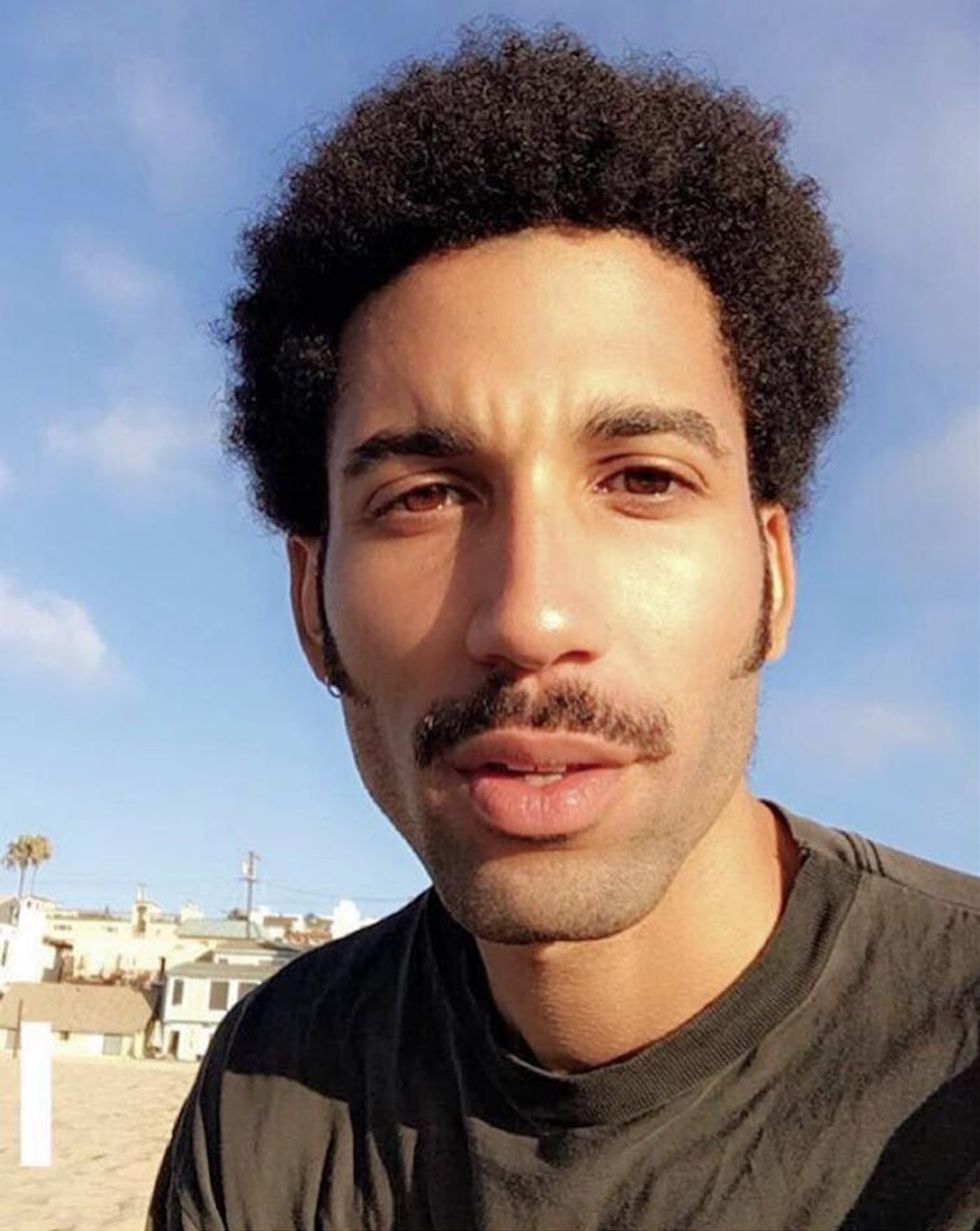 What was your reaction when you watched "Don't Touch My Hair" for the first time?
I was at a standstill and in complete awe! Having a little bit of an inside scoop, I was privy to some of the behind the scenes footage and knew they were going to be visual masterpieces but had no idea how amazing the finished products would actually be. It was an even bigger surprise finding out my pieces would be used in the video for what turned out to be my favorite track on the album.
How did this project come about--what was the initial conversation about doing pieces for the video?
It was pretty quick and kind of out of nowhere. Shiona [Turini], Solange's stylist, emailed me in early August about Solange being interested in getting some custom pieces made for videos from the upcoming album. Initially it was three pieces each for ten people total. I was unsure of taking it on at first because it was so last minute for me to hire a sewer to get the requested 30 pieces done in time for the fitting, and at the same time I was in the midst of assisting costume designer Mindy LeBrock in creating pieces for Rihanna's MTV Vanguard performance. I knew in my gut it was an opportunity I didn't want to miss out on, so I decided to bite the bullet, lose some sleep, and sew them all myself with a little help from my best friend and creative partner in crime Franc Fernandez.
Can you elaborate on the specific pieces you made?
I created the red bralette and shorts that Solange and four of the dancers had on in the middle of the video. Shiona sent me photos of two bralettes, a pair of shorts, and a necktie from my spring 2016 collection that Solange was interested in customizing. I think, creatively, we see through a similar lens, that's why we've built this budding relationship, so the customizations were only minor tweaks, like the shorts but remove the pockets, etc. Given the time frame, I made a couple other customizations and that was that.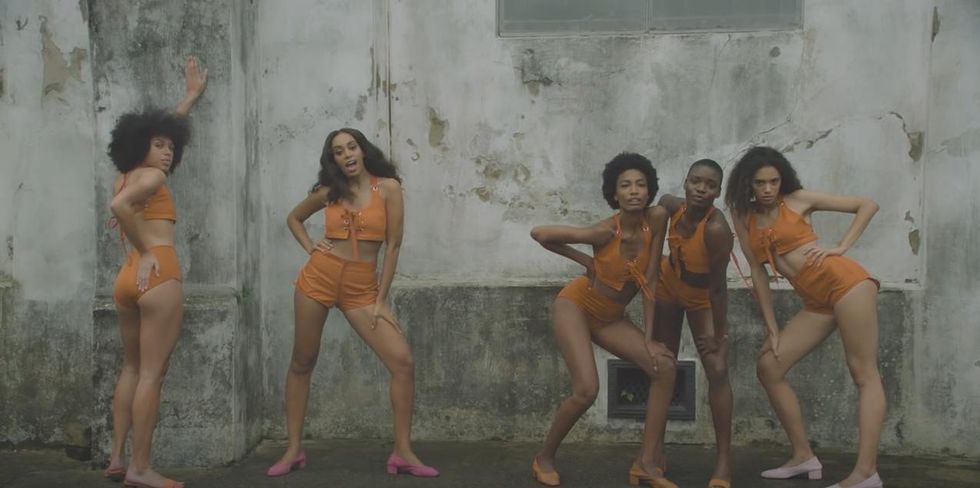 Solange has such an extraordinary and original point of view with her clothes, how do you relate to it as a designer?
I have admired her style for years so it is a huge compliment that she thinks highly of my line. I think she has this way of wearing elegant or forward clothing so casually and with ease. For me thats basically the whole concept behind how I design. I like to take the concept of something formal and make it easy and approachable to wear casually, along with this high-low idea of how I dress personally.
What does this album and what Solange is saying right now mean to you?
A Seat At The Table is a loud voice for the black community right now and has had such an effect on me, especially with the tension in America regarding the struggles and injustices of black people. Its been four days and it's still the only thing I can listen to. The album is so unapologetically black and beautiful. I think it's had such an impact by putting so many relatable thoughts and feelings into melodic words and rhythms. I don't think we've experienced a body of music this real and genuine and personal in a long time, being in a moment where most artists kind of feel the same. I see it as a great learning tool for non-black people to get an idea of the lens we see through while existing in black skin. To me, it also sheds a light on depression and self love, which I connected with.
There are very few independent, POC, ready-to-wear designers out there, especially around your age. Can you speak to that at all?
I think times are slowly changing. There are and have always been so many POC that exist in the world that want to have a voice in fashion but have always had to go through other channels to get to where they need to go. So often, they're being turned down or seemingly having to go through bigger hoops just because of their background and the color of their skin within a white-dominated industry. One of the advantages of social media is the ability to create and build your own audience, and more POC are being noticed and almost demanding that they been seen in their respective creative fields. We are here, we are talented, we don't fit in just one box, we have a voice that can reach a wide range of people, and we are just as good or better than our white counterparts. I feel it is so important for my face to be attached to my clothing line, because when I was growing up it was so rare for me to see someone black succeeding in fashion, and I hope to be that face for young black designers out there.
What is your fashion background and how did you arrive at doing what you're doing now?
It's a long journey that goes back to the 90s. I initially gained interest in style and clothes from watching music videos with my older sisters. I drew a lot when I was in elementary school, and my drawing shifted into design one year when my sister got a Barbie fashion design kit for Christmas. I somehow got my hands on it and would use it to draw outfits I saw in the videos. Since then, I was always known as the kid who designed clothes. In 2007, I got accepted to the Fashion Institute of Design and Merchandising on scholarship, which is where I learned how to sew, and majored in Product Development. I graduated in 2010, but without full awareness of how to sew or construct garments, so I went idle for a few years. I got motivated to get out my sewing machine again by my good friend Wydney, who had a legging line. She ignited my fire and helped me gain this 'act now, think later' mentality. In 2012, I bought a bunch of jeans from Goodwill and practiced my sewing every day from morning to night. What I was creating gained the attention of friends, which gained the attention of stylists, which then gained the attention of celebrities. I saw there was a demand for what I was doing, so in 2014 I decided to make things official and start PHLEMUNS on my own. Everything has naturally progressed since then through my own hustle.
What is it like working and building your brand in Los Angeles as opposed to say New York?
I feel like my work can be more genuine to my point of view by being in a place that is not so heavily surrounded and impacted by the fashion industry. Fashion was so in my face when I lived in New York that all my designs felt referential to existing brands, whereas here in LA you kind of have to find the fashion influences. Also, the music and film industry lives here in LA, so I've become a go-to for a lot of stylists, which has attached so many celebrities to my brand. And I have easy access to the beach and other forms of nature which is a big release for me! One drawback is the lack of designer/creative community which exists in New York, but I'm gradually building one
What's next ?
Next for me is building a stronger foundation and finding funding, which would grant me the ability to get out of my living room and into a studio and actually hire some people to work with me. Creatively, since I decided to skip the spring 2017 season, I will be putting out an all-denim capsule collection before the end of the year. It will be kind of a 'PHLEMUNS Favorites' type of thing.
*This interview has been condensed and edited.