BILL MURRAY: A Story of size, distance, and sincerity, a sculptural show at the BALTIC Centre for Contemporary Art in Gateshead, UK, uses Bill Murray as a lens with which to examine how we experience and measure size and distance. Created by UK artist Brian Griffiths, the show is comprised of a fantasy world with nine different buildings -- including an LA beach house and a Scottish mansion -- that playfully mixes up Bill Murray's personal life with the lives of his beloved movie characters. These buildings and the objects in them represent Griffiths' fantasies being synthesized with Bill's. We spoke to Griffiths about his inspiration for the exhibit, Murray-ness, and the role of "sincerity" in the show.
How did Bill Murray become the inspiration for the exhibit?
Bill has been an ever-present cultural object all my life. Bill is popular. Bill has attitude. Bill has lived. Bill has a watchable face. He is a rich material to be directed, laid out and persuaded to perform in this show.
I've read that you are interested in his 'Murray-ness', can you elaborate on what that means?
Well a Murray-ness is where art and life conflate, where authenticity is a must and performing needs to be impeccable. Where an apparently concise thing (Murray) creates uncertainties and irreducible ambiguities (-ness).
So:
Bill Murray the artist
Bill Murray the man
Bill Murray the fiction
Bill Murray the object
Bill Murray the image
Bill Murray the hipster
Bill Murray the global super star
Bill Murray the unique
Bill Murray the everyman
Bill Murray the anti-brand brand
Bill got the job, he had the experience, the attitude and just enough hope to lead this one person show.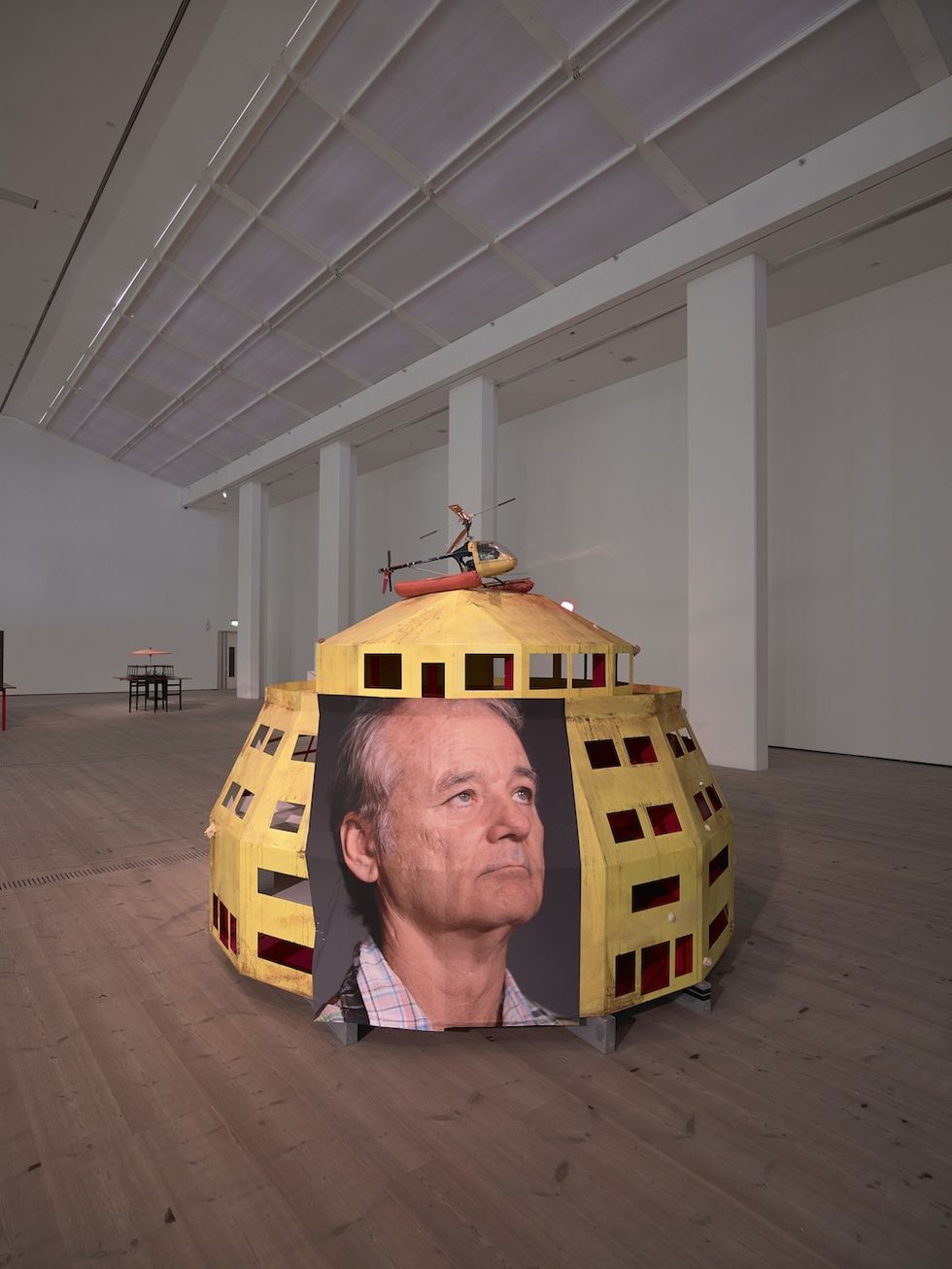 In Bill Murray: The Story of Distance, Size, and Sincerity, what does the word "sincerity" mean in this context?
It means Bill is authentic, honest and genuine; it means the show is authentic, honest and genuine…that it is real (and not fake). And funnily, that this reality is created by fictions and ornate representations. Since Aristotle, sincerity has been a Western ideal. In the 17th Century with the Romantic Movement, sincerity was celebrated as an artistic and social virtue; the Abstract Expressionists had buckets full of sincerity (the art critic Clement Greenberg called it a 'truly rare thing, a sincere style'). This exhibition continues art and culture's preoccupation and use of sincerity and authenticity.
Today what makes one thing seem true and heartfelt over another thing? What images, objects and languages have sincerity -- When do I feel it? When do I believe it? –- something direct and gut wrenching? Those are things created by the Advertisement industry. In this Industry Mr. Murray shines; he has conviction, beliefs and relentlessness.
I've read that you tried to pick various images of Murray which showcase his "Bill Murrayisms." What is a "Murrayism" exactly?
Some quality or attribute attached to Bill:
Bill the lovable gruff
Bill the funny dancer
Bill the wise cracker
Bill the dignified clown
Bill the lothario
Bill the old curmudgeon
Bill the emotionally brittle
Bill the lost man
Bill the free-wheeling guy
Bill the uncle you never had
Bill the hopeful
The exhibit features various "Murrayisms," such as Bill Murray: The Everyman, Bill Murray: The Hipster, and Bill Murray: The Uncle you never had, among others. Do you have a favorite?
Bill Murray: The Lost Man -- this has a classic literary, theatrical and filmic history. I always think Bill Murray would make a mesmerizing Krapp in Samuel Beckett's stage play Krapp's Last Tape. The absurd human condition of connection or disconnection, of searching for stability or meaning in an incomprehensible world.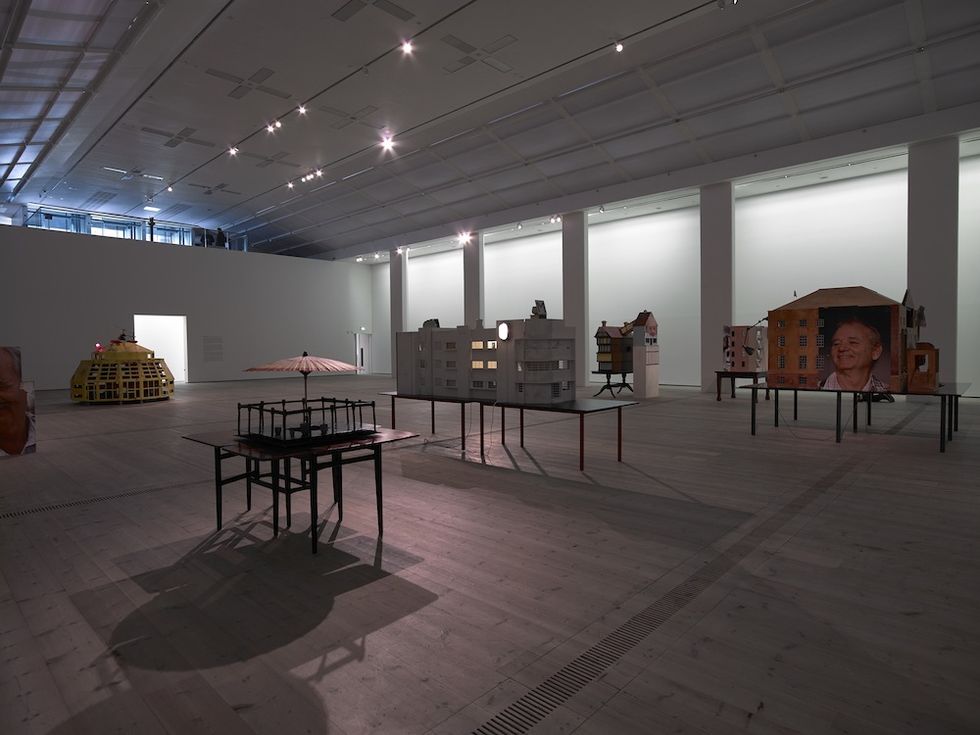 Your work often uses objects to examine our relationships with the material and social world. How does this exhibit capture that?
Bill, models of architecture, lights, collections of everyday things and the site are all particular types of objects that create one large immersive assemblage. The installation is a metaphysical adventure story and a poetic tableau. It enjoys and considers the effects of small, miniature, big, gigantic, the scaled up and scaled down, detail and overview. It is a show that questions how one experiences and measures things -- how one is positioned in the world. It encourages comparisons and differences, instabilities and slipperiness and attempts to use exaggeration as a means of revelation. This exhibition desperately wants intimacy and grandeur, to present production and consumption and hopes for imaginative flight from humble objects.
We are all caught up with things -- self and stuff is always mixed up. I am always attempting to find ways of representing an observed or felt contemporary lived experience. How does one present the most intimate and personal intuition of the human situation in these contemporary times? To start from objects, in this case handmade models/ornate dollhouses, photographs of Bill, everyday things is a way of starting from the world with all its complexities.
Do the different expressions on Bill Murray's face reflect the various emotions we associate/experience with material objects?
I do not know, but a lovely question. From the blissfully happy, mildly amused, bemused with a fair share of indifference and sadness -- these could describe Bill's expressions and also my experiences with particular objects. The images of Bill were taken from one photo call at Cannes Film Festival so it is a set of images over a very short duration where Bill puts in a fantastic performance or probably more accurate to say performances where he is there to 'sell' the big material object of a movie.
Are the house models based on houses Bill Murray actually lives in or from your imagination?
Bill Murray and the 'real-estate' are, amongst many other things, uber-commodity objects (like Art) which sets up particular types of relations. I wanted to test these out, to mix them up where size (and scale), distance and sincerity are performed. So these nine houses: LA Beach House, Tudor, NYC Brown Stone, Japanese Hut, Adventure Module, Scottish Country Mansion, Georgian Terrace, Fantasy Villa (somewhere in San Francisco), Art Deco position facts with competing and interwoven fictions. These joyfully confuse Bill's personal life and his movies, my fantasies with Bill's. The architecture becomes body and the body become architecture.
This becomes some pastime to pass time and an inquiry into the nature of personality; and a comment on the way we invest our own desires into objects. In the film Being John Malkovich John becomes a celebrity ripe for hollowing out into blank receptacle. I am not sure if Bill is for hollowing.
Any plans to bring the show to the US?
No plans but would love to. Offers always welcome.
Photos courtesy of Brian Griffiths
BILL MURRAY: a story of distance, size and sincerity runs at the BALTIC Centre for Contemporary Art through February 28th
You May Also Like
Care
Story by Sarai Li / Photography by Andrew Kung / Art direction by Djiun Wang