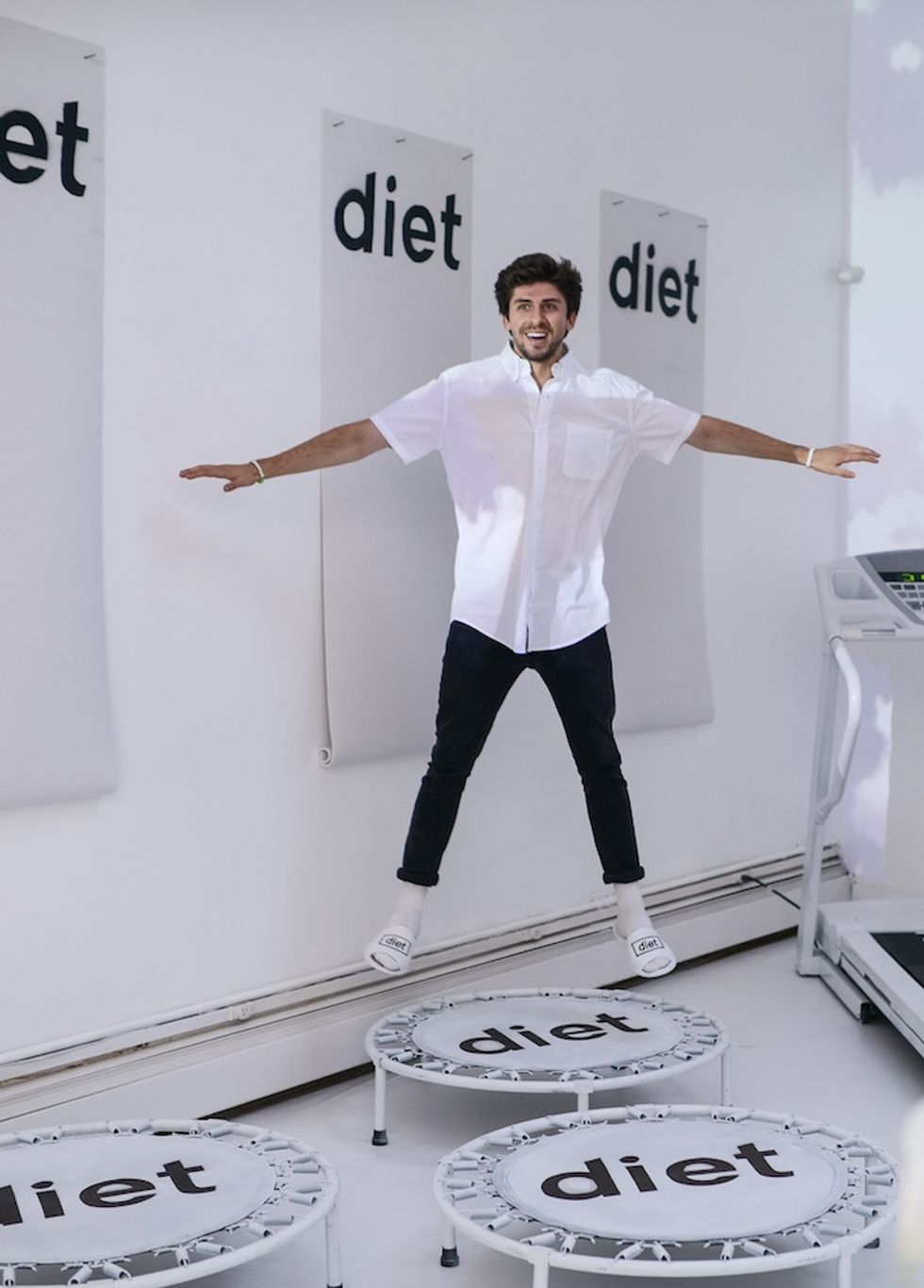 (Photo by Madison McGaw/BFAnyc.com)
"If art is good enough, it'll get picked up by the Internet,"
Matt Starr
says, adding that "virality is 100 percent a part" of his work. Along with contemporaries like Chloe Wise and Brad Troemel, or Shanzhai Biennial's Cyril Duval and Babak Radboy, the 25-year-old new media artist is at the forefront of a growing group who seem equally concerned with creation and dissemination. Taking an Instagram selfie at one of Starr's installations -- like The Limited F#cking 2, a trippy, sexualized reimagining of the '90s tween retailer -- is just as important as viewing it. Starr had art and fashion types in a snapping frenzy at DKNY and Raat City's New Art City show this fall with his series of incongruous items (e.g. cigarettes and condoms) branded with the word "diet." Soon, even wine bottles will sport the
"diet" logo
; the artist was recently approached by an Italian winemaker for a rebranding project. It's the most recent in a long line of commissions from sources as varied as the Ace Hotel and A$AP Ferg -- whom Starr wants to recruit for a future "diet" project: "I really want to get Ferg to teach a 'diet' yoga class," he says.
While Starr doesn't consider himself an "Internet artist" so much as an artist whose work is primed for the 'net, he's nevertheless dipped his toe into web-centric projects. About a year ago, Starr joined Tinder ("I wasn't meeting people and somebody told me they'd met some gallery owner on the app and I realized I could totally use it to network") and shortly thereafter, began working on a new piece that used the dating app as its medium. Having chosen strikingly bizarre, Photoshopped images as his profile pics, Starr quickly accumulated matches and started cataloguing the messages he received. "The whole point of the project was to capture how [my matches] approached me," Starr says. "I was by no means the most attractive guy on Tinder but I was one of the most playful and attention-grabbing. Because of that, it removed the tension for girls to message me first -- they
always
messaged me first." Now the artist has turned his attention to Instagram, where he's teamed up with a friend, Avi Gill, to launch
@Walm.Art,
an Insta-gallery of sorts where each row on your feed shows three works by the same artist, making the overall effect like you're shopping (or liking) different artists' aisles.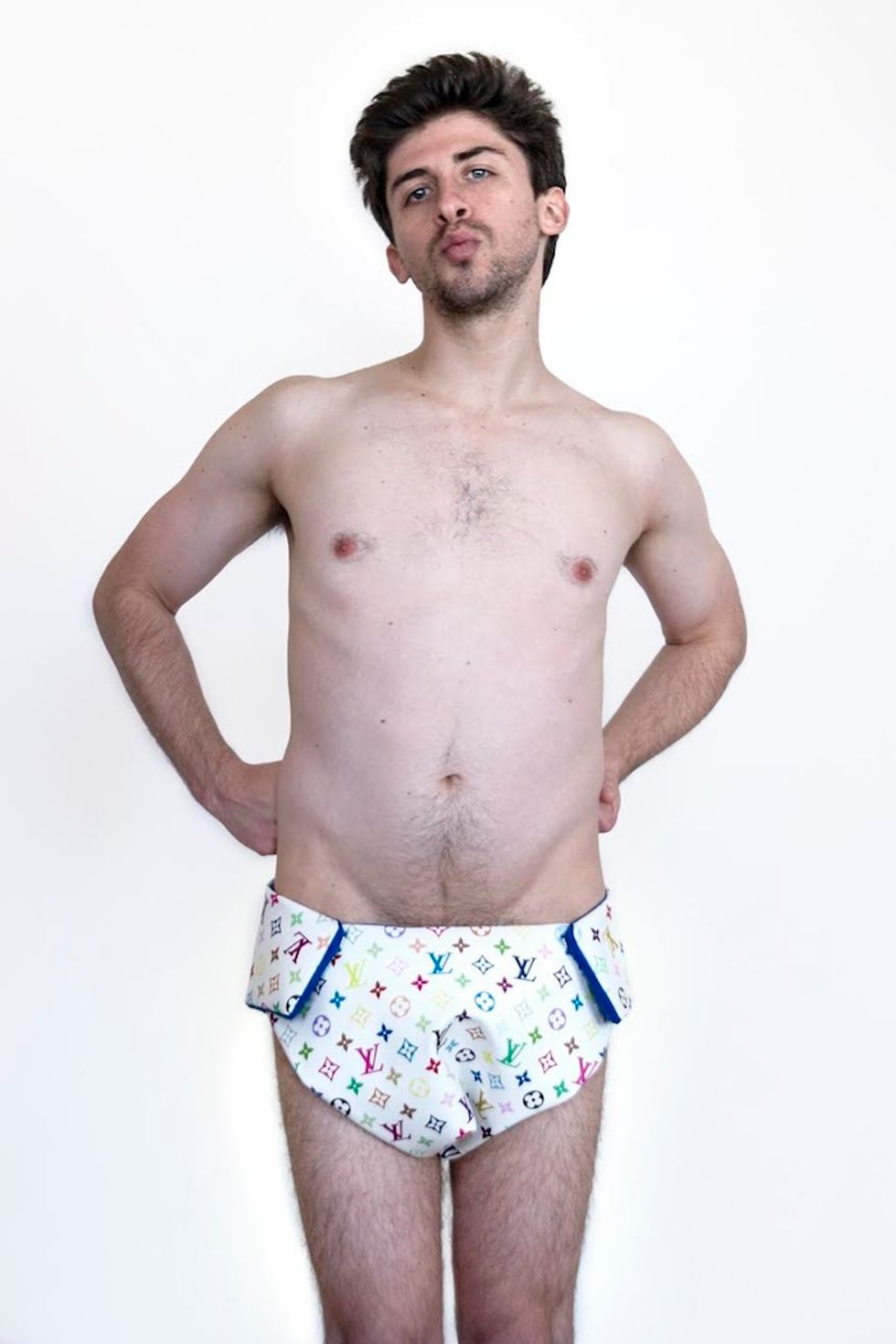 Photo by Bryn Taubensee
Also on the horizon for Starr is a designer cast series -- yes, you read that right, arm, back, and neck braces (among others) stamped with Louis Vuitton or Gucci logos. "For the days you need that special lift," reads the caption on an Instagram photo of a well-made up woman wearing the kind of mask you get after plastic surgery. He also recently shared a photo of himself clad in a Louis Vuitton logo-ed diaper -- an "extension of the cast series," he says. "It's a transitional piece," he explains, the first in a new series-cum-movement he's dubbing "babycore" or "apparel inspired by baby clothes."
"Because of the way I act, my mother thinks I'm regressing into a child again," Starr says of the idea for the concept. He's enlisted a designer, Bryn Taubensee, to recreate all of his old '90s-era baby clothes ("mostly all from Gymboree") in adult sizes. "There's a playful, laid back and comfortable aesthetic to baby clothes that most adult clothing brands don't offer," he says. Should Starr's babycore clothes catch on, just picture all the Instas.