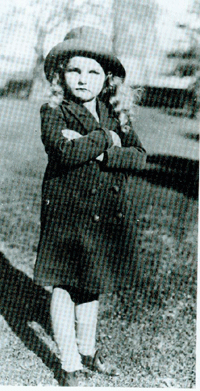 Today's Mitford lovely is Jessica also known as Decca also known as Little D.  Here she is as a petulant little tyke. She grew up to be quite a communist which was a fun contrast to her sister Unity who was a slavishly devoted fascist/nazi. They shared a  playroom together and one half was all communist memorabilia and the other half all fascist. In retrospect, since the fall of communism, it's easy to dismiss someone, particularly an upper class person like Little D, who was a communist sympathizer but really you have to be on her side against the Nazis. The shocking thing is so many rich types all over Europe were supporters of Hitler. The British press magnate Lord Rothermere, for example, who seems to have been the Rupert Murdoch of his day.
Yes human history is a sordid affair.

As for Decca, she saved all her money as a child and eventually ran away with her father's cousin Esmond Romilly to go fight in the Spanish Civil War. They were all over the papers. They were married and Esmond was killed in WW II. She remarried and became a big left-winger in America eventually writing a seminal book on the funeral industry: The American Way of Death. She was also best friends with Maya Angelou. She was funny and glamorous in that left wing adventure way but she was kind of mean to her mother.

She detested her brother-in-law Oswald Mosley, head of the British Union of Fascists, and when her sister Diana Mosley was released from prison during WW II thanks to Winston Churchill, Decca sent a mean note to Winston (and the newspapers) and supposedly started a group called 'In-Laws Against Mosley'. One of her sisters wrote Decca that her behavior was 'not very sisterly'.

Check out www.mitford.org which is a site put together by an MMBlog reader, the charming Karen Leonard. Karen if you're reading this please correct any historical mistakes MM is making.