Model Iman Le Caire is probably best known for her presence in NYC's gay nightlife scene, hosting parties at Fire Island's famed Pavilion and Frankie Sharp's weekly shindig at the Jane. But it's her rarely-told life story and background as a political refugee that makes her one of the most important names in club culture at the moment.
It's a story she's shared with few. "This is the first time I'm really telling someone," she tells me in the PAPER conference room alongside her husband, Jean-Manuel Pourquet, nervously tugging at the sleeve of her elaborately embroidered coat, her bright, bubblegum-glossed lips downturned as she starts from the beginning. Hers is a harrowing "coming to America" story, one pockmarked by the years of anti-gay persecution she faced in her homeland of Egypt, her subsequent struggles with Post Traumatic Stress Disorder, and her eventual transition once she found a support system in the United States.
Le Caire now works with the Anti-Violence Project and was able to finally become who she knew she was from the time she was a child with the support from her husband and doctors. She believes her story can help other trans people being persecuted in their home countries seek asylum and make them "feel less isolated and stronger," as it does eventually "become OK."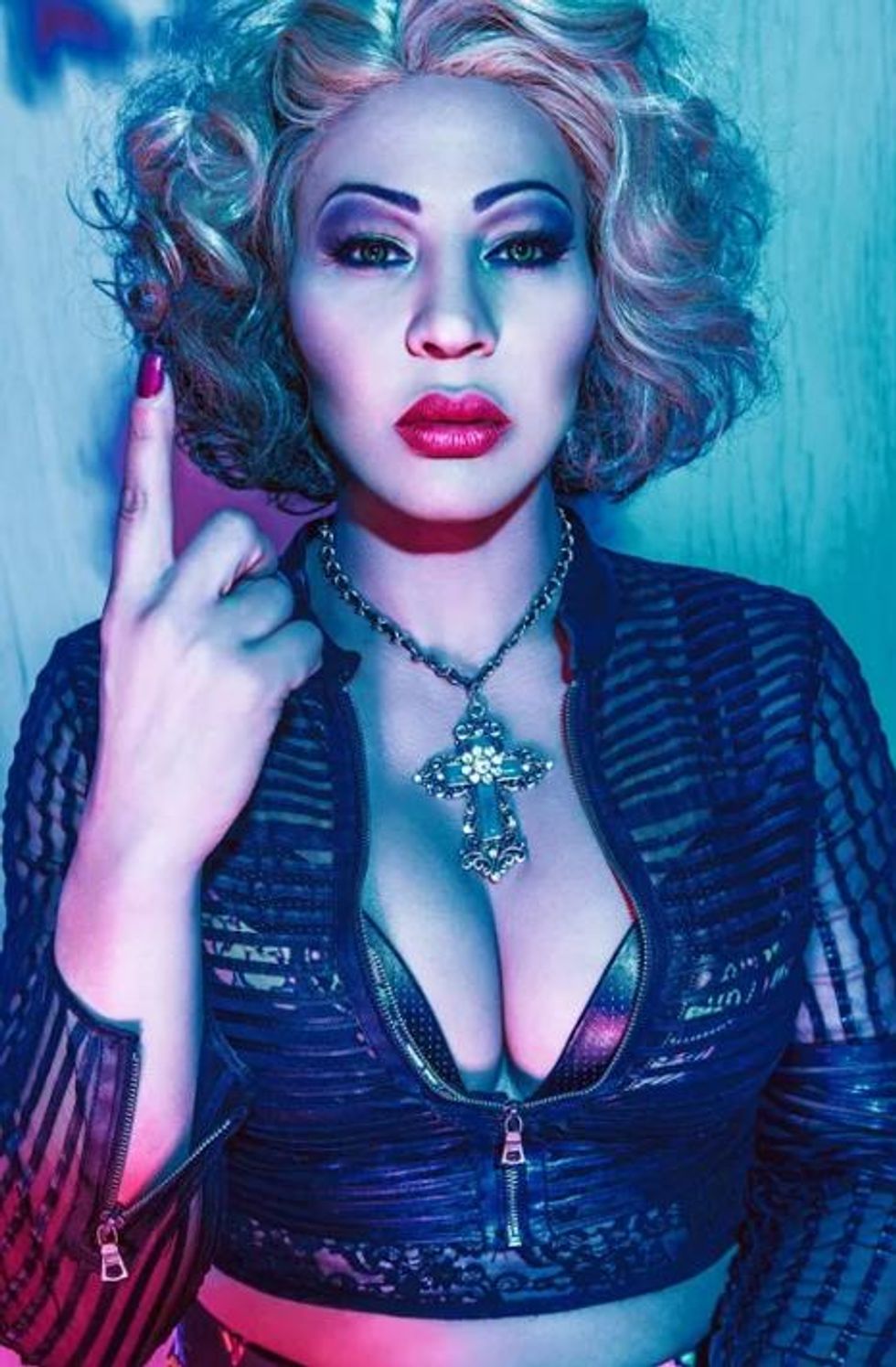 photos by Kamera Addikt
But feeling OK was not an easy point to get to for Le Caire. Growing up in conservative Egypt meant she was shunned for "acting feminine" and her more feminine inclinations "brought shame" upon her strict Muslim family -- an especially difficult thing when compounded with the fact that she was also raped at an early age.
"People spit on you when they see you...people tried to rape me when I was very young, but I could not say anything," Le Caire says. "Because when my family found out the first time, they started [making] my life hell.
"They would make fun of me, and tell me that I can never be a girl and that I can never be a woman. That I will always be a man and that I will always be that way. And [that I'm] going to go to hell, which made me so scared," she continues. "But I took it all just to survive."
Le Caire says one of the most scarring incidents involved her own brother trying to stab her.
"My sister saved me," she says, her voice trembling. "That was hard for me -- that they hated me, that they wanted to get rid of me. That was the scary part."
It was only after her father died that the 16-year-old Le Caire decided to finally run away to the Egyptian capital of Cairo, where she was finally able to meet other gay people -- albeit in a very underground scene due to constant police harassment and frequent anti-gay violence. Cairo was no haven.
"If you walk in the street, [they can grab you] and put you in jail," she explains. "I have been arrested and jailed [under false pretenses] so many times." She says she was often rounded up and brought into the police station for interrogation whenever a member of the gay community was murdered -- something that subsequently spurred she and her friends into hiding. Le Caire says it left her with the realization that if she were murdered it would be "OK, because I'm gay."
"[A murderer] can say that I tried to rape him, and that's why he defended himself -- then the case is closed, and that person doesn't go to jail," she says. "Egypt, they don't want gay people and transgender people to be around because they see it as something that has come from the West."
Keeping a low profile was essential. But that's easier said than done when the government is trying to implicate you for made-up crimes, which ended up being the final straw for Le Caire after she was accused of running a prostitution ring of teenage boys. It was a red-flag moment she says was "incredibly scary," and she had to get out. The incident was her motivation to apply for a student visa via the New York Film Academy. She had little hope, though, since she had previously been rejected for a visa by the French embassy. Her chances of ever leaving Egypt seemed greatly diminished, as rejected names are apparently shared among all of the embassies. Still, she applied.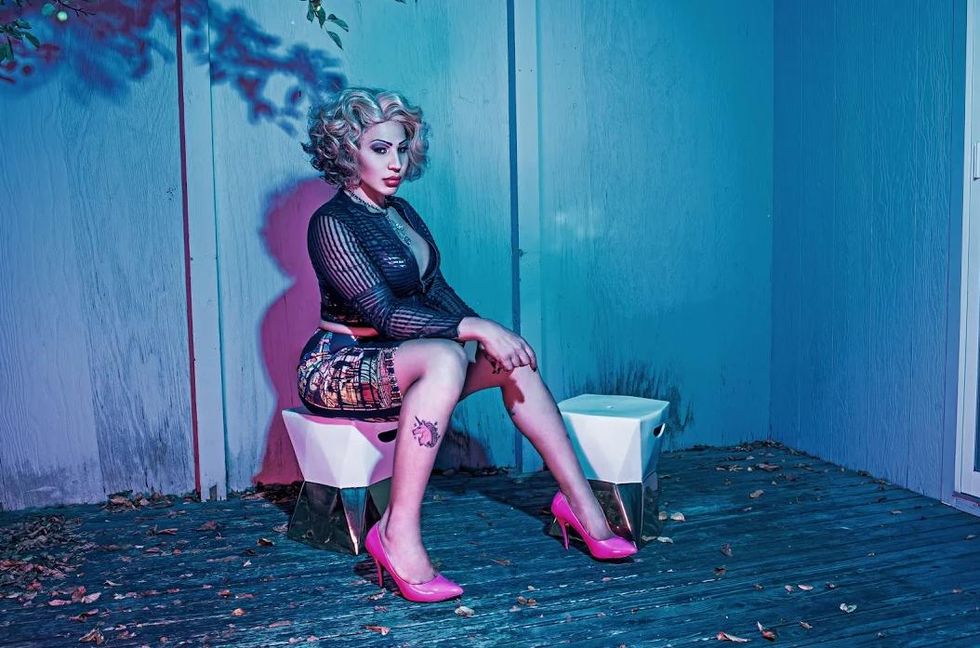 photos by Kamera Addikt
"Thankfully, I got an amazing letter [of recommendation written by the director of the Cairo Opera House, where I worked], who was gay, and Lebanese," says Le Caire, of the fortuitous moment. "He knew the situation, so he helped me."
And while Le Caire envisioned staying in Cairo for long enough to save money for her relocation, she had to quickly change her plans. One day soon after receiving her visa, her roommate called to warn her that the secret police were waiting for her at their apartment. Worried she'd be hauled back to prison once again, she made immediate travel plans, borrowing money for the airfare from friends and leaving all of her possessions behind.
"I had never heard my heart beat like that," Le Caire says. "I knew the police could call the airport, and I didn't know what was going to happen."
In another moment of good fortune, she was able to board the plane. It was a revelatory moment she still has difficulty processing.
"Once I went to the airplane, and it [took] off, I started screaming and crying," she says. "People kept asking 'Are you OK?' and I was like, 'Yes! I'm fine!'"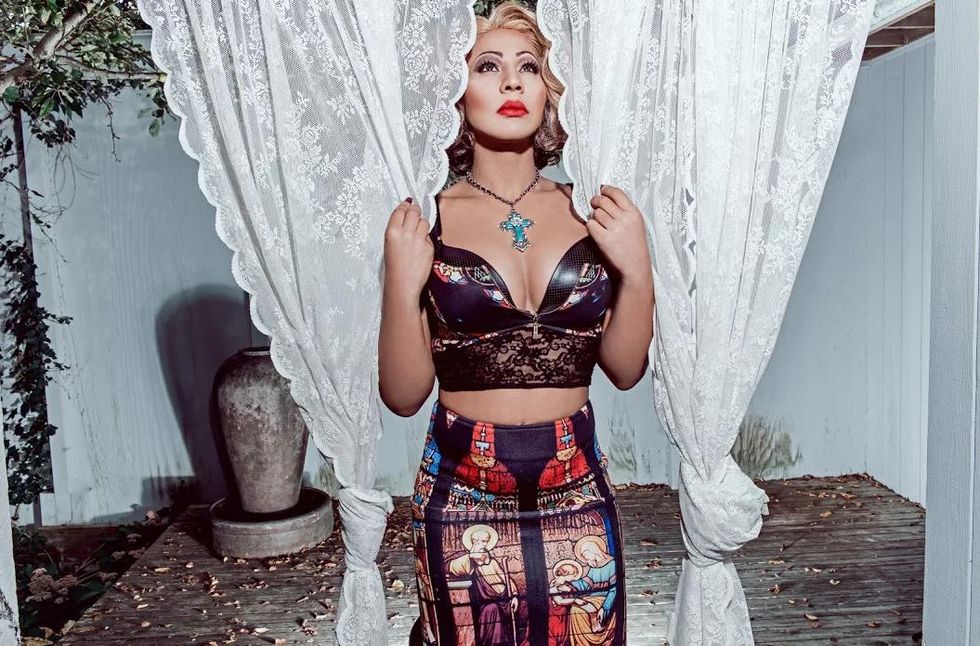 photos by Kamera Addikt
In New York, she began to heal, joining a support group for LGBT political refugees. But Le Caire did not find instant relief. "Being trans was really eating at my brain," she says. "I didn't know how to start. There's not a really big community for you to see them, and once you see them, people look at them as weird people...I've seen this, and it was me thinking about it, about how this could be me. How can I achieve that dream?"
Le Caire says she felt, at times, even more isolated and confused about her identity amidst the city's strong gay community than she had in Cairo. She longed to be visible as a trans person, but also wanted to be accepted after a lifetime of rejection. "I wanted to wear a dress, and heels," she says. "This is who I wanted to be, but I still wanted to try and fit into [mainstream] gay culture." She turned to drugs -- namely a crystal meth addiction -- to cope.
"I had left Egypt, I had done so much just so I could be myself...but I fell apart for awhile," she says. She didn't know who she could be close to, unsure of her safety and her place in the world, because "you don't know who [are] good people." But things turned around one day when her now-husband Jean-Manuel Pourquet crossed paths with her when she was working as a receptionist at a David Barton Gym. The two struck up a friendship that was tested by Le Caire's addiction, and when Pourquet proved himself to be someone who "went after all this trouble." The two began living together as romantic partners -- a supportive relationship that spurred her to get clean and also acted as her impetus to finally begin transitioning.
"After I became clean, I woke up one time, and I looked at Jean and said, 'Listen, I want to become a [woman]'," she says. "And I was so scared because he could have been like, 'No, I cannot be with someone who is a woman, or transgender" or anything, he just said, 'Yeah, let's do it.' It was that easy."
It was this inherent support from Jean -- or the person she calls her "only true friend" -- that allowed Le Caire to finally take the plunge and begin the process of transitioning. She reasoned that if she wasn't going to do it now and finally become the person she had dreamed of being since birth, then she may never have the opportunity. She says it ultimately boiled down to "not wanting to lie to anyone."
"I don't have family, I don't have anyone in my life anymore," she says. "I don't have to be like, 'What if my father is going to kill me,' or, 'this is wrong,' anymore -- because it's not wrong. It doesn't hurt me, it's just something that makes me happy."

You May Also Like
America
Story by Katherine Gillespie / Photography by Dana Trippe / Styling by Rebecca Grice
America
Story by Mikelle Street / Photography by Renell Medrano / Styling by Anatolli Smith / Hair by Evanie Frausto / Makeup by Marcelo Gutierrez