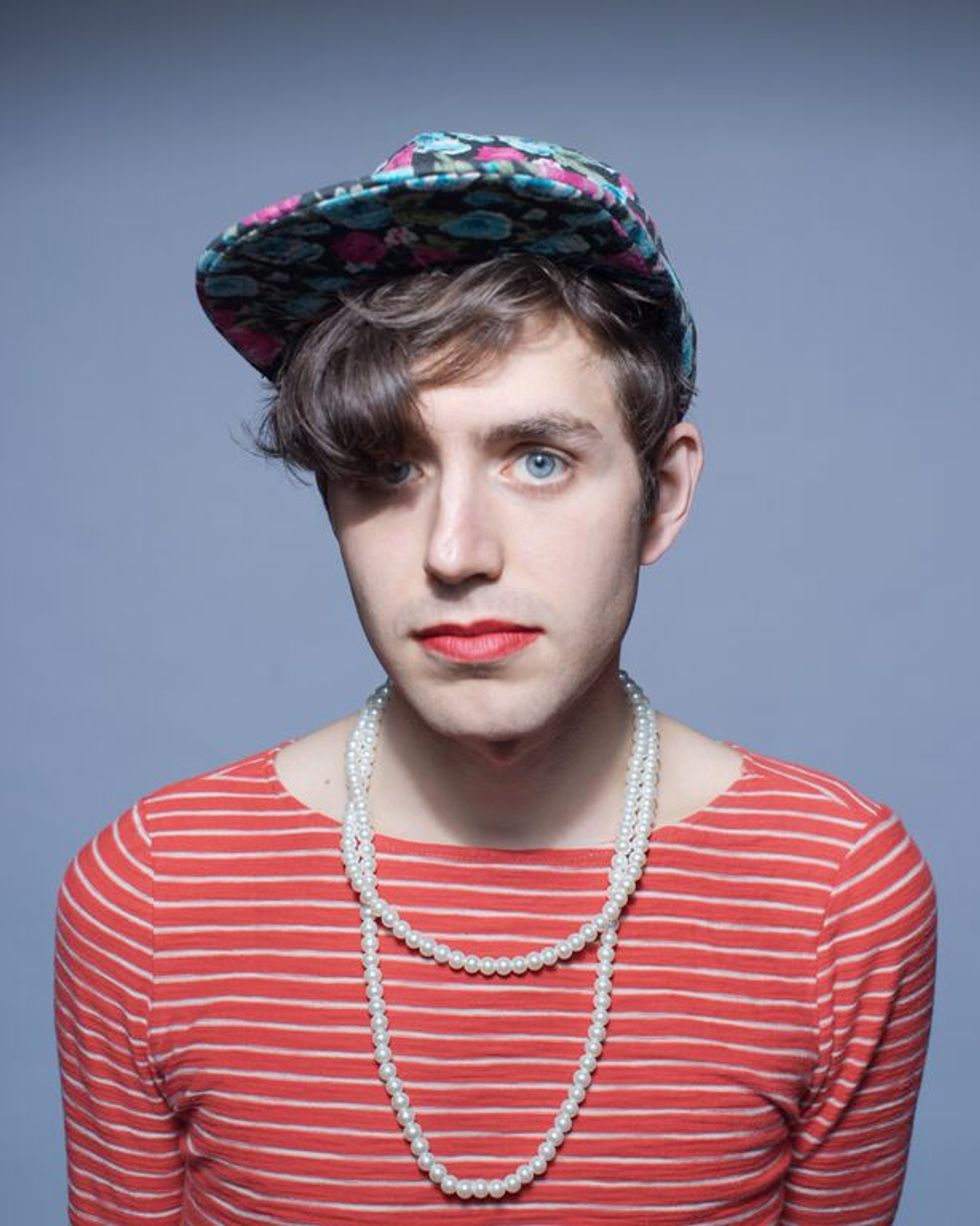 photo by Phil Sharp
When I meet Ezra Furman before his Brooklyn show, the first thing I'm struck by is that he's not in a dress or sporting bright cherry red lipstick.
After all, Furman's become known in the public eye for performing in feminine clothing and make-up all in the name of queer visibility -- a statement he's purposefully curated over the last few years through a series of interviews, 
essays
 and performances. Granted, it's a heatstroke-inducing sort of day and he says he's going to change before his actual show, explaining that being gender-fluid doesn't mean you're
always
in a dress. 
It's this sort of thoughtful rhetoric and gender flexibility that's made him into the rising troubadour for the Tumblr-verse -- though this accolade hasn't gone to his head. He's got a surprisingly nervous personality, one that seems largely unchanged between now and when I first met him four years ago, back when he fronted a different band called the Harpoons, still wore men's clothes and skewed much more folk-rock in his songs about Kirsten Dunst and depression. 
This time around, the Oakland-based, 28-year-old songwriter is with The Boy-Friends, is known for wearing women's clothing and has a brand new, doo wop-inspired album called Perpetual Motion People on Bella Union. But he'll downplay these biographical facts and insist that the main difference between then and now is that he has become "utterly egomaniacal" in regards to all his professional endeavors. "It's totally against my personality and inclinations [to have an ego]," he says. "But I knew if I was going to get something really good made, it had to be totally coming from me and unmediated by other people."
This attitude seems to have worked quite well for him, though, because in the past few years, Furman has been pretty successful. He's the kind of artist with a series of well-received albums (
Day Of The Dog
,
Mysterious Power,
etc.), high-profile television appearances on programs like BBC's
Later...with Jools Holland
, and a devoted cult following that allegedly counts
Björk amongst its flock
. But rather than discuss these recent career highs, Furman instead prefers to answer questions about the dress he was wearing on Jools Holland
(red, short) or what's it's like trying to observe Shabbat on tour (difficult). It's probably a good time to mention that in addition to being among the few visible genderqueer musicians on the scene right now, he's also one of the few devout Jews.
"I probably don't look like most Orthodox Jews," he says, going on to mention that strict religious observance wasn't part of his upbringing at all and just something he started exploring as a teenager in the Chicago suburb of Evanston.
"I chose for [traditional Judaism] to be [a big part of my life]," he says. "I don't come from a place where other people are pressuring me to be religious. I don't have friends who are religious really. Most of my family is not. My parents did bring me up to learn and know about it and know how to do it, but they're not really, really Jewish, you know?"
Instead, Furman says, it was more about remembering to feel, to never forget the sheer beauty and wonder of being alive and to never be blasé.
"For me, religion's about learning about your everyday life," he explains. "The most mundane stuff you do everyday makes reference to transcendence and transcending concepts...I just feel like it's made me a much better person and such a source of delight and wonder, total wonder." He takes a long sip from his beer, before adding, "To have spiritual habits, for me, breaks other habits -- habits of boredom and mental habits of callousness."
Perhaps this is what spurred him to break away from the textbook mold of "sad songwriter" and turn toward the sort of relevant socio-political activism that's so often missing from the indie-sphere. And this type of exploration and activism isn't superficial either. Gender identity is something Furman says he'd grappled with for a while, borrowing clothes from close female friends and trying them on in secret. "Nothing too flashy though," he insists. "I like to be more casual....like a dress that easy to wear, that kind of thing. I just don't do high-heels." And aside from his own self-actualization, Furman says his feminine presentation also stems from an innate desire to help other questioning youth looking for a relatable role model who, like him, felt stifled by the male-female binary or traditional gender norm. 
"I've made it a big deal," he says of his presentation. "I've made a point to talk about it and appear in photographs dressed feminine because I want to be visible while being queer, being visibly queer, maybe bring some consolation to queer kids." He spent most of his time with The Harpoons performing in "male" clothing, noting that the first few times he dressed up in more feminine garb that "most people looked at it like it was a joke or a gimmicky thing, a stagey thing." 
Granted, he did feel like performing offered a safe space for him to work out his own issues, as it was mostly a secret he felt "caged and paranoid" by. "I felt like I had to keep up all the signifiers of masculinity and it never felt natural," he says. "I had a couple female friends who would let me try things on, but I always felt [trapped]...But it's tricky because if you're like, 'I want to be feminine,' people will be like, 'Oh what, so you're going to be a drag queen?'" He looks saddened for a second, the same face he pulls when he mentions "little things" being "cumulatively more painful" than anyone laughing or being outright awful. 
"You feel more powerless," he frowns. "Like people want me to dress a certain way and I just do because I don't have the guts to stand up for myself." These are ideas he attributes in part to his gender and sexuality-defying idol, the late Lou Reed, who, he points out, was infamous for refusing to conform to any cliché or standard classification. And when viewed through the lens of Reed's punk rock queerness, Furman's activism and even the songs on
Perpetual Motion People,
are given an added heft and poignancy
.
Central to the records are themes of not remaining stagnant,
wrecking "all the preconceived notions,
" loving your body and telling off the "social police" ("Body Was Made"). It's full of decisive calls to action against the apathetic -- something Furman says he'll continue being vocal about for as long as he has this platform. And while he may shout that he's sick of an "Ordinary Life," we doubt it's the kind of thing he'll be stuck in for much longer. 
You May Also Like