Danilo Maldonado Machado has no fucks left to give. Known to the world as El Sexto, the 33-year-old Cuban artist works at the crossroads where graffiti, performance art, and live video streaming converge as tools for political activism. The winner of the prestigious Václav Havel International Prize for Creative Dissent, El Sexto is Banksy on steroids, and no canvas attracts more attention than the crumbling façades of Havana's neglected, dilapidated buildings (though a recent drought in spray paint supplies has him turning more to performance art and live video). He's emerged at the forefront of a wave of dissident Cubans, many of them millennials, who are using art, citizen journalism, and activism to dismantle what they say is a repressive apparatus that has been deliberately designed to perpetuate the Castro family's nearly-60-year stranglehold on their country. Art, music, and technology have coalesced to question why the Cuban government is opening Cuba to the world now, while simultaneously preventing the same access to its own people. On the phone from Havana, El Sexto discussed graffiti as protest art, the power held by Cuba's youth, and his hopes for Cuba's future.

Was there a precise moment in your life when you realized that as a Cuban citizen you would be denied certain fundamental rights and freedoms?
I always say that there isn't a specific moment where you wake up one day and it hits you. It's an accumulation of subtle details at first. From the time I was a kid I began drawing some pretty subversive things. Once I drew Fidel's body with the head of a monkey and my mom freaked out. I could sense real fear in her and she warned me not to draw things like that because it could cause problems for her. That was very strange for me as a child. You hear people all the time saying things like 'talk in low voice.' Just an accumulation of things, there's not a specific moment, it's a process.
When do you decide to you use graffiti as tool for expressing your opposition to the government?
I always wanted to become an artist and I was always out on the streets observing. At first, I didn't even know what graffiti was, all I knew was that I wanted to launch a campaign in response to the government's own propaganda and that's when I decided to openly confront them and do something radical with my life. I started painting on the streets at 25.
What's stopping you from doing graffiti now in Cuba?
The police. They carry on with their dictatorship and I go on doing what I do, which is being out on the streets, doing performance art, [using] whatever tools I can use against them.
Is it true that you can't buy spray paint in all of Havana?
It's extremely difficult. I haven't seen any yet. I've been to many stores that once sold it and now it doesn't exist.
Do you think that it's because of your work and the international attention surrounding you?
It could be. Before they would just paint over my graffiti and then I would paint over what they painted over. So I don't doubt that they've pulled all the spray paint from stores. That's not an inconvenience for them.
What's the story behind your tag El Sexto?
El Sexto started out as a joke, a reference to the five Cuban spies [imprisoned in the U.S. and released in 2014], the so-called five heroes whose faces were plastered everywhere throughout Cuba. So then El Sexto (the Sixth One) came to represent the Cuban people. Anyone can be El Sexto, an elderly person, a child: We are all El Sexto. It's not just a tag, it became something bigger than me. I don't consider myself to be solely a graffiti artist. I'm an artist who is constantly searching for spaces to achieve my objective, which is for freedom in Cuba to be recognized as an inalienable right and for [our] individual human rights to be respected.

The term "Artivism" has been tossed around a lot to describe the relationship between art and activism in Cuba. What role is art playing in today's Cuba to awaken people to the possibilities of a new form of governance?
I think art has immense power over people and society. It can transform a person from within. That's why the Castro regime is so scared, because they are not sensitive to creativity. They are murderers who continue to crush opposition and beat women, persecute artists, arbitrarily arresting us under false charges, forcing us to turn ourselves in to be interrogated at their whim. Art can definitely be a harbinger for change in society and can achieve many positive things. Its power is often under estimated. In my opinion there are no limits to what it can do.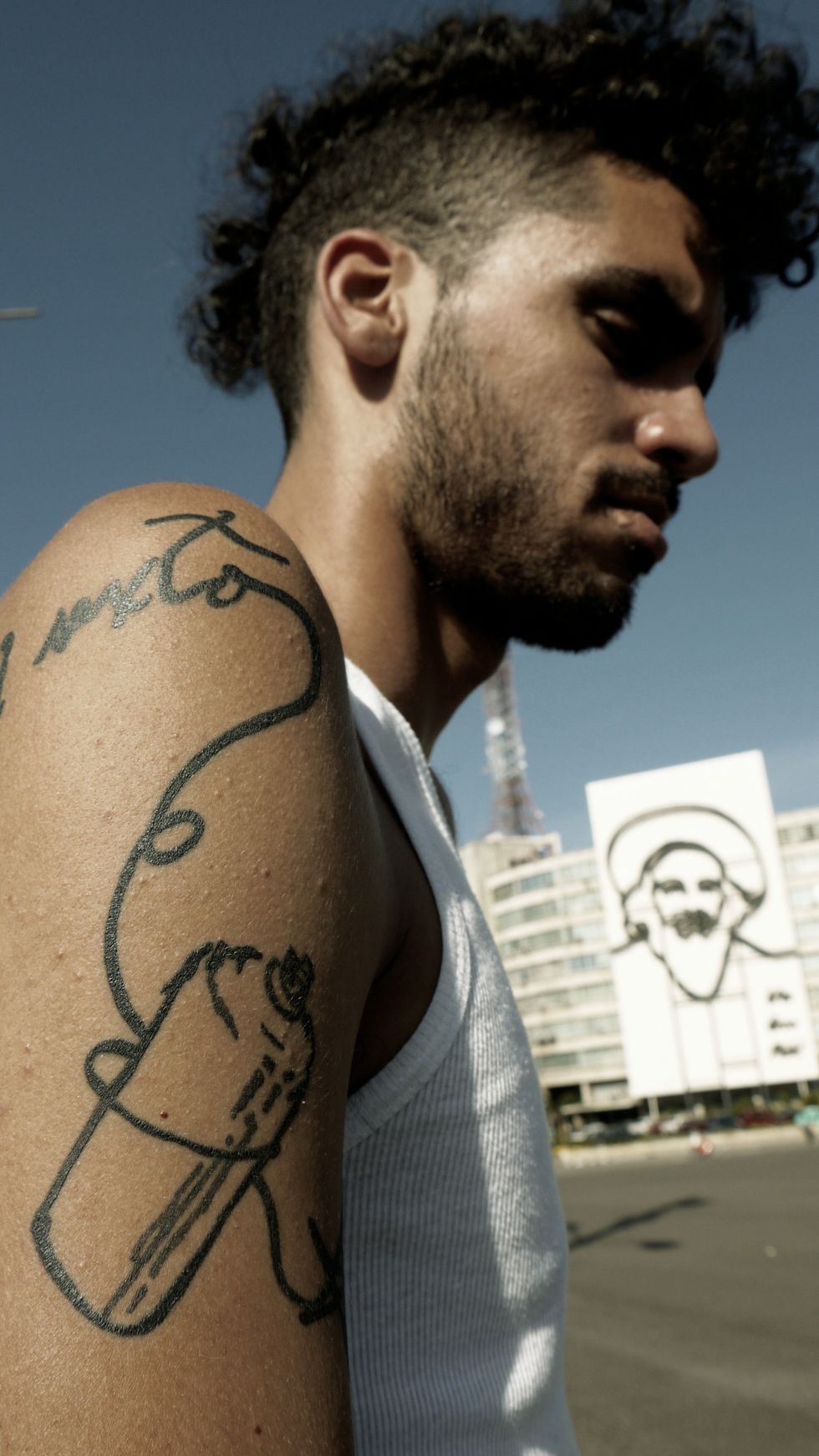 You're a living example of the power of art as protest. And you have suffered consequences for speaking out, spending ten months imprisoned for releasing a pair of pigs, labeled "Raul" and "Fidel," in a public park. What was that experience like?
I learned that I could still pursue my dreams no matter what, and that you have to fearlessly seize your moment in time. It made me stronger, being there made me stronger. I got to know the other Cuba and I drew a lot of faith from that. It also gave me a sense of purpose. Knowing that my art has reached beyond Cuba gives me faith that more can be done. Just the other day I was imprisoned, and that makes me hungry for more, knowing that it's possible that more can be done to achieve freedom in Cuba.
What do you think the new generation of Cubans most desires?
Right now, there are a lot of people who are overwhelmed with hopelessness and all they want to do is escape to wherever they can, be it Ecuador, Haiti, Africa, the U.S., Spain, anywhere. There was a period in my life that I saw myself reflected in those youth. But what if I say, "I don't want to run any more. I want to fix things here, and I think I can and that it's possible." Then perhaps others too will be inspired to take that stance. There are many people who think like me, people who represent the opposition, and they travel outside of Cuba to spread their message and they return to claim their place. I'm an animal of a certain species and I'm going to always come back to my language, to my sun, to my stomping grounds. This is where my friends are who've known me all my life, this is where my barrio is. I'm not going anywhere.

Has anything changed in Cuba since President Obama's visit?
I think people are more daring. People are losing their fear. But the repression continues.
What is your greatest wish for Cuba?
I want Cuba to be free of the Castros. Free of this government. Free of this dictatorship. For people to finally see the dawning of a new way of life. For people to stop being repressed for what they say or think. I want it to be a nation where people can determine the course of their lives and project themselves however they want and for it not to be a crime.
Photography by Silvia Corbelle and Claudio Fuentes.

You May Also Like