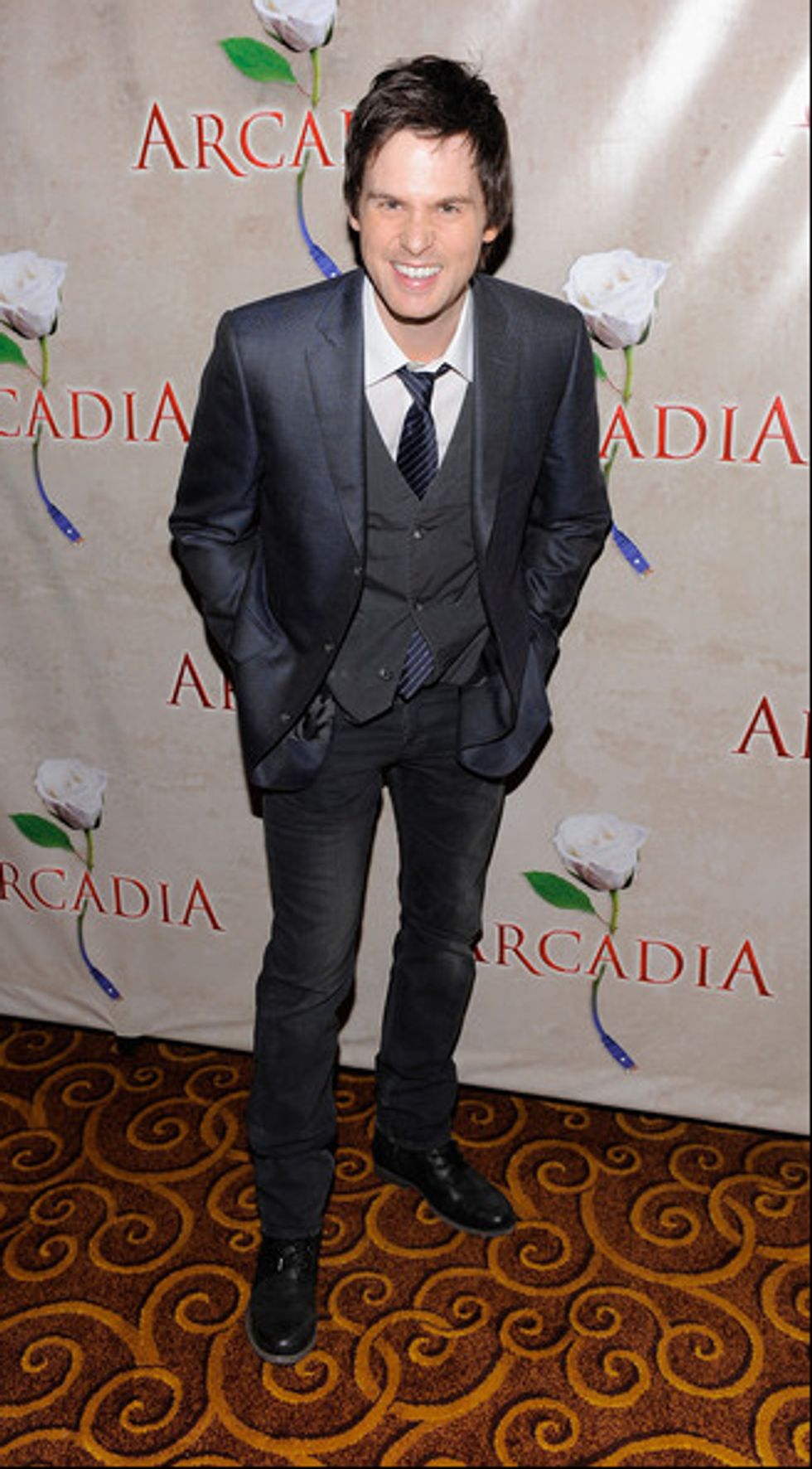 Broadway is never short of British imports and our favorite this year is
Tom Riley
, who plays the  sharp-witted ladies man Septimus in the recent revival of
Tom Stoppard
's brilliant play
Arcadia
. The play, directed by
David Leveaux
, is set in an English countryside estate during 1809 and the present and juxtaposes the lives of the people living there during each time period.
Arcadia
, like most of Stoppard's work, appeals to both the intellectual and emotional aspects of humanity and Septimus is the character who embodies this most, thanks in no small part to Riley's seemingly effortless performance.
Billy Crudup
, who stars as rakish literary academic Bernard Nightingale, played Septimus in
Arcadia
's 1995 Broadway debut, and we talked to Riley about what it's like to follow in his co-star's footsteps, how he manages to interpret Stoppard's complex dialogue and getting his first real taste of New York City-living.   
How are you enjoying your stay in the U.S.?
I love New York. I'd move here in a heartbeat if anyone would let me, but I live in Hell's Kitchen now. If I was doing it again I'd be living downtown in the East Village or the Lower East Side -- something like that. I love downtown. I spend as much time there as I can.   

What are some comforts to you in New York while you are away from home?
Skype is my lifeline and I've had all of my mates here for the last two weeks -- literally all of them. 10 friends at once. I've had to finish the show and then go to SPiN, finish the next show and then go to Brooklyn Bowl...
How is playing the part that Billy Crudup created 16  years ago with him right there beside you?
This is the question that everybody has asked me and I need to find a new and exciting way to answer it. I'll lie and say Billy came to all my rehearsals and gave me notes on every single line. He shouted at me and he punched me and kicked me in the shin every time I got a line wrong. He's a very cruel man. No, the truth is that he's been amazing and the only pressure I ever felt was right at the beginning when I had to read the lines in front of him. I knew it would be the first time he'd heard them since he was saying them 16 years ago. But instantly after the reading he came up to me and said, 'That was amazing, what a treat. Thank you so much for letting me hear it for the first time.' It's nice knowing that safety net is there should I get stuck but he's been so hands-off the whole time.   
So you guys have never sat down and talked about Septimus?
We haven't really. I just worry it will open a kettle of fish. Like Billy will say, "Well of course, I played him with a limp," so, of course, I'll also have to go develop a limp. And Raoul [Esparza who is Valentine in this production] played Septimus as well in Chicago so there's three Septimi.  
Since the show takes place in two time periods you are all rarely on stage together. Are you and your co-stars close offstage?
Because of the nature of this play we make sure to get together for five minutes before we start, which was Billy's suggestion and has been a really nice thing to do. We also all go for a drink afterwards pretty much every night.   
Did you love Septimus when you read the play?
Oh yeah, I wanted the part so bad. The thing is, if I really, really want a part I tend to over-work. I go in to audition and it ends up being too prepped and too hard. I was doing a TV series in the North of England at the time and I got the call saying asking if I could go in and read for
Arcadia
. I hadn't read the play since university and had to read it on the train on the way to do the reading. I couldn't prepare as much as I normally would, so I had to slightly freestyle it. I think that looseness worked well because it's part of Septimus and helped set me aside. Basically I cheated my way into the part. I just hope no one finds out.  
What do you like about Tom Stoppard's work? Do you ever find it hard to access?
I'd be lying if I said no. I think every actor finds him hard to access and not because he has such complex, deep ideas in his plays but simply because you feel like if you don't access it to the deepest level you're doing it a disservice. That's always the danger -- you think, 'This guy's so intelligent. He's written such a beautifully profound work and if I'm really superficial with it I'm going to miss layers and layers and I'm not going to do it justice.' To be entertained by Tom's work isn't hard. It's very easy to access that kind of stuff but to actually do it justice you need to really dig deep.    
Have you ever talked to him about how you interpret his work?
He's completely open to people interpreting his work. I think he mostly feels like, 'I just want to entertain people. If they come away saying, 'I feel like I'm seeing something deeper there,' then great. But if they just laugh for two hours that's fine too. 
What's Tom like?
He's a very down to earth guy. We did an interview with a radio station where they asked us to fill out our guilty pleasures and Tom asked, 'Should I put Papaya dog?'   
And, what did you put?
I don't think I really have one so I think I left it blank. Maybe I just don't feel guilty, but I just have a lot of pleasures. That's OK isn't it?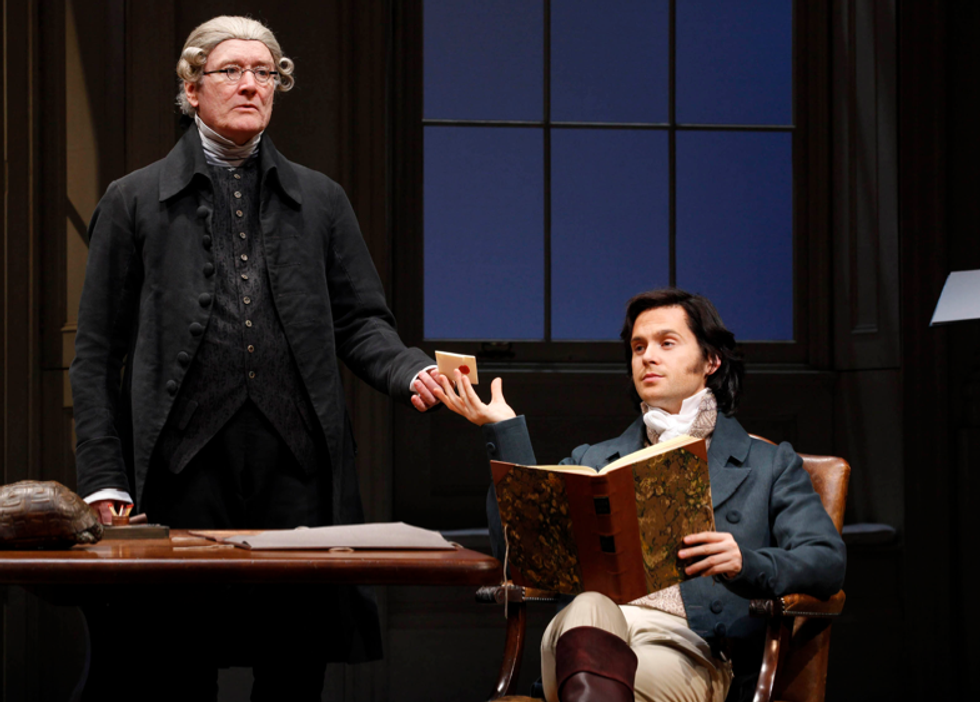 Above: Riley on the opening night of
Arcadia.
Below
:
Riley and Edward James Hyland in
Arcadia
by Carol Rosegg.