This week, we wanted to highlight three awesome events in New York's crowded nightlife scene. Whether you're into dance parties or pizza (or both), Hoppr has you covered. Here's an intro to the amazing hosts who will be curating the good vibes Wednesday, Thursday, and Saturday nights.
Hot Girls Eating Pizza
Marta Freedman's Instagram account gives you exactly what its name promises: Smokin' women going to town on pizza, with her subjects including musicians like Elle King and Meg Myers. She's brought that fun, delicious vibe to hosting, beginning with nights at Baby's All Right and moving on to all sorts of events, from dance parties to fashion brand launches. "I had no idea I was good at throwing pizza parties (sometimes sans pizza) until I tried," she says. "I have always loved hosting and getting my friends together. I never imagined that HGEP would eventually lead to a platform where I could host my friends and internet friends alike."
This Thursday, April 21, Freedman will be bringing real and virtual followers together for a pizza party (natch), powered by Absolut and Hoppr, at "cozy" Gordon Bar at SIXTY Soho. "I love throwing parties in an environment where I'm so comfortable," she says. "I also love the pizza we are featuring: Artichoke Basille. Artichoke is also like a comfort food. It reminds me of drunken college nights--we would stop by Artichoke at 3am on the way home to lessen the hangover. YUM."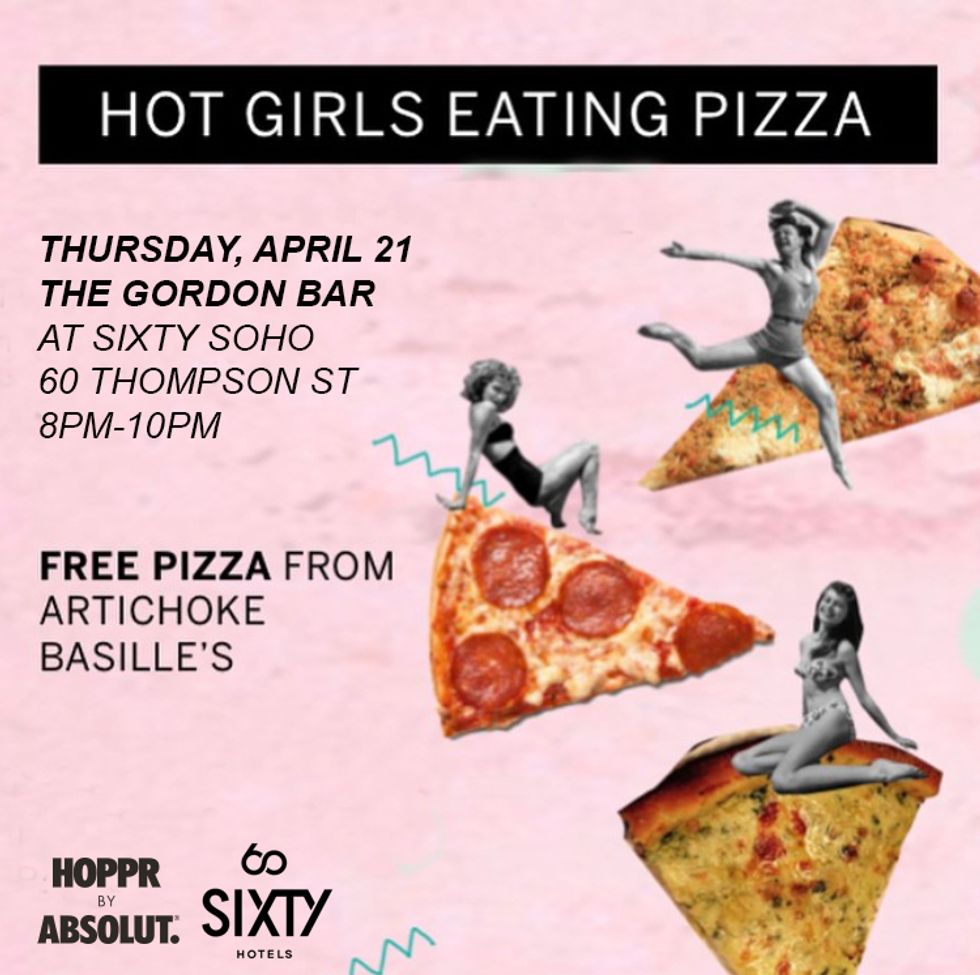 She also shared some tips for what takes an event over the top. "I think curating the vibes is the most important. You get what you put out, you know?" she advised. "Collaboration is key." But what we really wanted to know, is what is the secret to a top-flight pizza party? "Well, the not-so-secret-secret about pizza parties is that no matter how much or what type of pizza you get, it goes SO fast," she shared. "Big, communal pies are best. If I remember, I always ask the pizzerias to cut pies into 1/16th so they're cuter, more shareable."
Oscar Sanchez
Brooklyn born and raised, Oscar Sanchez is a man of many hats: Graphic designer. Creative director. DJ. Party promoter. He's an NYC nightlife vet, now in his tenth year of rocking the downtown scene, with his famed 1992 party tapping into '90s nostalgia way head of the curve. "My philosophy first is the music. The music reflects the audience," he says.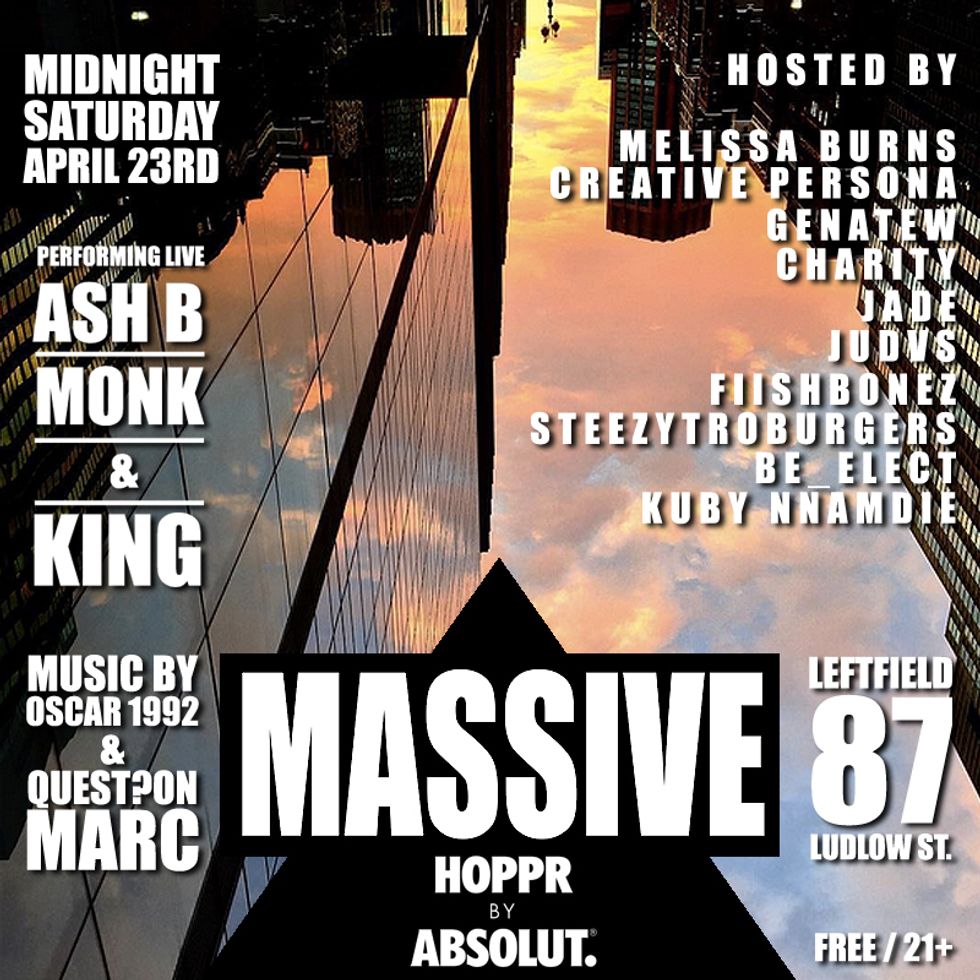 Artwork: @poonworld
He brings that care every weekend to his Massive event at the Lower East Side's Leftfield Bar. This Saturday, April 23, Sanchez is teaming up with Absolut and Hoppr to take his weekly party to the next level. "People who attend my parties attend for a reason," he says, noting that many of his fellow DJs and party promoters love to drop in on his events. "They believe in the movement of the party. They come out and want to contribute because they want to be part of the movement."

"The best way to approach hosting is to enjoy being around people," Sanchez says. It seems like a simple step, but he shares what he felt was important to making sure an event reaches its true potential: "The key to a good event is to have people feel welcomed! Greeting people who are new to the party and thanking them for supporting and coming out."

Franceleslia Millien
"When coming up with the concept of a party, I close my eyes and imagine myself in my favorite place," Franceleslia Millien says about her party-planning philosophy. "Whether it's that perfect love seat at my mother's place, the Caribbean Day Parade in Brooklyn, that inconspicuous brothel in Italy or my hideaway rooftop in the LES, there's always one thing all these places have in common. They are my Utopia." Millien is a triple threat, with skills as both a stylist, a party host, and a DJ in her arsenal. "Music, ambiance, an escape and exposure to something new. Those are my foundation when laying out the blueprint for my own events."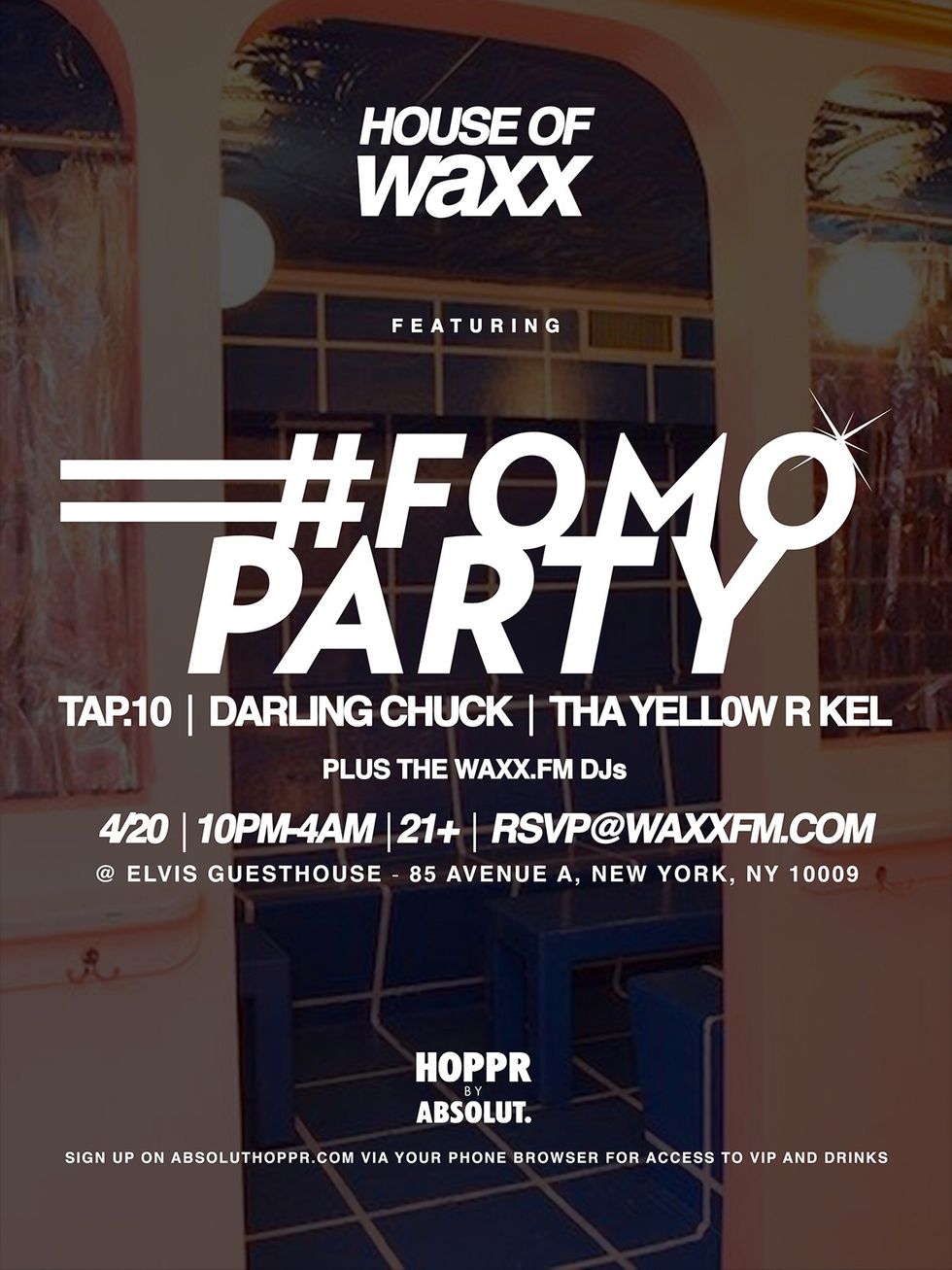 Tonight, April 20th, she's bringing her talents to the #FOMOPARTY at Elvis Guest House, where she'll collaborate with Absolut and Hoppr to make sure that everyone who's not there will be feeling the titular FOMO. "Every audience is different so I tend to not only cater to them but to also be that liaison between their norm and another realm," she notes. No matter the genre of the party, she likes to mix it up, adding elements of something unexpected. "I would always add an element that didn't exist such as hip-hop, pop, rock, etc. This opens people's minds to trying something outside of their comfort zone."
We asked her what was the most important thing a party has to nail if it wants to really be successful. "The line-up is the #1 thing that has to be on point," she says, observing that that's when her skills can be particularly handy. "The flow of transition of DJ's between sets can either break or make the party. That's when the perfect host comes in to be that filler that keeps everyone aroused and intrigued."
Splash photo credit: @mrjoelphoto

You May Also Like