Kazakhstan has a Fashion Week*, and it's pretty good.
In 2016, this should be no surprise. It's no longer just the big four (Paris, Milan, London, New York) that host fashion weeks. Dozens of countries around the world from Peru to Iceland, South Africa to India, put on their own events now, with varying amounts of success. Indeed, there's no reason that these elaborate marketing events really need to be concentrated in Western Europe and North America. With cameras and the Internet, the world's varied and fascinating sartorial raw talent can come from anywhere, develop anywhere, and present anywhere.
There is always the same tension at these events, between showcasing culturally-specific designs or simply producing a more international product. And this year's Mercedes Benz Fashion Week Almaty (MBFWA), held in April, was no different. Kazakhstan, a huge but thinly populated country in Central Asia with a Russian-speaking elite, has an important mix of factors that point to its ability to make a tiny crack in the big four hegemony. On the global fashion stage, perhaps the most famous Kazakhstani operative -- and de facto ambassador -- is Goga Ashkenazi, who runs the Vionnet label in Milan. More locally, the country has a rich history of producing textile fabrics and patterns and in the modern era, undulating oil booms since the fall of communism have created a globally-minded elite with a bit of cash to develop and support local talent.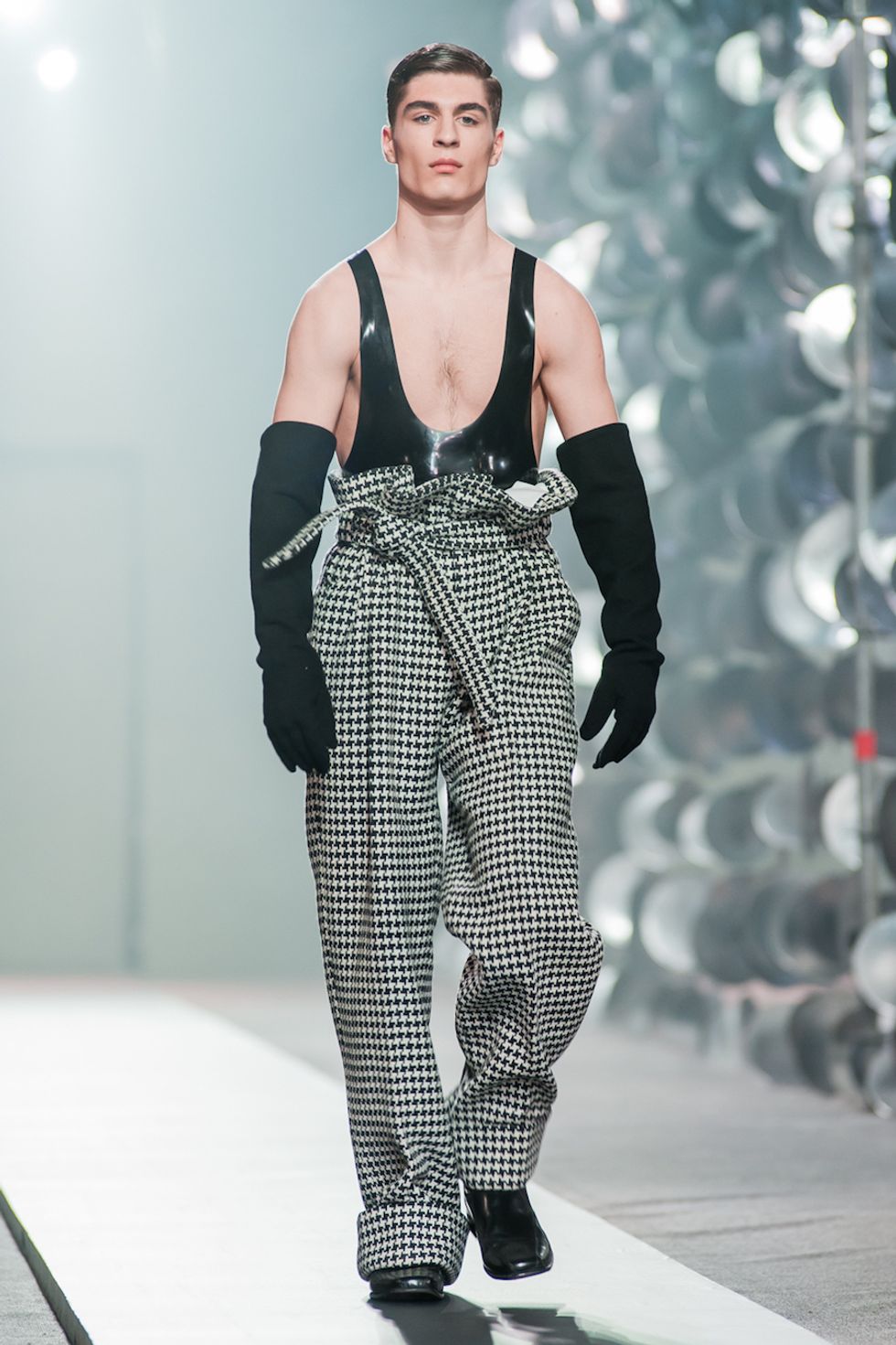 A look from Abzal Issa Bekov
At MBFWA, one of the stars of the show was Abzal Issa Bekov. A recent graduate of Central St. Martins art school in London, he no longer lives in Kazakhstan but returned to his home country to present a show sponsored by the British Council. His collection included impressive and robust traditional menswear that fell away to reveal fetish wear from gay subcultures underneath. In another striking case, tools (like elbow-length gloves that were originally used in garages but later became associated with fisting) were made part of the traditional suit itself. For Bekov, his inspirations came from the men and techno clubs of Berlin, not the mountains of Almaty.
"A lot of the people that go there wear these amazing suits in the day that are so sharp and elegant, but at night, they wear fetish wear," he told us over burgers a day after the show. "I wanted to bring these two together, underground and daylight." But of course, his past here played a part, too. "Because I grew up in this country I got really intro traditional menswear, and I've been trained as a tailor. My mom was a seamstress in the Soviet Union."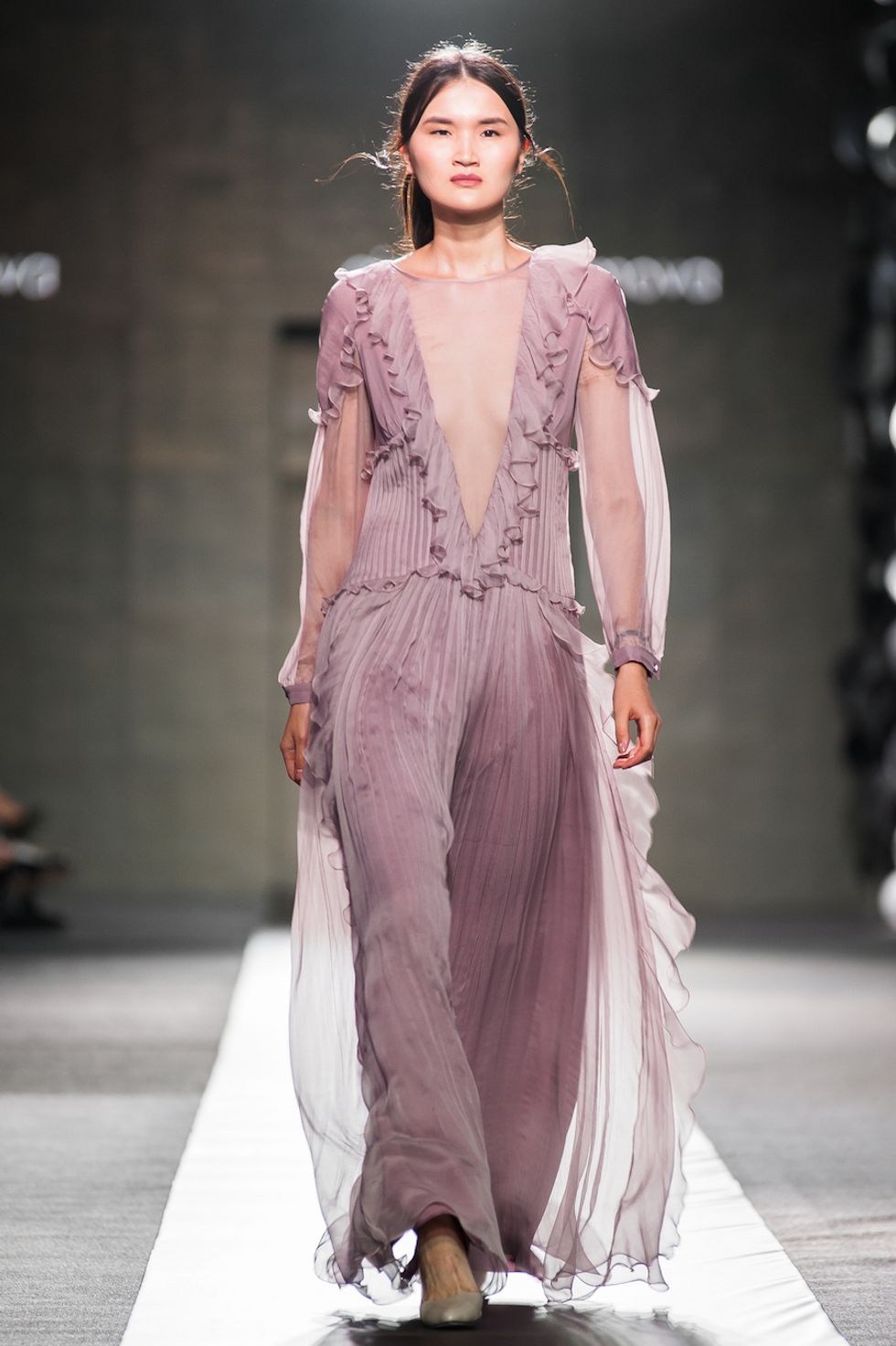 A look from Aigul Kassymova
A far more traditional Kazakhstani designer is Aigul Kassymova, who has been a staple here for twenty years. This year, her collection of coats and dresses revolved around a few shades of red and purple. And, she says, the tastes they inspire. "Each color is associated with a different taste. For example, when you see red, you may think of an apple," she said in her ateliêr and shop in downtown Almaty. It's perhaps just a coincidence that the name of the city is believed to derive from the Kazakh word for apples. It's a beautiful but oddly serene city, which feels more like a blandly planned suburban town than the most dynamic city in a far-flung and poorly understood country. Cars float slowly down big roads, rarely hitting traffic, as Soviet-style monuments rise nearby and snow-capped mountains always loom large on the near horizon.
Residents know their country is poorly understood, and don't mind telling you the basics. Most everyone speaks Russian on the street in Almaty, but the native Kazakh language (a Turkic language) is also spoken by a majority in the country. Russia is to the North, China to the East, and Uzbekistan is to the South (Afghanistan comes after that). Some people are ethnically Russian, but most are Kazakhi. The movie Borat was kind of funny, fine, they say, but it was actually not really about here. They're so tired of being tired about that joke that they're not even tired of it anymore. There are about 17 million people in the whole country.
MFBWA co-founder Yan Ray said that the goal of the week is both to boost the local scene and project Kazakhstani creativity worldwide. "Personally, I would love to see more people wearing more local designers [instead of foreign brands], which brings us a kind of patriotic feeling" and elevates local style and sophistication, he says. "But the creative person is also looking to be internationally known and sold, say, at Saks or even Macy's."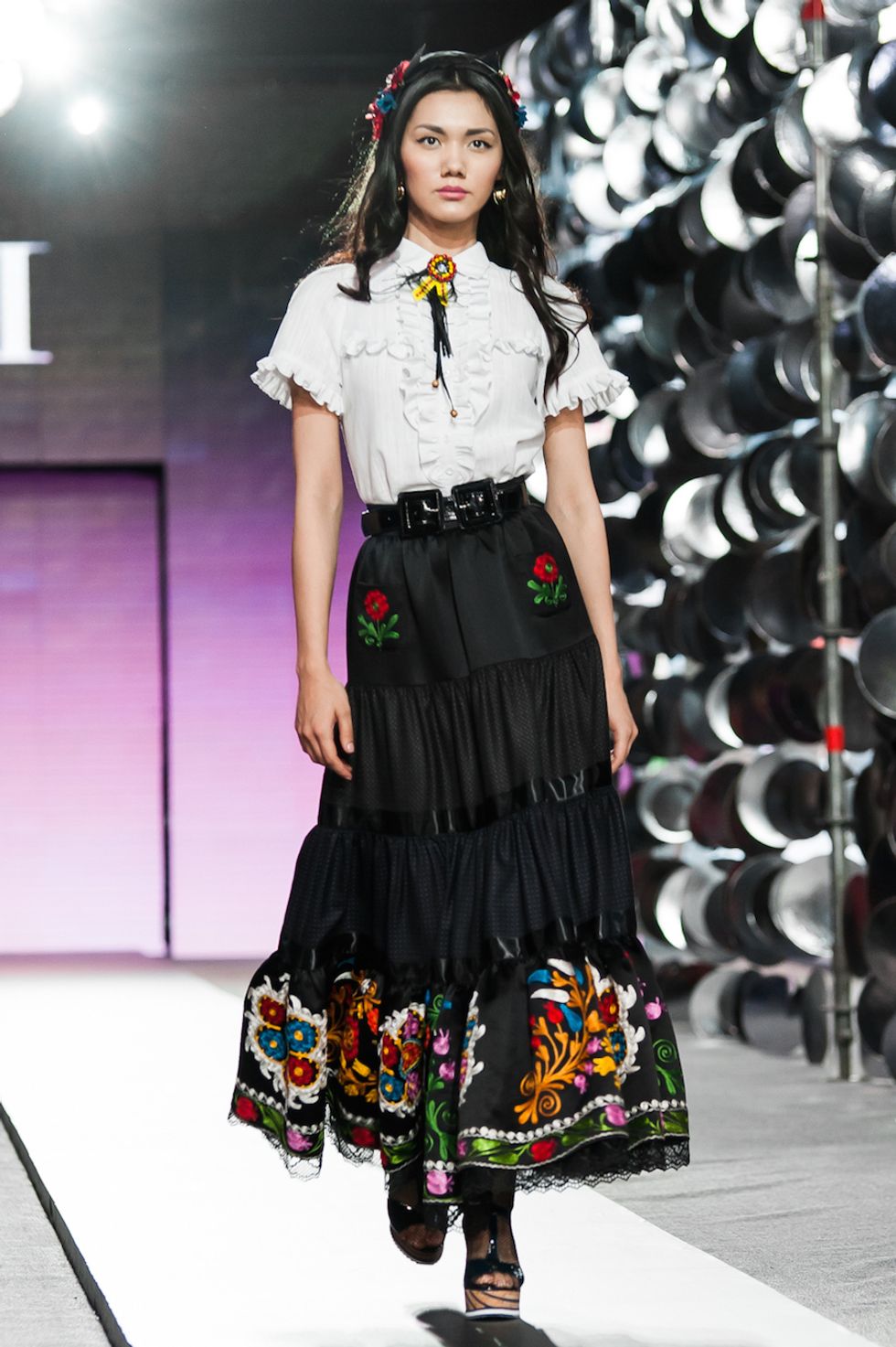 A look from LALI Fashion House
Perhaps the most impressive nationalistic performance in Almaty came from another nation, Uzbekistan, whose LALI Fashion House put prints from the brand's homeland on shapes inspired by global 1970s fashion. "With my team in Uzbekistan, we do all the best to adopt traditional ethnic art and beauty of Central Asian heritage into the modern, fashion, to make it trendy and commercial," says Lali Fazilova, designer/owner of LALI Fashion House. "It's all about Central Asia. For the global fashion community, Central Asia is an undiscovered world."
*Actually, Kazakhstan has more than one fashion week, but Paper Magazine was the guest of the MBFWA Fashion Week
Click through for more looks from MBFWA

Photos courtesy of Mercedes Benz Fashion Week Almaty
You May Also Like