Here's a side of Maya Rudolph you may not have known. She's a fashion nerd. Like a big one. If her memorable Saturday Night Live impressions of fashion-world giants like Donatella Versace and Anna Wintour weren't proof enough, the actress-comedian is now starring in the latest film from French fashion house Kenzo, written and directed by Natasha Lyonne. In Cabiria, Charity, Chastity, featuring its Fall-Winter 2017 collections, Rudolph plays the title character, Chastity, who is "something between a tramp and a showgirl," according to Lyonne. In the film, Chastity sits in a shimmering backstage dressing room recalling her vaudeville roots and her time at a school for clowns. PAPER caught up with Rudolph to talk about Lyonne's directorial debut, being dressed by Arianne Phillips, and the easy collaborative energy on set.
Natasha mentioned that she wrote the part of Chastity for you specifically.
It was the first time I'd ever seen her in the role of director. I've known her for -- I think I met her when I was about 27, 28 and I've never seen her in a more natural state. She really blew me away, and I saw the best parts of her just firing on all cylinders at once. In all the years that I've known her, I saw her at her happiest I think. She's a natural director.
What did you think of the character you were embodying? How did you go about becoming this vaudeville–esque performer for the film?
I knew that Natasha wrote it with me in mind, and that in and of itself was the gift: This idea that it's an element of what I do. This sort of idea of a clown -- it was such a mash-up of so many different loves, film loves, and themes that I knew that she personally loves. It was such a gift to be given that. She handpicked all these elements and handed me this fun character who actually doesn't really speak anything really. She kind of speaks her own language, which is funny because [Natasha] always said she would be speaking it, but we never even really discussed it until we actually had to do it.
Let's talk about that invented language. What did you two come up with?
We didn't plan anything out. Actually the first time I ever had to do the language, I mean I always kind of based the sound of it on the sound of Italian, but I don't speak Italian. So I don't even know if any of it sounds Italian at all. It's just gibberish. It felt like that sound was the quality that her language needed, but it needed to be different enough and nonsensical enough to be identified as her own language. The first time we ever did it, I think, was when I was recording the song that she sings in the club. And that was the first time that Natasha and I had ever heard it, really the first time I ever started speaking when we were shooting was actually… I went, Oh, man she's really good at this. I was watching her do it. So I was leading off of what she was doing.
It was kind of this great, fun exercise that you would do when you're in a theater class, when you're making gibberish, but you're making a whole scene and you have to understand the other person and what they want. It was kind of funny because we didn't even rehearse it. We just rehearsed the blocking of it, and then we were shooting it. But I understood her perfectly and she understood me perfectly. It was pretty magical.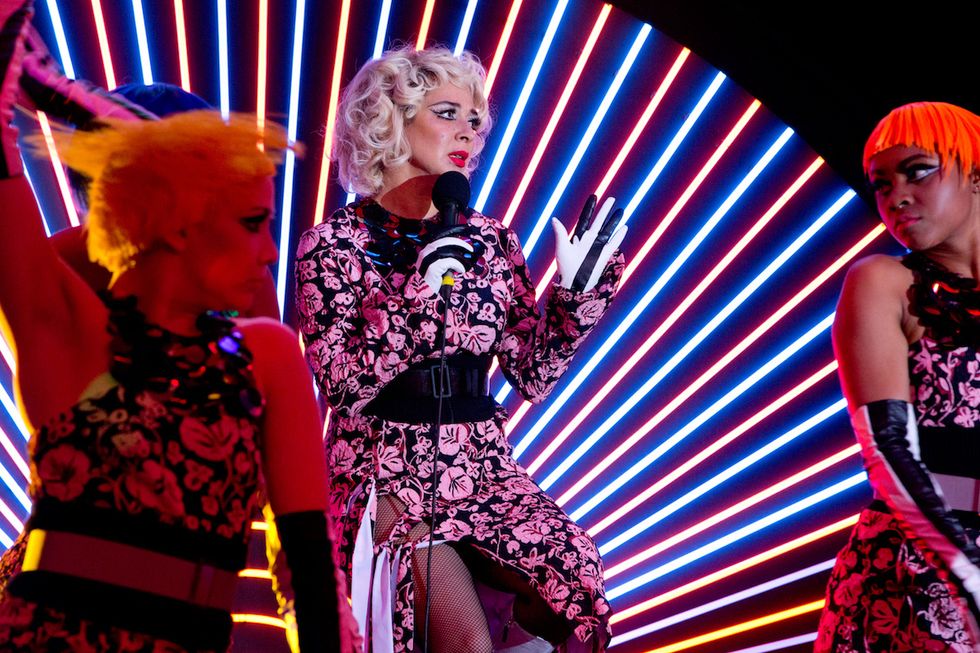 There's a scene in the film where you and Natasha meet and then she disappears behind a door that reads "Woman in Charge." You mentioned how it felt like Natasha was in her element as director. How did it feel on set?
I think knowing her all these years, and knowing what she loves and the things that excite and inspire her, it was fascinating to watch [it] come to life. She did what every great director does, which was put all her favorite people in the same room. From top to bottom, she got the best possible DP, the most amazing hair and makeup team, the most amazing costume design in Arianne Phillips. Every single element of it was so thought out and calculated. All the actors. This was like we were all invited to this party in her brain that she mapped out so beautifully.
I felt so privileged to be part of this group because everyone was at their best. These are all the people who are just at the top of all their games. It all came together so effortlessly and easily because of that. She just knew not only would all of these people be so talented and so gifted, but also they get along great. It's also the idea too that when you're watching your director bring everything to life, the tone that they set is the tone on the set. And her energy was 'we're so excited' and it was so palpable. She was so genuinely happy. But what was odd about it was that it didn't feel like any sort of transformation; it was like she's always been doing this. That was the part of it that was really nice. It was really seamless to see her to step into this role.
It's sweet that you say that. Natasha mentioned to me that the level of talent on set made her feel like she had to step up to match the needs of everyone.
She needs to do this all the time. She spoiled me now. This is the only way I want to do it.
I feel like we're going to see more of this from her.
I really hope so. She's one of those people who has really educated [herself] in film for so many years. She could easily be one of those weirdos who has like newspapers stacked all around her tiny apartment and you only see them come out when they go to the Film Forum. Instead she's using her mind and her talent to create, all this incredible information is finally coming out that she's amassed over the years. She's been an old man since the day I met her. She probably has been like an old John Ford in the body of this adorable 20-year-old girl. I think she's finally -- she's really finally fitting into her boots. It feels very natural.
What is your relationship to Kenzo and creative directors Humberto Leon and Carol Lim?
This is my first chance of ever getting to do something like this with them. I've always been a fan of theirs. I'm a very closeted fashion nerd. I know about everything and everyone and what they're doing all the time. This is one of those exciting opportunities where you actually get to gush to the designer about their work and what they're doing. They were very surprised that I knew what the hell I was talking about. It's really exciting to be on this side of fashion and then get to see how all of the elements work.
On that same chord, what was it like working with costume designer Arianne Phillips?
Oh my god. I always knew about Arianne. When I was paying for [comedy] classes, and I was also an assistant costume designer, if I was ever pulling costumes at Universal, I would be like, Oh shit, Arianne Phillips is in the same building. I knew her work. That's the fashion nerd part of me that came to life.
The minute I met her it was a dream come true. I had no idea what an incredible human being she is, in addition to being on top of her game. She's so bright, so whip-smart, and fascinating and interesting to talk to. It's so obvious why she is as skilled as she is. She's just so damn good at what she does. Being dressed by someone who really knows how to dress a human body in the best possible way, and also just as a woman, I mean honestly, it made me feel like, Holy shit, I've arrived. I'm not kidding. It was one of those moments where I was like, Oh, the best of the best is like adorning me. I just feel really lucky to have gotten that opportunity.
This was one of those opportunities whenever you look around you're like, Oh my god, I must have done something right because this is an amazing group of people. It's a mark of such a great director. I'm going to put all of these people in a pot and create this thing. [Natasha] was just right about everyone.
Sign Up For The Morning PAPER