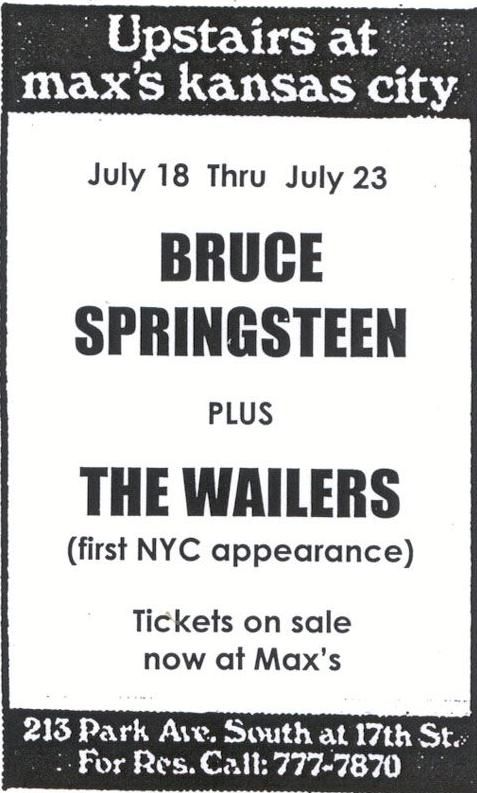 NYC's nightlife-nostalgia freaks have a busy week cut out for them. First off, there's the 50th anniversary celebration of Max's Kansas City running from June 4th to the 7th at
Bowery Electric
(327 Bowery). The infamous Park Avenue South spot -- originally ruled by the late Mickey Ruskin -- packed in the artist, poets, downtown denizens and Warhol crowd, first as a restaurant and later with a small upstairs music venue where everybody from Tim Buckley to Bruce Springsteen (Bob Marley opened) performed in the early '70s. This week's 4-day party is hosted each night by Peter Crowley, the booker for the club's second incarnation starting in 1975, and includes performances by tons of acts including The Sick F*cks, Testors, Pure Hell, Sea Monster, Penny Arcade and many more, plus there's a Jayne County tribute thrown in as well.
Save a little energy for the Roxy reunion party at
Madiba Harlem
(46 West 116th Street) on June 5th, 9 p.m. to 2 a.m. This brings together the old roller gang that boogied-down in the early '80s over on West 18th Street, before that location morphed into a downtown hip-hop club. The reunion features the Dynamic Rockers, DJ Misbehavior, Duce Martinez and the Funk U Fridays Skate Jammers. "Bring your heels, wheels or shoes and move to the grooves," as the flyer says.