You saw it on Vinyl! Max's Kansas City was a legendary bar/restaurant, opened in 1965 by Mickey Ruskin, which quickly became a home for artists, punks, bohos, the Andy Warhol crowd, and musicians like Iggy Pop, Patti Smith, and the New York Dolls. Working at the Park Avenue South spot for a spell in '69 was Jeffrey Nickora, who'd been a regular customer and was totally plugged into the stimulating scene the place exploded with every night. I just caught up with Jeffrey, a retired publicist, for some fab memories of Max's.
What exactly was your job at Max's?
Cashier/maître d, everything that needed to be done. I worked as a sales rep at Delta Airlines during the day. I'd been going to Max's for a couple of years as a customer. They needed someone to fill in. I was there anyway, so why not be paid? Why not get my meals free? It was a very interesting time and place to go.
I ran into you at the memorial for Warhol drag star Holly Woodlawn not long ago. Did you hang with her at Max's?
Yes. I met Holly before she was Holly. People used to point at her and ask, "What's that?" But Holly was a champion. She took over her space and became a great person to be with. Once, at Max's on a slow night, she came dressed in a very stylish gown that must have belonged to an uptown lady at one point. She positioned herself at the curve of the bar as if it were a grand piano, she pulled out a cigarette, lit it, and dramatically dropped the match to the floor. Well, it caught the hem of her dress, which caught fire. We threw water at her and saved the dress and saved her from being hurt. It was a big laugh fest.
Any Patti Smith stories?
Patti would come in every night and solicit people to come to her rent parties on her rooftop, where she'd read poetry to us.
I guess that was sort of like the original Kickstarter campaign.
Yes. She and Robert Mapplethorpe seemed like they were so poor. They looked like they'd never had anything to eat. They lived their art. When Bruce Springsteen's name came up, Patti went crazy with excitement that Bruce was going to be upstairs at Max's.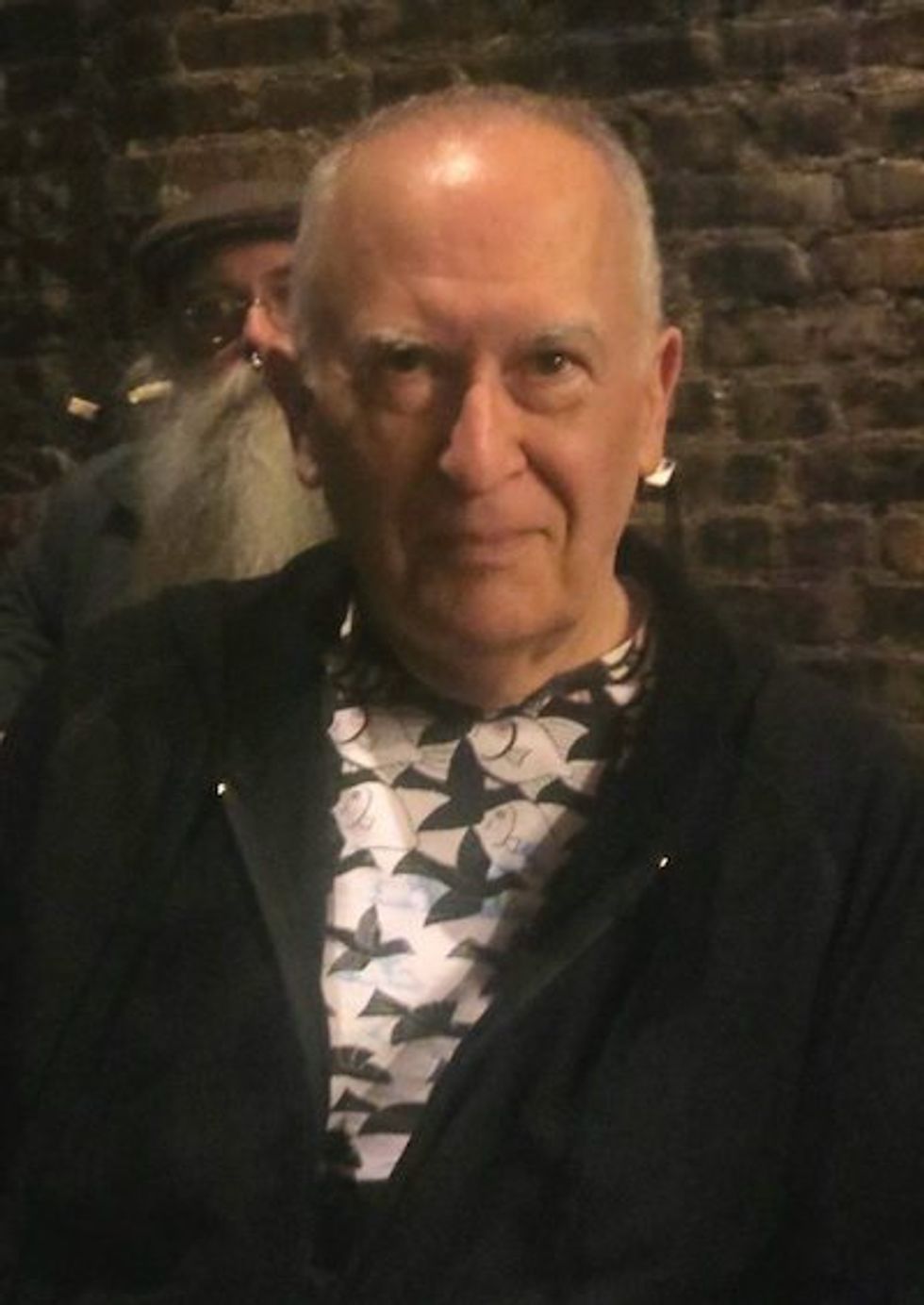 Jeffrey Nickora. Photo by Jackie Rudin
They later wrote "Because The Night" together. What were your favorite bands at Max's?
I didn't like going upstairs at all. The music had no interest to me. I hung out downstairs with painters and good conversation. Upstairs, I liked the Dolls and Bobby Blue Bland and B.B. King and Waylon Jennings. I thought a lot of the punk bands were noisy and not good. But I loved Debbie too [Blondie lead singer Debbie Harry]. I used to say to her, "What do you want to be when you grow up?" She'd say, "All I want to do is sing."
How about the Warhol crowd?
I liked Brigid Berlin. We were close for a long time. I was fond of Gerard Malanga, Eric Emerson, Candy Darling and Jackie Curtis. I adored Jackie. Candy said, "I can't go into Max's. It's against the law." Louis Waldon [a performer/presence on the scene] said, "This is a place unlike any other. You will not be arrested for dressing like a woman." She became very comfortable and a fixture. Jackie came to Max's in drag. Once, she stood outside the restrooms and tried to make a decision of which one to use. She finally took the ladies room and the place went crazy. There was a small gathering of people urging her to try it. "Go, go go." They cheered when she did it.
That toilet story is extremely topical today.
The three of them -- Jackie, Candy, and Holly -- were so bizarrely wonderful. Drag was a very rare thing back then, not like today. Jackie was ready for anything. Walking down the street with Jackie, either gender, was an adventure. She'd say, "Go into that drug store and buy me cough drops. They won't sell me anything." She'd tried to pass off so many fake scripts [prescriptions].
Was Max's an ethically run establishment?
It was quite reputable. Very straight and above board. Mickey Ruskin was a genius. He was so skilled at bringing in people. The photographers at the early part of the evening brought all these beautiful models. Everyone in the world came -- Steve and Edie, Silvana Mangano, Lucino Visconti, Yves St Laurent. I can't think of anyone well known who didn't pass through. One night, I took a dinner break and went upstairs. I peeked into a booth and saw Catherine Deneuve and a friend. I said to Mickey, "Why did you put her upstairs?" He said, "I thought they were two chicks from Madame Claude's [the French brothel]." She was so out of place. Aside from her incredible beauty, she was wearing silks and clothes downtown women didn't wear. It was pure haute. The only famous person I saw Mickey cream over was Henry Morgan. He was a panelist on the game show I've Got A Secret. When Mickey was a boy, he idolized Henry from the radio. Henry's commentary helped him understand a lot of stuff growing up during the war.
Did people come to Max's trying to be famous or were they just looking for a creative connection?
After it got a reputation, tons of people tried to come in for whatever reason. There was always a bouncer, but that's when Mickey hired female bouncers and gave them attitude to look for in potential dinner guests. One of the most successful and famous ones was Dorothy Dean, a Dominican woman who was part of the Cambridge crowd and was a research editor at the New Yorker. She was a tiny little thing, but so in command of whatever space she was in. Her job would be to screen the people. If she didn't like them and they asked why, she'd say "I don't like you here. You don't belong." After two Scotches, she'd say, "What the fuck do you want?" Mapplethorpe did a beautiful photo of her.
Well, he loved to shoot dominatrixes. Will nightlife ever recapture the sensibility of Max's?
No, because it's much more of a business than it used to be. The bottom line for any venue now is paying the rent, and it's got to be a difficult nut to crack every month. I don't think it could ever have the spontaneity today. I'm nuts about places like Pangea, where they're creating an atmosphere that's welcoming. I like people on the rise. I don't like arena things and stadiums. In the '80s, I liked the Palladium -- an incredible accomplishment in terms of architecture -- and I liked the Saint, but I missed the intimacy of places like 12 West and Flamingo.
And I missed the Max's experience, since I only started going out when it was way post-peak. But thank you for filling me in, Jeffrey!
You May Also Like