The words in model Maxim Magnus' Instagram bio read: "TRANSGENDER WOMAN," followed by contact info and the hashtag #TransIsNotaTrend. Since debuting last year at the Paula Knorr runway show during London Fashion Week, the model has used her platform to promote much-needed messages of diversity and true inclusion.
She recently launched a video campaign for #TransIsNotATrend, which highlights the fact that trans identity is not a tool to be used by fashion brands and lovers for cool points, and that it is not a "choice," as some anti-trans rhetoric would have you believe. In one such video, Magnus, filmed in a stylized black-and-white clip, finds her speaking from the heart: "To be trans is to be confident, and to shine like the brightest star in the universe, even if it's just for one that second, just to show the world that I am who I am, and that no one can stop me."
Related | Theda Hammel Wants More Trans Stories, Especially Boring Ones
Magnus has since signed to London agency Linden Staub. And just last week, she posted photos of herself in a crystal headpiece, as the star of a hazy, shimmering video from Gucci's "Second Summer of Love" series, a commissioned work filmed by Adam Csoka Keller as a prelude film for Josh Blaaberg's Distant Planet: The Six Chapters of Simona. The project imagines a glorious night out in 1984, at the Italian disco, no less. Furthermore, the new project is also part of the fashion house's own ongoing initiative to bring more diverse bodies and voices to the ever-evolving luxury fashion conversation.
Magnus chats with PAPER about the special opportunity, and reveals what brands can do to be still more inclusive.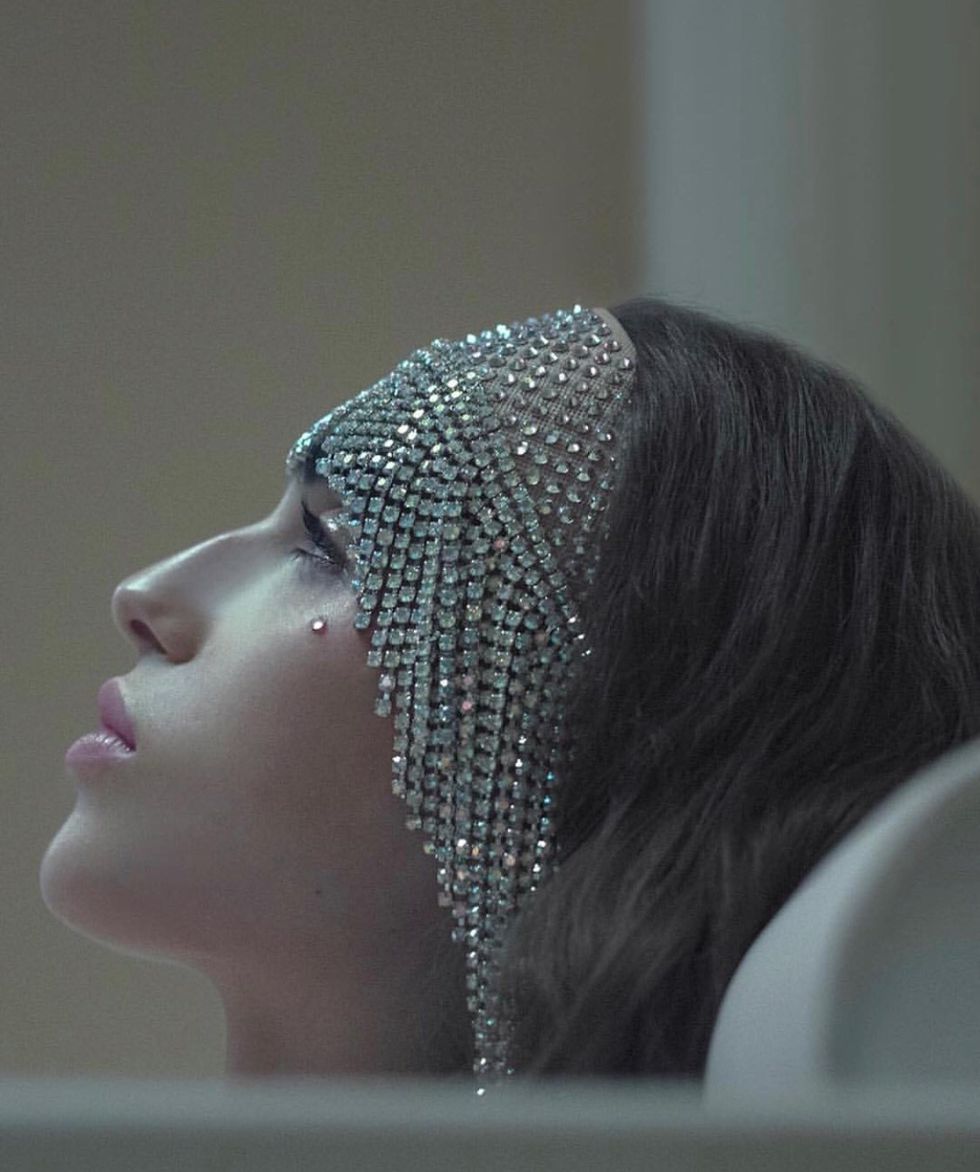 How did the opportunity to work with Gucci emerge?
When I got the casting email and it said Gucci, I tried not to get too excited. I always try and do that until I get the job, however, I always think it's amazing that I am even being considered. I went to the casting and it ended up being nothing like I'd ever done before; Suddenly, I was in a room full of actors auditioning for the next campaign. I have always wanted to act and I did a lot of performing arts as a child, but I never thought it would be on a big scale like this. I remember the casting directors, the most amazing duo to work with, saying "just pretend you're tripping on acid," and I had no idea how to. [Laughs] So I just gave it my all, and pretended like I knew what I was doing. Adam, the director, really pushed for me to be in the film, as he thought it was important to spread a more important message than just showing some clothes. Just because this is a commercial advertisement doesn't mean it doesn't carry a message. Being on set felt absolutely amazing because the whole team was just so fantastic to work with. In the beginning, it was a challenge and we had to do a lot of takes over and over again, but in the end we got there. [Co-directors] Evelyn [Bencicova] and Adam never lost their patience and guided us through every step of the way. I mean, they had me bathe in a bath full of pearls, which is definitely something I'd never done before.
Thankfully, there are more conversations than ever in fashion spaces around visibility and diversity for queer and trans people, as well as people of color. It doesn't always lead to action. How do you think brands can continue to step up their diversity and representation initiatives?
Brands need to stop putting a label on it. What was amazing about Gucci was that no one spoke about the fact that I'm trans, I was just one of the models. Even though it's important that people know for educational purposes, it's amazing they didn't use this as tokenism. Minority groups within the fashion industry receive wrong representation. Brands also need to take responsibility, both in admitting to their mistakes, for example, when they refuse to cast people of color or trans models — but they also have a responsibility to educate people. This industry reaches such a large audience and it's at the forefront to educate people, and with that working towards a place of acceptance. People think our industry is super open and accepting, and as much as I love working in fashion, the only minority group that is represented and supported are cis gay white men, and that needs to change.
In your caption announcing the Gucci film, you mentioned that while you don't consider yourself an actress, you feel honored to work with a brand that stands for creativity and individuality. What does that mean to you?
I don't consider myself an actor, but I'd love to learn more and perhaps go into acting in the future. What Alessandro Michele has done with the house is amazing, and he's such a visionary artist. I once went to a panel talk where he was speaking about his creative process and his research behind all of the collections, and I was amazed at how much he changed the house to be his own. I think his designs, especially in the beginning, go totally against the norm and often question bad taste, which I love! The brand celebrates color, it celebrates life, and that's what made it so exciting for me to work with them.
What has feedback been like for you since the Gucci project came out? How is it making you feel?
People have been commenting and sending me amazing things. I have always gotten so much support from my community online and from my friends and family. I think a lot of people always believed in me, and this is proof that I can actually live up to their expectations. I think I also shut down a lot of the people who didn't believe in me, and have told me that I was reaching for the stars. Landing a job like Gucci used to be my dream — and it's still surreal to me — and this has just opened up a door to endless possibilities of where I want to take my career and what I want to do next.
Photos Instagram / Adam Csoka Keller & Evelyn Bencicova