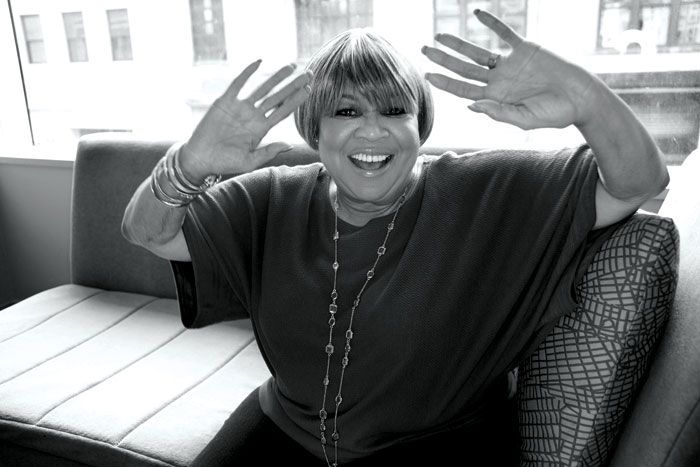 Grooming: Camille Thompson using M.A.C Cosmetics / Styled by Max Ryder / Mavis wears a necklace by Kate Spade, ring by Metal Pointus and bracelets by Marc by Marc Jacobs.
It's hard to tell the difference between when Mavis Staples is singing and when Mavis Staples is speaking. For Staples, who's been performing gospel and soul classics like "I'll Take You There" and the post-civil rights movement anthem "Respect Yourself" with her family band, The Staple Singers, for 65 years, singing and speaking make up equal parts of a conversation. Staples frequently transitions from describing the musicians she's worked with throughout her career -- including Curtis Mayfield, Prince ("He was super shy. All he did was roll his big eyes and smile.") and Wilco frontman Jeff Tweedy (who produced her latest album
One True Vine
, out June 25th, as well as 2010's Grammy-winning
You Are Not Alone
) -- to a cappella renditions of "A House Is Not a Home"and "I Like the Things About Me," an old song by her father, the late Roebuck "Pops" Staples. This song is included on
One True Vine
. "I always try to get one of my father's songs on each CD," she says.
The 73-year-old may still be releasing popular records today (
Entertainment Weekly
named
One True Vine
one of the 10 most anticipated albums of the summer, alongside releases by Kanye West and Beyoncé), but Staples is certainly from another era. She reminisces about growing up in Chicago during a time when men would gather under streetlights to perform doo-wop and she and the neighborhood kids, including Sam Cooke, would run after the watermelon cart. Then she starts singing again in her warm contralto, "
Hey, hey watermelon man!
" She was even proposed to by Bob Dylan, whose songs she wants to cover on her next album.
Though Staples thinks Bruno Mars is "so cute," and she loves Adele, she wouldn't have wanted to come up with the pop stars of today, when success relies as much on launching nail polish lines as it does musical talent. "I am really blessed to have come up when I did," she says. "I didn't miss a thing."
MORE FROM OUR SUMMER MIXTAPE