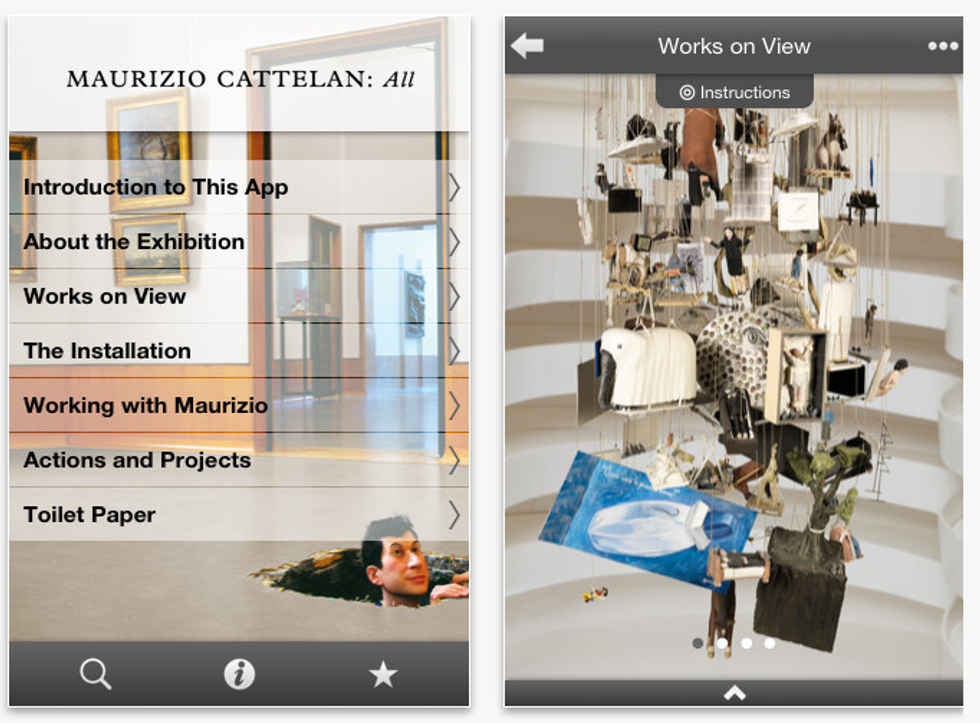 1.
The Guggenheim
has launched
a special app
for their exhibition
Maurizio Cattelan: All
, on view today through January 22, 2012. Better yet,
John Waters
hosts a series of videos about all of the app's features, which includes behind-the-scenes looks at the instillation, photos and tons of interviews with curators, critics, and the artist's friends.
2. Curious about your Twitter metrics?
Tweetsheet
will tell you
the basics including your biggest followers, most-retweeted posts and more in a neat info-graphic.
3. Brooklyn band
The Naked Heroes
celebrate their new album (and comic book),
Demon the Whiskey Down
, at Cameo Gallery (93 North Sixth Street, $8, doors @ 8 p.m.) tonight, November 4th, with
Weird Owl
,
MRC Riddims
and
Jessica Braun
.
4. "
No Breasts, No Request
" is a collection of notes and signs found around DJ booths and posted on L.A.
DJ Mick Fiction
's Tumblr blog. So make sure you have a pair of falsies next time you request "Everybody Dance Now," fellas.
5. New venue alert!
Big Snow Buffalo Lodge
(89 Varet Street btwn Humboldt and Graham, Williamsburg) is now open.  Plus they've got a Chat Logs Records release party on Saturday, November 5tj, with Many Mansions, Matter Waves, Yvette and Alaskas. [via
Brooklyn Vegan
]
6.
Paste Magazine
analyzes
the reasons
why
Lana Del Rey
is popular.
7.
Quite Possibly The Best Robin Williams Tattoo You'll See All Day
. [Buzzfeed]
8. The 
Macy's Thanksgiving Day Parade
  is turning 85 this year. PAPER October 2011 covergirl
Mary J. Blige
is one of the musical guests and the parade will also feature a design by
Tim Burton
. [NYT]