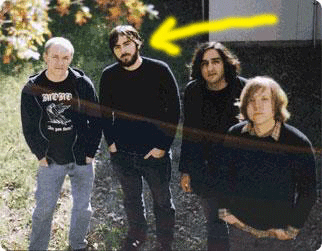 By now, you must all know that Explosions in the Sky is one of my favorite bands in the history of all time. Seriously. This Austin-based prog-rock quartet is quite possibly the most inspiring band out there at the moment -- and they don't even sing! What's more, their fans have grown exponentially over the past few years to incredible proportions that I doubt even the band expected. I just saw them (yet again) at Coachella a few weeks ago, but as of right now EITS has put their worldwide tour on hold and are back home due to a family illness. These are strange times for them, in other words, but guitarist Mark Smith (the one who's being pointed to by the yellow arrow in the photo above) was kind enough to sit down and answer a few questions for me.
NY Doll: Why did you choose "Explosions in ihe Sky?"
Mark Smith: It just seemed like a very apt name for what we wanted to do -- a simple straightforward descriptive and concrete phrase -- and also it's a name that's thousands of times better than the name we first picked (Breaker Morant).
NYD: If you weren't Explosions In The Sky, who would you be?
MS: A fascinating question that we try to not think about too much. It's slightly mindblowing to think how many things had to go right for us to come together…. Munaf and Michael and I briefly played in a band in our hometown (Midland, Texas), but then we broke up and I moved to Austin to go to the university; and then Michael inexplicably moved to Pasadena but didn't like it so then he moved to Austin only because his roommate in Pasadena was moving to Austin; then Munaf decided to move to Austin, and us three started hanging out again, started messing around with music again; then Chris decided to move from Chicago to Austin to go to film school, but dropped out because he didn't like it; then he put up a flyer in a record store, and Munaf and I saw the flyer, and called the phone number on it….. It's just like: What if Michael's roommate didn't decide to move to Austin? What if Chris had liked film school? What if Munaf and I hadn't seen the flyer or called the number on it? It's best not to think about it. To actually answer your question, who knows? Probably working at video stores, playing pickup basketball, making music on our computers...
NYD: I know that some of your fans follow you on tour -- got any crazy fan stories?
MS: At our London show in February, we had a kid jump onstage while we were playing, and he (accidentally?) bowled me over, then he stumbled over and (accidentally?) unplugged Michael's guitar cord, then he got (quite purposefully) tackled by a security guard and taken out. We somehow managed to keep playing throughout the whole incident, and the best part was that he had a camera and was continuously taking pictures of us and himself as he ran onstage and even as he got tackled. Other than that, not much. Some kid managed to steal our Texas flag from Munaf's amp a couple of tours ago. Mostly we have really nice fans, though. People occasionally bake us cookies or brownies and bring them to our shows…
NYD: What's a typical day like for EITS?
MS: Well, let's see, today's a typical day: We got home from a tour two days ago, so I'm still trying to catch up on sleep, so I slept until almost noon, then got up, had two bowls of cereal, watched this week's episode of Lost, played a bit of Zelda on the Nintendo Wii, then I went to the bank, and was going to run some more errands but traffic was too bad so I just came home. Then Munaf came over and brought me some coffee and we had a couple of cigarettes and then watched some Super-8 footage that our friend Matt Gee has filmed at several shows and recording sessions over the past few years, then I talked to Matthew Cooper (also known as Eluvium, who is also on Temporary Residence) on the phone for a while, as he was having a birthday celebration for his 8-year-old dog, a gigantic Malamute by the name of Atticus, and now I'm sitting here answering these questions. I talked to Chris earlier, who was at Target at the time. I'm guessing Michael is still asleep.
NYD: Would you consider yourself part of a musical movement?
MS: No, not really. I know most people and reviewers consider us to be part of the post-rock movement, but as far as I can tell, that is a waning or perhaps dead genre, and we never felt aligned with it anyway, whatever it is. We kind of like the term "expeditionary rock," but that's probably because we've only heard it one time. We just try to do our own thing, I suppose.
NYD: What are your favorite restaurants in New York City?
MS: Every time we go to NYC, without fail, we go to this vegetarian dim sum restaurant in Chinatown. As far as I know, it is simply called Vegetarian Dim Sum. We aren't vegetarians, but it is utterly delicious, and a calming setting, and we always order way too much. Also we find ourselves always going to a place called Veselka's. I believe it's in the East Village, but I'm not very good wih directions, so I could be wrong. It's Jeremy Devine's (the guy who runs our record label) favorite restaurant, so we always meet up with him there and order the pierogies.
NYD: What bands are you currently into?
MS: Right now, I can't get enough of this album called "From Here We Go To Sublime" by The Field. I find it to be stunning -- electronic music that is both interesting and moving. I also really really like the new Stars of the Lid ("And Their Refinement of the Decline") and Panda Bear ("Person Pitch") records. Also we were listening to a band called the Angelic Process a lot in the van, but I can't remember the name of the album. Kind of drone-metal.
NYD: What's the best thing about playing live?
MS: Probably when I look up (which is admittedly rare), and I'll see such a wide range of reactions. Several people will have their eyes closed, some will be smiling, some will be air-drumming or headbanging, and sometimes there will be a couple kissing.
NYD: Can you briefly describe your songwriting process?
MS: Basically, a bunch of happy accidents strung together. We don't really understand how it all comes together most of the time. It generally starts simply, with one person bringing a riff to the table, then we mess with that for a while, and then six months later we somehow have a song.
NYD: What sort of mood are you right now?
MS: We recently had to cancel all our tour dates due to the illness of a family member, so it's a strange mood. Kind of an uneasy quietude.
Look out for the June/July music issue of PAPER Magazine, which Munaf Rayani's tour photos...