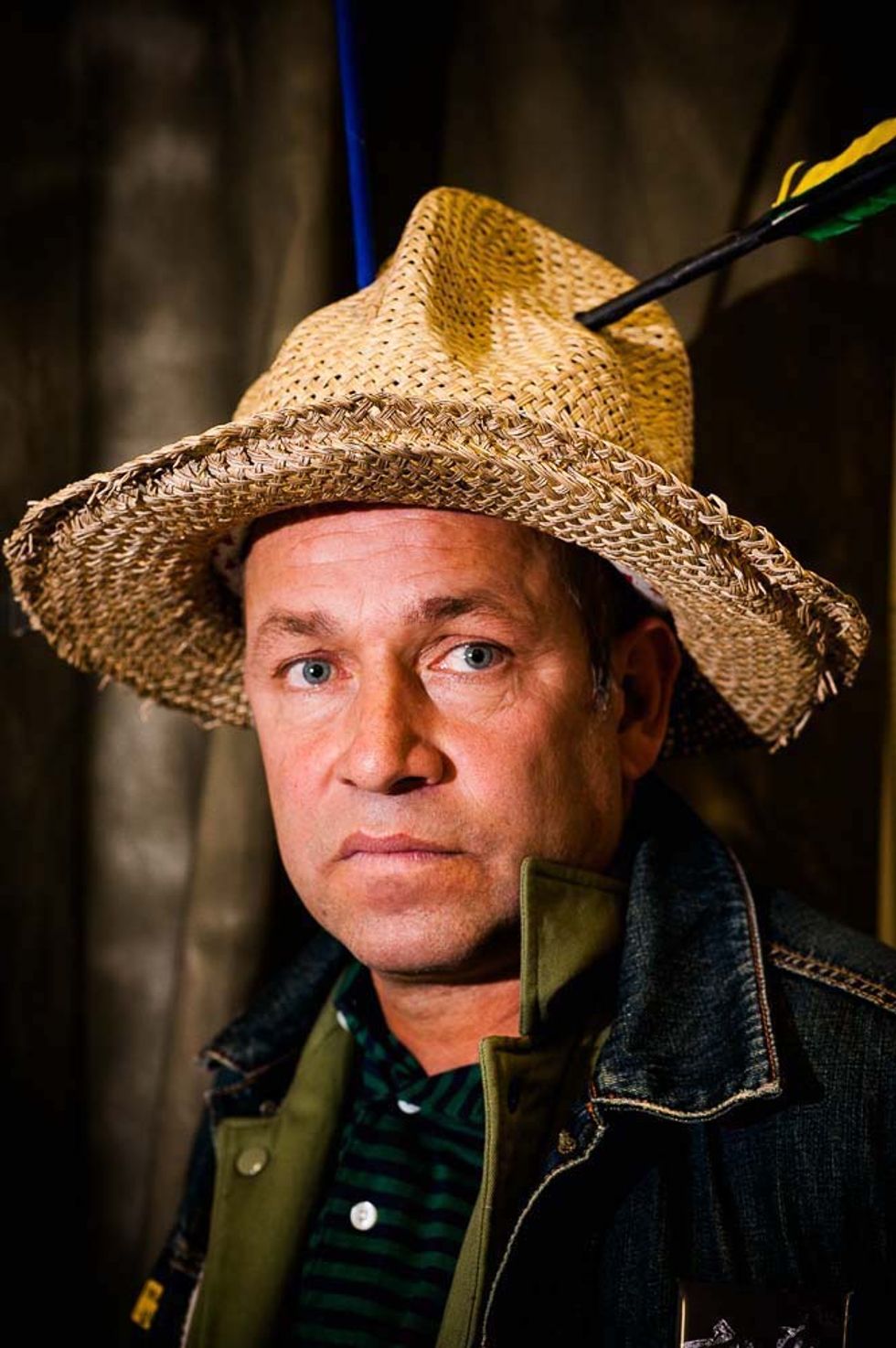 Mark "Gonz" Gonzales with his arrow hat
Over the years, profiles of legendary skater and artist Mark "Gonz" Gonzales often toss out descriptions like "eccentric" and "savant." But after spending time with him in person, you realize those descriptors are not entirely accurate and are even the opposite of Gonzales' fiber. Yes, he's incredibly gifted, free, and admittedly impulsive, but he's equally competitive and even calculated, hinting that he sometimes plays the aloof card intentionally as a device. Other than intermittent uploads on his YouTube channel, he stays away from social media, opting for real exchanges, the better to turn any preconceived notions of who he is 180 degrees on its head.
"I like to prove theory wrong," Gonzales says. "If someone has a theory or formula, my idea is to tear it down as quick as possible. I think that's fun. That's what it's about." Seeing his thought process unfold so quickly and fluidly parallels the freeform approach to skating that makes him so inspirational. At 48-years-old, Gonzales has earned his place as one of skateboarding's most influential figures for his actual skateboarding, but also for his role in product development, video direction, graphics, and later, art. As one of the first skaters to break into the fine art world, largely due to his early shows at Aaron Rose's Alleged Gallery in New York City, Gonz has gone on to publish several books of his art, poetry, and zine compendiums and exhibit his paintings, drawings, sculpture, and performance art in Tokyo, LA, NYC, Paris and London.
When we visit him in his studio in Chinatown, Gonz is ripe from a Manhattan-spanning store-to-store mission on his bicycle. He explains that he was scouring toy stores for toy arrows with the intention of snagging a few to poke through a used Vivienne Westwood straw hat that was gifted to him, to make it appear like a cowboy hat from the cartoons. He wanted to wear it around the city so that people would wonder where he'd been and what happened. This kind of idiosyncratic creativity can be found all over Gonzales' studio. There's a wooden structure on the floor covered in plastic and he explains that it's a skateboard sidehack, similar to a motorcycle or "City Racer," as he calls it, a skateboard with a low handlebar that's designed to give a passenger the experience of riding (though not necessarily for doing tricks); it's a project that he hopes could give a handicapped passenger the rush and feel of skating. Elsewhere in the studio are layers of paintings, old skateboards, photographs, books, sketches and even a dusty tube television that's sitting behind a sculpture. His work space is very much a visual library of his life, with each item unlocking a different story and facet of his personality.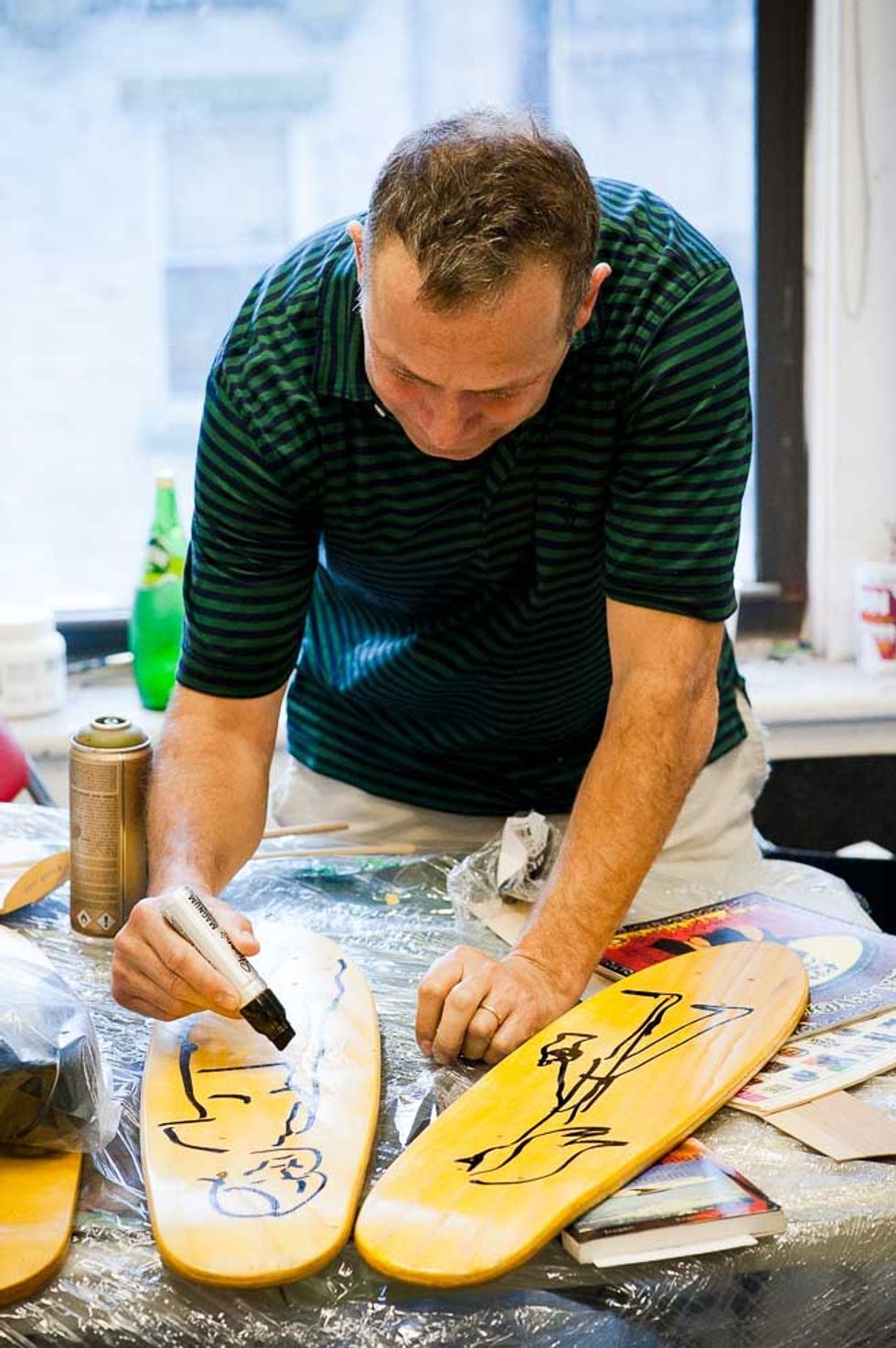 Gonzales, who grew up in South Gate, a city in LA County adjacent to Watts, Lynwood and Compton, says California is an ever-present inspiration in his work despite having lived in New York City since 2005. Some blank wooden skate decks in his studio become canvases for a story Gonz recalls about an episode in Huntington Beach, CA, where he had moved shortly after turning pro for Vision skateboards in the '80s. Describing the moment at the Huntington Beach Pier as "the funniest thing he's ever seen," he goes on to talk about watching "this little guy -- I don't know if he had hard alcohol in his jug of soda -- arguing with this tall guy," he says. "It was really cool, the little guy looked like a bird, he was this matchstick with this long hairdo. He wasn't tough, just really little and skinny. This super big guy, who was massive, like a quarterback was getting mad at the little dude. It looked like he could just step on him and break him in half. The little guy just kept saying, 'Oh yeah? Oh yeah?' Then he set the coke down and just knocked the big guy out. It didn't look like had enough power to do it. Another time they had a big demo there. [Skater] Christian Hosoi was there doing high airs and everyone was having fun, but I liked the fight better."
He returned to the area for inspiration for his recent collaboration with Snoop Dogg and adidas. Titled "LA Stories" the capsule, inspired by their salad days, incorporates the hallmarks of LA street culture -- lowrider cars, graffiti, and plaid patterns -- into t-Shirts, longsleeves, sweatshirts, and a limited release shoe, adorned with vintage-Pendleton inspired pattern and gold detailing. On the subject of this new collection, which dropped yesterday, Gonz remembers the first pair of adidas shoes he ever owned, a purchase he made on Tweedy Boulevard in South Gate for $15. "I was so stoked," he says. It was "my first skate shoe. I wish I still had them. A lot of my shoes back then were hand-me-downs from cousins and friends."
Gonz says he and Snoop swapped ideas back and forth, until landing in a place that represented that intersection of skate and hip-hop and perfectly encapsulated the LA heritage and aesthetics that influenced each of them growing up. The two first met by happenstance at a 7/11 in LA in the early '90s, while Gonz was riding for a company he cofounded called 60/40. He recalls giving Snoop a long sleeve 60/40 T-Shirt, which the rapper later wore on the cover of a local music magazine to Gonzales' surprise. Even then, Gonz's intent was broader than just making skate products for other skaters. "We were trying to be multicultural," he says of the idea of 60/40 back then. "Skateboarding is a sport that brings people together."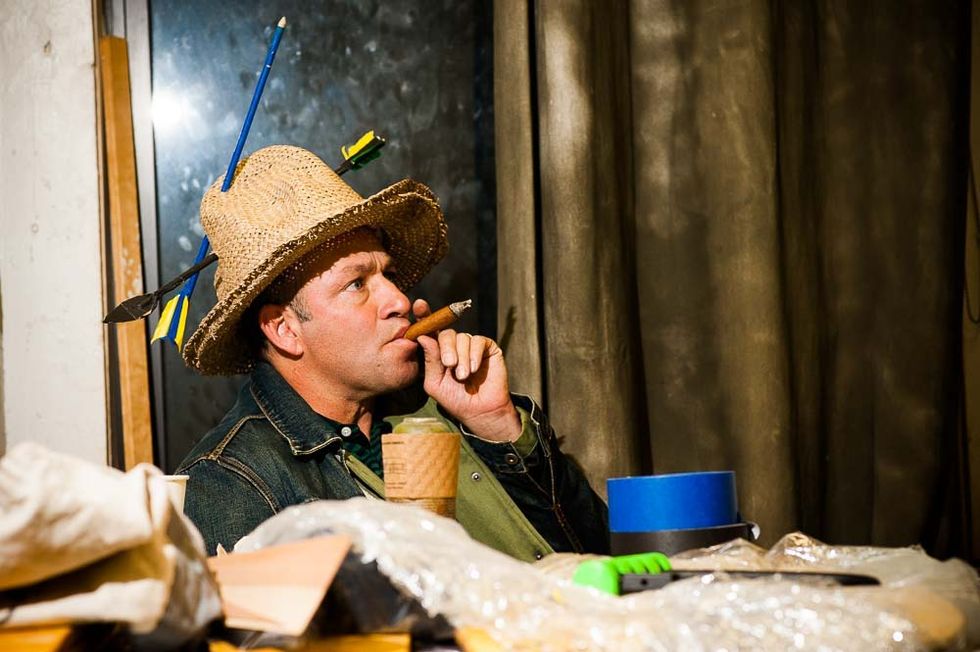 Describing the actual design inspiration, Gonzales says, "I was really into the iPad for a while. There was a drawing program that you could do fades with and I'd do the coolest flannels with it. The design team (at adidas) went to LA to meet Snoop and we showed him my iPad art and he liked it. Part of the shoe had the iPad art that we made. I think the ones we did are awesome." He talks about the design as combining surf culture with Mexican gang aesthetics: "the flair is very much West Coast -- that surf beach Pachuco kind of style," he says.

Along with the clothing line, Gonzales also worked with adidas on Away Days, the brand's first skateboarding full-length feature. Though Gonzales might have expanded his scope to include fashion, design and art, skateboarding remains an entry point to his perspective, something that galvanizes his entire body of work. It's not only a love, but also a lesson.
"A lot of times I was pretty violent as a kid. You can be aggressive, so long as it's channeled towards something creative," he says. "If you wanna box, you can punch people and it's fair game, but if you go around beating up people the karma --the cause and effect -- will come back to you. When I started to get into skating, I had to work out my bad karma. I took a lot of falls, I took a lot of slams, but I did."