[ UPDATE 07/28/16, 2:45 p.m.: After she was reported safe by police, Joyce told her fans via a new livestream last night that it was all just a "publicity stunt" orchestrated by her viewers. Seems odd that her fans would try to get her world-wide attention by claiming she's a drug addict being held against her will, but, hey, that's YouTube beauty vlogger fans for you! Or something?
To further fuckify this story, Joyce also had her mother appear on the livestream to take responsibility for the whispered "help me" fans purported to hear in her much-dissected "Date Outfit Ideas" video. Some of Joyce's followers have not taken kindly to the news that they were duped, and a #BoycottMarinaJoyce tag is now trending.]
Hmmm #savemarinajoyce - Publicity Stunt? pic.twitter.com/kMH4EDUWZC
— Fred Pye (@NoughtPointFour) July 27, 2016
#SaveMarinaJoyce, a curious hashtag about popular 19-year-old British beauty vlogger Marina Joyce popped up yesterday on social feeds across the world, trending late into the night.
It still unclear, though, whether she ..actually needs saving.
Joyce, who boasts over 700,000 fans on YouTube, has some of her fans worried lately with what they think is erratic behavior and a dazed appearance in videos.
A video uploaded on Friday titled "Date Outfit Ideas" is under particular scrutiny with concerned fans.
In the clip, posted below, Joyce appears to be dazed, reading off a script and repeatedly looking off camera -- a stark difference to prior videos where she is more animated and seemingly present. She also has bruise on her arms and legs.
Marina Joyce saying "Help me" #SaveMarinaJoyce pic.twitter.com/kEu9LijdsR
— Chubbs (@chubbs) July 26, 2016
It's freaked out her followers, sent the Internet into a frenzy and inspired some Zapruderfilm-level analyses of her makeup tutorials for hidden cries for help. While some of the purported evidence that Joyce is in danger is debatable -- some clips claim to capture audio of Joyce saying "help me" under her breath -- others claim to show masked people in the background or point out what appears to be a rifle propped behind her.
While the police visited Joyce in her North London home today and have reported that Joyce is "safe and well," many fans dispute that, believing she has an abusive boyfriend, has been kidnapped by ISIS or is into hardcore drugs like heroin.
Wtf is happening. This is so scary #SaveMarinaJoyce pic.twitter.com/EekBESKG7p
— S. (@selenaskylies) July 27, 2016
Confusing matters more, Joyce's fans have repeatedly asked her to show signs -- like adding a cat emoji to her Instagram bio -- that she is in danger, which she seemingly affirms.
Soon after a fan made cat emoji request, she changed her photo to an image of herself in cat ears: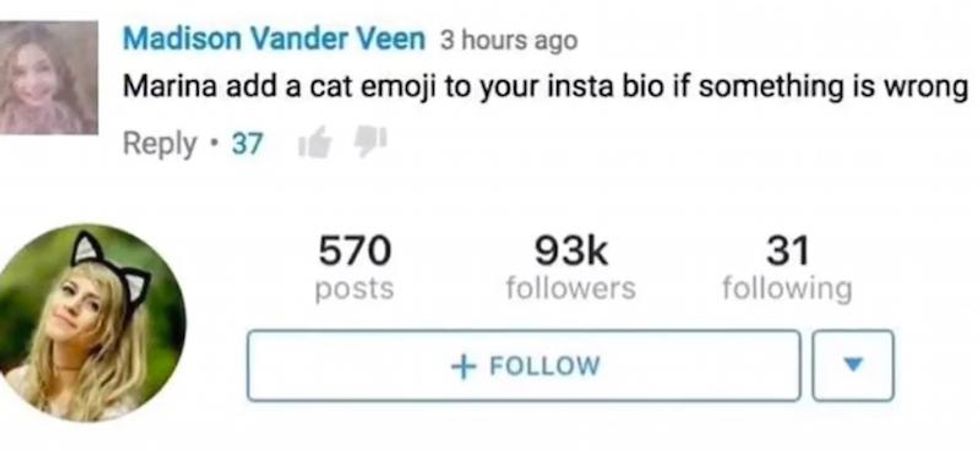 But, as Jezebel notes, Joyce seems to just like cats in general?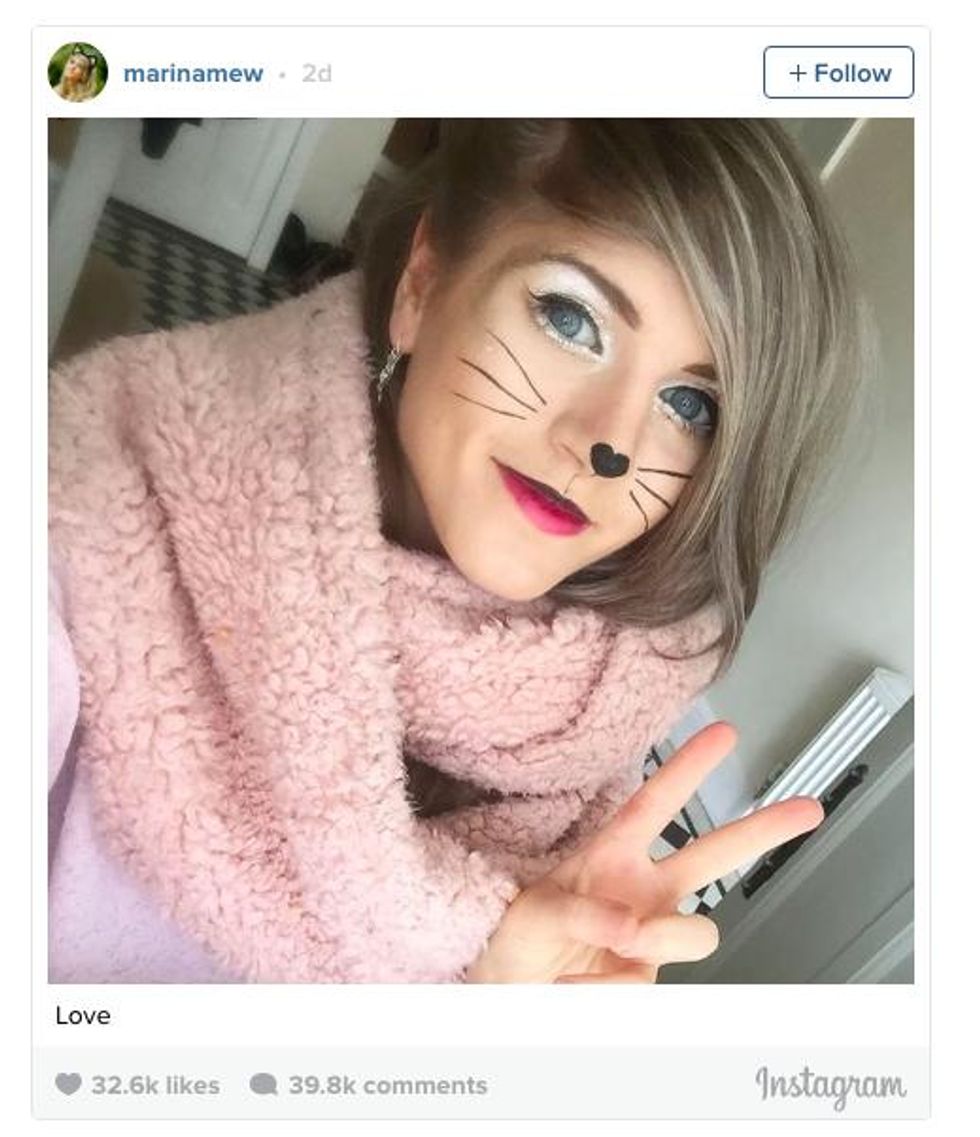 Another YouTube commenter as Joyce if she was ok, to which she replied "yes," followed up by "no:"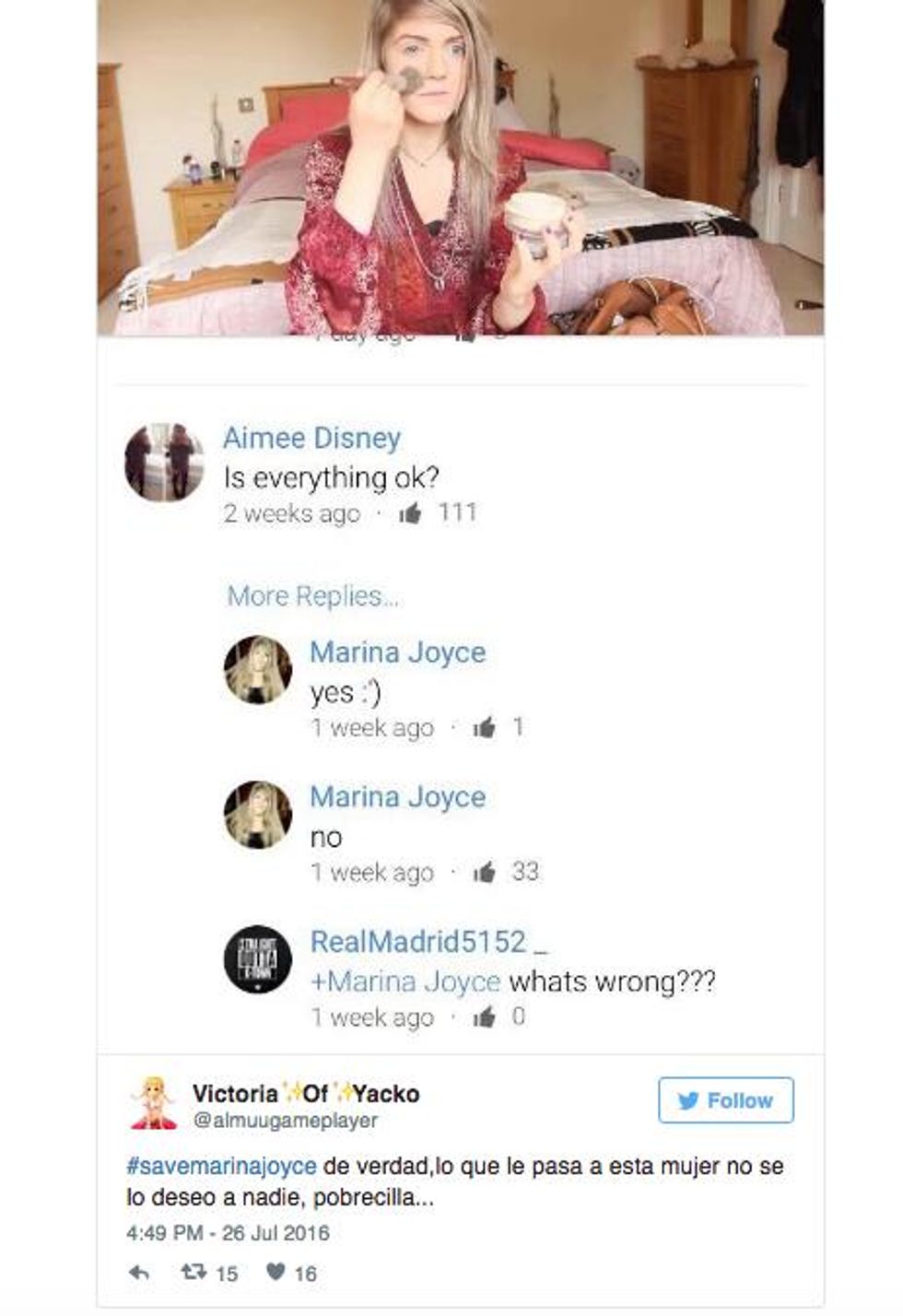 But in a "Question and Answer" video posted on July 15th, Joyce refutes accusations that she's on drugs and encourages fans to engage with her posts. "You just need to start liking my videos," she tells fans. "Stop saying that I'm on anything, because I'm sober."
To quell all these concerns, Joyce has taken to Twitter to assure fans that everything is okay and that she's safe and healthy.
She also posted a live-stream today on the platform YouNow, where she said the bruises were the result of "an accident" and the gun that fans noted in the background of "Every Day Makeup Tutorial" is just a bb gun.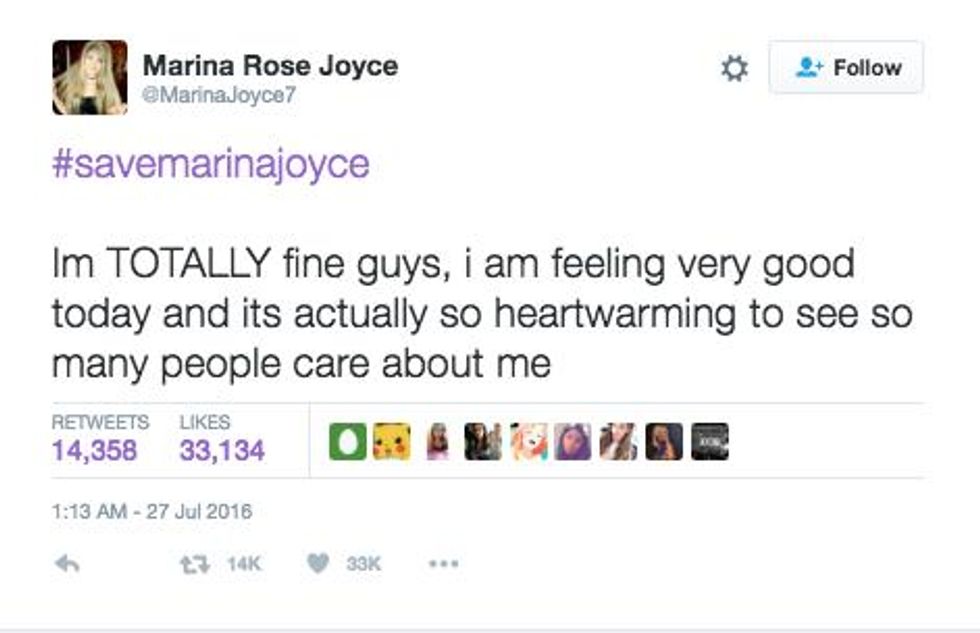 So, to sum it all up: What?
This all feels like a well-orchestrated publicity stunt, but who knows?
*whistles Eerie Indiana theme tune*