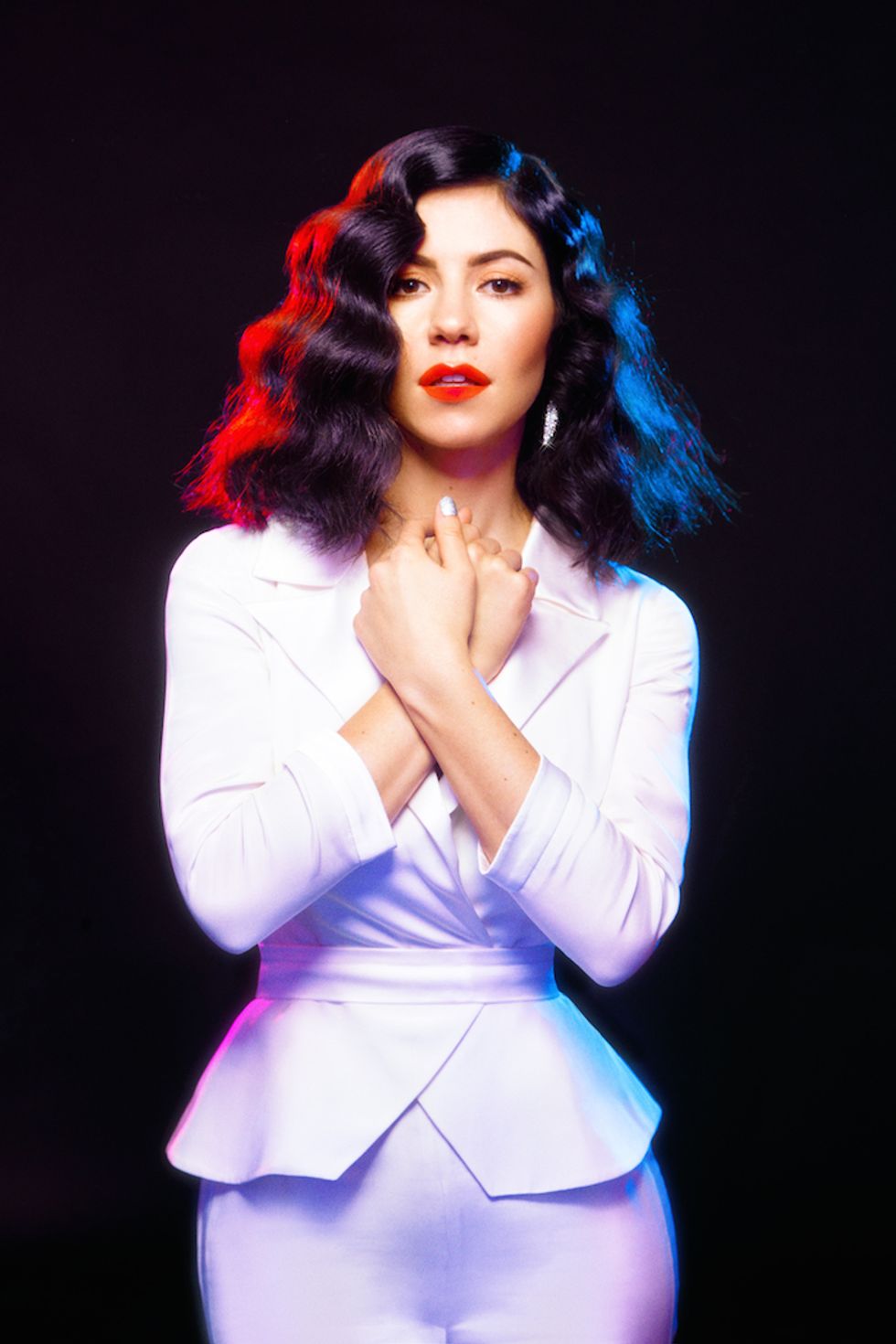 If the third time's a charm, no one knows better than
Marina Diamandis
of Marina and the Diamonds. The Welsh-born singer-songwriter's highly-anticipated album
FROOT
, released on Atlantic Records earlier this month, is decidedly more positive than its two predecessors,
The Family Jewels
(2010) and
Electra Heart
(2012). The new one features punched-up beats and incisive lyrics that reflect the artist's maturity over the past five years -- and this time, she's ditched the heart-on-cheek tattoo and peroxide blonde in favor of a '70s look inspired by her mum, with a healthy dose of trippy, rainbow-saturated psychedelia. At 29, she's feeling less bubblegum and has finally -- to borrow a line from the opening track of
FROOT --
 "found a way to be happy, happy." 
We chatted with Diamandis over the phone a few days after her sold-out show at the Bowery Ballroom, as she took a brisk walk around her adopted neighborhood of North London.
About your NYC show last week -- the crowd was freaking out, especially with the surprise explosion of rainbow balloons for the finale of "FROOT." I'm curious about the performance aspect of your shows. 
In America in particular, I connect with the fans on a deep level. They give me so much electricity. It's a big element of how my shows have evolved to what they are now. It's about the music, but I also want to add the entertainment effects of it and creating a visual for people who have paid money for a ticket. 
Can you speak a bit on how colors inspire you, especially prisms? 
Well, when I decided to do the "FROOT of the Month" campaign and we were working on the logo, we went back and forth for about 10 days. Ultimately, I wanted the colors to be a gradient on the rainbow, and all of my outfits to have similar shades. The element of color has been central to the visual element of the campaign, and in the live show, I'll be creating an electric garden with ultraviolet colors. 
What is it about these ultraviolet colors? 
I don't know! But my tour is going to be called the Neon Nature Tour, and fusing electricity with nature elements.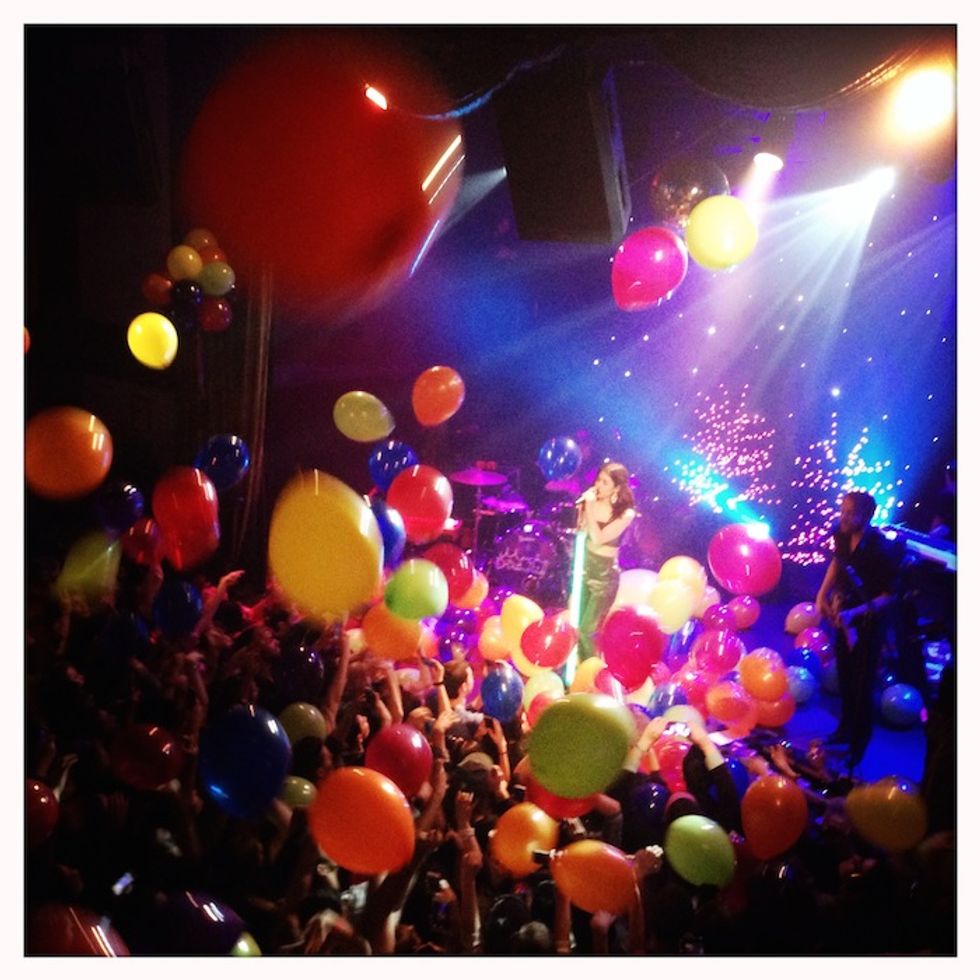 Bowery Ballroom, March 26; photo by the author
Fusing electricity with nature is interesting. It's exactly what the digital age is trying to grapple with: how to stay plugged in when social media is king, but also how to embrace nature -- how these two coexist. 
Yes, it's very much a part of our modern world now, and particularly for people like you and me who grew up without the Internet. We're living in a cyberworld and trying to incorporate reality with nature -- that theme is recurring for me -- and with FROOT, it's just come out in more of a visual way. I think that what you said about the digital age is completely spot on, and what is exciting is to see how it will evolve with time. 
You've said that FROOT is very much a celebration of happiness. What makes you happy these days? 
It's actually two things. One is this small Penny skateboard -- my agent got it for me. When you ride it, the wheels light up. Google "penny skateboard" and you'll see it. But I don't use it anywhere near my apartment! I skate near these posh apartments because I figure no one will see me there and think, the idiot. It's funny -- at the age of 29, I'm becoming a skateboarder. The second: I'm starting to work with a lot of new designers and I'm enjoying the discovery process. For example, there's this new girl Mary Benson that I like; her clothes are very '70s psychedelia, with rainbows and stars, done in a modern way. 
I loved what you wore at the Bowery Ballroom show: a little crop top and hammer pants.
Yes, it was a gunmetal pant suit. I have a tailor who does all my stage outfits. 
What's the difference between your stage outfits and your street clothes? 
If you saw what I was wearing now, you would probably love it. I've got on a Nike zip-up windbreaker and yoga pants with these muddy trainers. It's full-on glamour! The clothing I wear when I'm not performing, apart from a really nice cashmere Chanel jumpsuit, is really disgusting clothing. 
You've said that your mother, Esther, is your style icon, and you recently did an homage shoot to her '70s look for the Guardian. How has she influenced you? 
She's very graceful, a simple dresser with amazing style. I'm very inspired by her hair: in the '70s and '80s she had a simple, one-layer bob and I had subconsciously started to do that myself. My sister said, "You look like Mum" and she found some old photos of her. It's uncanny how similar we are, even down to how I wear my little dungarees. She's inspired me as a person, and how to be a person. She's so kind, you can't believe it. I thought she was so beautiful and thought, "Oh mum, you really should have milked it more." 
I came across something you once said about yourself and not changing between 18 and 27, and feeling like this was an agonizing amount of time to not grow up or achieve what you'd like. What can you say to other girls who feel a similar stagnation? 
I feel like each person is so entirely different. Perspective is rooted in our history, so I'm not sure I can give an answer to that. My only advice is that your late 20s are much better than the early ones. To not worry about it, because my life changed completely drastically, not because of music but because of other things. It's amazing how different you can feel from 21 to 27. 
Can you speak to something specific that's changed for you? 
There wasn't any kind of specific thing; it's more to do with your relationship with yourself. That's what it was for me, anyway. 
What's surprised you about being in your late 20s? 
I don't know if it relates to age or not, but I think the way my ambition is wired is completely different now. Previously, it was all about career and finding happiness in that, but that didn't really work. Now, it's more about a personal relationship, which I never thought would happen. I don't really care as much -- I do music for a living, and if you're not having a good time, then why are you doing it? 
You May Also Like
Music
Story by Justin Moran / Photography by Joshua Hourigan / Styling by Kurt Johnson