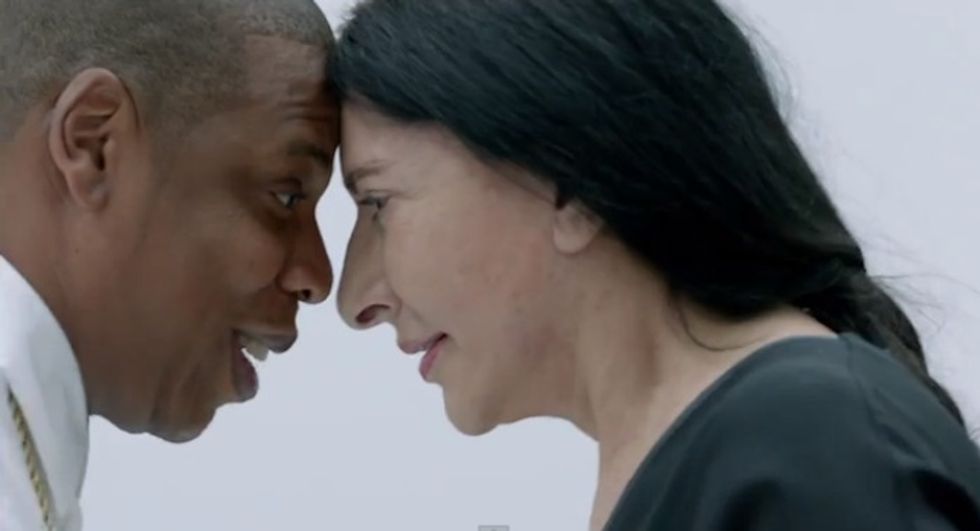 [
Update 5:20/15, 9:00 p.m.
: According
the Guardian
, the Marina Abramovic Institute in Hudson, N.Y. has issued an apology, as they did indeed receive a donation from Jay Z. According to the Institute, Abramovic herself was never informed. Whoops.]
[
Update 5/20/15, 2:00 p.m.:
According to "Picasso Baby" video producer Jeanne Greenberg Rohatyn, Jay Z did make good on his promise to donate a substantial sum to the Marina Abramovic Institute. In an interview released earlier today by
ArtNet,
she read portions of a receipt document that acknowledges him for a donation. Abramovic has yet to respond for clarification.]
Long before the first inklings of Tidal, Jay Z sent the blogosphere alight in 2013 when he spent six hours at New York's Pace Gallery performing his track "Picasso Baby" to promote his album
Magna Carta Holy Grail
. Inspired by renowned performance artist Marina Abramovic's MoMA piece "The Artist is Present," in which she spent three months of 2010 sitting in the museum, Jay apparently agreed to help the artist out with the Marina Abramovic Institute in exchange for adapting her project. A bargain that Abramovic recently revealed was a "one-way transaction."
In a new interview with
Spike Art Magazine
, Abramovic said it was something she would never do again, as Jay basically acted as an economic succubus -- using Abramovic's idea as "an economic model" that left eager participants (who were promised that it was an exclusive event) with "nothing." Calling herself "naive in this kind of world," she said she had no idea that something this "cruel" would happen, saying at one point that she was "very pissed." So much for a feel-good spirit of artistic collaboration.