"The first thing I noticed about him was his sense of humor," says Marina Abramović of the prodigiously gifted twenty-eight-year-old pianist Igor Levit, her Russian-German partner in crime behind the latest performance piece to occupy the main drill hall of the Park Avenue Armory, Goldberg, which opened Monday. "I love politically incorrect jokes," the famed performance artist continues. "I just do. I mean, I come from ex-Yugoslavia; we live on jokes. Igor is Jewish and he has the best Jewish jokes. But of course, I can't even repeat one of them."
The pair met in June of last year, at the London apartment of Alex Poots, the former CEO and artistic director of the Manchester International Festival, and outgoing artistic director of the Park Avenue Armory. "First off, I didn't know anything about Igor and he didn't know anything about me," claims Abramović, who's perched on the edge of a black leather sofa in the main green room of the Armory, wearing her trademark, floor-length, form-fitting black dress. "I knew [Poots] wanted to do one last event [at the Armory] before he leaves to become the director of the Culture Shed [the non-profit culture organization opening soon on Manhattan's west side]….He said he wanted to introduce me to someone while I was in London. I came over, he put his kids to sleep, ordered sushi, and then Igor arrived."
"We told some really bad jokes," says Levit in his own separate green room, corroborating Abramović's story without, unfortunately, offering any specifics about that first exchange. After meeting the two, it's immediately apparent why they get along: both exude a level of confidence and intelligence and, contrary to their serious public personas, have a silly, raconteur-like side to them. When I mention to Levit that he's incredibly young to be at this impressive stage of his career, he dryly responds, "My hair doesn't agree with you."
"In both of our work, we're tragically serious," says Abramović, who, moments earlier, had jokingly dismissed Levit's musical precociousness as the result of the fact that Russians start playing music in the mother's womb. "You have to have this other side, to love and be alive," she continues. "So, we were sharing these jokes and laughing like crazy. Then, somehow, we started discussing the most difficult piano variation in creation." This is the Goldberg Variations. At roughly eighty-six minutes, Bach's epic masterpiece begins with what Levit calls an "incredible, indescribable aria," before segueing into thirty complex variations. By the end, the piece returns once more to the opening aria, but not before listener and performer alike go through an emotional -- and, with its demands on the pianist's technical abilities and the audience's patience, even physical -- metamorphosis.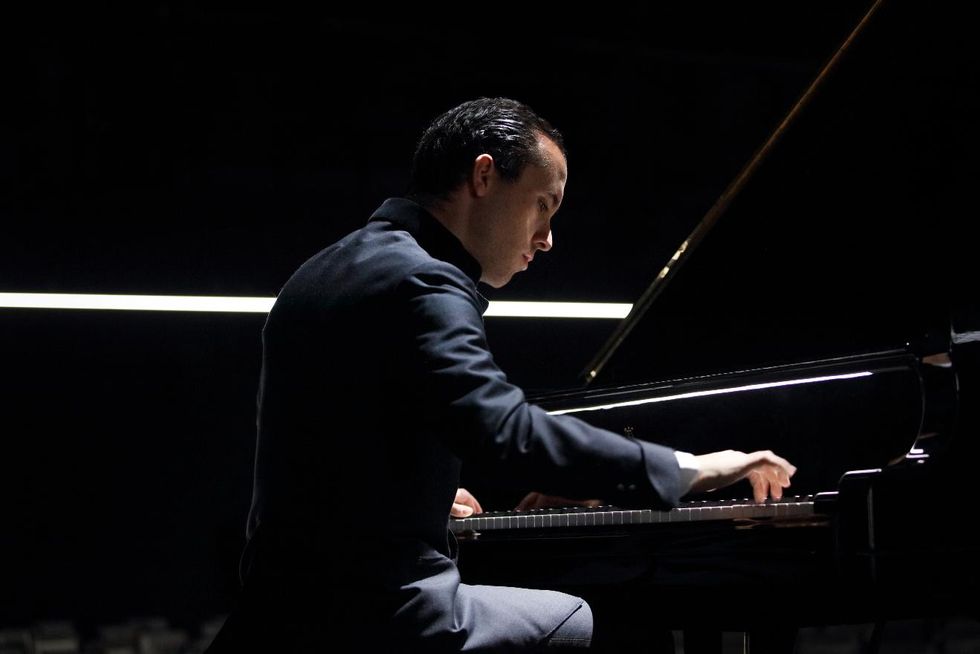 Igor Levit performing Goldberg at Park Avenue Armory. Photo by Marco Anelli.

"You experience it as a totally different person," says Levit. "We go through this journey together, the audience and I. Whatever I would like to achieve in music making, it's this human element, this shift in perspective; this is why I do this." The fact that Goldberg is a grueling test of physical and emotional endurance makes it the perfect artistic bridge to unite the young piano player with a performance artist who has made a career out of testing the limits of her body. The spry, sometimes jittery Levit claims there were preliminary discussions about performing Goldberg as a marathon infinity loop, a notion the pianist only half-teasingly describes as "suicide." He insists, however, that the endurance aspect "is crucial, but it's not the most important thing."
Back in October, Levit released a three-part box set that featured not only "Goldberg Variations," but also Beethoven's "Diabelli Variations," and Frederic Rzewski's Variations on "The People United Will Never Be Defeated," which alludes to a myriad of historic leftist struggles, primarily the Chilean people's uprising against dictator Salvador Allende's oppressive government. "The main reason I make music is to share with people anything and everything I have in me," says Levit. "Once I begin to play, I'm an open book, I'm completely naked, and the audience shares themselves with me [in] their own way. This being together and communicating with each other is the most unique thing you can experience in music."
As for Marina, she'll join the audience each night as a host and, presumably, emotional anchor, going through the ritual along with everyone else -- and not much else. Essentially she sets them up and Igor knocks them down. "It's the first time in my life that my ego steps back," Abramović admits candidly. "It's not about me. His name is first. I wanted to use this method to deliver to him -- my first time doing anything with classical music -- on a plate [to] the best possible prepared audience that he will ever have in his life."

Sharing more about what concertgoers can expect, Abramović says that "instead of a ticket, you get a key and go to a locker. You get your headphones. You go to these super-comfortable lounge chairs, like deck chairs, and you sit with headphones that block the sound. And all you see for [X] minutes [the artist wants the duration of time to remain a secret, so anxious audience members don't count the seconds] is Igor sitting at the piano on a mechanical platform. He's approaching very slowly. He turns around, and, finally, you hear a gong. The headphones come off, and he begins to play on a rotating platform, so everyone can see."
Levit claims that he won't prepare for the complex performance any differently from his other shows, despite the piece's lengthy and potentially awkward silent overture. "It's like improvisation. I'll think about it in the moment it happens," he says. "I don't know any classical musician who will accept doing nothing for [X] minutes on stage," Abramović adds. "You have to be young and crazy."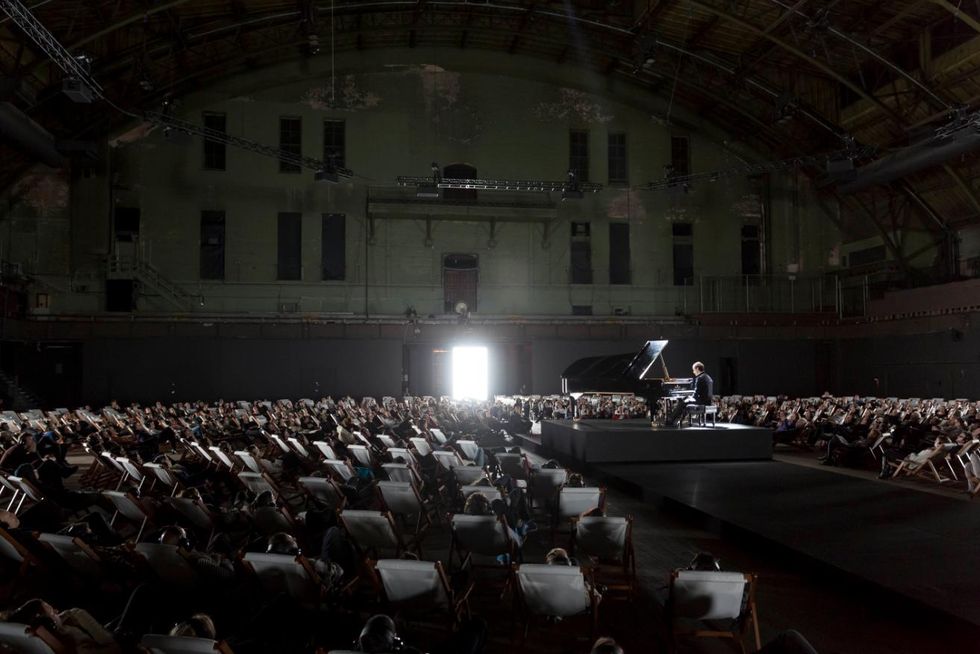 Goldberg by Igor Levit and Marina Abramović at Park Avenue Armory. Photo by James Ewing.

Abramović acknowledges that the piece's embrace of silence will not only be a challenge for Levit, but also for the audience. "I think for the first few minutes, the American public is going to kill me, because there's nothing to do. They can't text. They can't do anything but sit on the chair," she says with a giggle. "But after a while, the thinking process stops and you start to relax and when the music comes in, I promise it will be so strong."
So, what will Abramović be thinking about during this silent stretch? Will she tune in, tune out, or simply meditate? Definitely not the latter, she insists -- the performance artist doesn't exactly believe in meditation. "The human brain is so full of shit. The moment you don't have anything to do, your mind becomes like a movie. We're always thinking -- when we sleep, when we dream. Only during orgasm and when we sneeze, do we not think."
"The thing is relaxation," she continues. "Developing a consistent breathing pattern so all your cells get the same amount of oxygen. This is why the [X] minutes are essential. I would give the people more but I think they would leave." It's a small step toward correcting our current hyper-wired lifestyle. "The human brain hasn't changed for the last thirty thousand years, but technology has changed so much that we can't follow at all. If we don't find those quiet moments of simplicity, we're going to be really fucked up."
Goldberg runs at the Park Avenue Armory through December 19th. For more information, go HERE.

You May Also Like