Thanks to the rise of marijuana legalization and the so-called "green rush," in many places you're no longer limited to buying chalky brownies from some college kid or "space cakes" from an aging hippie if you're in search of edible marijuana. Nevertheless, most of what you'll find at dispensaries -- both medical and recreational -- tends to make taste an afterthought, not to mention the tacky packaging with weed puns and clipart logos. Enter Marigold Sweets, a LA-based confectionery that puts an elegant twist on medicinal edibles.
Founder Vanessa Lavorato says she first became interested in creating an edible business when she was living in Berkeley after graduating from UC Berkeley. "I would see edibles in the market and every once in a while, somebody would give me a snickerdoodle wrapped in Saran wrap [and I'd have] no idea how much THC was in it. It would just say, like, 'triple X,'" she recalls. "You'd be like, 'How strong is this?' and the seller is like, 'It's really strong!' and you'd make mistakes and hallucinate and go, 'Yeah, I ate too much.' I realized, OK, there's room here. This medicine isn't being treated with respect." She continues, "I wanted to create something that's not only delicious but also beautiful and applying Slow Food's ethos to cannabis."
Lavorato's passion for the Slow Food Movement runs deep. After serendipitously finding a roommate on Craigslist who happened to be the assistant of the Slow Food Queen herself, Alice Waters, Lavorato forged friendships with chefs and employees at Waters' iconic restaurant, Chez Panisse, along with others in the Bay Area's thriving food scene like Danny Bowien of Mission Chinese. With the support and encouragement of this community, Lavorato began testing edible recipes and flavors out of her home kitchen. After looking at the marketplace, she realized that most people were selling weed brownies or cookies, which can go stale, and not many were making candy or confections, which have a longer shelf life.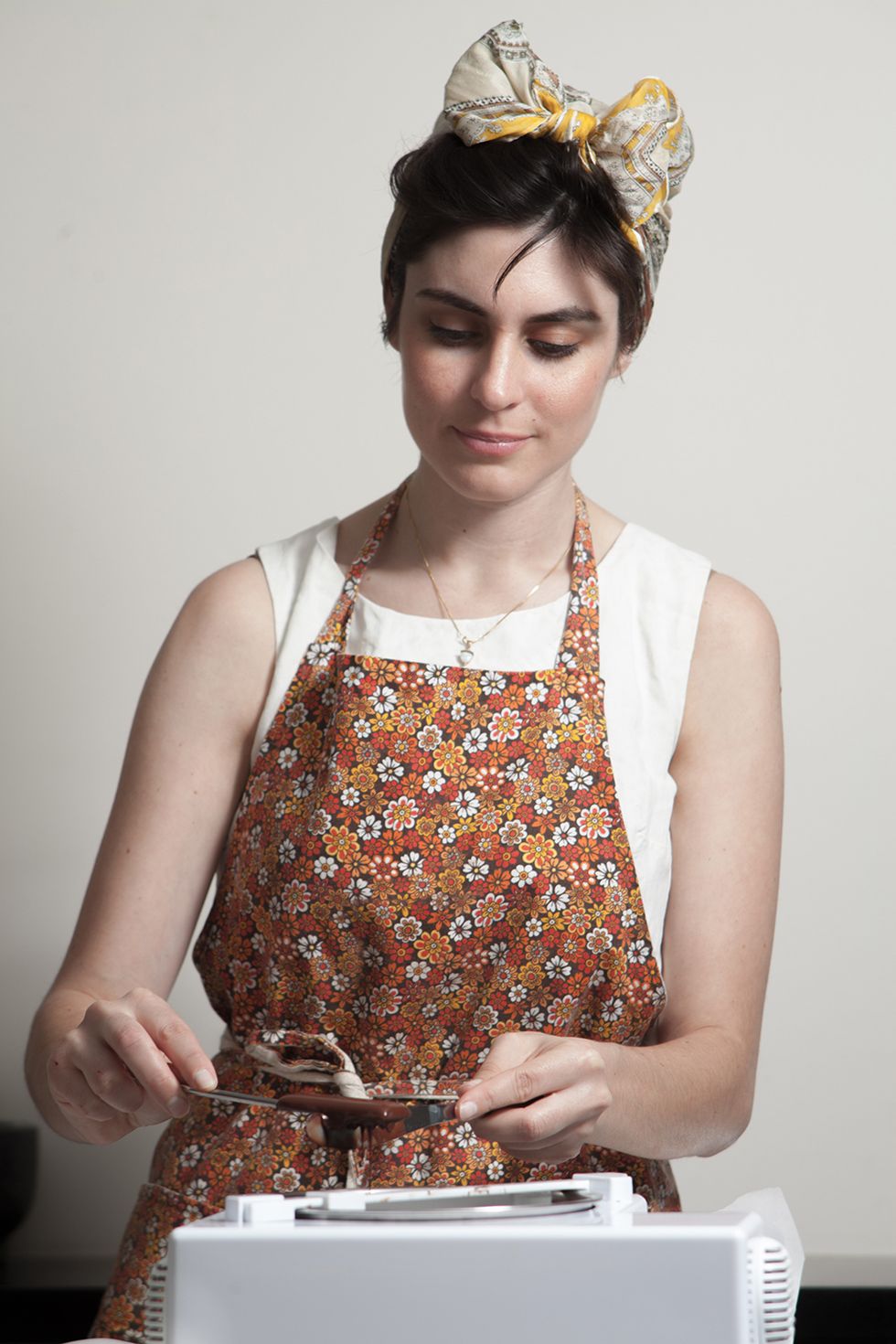 She remembers that at the beginning, "it was trial and error. The first things I did were like really goopy caramels wrapped in tin foil. The first ingredient I was using was cold water hash." While home edible makers use 'shake' -- or the leaves, stems and other trimmings from the cannabis flower -- Lavorato opted for cold water hash. When you use 'shake,' she says, "the end product is always this super green-tasting, muddy-looking butter." Cold water hash, on the other hand, "removes some of the plant matter" and allows you to "control the dose better." This control was appealing to Lavorato because the taste and enjoyment from eating her products was just as important to her as the after-effects. "Everyone was making [edibles] too strong," she recalls. And "you don't want to eat 1/8 of a cookie...so I wanted to make my [products] really light."

In the midst of refining her products and testing recipes, Lavorato was working for Bowien and helping him bring Mission Chinese to New York City along with taking on retail jobs and doing a bit of food writing. One of her Bay Area friends who worked for Alice Waters encouraged her to apply for a stage (or internship) at Waters' Rome Sustainable Food Project. She got accepted and moved to Rome for three months where she cooked for "prize-winning scholars" at the American Academy in Rome. "I've never worked harder in my life," she remembers. "You're in this commercial kitchen spending 12 hours on your feet a day -- at least -- preparing either the lunch or dinner shift for the scholars at the Academy." True to Waters' ethos, everyone participating in the stage learned things from scratch. "There are no shortcuts in that kitchen," Lavorato says. But, as grueling as it was, the experience "gave me a lot of confidence as a cook."
It was upon her return to the States from Rome that Marigold Sweets really "went full gear." By now Lavorato was living in LA and had also switched from using cold water hash to CO2 concentrate, "an industry standard," she says. "It keeps the dose accurate and there is little to no flavor. The objective is the same [as that of cold water hash] but it's taken to the next level." Wanting to run Marigold by the book, she teamed up with Eagle Rock-based medical marijuana dispensary Cornerstone Collective (where she is also a patient) to carry her treats; her collaboration with the Collective also allowed her to work with patients to find the right doses and products for them.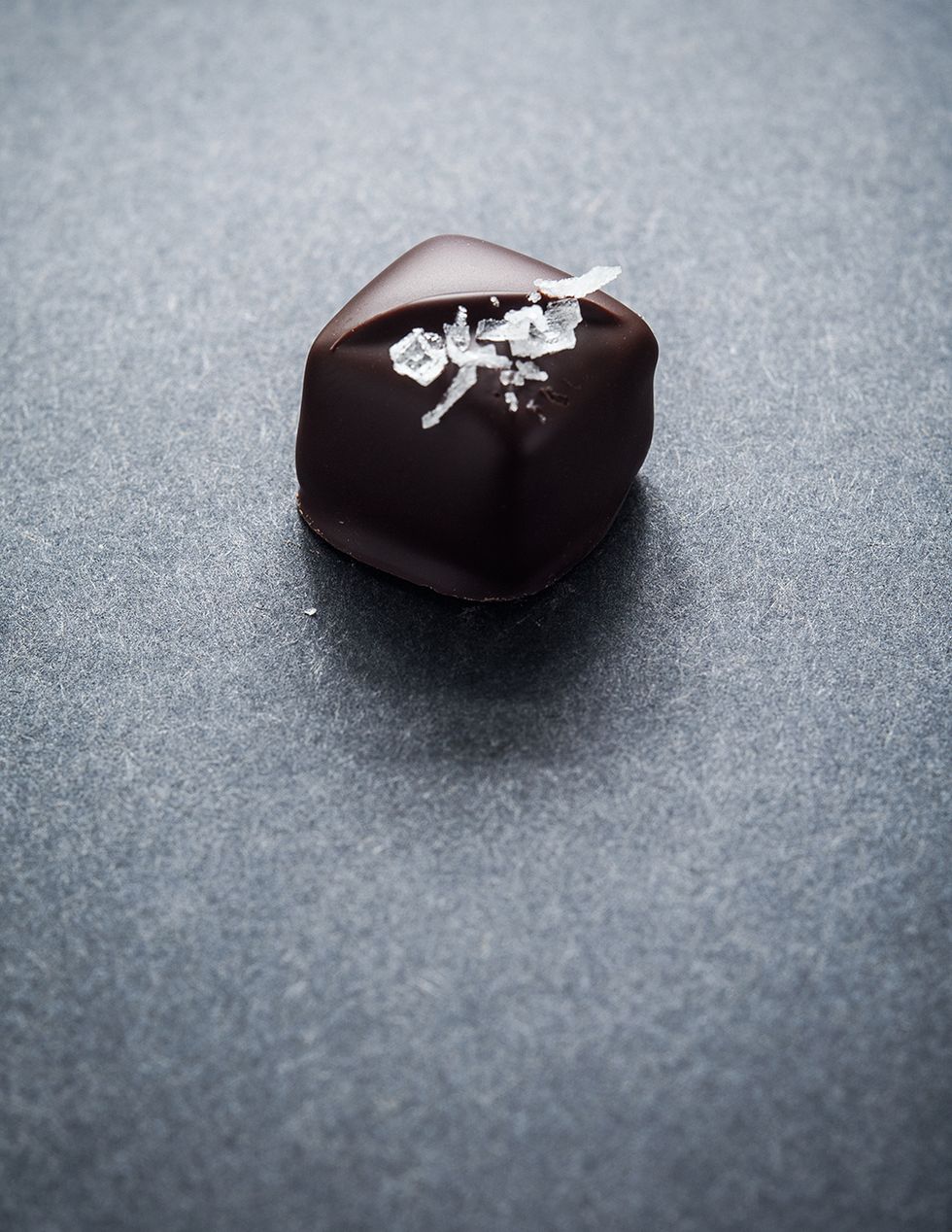 In looking for a cultivator from whom she could buy the CO2 concentrate, Lavorato says she was drawn to female purveyors. "When I first started, I worked with a female cultivator from Humboldt. Women cultivators, dispensary owners, edible makers or anything other than 'bud tenders' can be somewhat rare in the industry, so it felt right to support a female farmer," she says. "We stayed in touch after I moved on to CO2 and when she joined True Humboldt, a co-op of local farmers in Humboldt County, I jumped at the opportunity to work with them. They truly represent Slow Cannabis by using permaculture methods and cultivating heirloom strains. Now my CO2 comes from flowers grown in Humboldt county and we are working on CBD options." Of this last point, Lavorato points to CBD's health benefits. It's "a non-psychoactive cannabinoid found in cannabis," she says. "Certain strains have higher CBD levels than others. Most cultivators grow THC dominant strains, but there is a movement for CBD strains since it has been used to treat epilepsy."
Currently Marigold Sweets now sells fleur de sel caramels (described on their website as having "notes of vanilla bean and signature Maldon sea salt" all "enrobed in organic dark chocolate") and peanut creams ("molded in Guittard organic milk chocolate" with "a smooth filling and crunchy peanut center"), all packaged in custom-designed seamless boxes made "in America by a family-owned company using recycled paper and a hydroelectric facility." Right now her main focus is on continuing to produce her confections and working with patients while also figuring out the best way to position her company so that it can take advantage of any changes in legislation, especially if and when California follows Colorado, Washington and Oregon and makes recreational marijuana legal. But as much as legalizing recreational marijuana would provide a huge opportunity to Marigold Sweets, Lavorato insists she doesn't "want to lose my connection to the medical properties of cannabis because I think that the research that's coming out is really exciting." She adds, "My passion is really about the medical [benefits] and the patients."
Pretty heady.
You May Also Like
Care
Story by Sarai Li / Photography by Andrew Kung / Art direction by Djiun Wang