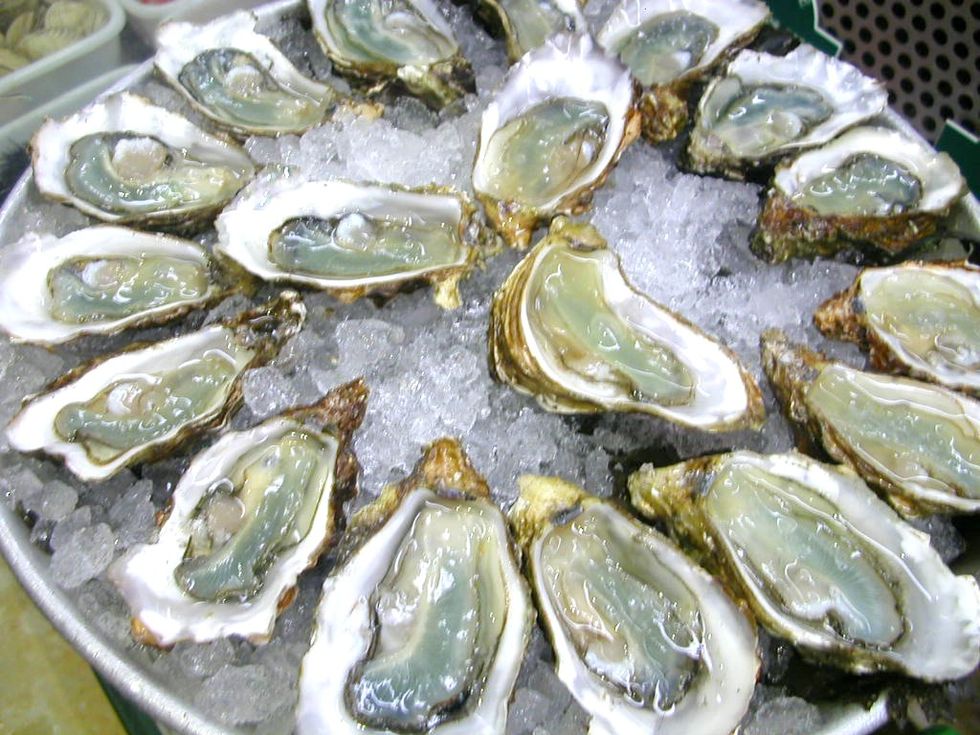 Juuuuust teetering on the edge of spring, NYC's split weather pattern personality is about to be subsumed by full bloom alfresco dining, and we plan to be the first ones skipping along sidewalk tables in hot pants. But before cheeks and ankles bloom, let this be your bar crawl for a rainy (or semi-decent) day.
Start:
Grand Central Oyster Bar
Eat: Hognecks, Fanny Bays, duckabushes, naked cowboys, insert silly oyster name
her.
Drink: A classic 50/50 gin martini with a twist.
Stop Two:
The John Dory Oyster Bar
Eat: Half a dozen East and West Coast oysters. The life altering Parker House Roll --
two orders, at least. Carb explosion!
Drink: Rose Prosecco Jeio
Bonus! The Ace Hotel's best kept secret -- six oysters and a glass of bubbles only $15
on weekdays from 5-7 p.m.
Stop Three:
Desnuda
Eat: To start, one each of the inventively topped bivalves -- green apple mignonette, Sichuan tea smoke, Sandinista shooter and horseradish vinaigrette -- and the house ceviche of yellowtail, lime, orange, roasted peppers, garlic and bee pollen.
Drink: Cartagena Reisling
Stop four:
Maison Premiere
Eat: A dozen West Coast oysters. We realize a recommendation for shrimp cocktail may seem pedestrian, but MP has a bangin' red sauce and super fresh, super huge shrimpies to go alongside -- easily the best in the borough.
Drink: Absinthe Frappe
Bonus! $1 You-Call-It oysters on weekdays from 4 to 7.
Stop five:
Clover Club
Eat: Oysters Rock Your Face Off (fried and dressed, just like the Big Easy meant 'em)
plus deviled eggs four ways--crispy bacon, house smoked trout, mushrooms duxelles
and paprika & garlic.
Drink: A Clover Club, of course.
Stop six:
Prime Meats
Eat: Whatever Eddie Oysters (PM's house shucker) tells you to order. This guy makes the baddest ass mignonette in New York State. Packed full of meticulously chopped shallots doused in saucy vinegar, the sweet and sour concoction is difficult not to dole out by the spoonful.
Drink: Sixpoint Otis, Oatmeal Stout