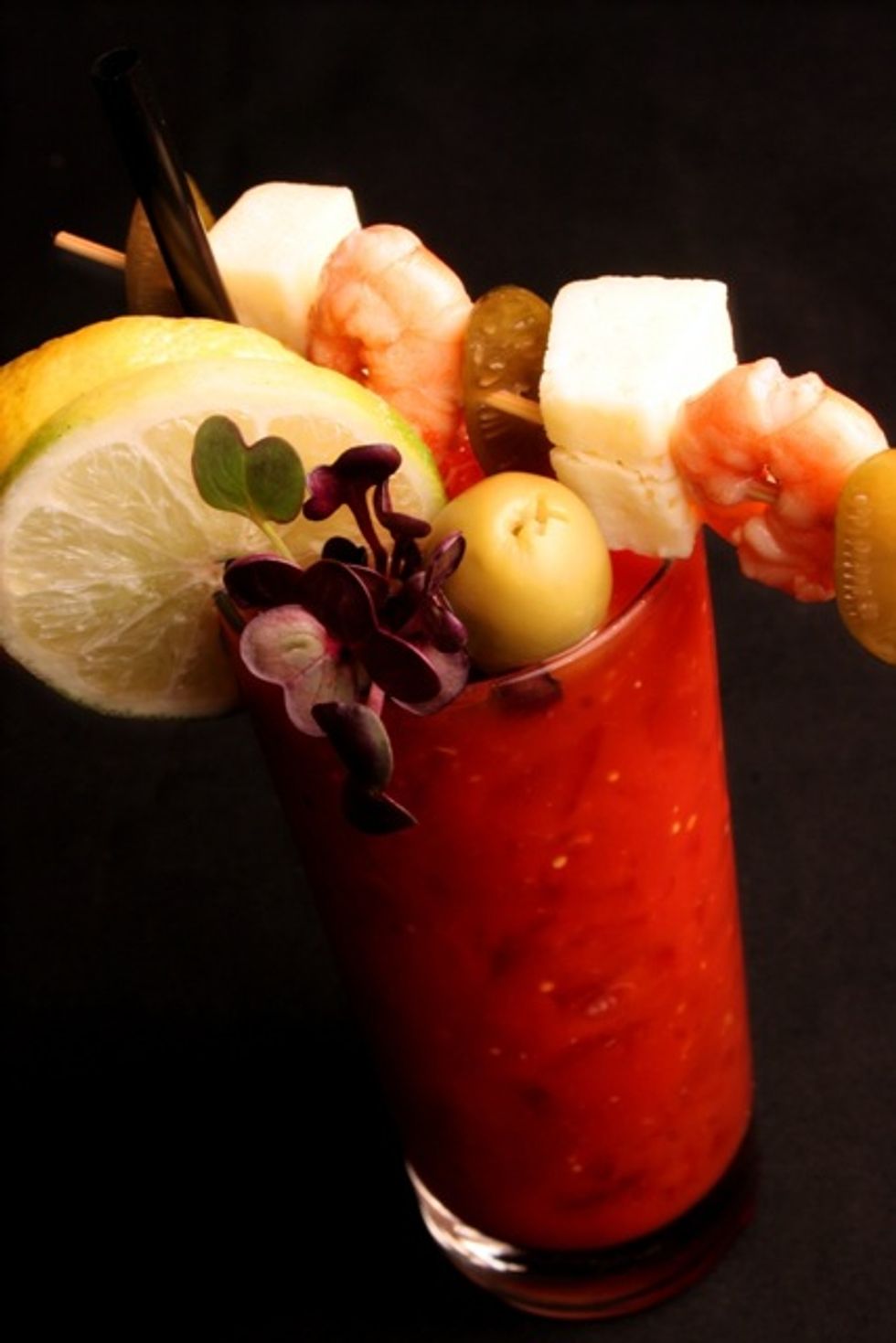 A mid-morning salve for the repercussions of all-night boozy benders, the Bloody Mary is de rigueur with Sunday omelets. Last weekend's Eat, Drink & Bloody Mary competition at L'Apicio proved that the classic cocktail is more than a slapdash union of tomato juice, vodka and a wan celery stalk. Sustainable uptown eatery Rouge Tomate may have snagged top honors, but Restaurant Marc Forgione's fiery concoction left us hoping our next hangover occurs in Tribeca.
In this libation, created by Chef Forgione and GM and sommelier Matt Conway, savory ingredients like Sriracha, smoked sea salt, ground cumin and garlic and ginger powders -- often embraced in Forgione's dishes -- invigorate the traditional recipe. "It's not only delicious, but true to what we do," says Conway. "The best part is the texture. The horseradish and whole-grain mustard create a full, almost chewy Mary."
You can forego the eggs when sipping this one. With a loaded garnish featuring pickled Shishito peppers, cubes of Dill Havarti cheese and cured shrimp, brunch is served.
Marc Forgione's Bloody Mary
1 oz. premium vodka
3 oz. Sacramento tomato juice
Dash of Worcestershire sauce
1 barspoon Sriracha
Whole grain mustard, as desired
Horseradish, as desired
Dash fresh lemon juice
Dash fresh lime juice
Dash garlic powder
Dash ground cumin
Dash ginger powder
Pinch smoked sea salt
Pinch finely ground black pepper
Shake all ingredients and pour over ice in a 12 oz. highball glass.
Garnish: lemon wheel, lime wheel, pitted olive, celery sprig, cube of Dill Havarti cheese, pickled Shishito pepper or other seasonal vegetable, cured shrimp.