A year ago the Arts Editor at PAPER, a former music exec who discovered and signed Run DMC, approached my desk to tell me his friend had played him a Australian teenager at a dinner party. She goes by the moniker "Mallrat," Gary informed me, straight-faced. This girl he promised, while almost entirely unknown to the American market, was the "real deal."
If you're looking for a new pop princess, Mallrat is not it. If you're hankering to discover the next indie dream queen, Mallrat maybe isn't what you're after either. What the 19-year-old Brisbane export is is the real deal. Instead of conforming to the music industry's star-making formula, she has opted to go her own way — using her chameleonic vocals to create a sound that's so cinematic it's difficult to define. Make no mistake, however: mainstream or no, Mallrat has the capacity to chart-top. "I really like listening to pop music, so it doesn't feel tricky for me to write pop-ish songs. I like lots of hooky melodies, and a nice length. I have a really short attention span, so that's what I like to listen to anyways."
Related | Karaoke With Pop's Next Big Star: Rina Sawayama
There's a kind of mature naiveté radiating from Mallrat as she sits opposite from me in a Korea Town hotel that is already familiar. Oxymoronically, innocent-wisdom is woven throughout her music. She sings about missing her "old room" in one breath, and in the next reveals "home" to be conceptual, not geographical. Mallrat doesn't drink, which is no easy feat given Australia's well-documented binge-drinking culture, on top of the fact she's been hitting the club-circuit since she was 17. "I'm a straight-edge," she says, revealing that family members battling substance abuse was enough to forever dissuade her from hitting the bottle. "I think addiction is such an issue is because of boredom in our areas...I'm not the girl off the rails, that crazy child star. They're waiting for it."
Maybe she's right — they are waiting for it. "They" in this case, are the Garys, the music-greats who consider Mallrat to be up next, even if they've oft seen her as more "child than woman" during her come-up. In the Sky proves her talent tenfold, a collection of coming-of-age songs that wouldn't go amiss soundtracking the next manic-pixie-dream-girl-inspired blockbuster. Moreover, despite her rustic, Petra Collins-filtered aesthetic, chock-full of fresh cherries and paisley cotton, Mallrat has been embraced wholeheartedly by the hip hop community. Rising rapper and fellow Aussie, Allday, assists the songstress on standout track "UFO," and she was handpicked to open for Post Malone on the Oceania leg of his world tour.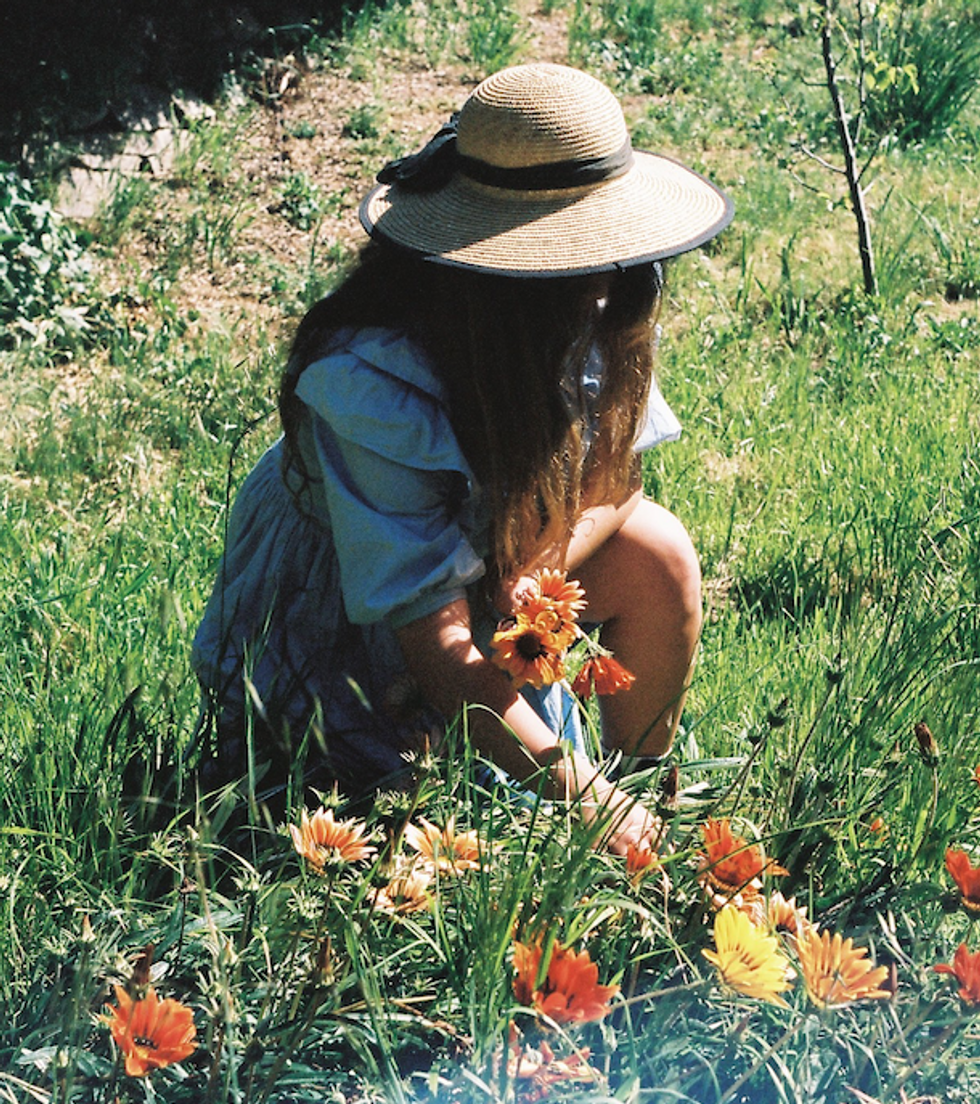 "The crowds were wild and we had to keep stopping because they kept pulling kids out of the barrier," she says of the experience. "It was so intense, and it was a scary show. They were so pumped before Post Malone even got on the stage. But now I think that if we finished that show we can finish anything."

Even though she's been touring for years now, Mallrat notes she still has to fight for control — something she's unsure whether to attribute to her age or her gender. "They just look at me at a different level, even at soundchecks, you have to be so assertive to get the sound you want." Nevertheless, her love for performing live is slowly developing. A writer first, Mallrat claims that what excites her most is creating for other artists.
"It's not that I don't like playing shows, it's just that it's not why I do music. Making music is why I do music. But then again, you get to travel and you get to meet people when you play shows. So for a long time I definitely would've said writing music, but now it's almost equal. I enjoy seeing the reaction of people."
If those reactions are anything like that of Gary's, Mallrat is poised to take over — she's the real deal after all.
Listen to In The Sky.
Photos supplied.