Malia Obama and her small army of plaid-clad Secret Service dads are living their best lives this weekend at Lollapalooza, where the First Teen was spotted watching Cashmere Cat last night.
Cashmere cat with Malia Obama today lmao pic.twitter.com/seupJdkqQb
— lexi (@lexidubb) July 29, 2016
Was going hard to @CASHMERECAT and then Secret Service and Malia Obama just pull up pic.twitter.com/lfNRxWzwRu
— Alex Lao (@alexanderlao) July 29, 2016
I dig the Secret Service's casual plaid look. pic.twitter.com/9aAhlHL2SO
— Andrew Gill (@andrewgill) July 28, 2016
And even though this means she missed out on Hillary's win at the DNC last night, who fucking cares? I mean, to be honest, playing with balloons and dancing on stage with Uncle Bill sounds pretty ZZZ to me.
When Bill Clinton looks like he's having more fun at the DNC than Malia Obama is having at Lollapalooza pic.twitter.com/xltAeqoMeP
— Dave Itzkoff (@ditzkoff) July 29, 2016
Malia Obama skipping the DNC for Lollapalooza proves that her parents see her as a person and not a prop. I approve this message.
— Evie Manieri (@EvieManieri) July 29, 2016
Especially when Cashy Cat's the one playing that Thursday twilight set. Like c'mon, how could you listen to anything from the Wedding Bells EP and not think it'd be magical to dance to this shit as the sun sets?
So unless the DNC promises to go back to what it was like in 1996, let a teen dance to her fave drops.
Ok but the 1996 DNC was lit pic.twitter.com/nuHp1lBND8
— Jesse McLaren (@McJesse) July 29, 2016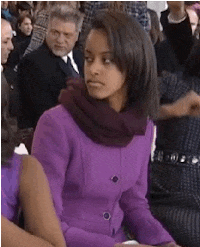 [h/t Chicago Tribune]
photo via Twitter/@alexanderlao