Even as we continually see a rising threat to LGBTQ rights in the United States under President Trump, it's important to remember that, in many other countries, the threat to queer people is much bigger. In the Russian area of Chechyna, gays are currently being sent to modern-day concentration camps. In Malaysia, both gay oral and anal sex is considered illegal; engaging in such activities is punishable by jail time and, in some cases, public whipping.
Naturally, the criminalization of these acts haven't been enough to prevent them from happening — since it's ridiculous to think that a government could police natural desires — and in a continued effort to further curtail the practices, government officials in Malaysia have launched a staunchly homophobic contest. Open to anyone aged 13 to 24, the contest urges participants to create visuals that inspire those experiencing "gender confusion" (really just non-heterosexual desire) to "get help." And with a grand prize of a whopping $1000, it's clear that these officials are serious.
After experiencing pushback from the progressive public for obvious reasons, the Health Ministry has doubled down on their decision. In a recent article, the country's director-general of health, Lokman Hakim Sulaiman, stood firm. Stating that the competition was merely an effort towards promoting a "healthy lifestyle," Sulaiman declared, "This creative video competition is purely to tap knowledge and creativity of adolescents on sexual and reproductive health related matters and does not intend to create discrimination to any particular group."
Whether or not this competition "intends" to create discrimination or not — which, obviously, it does — the fact remains that it does target a specific subset of people. Whether Malaysian government officials want to face the truth, these "creative videos" double as a homophobic propaganda and should be discussed as such.
Check out a poster for the competition.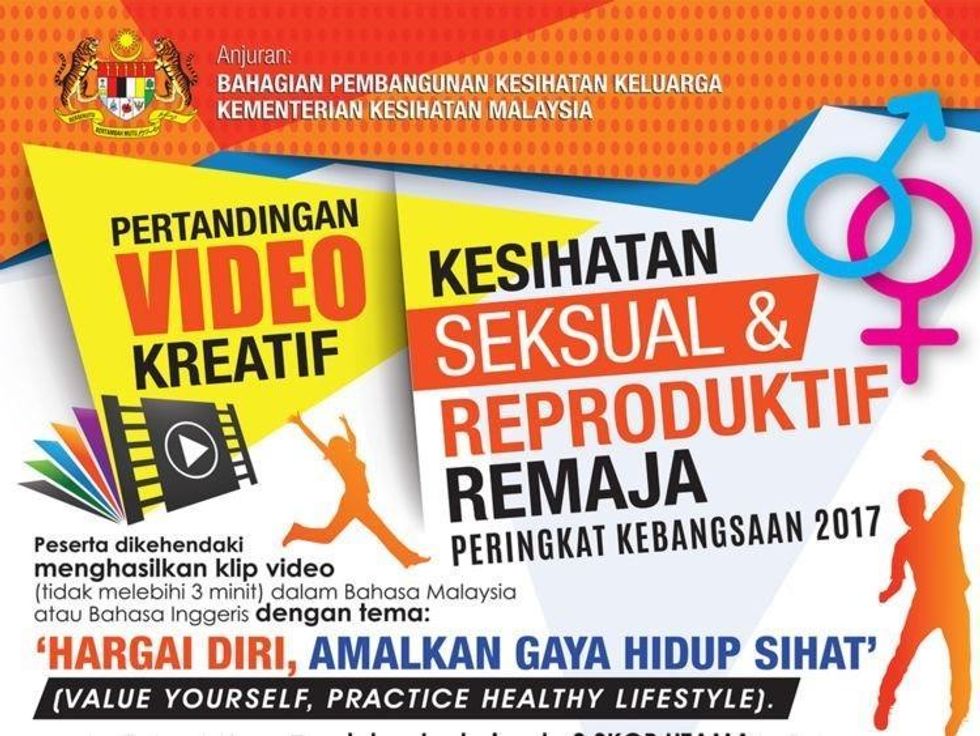 [h/t Dazed Digital]