For fans of Girls, it might've been a jolt to see Lena Dunham trade her fresh-faced look as Hannah Horvath for Hollywood ingenue-style red lips and dramatic eye shadow for our March cover. But like just about everything Lena does, she pulled the dramatic makeup (and even a goatee) off with aplomb. The brains behind these beauty looks was top makeup artist Kate Lee, who worked with our photographer, Ellen Von Unwerth, to transform Lena into starlets from the '30s and '50s as well as a mustachioed director. Lee, who's based in Los Angeles but hails from London, has worked with everyone from Kate Winslet, Rooney Mara, Sienna Miller and Anne Hathaway, along with magazines like Vogue, Harper's Bazaar, and InStyle, in addition to us. Lee spoke to PAPER about how to recreate Lena's Golden Age of Hollywood makeup and what trend she hopes will go away in 2016.

Take us through the beauty look you created for the images of Lena wearing the blue furry coat with the blonde Marilyn Monroe wig.
When I got to set, Ellen [Von Unwerth] said, "Think Gloria Swanson -- that era of Hollywood glamor," and she was very set on having blonde hair. So I kept the eye quite nude. It was just a little bit of shading in the socket, but then I drew on eyeliner and cut up strips of lashes and added individuals in so they don't look too fake. Then I did those very skinny eyebrows -- I just disregarded Lena's own eyebrows and drew those thin ones over the top of them. Not only is Lena absolutely excellent fun but she is really, really beautiful. She was totally up for everything we were doing, so she sat very well with me.
Tell us about the lips.
It was just a bright red matte lipstick from Chanel -- Rouge Allure Velvet. That's a product I use a lot for red carpet work -- especially when I work with Ellen -- because the pigment is so strong in the product that you always get the most vibrant red.
What about on her skin?
For foundation, I used Chanel Perfection Lumière Velvet, which is a really light, opaque foundation, which is great because it kind of sets itself and doesn't really need any powder. I wanted her to look flawless, but not like she was wearing a lot of makeup. I applied that with a damp Beauty Blender sponge.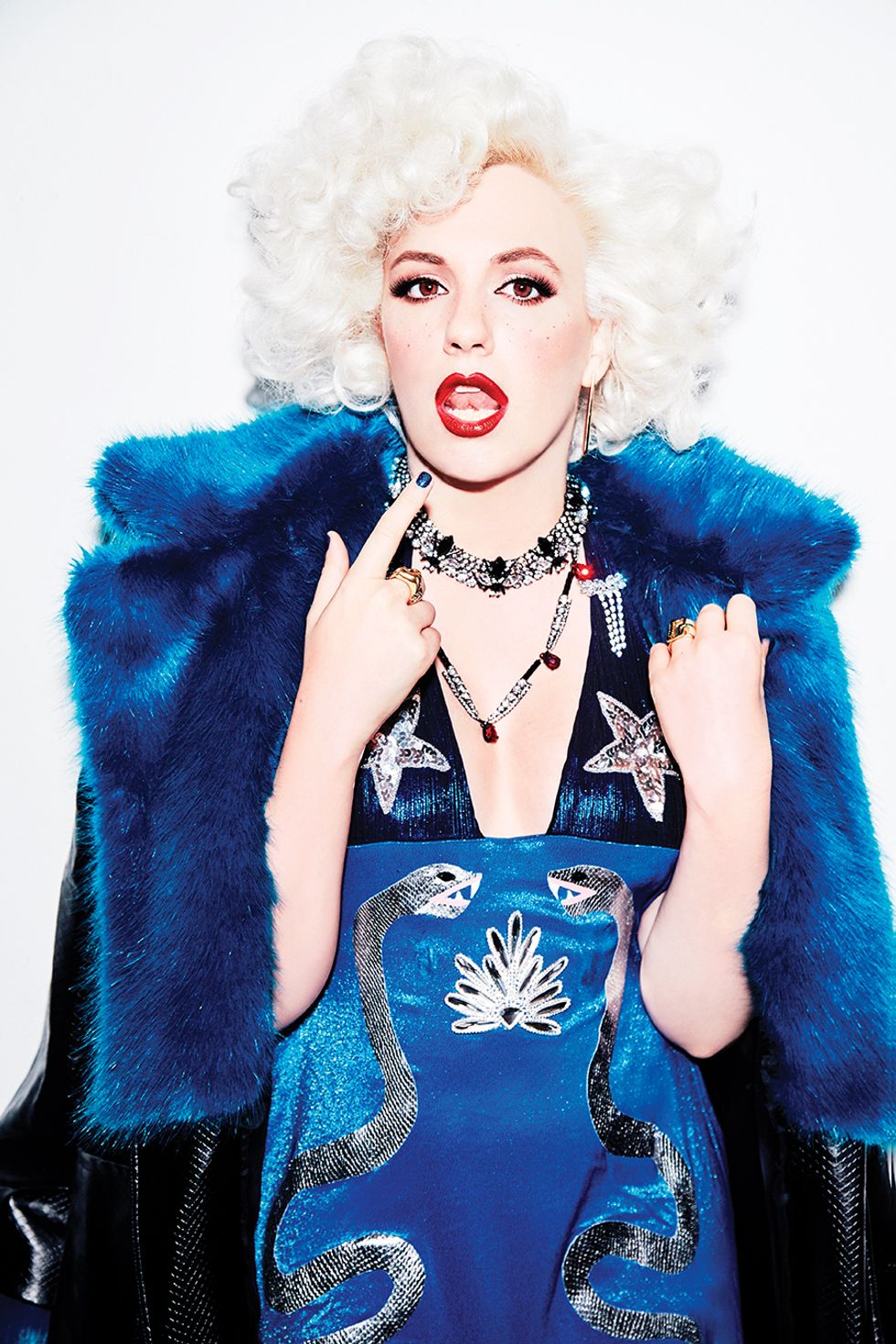 Photo by Ellen Von Unwerth

And the eyes?
I really didn't use any eye shadow on her. It was pretty clean on the eyelid. But something I like to use on the lid whenever I'm working is the Laura Mercier Eye Canvas. It looks like a concealer, but you just put a little dab on the eyelid and what that does is stop any matte shadow from moving around and helps keep everything in place. Let's say you've got someone with particularly oily eyelids -- it's great to use that before applying your liquid liner because it stops any oil or moisture from moving the liner around. Quite often when I'm doing a liquid or cake liner, I start with that first. The liner was Laura Mercier's 'Tightline.' It's a little cake and you add water to it, and then I took a very fine brush and drew a line along the base of Lena's eyelashes and then popped it out in the corner a little bit. I curled her eyelashes with a Kevyn Aucoin eyelash curler, which is my current favorite. And I used one layer of Chanel Inimitable Waterproof mascara, and then I took sections of a strip lash and a few individuals peppered in. I think I also put the mascara on her bottom lashes as well because I didn't want to lose them completely. I feel like she might have had a neutral brown just in the socket line and along the bottom lash line. I left the lid and the brow bone completely nude. For the skinny eyebrow, I just drew it on with a Chanel eyebrow pencil and then drew a hard, narrow line in an arch shape through Lena's eyebrow, just completely disregarding what was underneath it. Then I just took an angled brush and smoothed that line out a little bit on the ends so that it doesn't look too crude.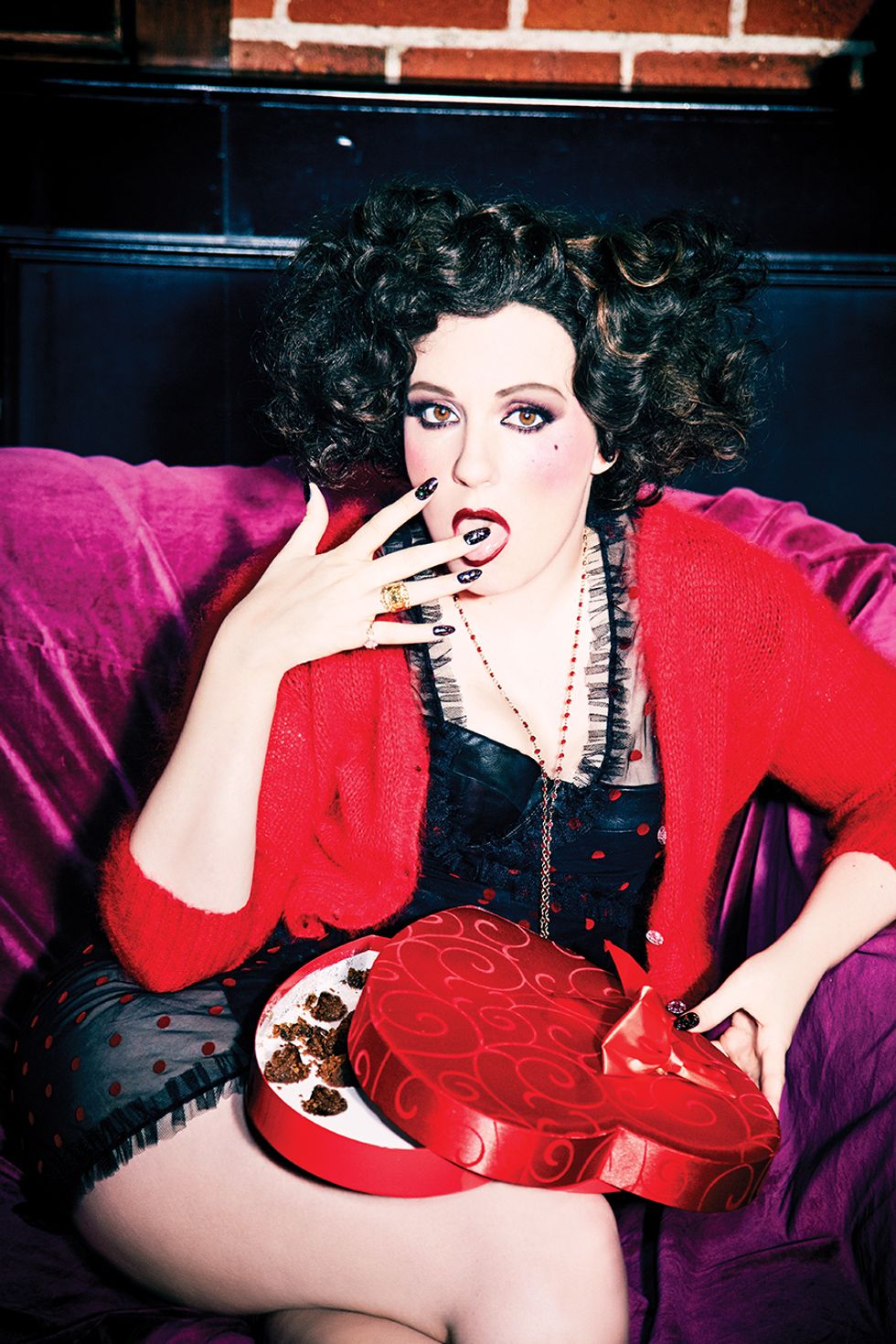 Photo by Ellen Von Unwerth

Let's go on to the next look where she's now a brunette in a curly wig.
I used a Chanel cream eye shadow just to smoke out the eye socket because I knew we were going to lose her completely if I didn't. I think it was a burgundy brown color. Then I put a black liner on the inside of the eye just to cut that out. Then I put a darker shadow into her socket line and made a big smoky eye on top of what was there before. We took away that '50s feeling and brought it more of a '30s moment. I picked out one of her beauty marks on her cheekbones -- that's another thing I like to do with Ellen because I feel like her pictures work so well with that kind of theatrical idea of beauty. Ellen asked me to extend her lip line to make it look more like that era so I extended the lip line into a classic '50s shape, which is where you concentrate on the cupid's bow and make the mouth a little wider by opening up the top lip. That's great in a photograph; it's not so great in real life. But if you do want to extend your lip line in real life, just make sure that you use a matte color or that you powder over it with a translucent powder because then at least you're losing the crest of the lip line so that you don't look too obviously drawn over.
Finally, let's talk about the look where Lena is in drag.
That was the first look of the day, and I just tried to focus on [making her look more masculine]. The brows are a lot stronger; I made them a bit thicker and rougher. Then I drew on some rather strong cheekbones. I just kind of sculpted them out along her jaw line so that she looked stronger in the jaw -- just all of those features that look a little bit more masculine. No mascara, nothing on her eyelids, just good, strong brows. Then we decided to draw a pencil mustache on her just to add to the theatrical element that was going on. I was particularly thinking about the character in Cabaret, the MC, and also that old-school pantomime character, which is always played by a woman. I still wanted her to look feminine and cute, but to look disguised as a man. I didn't want to do an ugly version of herself; I wanted as pretty a version of a theatrical man as I could.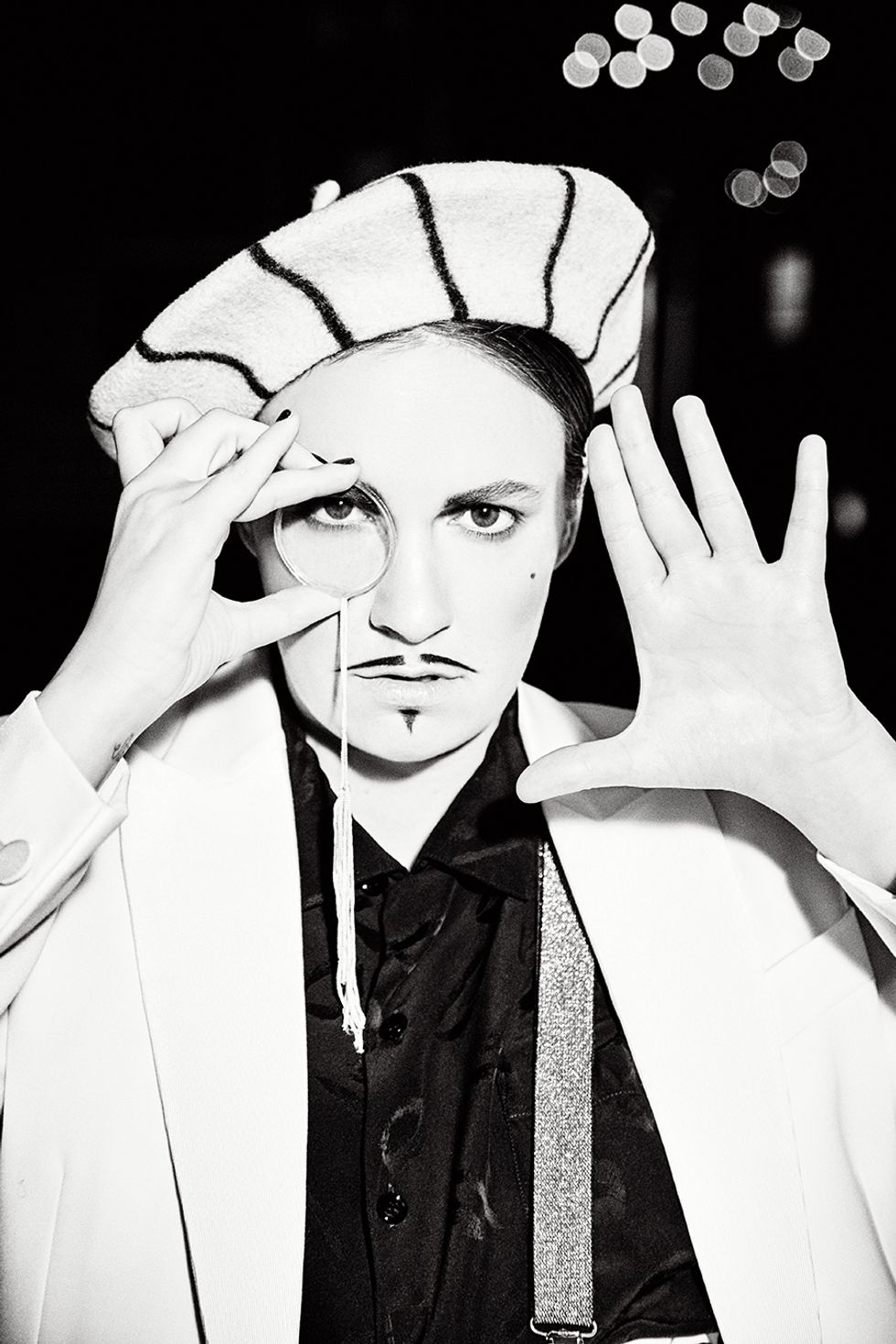 Photo by Ellen Von Unwerth

I'm sure you must get asked all the time how to do a good smoky eye -- do you have tips for women who might not have a ton of experience doing 'dramatic' makeup?
I feel like a smoky eye is something people always want to know about and that they're always a little bit nervous to do themselves. Laura Mercier makes a really good cream eye shadow stick, and it's really the most malleable eye shadow that I've used. It really stays in place, which is great. You might not want to go as far as I did with Lena, but even just investing in a black kohl pencil and maybe a mid-brown or grey cream eye shadow would work. Start small. Start with the liner inside or just outside the eye, depending on what you think suits you. Then, work with a cream eye shadow. You can use brushes to shade it. Sometimes people think that using a bristle brush with a cream formulation isn't a good idea, but I tend to apply the cream shadows with one brush and then blend it with another. Also, if you're working on a smoky eye, something you do need to concentrate on is blending inwards and never outwards because sometimes the difference between a sexy, smoldering smoky eye can be blending it a little too far and ending up with a wing on the side. What you're looking for is a soft, round shape. Cream shadow and two brushes: one for applying the color and one for blending it. You also can't blend with the same brush you applied with because you're just going to end up with a lot more pigment.
What you really should be concentrating on is trying to keep the majority of the pigment either just in the socket or to the socket. And once you get to the socket, you're trying to blend inwards to stop those huge raccoon eyes that sometimes happen. Sometimes people get so afraid because they'll do it once and be like, "Oh my God, I can never do that again." But cream eye shadow is your friend, and if you haven't tried it for a while, it's a good thing to try again because the formulations are so amazing right now. There's another brand that just came out that my friend actually designed called Fiona Stiles Beauty. She's going to be selling at Ulta, and she has just done these really great liquid eye shadows, which are really easy to use.
Do you have any tips or product recommendations for smoky eyes looking good throughout the day?
I get asked a lot about how to make makeup last all day, and the thing is that makeup doesn't last all day. It has to be re-applied in order to look good, so I think the important thing is that when you're prepping your skin and putting on moisturizer, if you know you're going to put some eyeliner right under your lash line or maybe on the top of your lash line, you just need to be aware of how much moisture is on your skin.
I always say this when you're going to put on a smoky eye for the day: take the things with you that you need to repair. Part of looking great with a smoky eye is that it's not halfway down your face, so if you just take a few Q-tips, maybe a little bit of eye makeup remover in a tiny bottle, obviously the liner that you were using, then mid-day you can just check in and get yourself back on track.
What beauty trends would you like to see go away in 2016? What trend do you hope becomes more popular?
Contouring. I'm so sick of seeing all these young, beautiful kids with pounds of makeup on -- it's this whole young, YouTube phenomenon. Subtle shading is a great secret of the makeup artist world, and now unfortunately, it has become theater. They're putting pounds and pounds of different colors and shades, and I'm just really ready for that very false vision of beauty to go away because it's not fooling me, and I don't think it's fooling anybody else. It's just personally not my aesthetic. When you're a kid, you find your way through a lot of different techniques of application until you find what works for you, so with that I'm obviously very forgiving. I don't want to shame anyone who's trying to achieve that look, but I don't think that YouTube is always the best place to find your beauty tips because, unfortunately, a lot of those people are not experts and don't have any experience. They're just showing you what they do to their faces. What you look at on a video versus what you might do for your own face is something completely different. So, that's one thing I would want to go away.
I'm kind of seeing the return of a more natural look. There's nothing I like more than to see a girl walk down the runway with very clean, healthy, polished skin. I like people to look excellently groomed. That's one of the things I love about makeup: when you don't really see it. That is where the skill lies. I'm very excited about different formulations of makeup that you see now. Some of these foundations are barely detectable once you put them on, and I think that is just the greatest gift for women and certainly for a lot of men who don't have the benefit of makeup. I see a lot of younger men who struggle with their skin, so these new, barely detectable foundation products have gotten me really excited. I would just like to see people going back to the best version of themselves. Pops of color, stains on the lip, a little bit of color on the eye is great. But one thing I find very jarring is when people get foundation wrong, and I think there's really no excuse for that these days because there are so many people who want to help you to find the right foundation that you haven't got to be intimidated by these people at the counter. Sometimes they're terrifying.
Completely.
But ultimately, at the end of the day, get out there and find the foundation you really like. Ask for samples, look at yourself in the daylight, notice what your friends say to you because when you get it right, you will literally get feedback immediately. When people say to you, "My gosh, what have you done to your skin? You look amazing," that's when you know you've got it right. The integrity of beautiful skin and people taking care of their skin -- that's what I hope for.
You May Also Like