There's a special kind of clout that comes with being taken under Drake's wing and so when his wildly popular 2013 hit "Hold On, We're Going Home" featured two newly-signed OVO artists going by the name of Majid Jordan, the music world collectively pricked up its ears. But instead of the countless profiles, releases and videos you'd expect to follow, Majid Jordan's Majid Al Maskati and Jordan Ullman remained enigmatic, sharing little of their story with fans and listeners.
What little backstory there was said that the duo began releasing tracks in 2013 under the moniker "GOOD People" before going by Majid Jordan. They released a mixtape, afterhours, in 2013, following it up with 2014's A Place Like This EP, which heard the duo reflecting on going from making a mixtape to making a massive Drake hit. Drizzy returned the favor by making an appearance on the producer-songwriters' first single off their self-titled debut full-length, out last week, "My Love." On the heels of this release, the twosome is ready open up, chatting with us about learning from Drake, why they remained on the DL and getting their big break.
So tell me how it all began...how did you guys meet?
Majid: I went to the University of Toronto to study business and in my fourth year I had a birthday party for my 21st. It was a surprise birthday party. A friend of mine brought Jordan -- he was his cousin. Jordan was underage at the time so we had to sneak Jordan in the bar. My cousin told us we should collaborate. One thing led to another and we started talking about what music we love. It grew from that night. A few months had passed and I ran into him on the street. He was in his first year at University of Toronto. We were like, "Let's do something." The next day, he had a song laid out and produced. I went and recorded vocals in his dorm room. We were like, "Wow we made a song in a few hours." We made two songs in a day, and it was enjoyable.
Jordan: Those two tracks we made were prior to Majid Jordan -- we went under the name "Good People."
Majid: When school finished up, we tracked the rest of our mixtape, which was called afterhours. We really believed in the music and wanted to see how it would live. So, we put it out anonymously under the name "Good People" and one thing led to another, and it fell into Drake's hands.
There's been a secretive quality about the project. What was the reasoning behind that?
Majid: I was looking for a job, so I didn't want to put [our names] up.
Jordan: I've always been influenced by anonymous artists. You don't always need to tell you story before people hear what your story should be about. I think we just stayed in the studio and really worked -- especially when we were in the talks of signing with OVO [Sound]. We all took our time to build something before we put it out into the world.
Majid: I left the country and got contacted by 40 -- aka Noah "40" Shebib -- who emailed me in Bahrain. I then went to speak with my dad about the email saying I got this email [from] Drake's producer. My dad was very skeptical and did a full Google search. He was like, "He's very accomplished, and you should go see him." [Jordan] went to meet 40 on our behalf. They started having the conversation about signing us so I flew back and met him and Drake.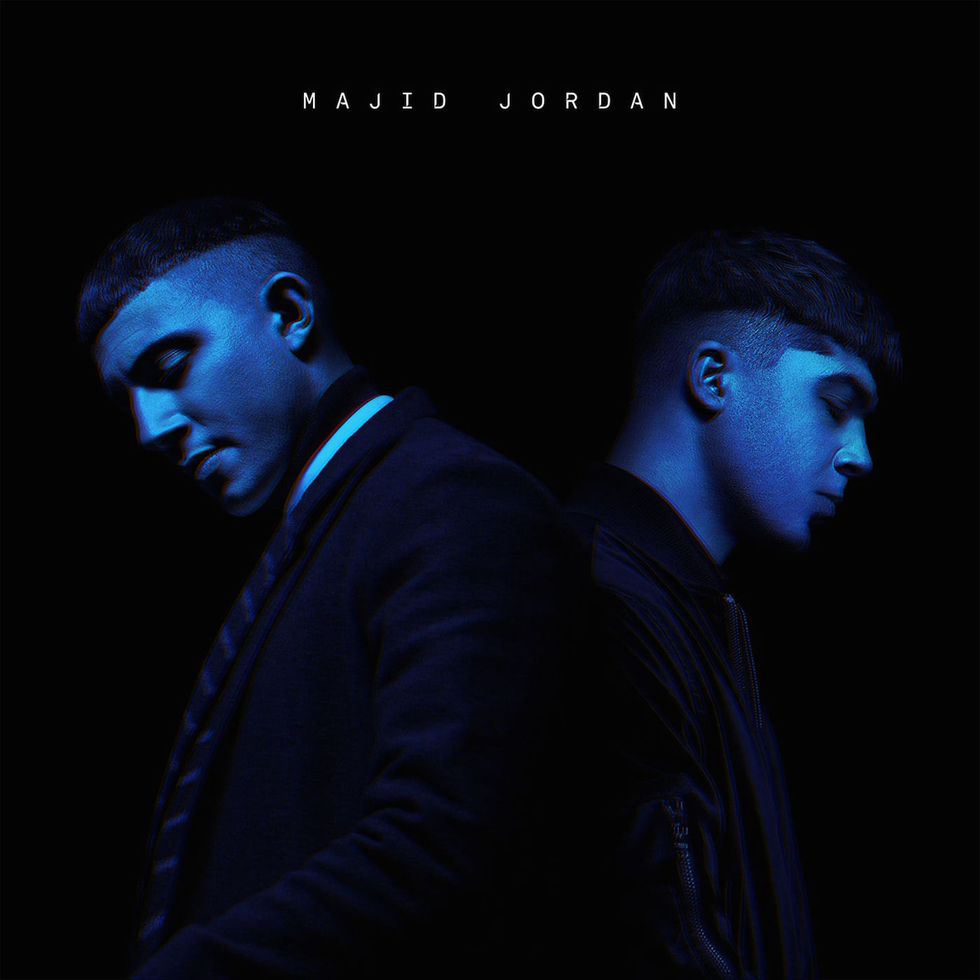 Majid Jordan album cover
What's the best piece of advice Drake's given you since starting your relationship with him?
Jordan: I was out in LA a few months ago and I talked to him about our upcoming album. We had a great conversation and he said, "Always believe in the project. Always believe in your work. You guys have believed in yourselves for years, so why have doubts?" It's almost that idea that your dreams can become a reality if you keep thinking them. If you put your emotion or energy towards your dreams, it'll help you. That was amazing for me.
Majid: For me, I speak to Drake on a performance level: being sure of myself on stage, the way to communicate with your audience, respect the power you have on stage, and understand how to direct the audience in the best possible way. It's being true to your instincts and building on the stronger quality of your instincts. He's very intelligent, very intuitive and both of us have busy schedules and so does he. When we do get a chance to meet up, we try to have as many meetings and conversations as we can because it's valuable time.
People tend to refer to all of the artists on the OVO Sound roster as Drake's protégés. -- do you ever get annoyed by that description?
Majid: I think that Drake really taught us a lot. We don't really get irritated -- not in that world.
Jordan: It's never really crossed our minds to ask that question to ourselves. [OVO has] given us incredible opportunities. Before we were even signed and making bedroom music, they were allowing us to go into real recording studios. We didn't even have the resources at that point.
Majid: We believe in each other, we challenge each other. If we get irritated with each other, we find a solution. We don't really get irritated with each other because we're all working towards the same thing -- even with Drake.
When did you feel like you had your big break?
Majid: We've had a lot of big breaks. That's the thing about this world: nothing is finite. There have been so many 24-hour periods in our lives where things are different. Getting contacted by 40 was amazing, being validated for something we loved, meeting him and Drake and having a real conversation with where we stand, having "Hold On We're Going Home" be a big success and collaborating with Drake.
How did you end up working on "Hold On, We're Going Home?"
Majid: We met Noah and Drake before Nothing Was The Same was coming into fruition. They were trying to figure out what to do after Take Care. We got invited to use a room at a studio called Metalworks -- it's a big studio with 4 or 5 different rooms. Producers would be in each room and Drake would come around and listen to each one. We were just making ideas.
Jordan: We were in there for half of a year. That just came about as a real textbook collaboration. Everyone who was involved on that record was at that studio: you had Nineteen85 who produced "Hotline Bling," us two, Drake and 40. That record came about and was made basically in 24 hours. It was really cool to see the progression of the idea.
Who would you love to collaborate with in the future?
Jordan: My ideal situation is Quincy Jones, but we'd love to do a collaboration with Chilly Gonzales who's an incredible pianist. We'd love to collaborate with Pharrell [Williams] and Gorillaz.
Majid: How we meet people is really important to us. We met Chilly Gonzales one night in the studio and had a great 8-hour session. We talked and got to know each other. It's really nice when you can take that conversation and put it into the music.
Splash Photo by Alex Lee for Opening Ceremony