We just couldn't get enough of Hong Kong actress-du-jour Maggie Cheung. So, here before you we present an exclusive PAPERMAG interview French journalist Alex Jordanov conducted with Cheung that did not appear in our March 2006 issue.
Maggie Cheung meets me at Café Baci in the Marais. The restaurant belongs to French actor and filmmaker Jean-Pierre Bacri. She has just returned from a weeklong tour of South Africa as a representative for the platinum industry. Her trip consisted of photo shoots, visiting platinum/gold mines and wildlife safaris.

Alex Jordanov: Why did you decide do Clean, such a risky script?
Maggie Cheung: For years, my then husband [director Olivier Assayas] was looking to write a part for me. He wrote Clean for me. It took five years for the project to mature. Clean was important for me to do. I was shooting 2046, but my heart was waiting for Clean. On 2046, I never really got involved in the part and Wong Kar-Wai wasn't as close to me as usual. 2046 was work. Clean was something else. I chose to do it over another project.
AJ: In Clean you play an unusual role for you: a dope addicted mother, trying to retain custody of her child. It's difficult to know what dope addicts go through if you've never been addicted. How did you manage?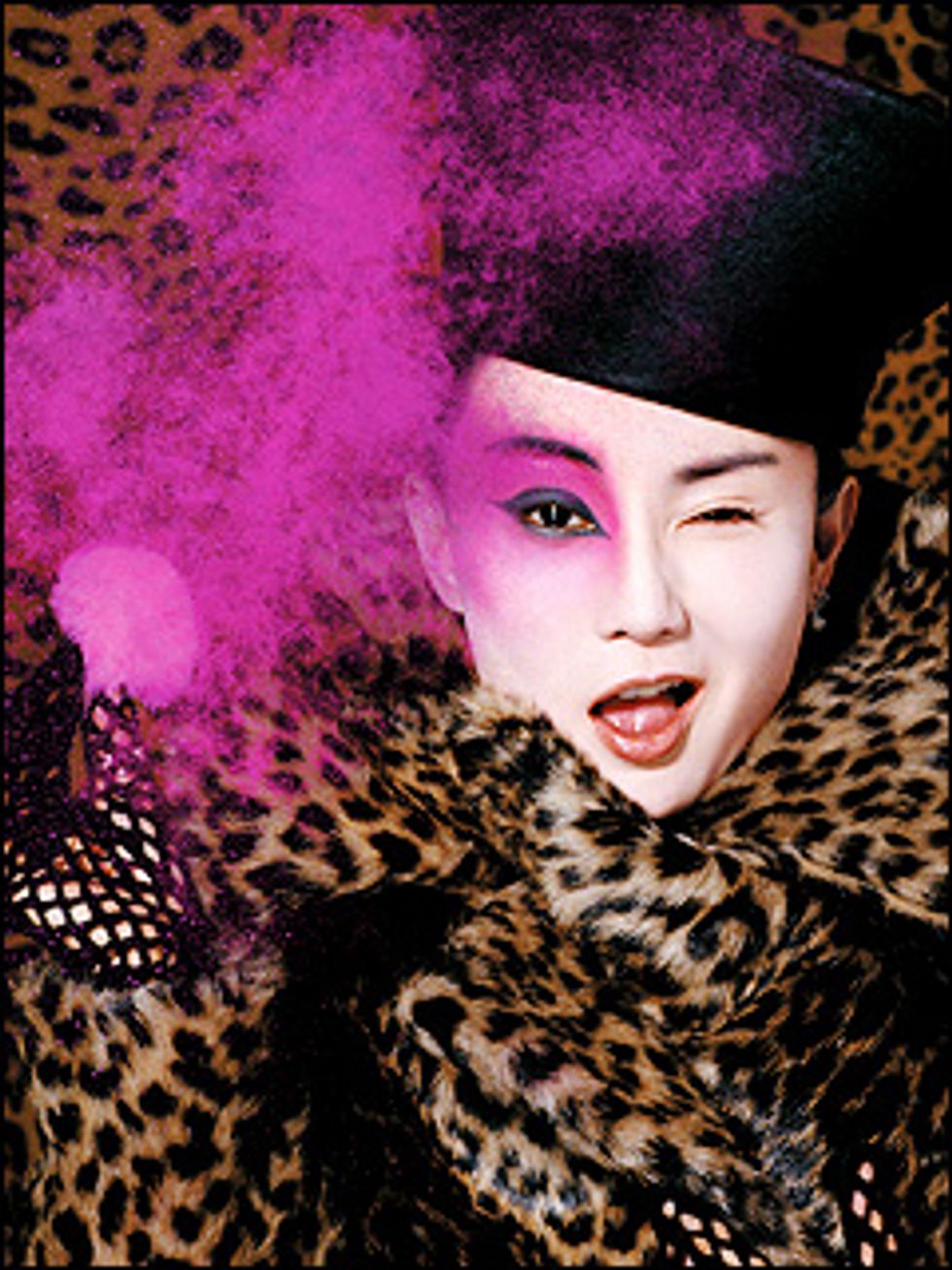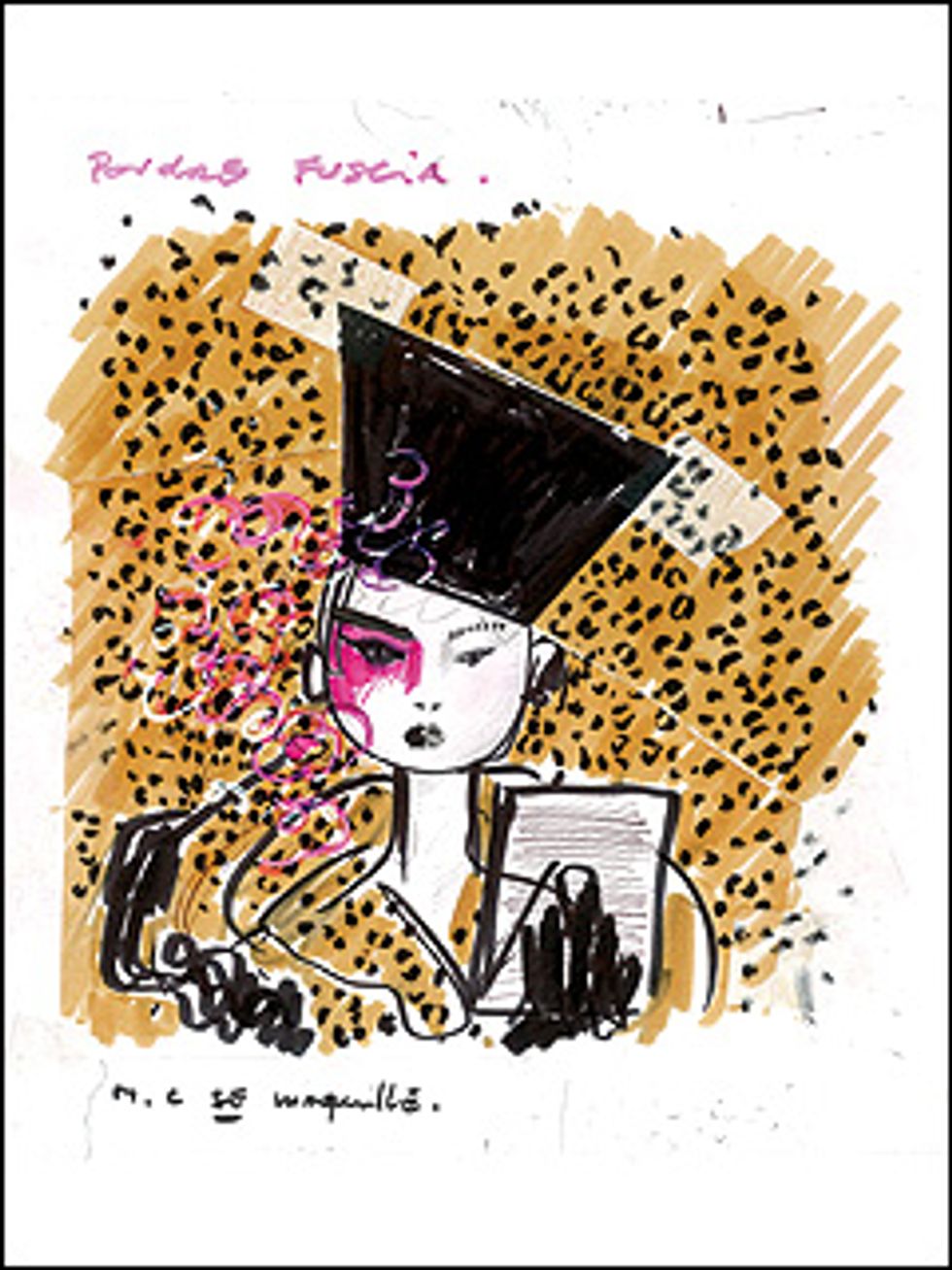 MC: I never did heroin. We lived in Paris and a lot of the people Olivier knew were addicted, and I was watching first hand the destruction, the pain and the behavior. Addicts lie relentlessly and lie to themselves. They try to hide their addiction and cover up their weaknesses with the drug. There's a certain shame in doing heroin. Socially, it's way worse than any other drug. When I came to Paris from London, I had never seen so many drugs. It was all around me, the daily chase for money to buy drugs, the lies. It is an exhausting life. I didn't have to go through it to figure that out.
AJ: Were you surprised that the movie was well received in Europe and not so in America?
MC: Hollywood delivers a very different product from what is done here.
AJ: Where did you grow up?
MC: I came to London from Hong Kong at age 8, and was immediately sent to boarding school in Kent. Kids hadn't seen Chinese counterparts in those days. I didn't speak a word of English. Prejudice was big.
AJ: Where do you live now?
MC: I spend 50 percent of my time in Hong Kong, 25 percent of my time in Paris and the rest in London or on the road.
AJ: So, most of your movies were made in Hong Kong?
MC: I went back to Hong Kong at 16 and entered beauty pageants and shot commercials. I made 68 movies in 12 years, mostly action and police films. I took a two-year sabbatical after realizing this is where I did not want to go with my career. Since the two-year break, I made six more movies in the past 10 years, carefully choosing the characters. In In the Mood for Love, for example, we wrote my part with Kar-Wai, as we went along on the shoot. We talked about it for three or four months before we started filming. Then, we'd sit around the set or trailer and we'd re-write the script on the spot. I had just watched Touch, an Ingmar Bergman film, and thought an 'affair film' would be great. That's how we came up with the idea for Mood. Kar-Wai changed my career. He talks to you. He gets into your state of mind, and then makes you understand the characters. He takes you seriously. With him, I became an actress, I moved away from the "action-packed actress" label. I became conscious of my work.
AJ: Mood and Clean are movies that revolve around pain and mental suffering; themes that often run through Chinese films. Why do you think that is?
MC: Chinese people suffer more than Westerners. In England, everything is said. In Hong Kong things are not said even within the family. There is a lot of silence. That cultural gap/difference is there.
AJ: Why did you turn down the role of a Bond girl?
MC: The Bond girl image will stick with you forever. People will only know you for that. That's unacceptable.
AJ: China is changing rapidly. Economically it is close to a liberal model. But artists still have a hard time expressing themselves --
MC: [Interrupts] Not true. It's still difficult to get visas to leave. A vast majority still lives under the poverty line and the Communist Party still runs this huge country. But new artists are "surfacing." Movies are made normally. It's not Bollywood yet, but considering the potential market, maybe 15 years from now...
AJ: Do you think today you could make and finance a Chinese version of Clean and have a Chinese Emily [Cheung's character] deal with the same issues of heroin addiction and child custody?
MC: Yes. As long as you show the devastation of drugs and do not encourage drug use, you could address the legal and social problems that result from heroin addiction. You know, the East has always been fascinated with the West as opposed to the West being fascinated with Asian clichés.
AJ: What are you working on right now?
MC: For the past couple of months, I've just been reading scripts. I'm in no rush to work.
AJ: Who would you like to work with in America?
MC: I would crawl on my hands and knees... No, no, I would die to work with David Lynch.
AJ: Now that you've "crossed over," do you have your eye on Hollywood? Do you plan to get an agent over there?
MC: No! I know what would happen over there. I look at Hollywood movie posters and I know what to expect. I do not want more fame or more money. I am happy with what I have. I do not want to make a film to make a film. I just want to have a nice life -- not a career.
AJ: We'll never see you in King Kong then?
MC: I like Naomi Watts. But I don' t like calculated films where you know you're going to smile every eight minutes and that there's going to be a twist in the script every 12 minutes. I like to be surprised.
AJ: What was the last Hollywood movie you liked?
MC I like the choices Johnny Depp has made as an actor. That's his strength, besides being a versatile and wonderful actor. He surprises me every time. He's the antithesis of Brad Pitt.
The following Maggie Cheung story did appear in the March 2006 issue of PAPER magazine.
Clean is one of those serious rock 'n' roll movies, so it's not much of a shock that the film begins with a death by overdose and ends in tears. What is surprising, however, is the depth and emotional range of its star, former model Maggie Cheung, who grew up in Hong Kong and Britain. Awarded Best Actress at the 2004 Cannes Film Festival for her performance in the film, the 41-year-old plays Emily Wang, a desperate, disillusioned victim of the music industry and the girlfriend of a fictional faded rock star named Lee Hauser. When Hauser overdoses on heroin in a motel room in Hamilton, Ontario (a steel-town suburb of Toronto), Wang is detained by police and sent to prison for six months. She's a shrill banshee of a woman who's detested by Hauser's friends and associates and who's struggling with a heroin addiction of her own. Prison forces her to quit the hard stuff and move on to methadone, but the drugs aren't what's bothering her: She misses her son Jay, whom she had with Hauser. The boy has gone to live in Vancouver with the dead rocker's parents (played by Nick Nolte and Martha Henry). Wang wants him back, but can't have custody until she cleans up her act. The film, which hits U.S. theaters in limited release this April, tells the story of Wang's maturation from spiteful junkie to something resembling maternal role model, set against the backdrop of several cities -- Hamilton, Paris, Vancouver, London and San Francisco. At times, Clean is so bleak it's brutal to watch. The film, which features Cheung acting in three languages: English, French and Cantonese, was written specifically for her by its director, Olivier Assayas (the two were married at the time). Assayas received a Palme d'Or nomination for it at Cannes in 2004.
"He wrote the script for me," Cheung says. "How the film turned out was entirely due to his vision. He got the idea from reading an item about a dead rock star in the paper, but I didn't know what he was writing until I saw the final script. It was meant as a surprise."
The couple got together on the set of Assayas's 1996 film Irma Vep (in which Cheung crawled around on the rooftops of Paris dressed like an art thief) and divorced in 2001. They signed the divorce papers on the set of Clean, which imbued the film with a heavy emotional resonance for Cheung. Speaking with The Guardian last year, the actress explained how even her victory at Cannes was double-edged: "Olivier actually mentioned it, which I could kill him for, that [Clean] was a present from my ex-husband. That prevented me from feeling truly aesthetically happy about it. I don't really want a film as a present. You can get me a diamond ring. But it's almost symbolic how we started out with a film and then finished with this one. It's something beautiful between us, even if there is no more marriage." She says that her memories of the film are still painful: "I've seen it three times. I'm not really ready to see it again right now. It's been touring around at the festivals, but I haven't been going. There is a sense that if I did, it would stay with me forever."
Art may imitate life, but life, at least in Cheung's case, has certainly imitated her art. The Asian superstar has a career's worth of lovelorn roles on her résumé, the most famous of which, for Western audiences, being her appearance in Kar-wai Wong's In the Mood for Love. That film, released Stateside in 2001, featured Cheung as Su Li-zhen, the cuckolded wife of an executive who moves into an apartment building in Hong Kong. Li-zhen realizes that her husband is cheating on her with the wife of another new couple in the building. The husband (Tony Leung) and Li-zhen become friends, though they resolve not to have an extramarital affair themselves. Set in 1962, it's a stunning period piece about unrequited love. That it's a beautiful piece of cinema is no accident. As opposed to the relatively low-maintenance Clean, the filming of In the Mood for Love was a strenuous experience. "I was attracted to this film because it's Kar-wai," she told the BBC in 2000. "I think, in the end, he found a very intelligent way to tell the same story that we know from before, but in a way that it all seems new, and I think that's one of the reasons why it took so long to make. In total, it was 15 months from the first day of the shoot to the last day." She reprised her role as Su Li-zhen in Wong's 2046, though only in several scenes, citing concerns about the length of the filming. As it turns out, the shoot went on for years.
Though she's clearly invested in roles that explore emotional truths, Cheung has actually managed to balance art-house cinema and more commercial fare. The actress lived in Hong Kong until she was eight, when she moved with her parents to the U.K. She moved back to Hong Kong at age 17 and began modeling and starring in television ads there. (She has been the beautiful face behind ads for such brands as LUX shampoo and Hermès.) "At that time my modeling agency gave me forms for the next Miss Hong Kong beauty pageant and they said that I had a great chance and they could sponsor me," Cheung told an audience at the 28th Asian American International film festival in New York. "So I spoke with my mom and it was a one-shot thing. Either it was going to work or I was going to go back [to Britain] because I wasn't going to hang around Hong Kong to model. I just felt it was time to move on. So I entered the pageant and was first runner-up." Immediately following that, several directors cast her -- including Kar-wai Wong in his first film, As Tears Go By. She also starred opposite Jackie Chan in Asia's answer to America's '80s action-comedy cop films -- Police Story. (She appeared in two subsequent sequels, as well.) Most recently, she was able to explore her ass-kicking side in Hero, the highly stylized Jet Li adventure epic directed by Yimou Zhang (House of Flying Daggers). When it comes to busting skulls, Cheung's got taste.
And, as her profile has increased, Cheung's taste has become increasingly discerning. Although she's been offered numerous roles that could have vaulted her to international superstardom -- including a part as a Bond girl -- the actress has preferred to indulge herself in more meaningful scripts. When discussing why she declined a part in X2: X-Men United, Cheung demonstrated a particular sensitivity toward her fans: "If I start making films like that, they won't be proud. I'd feel like I was cheating. And I don't want half the world -- we have 1.3 billion people in China -- to know I'm cheating." She's not rushing to Hollywood anytime soon. "I think [my fans] will be ashamed of me if I am in a Hollywood film and I'm bad and the film's bad," she told U.K. newspaper The Sunday Herald. Cheung prefers to let the parts come to her -- and be selective about those that she chooses. "I'm not looking for anything right now," says the actress, who took a break from film in 2005. "I'm going to wait until the good parts come to me. I'm not ungrateful, but for now, I'm really just enjoying living life. I don't know what's going on in the industry, and that's been very refreshing."