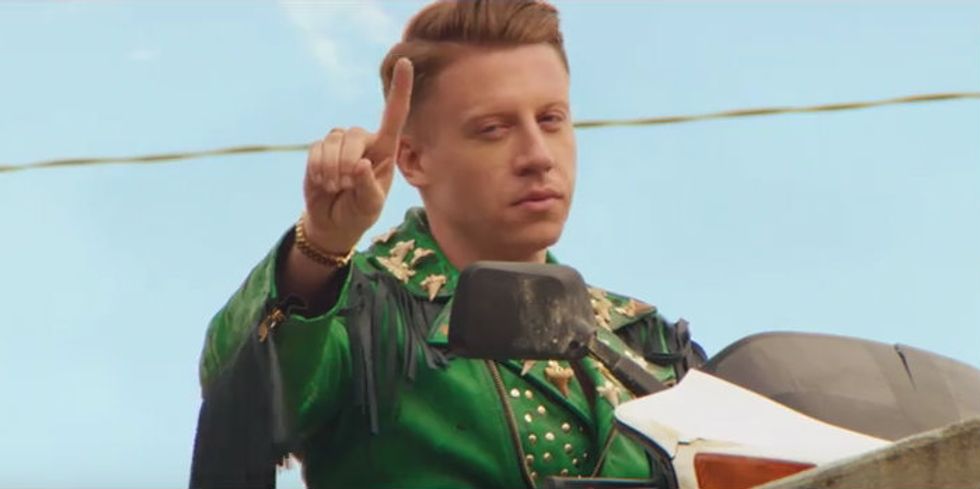 Was it all a dream? Did "Thrift Shop" ever really exist, with its apocalyptic hail of thinkpieces, strident resistance to the doofy-looking white dude at its center (and his haircut), and legions of old people (and the Grammys) telling us that he was doing "socially conscious" and "good" hip-hop? Yes. It did,
ridiculous Instagrams
and all. Years of quiet followed, but now... it's mackling season.
Macklemore and Ryan Lewis return with "Downtown," a single about mopeds. It is, like the duo's other singles, undeniably catchy to the point of being slightly irritating. It also, in both obvious (if slightly watered-down influences) and basic flow, feels like the version of Kendrick Lamar's
To Pimp a Butterfly
Taylor Swift listens to in Starbucks. Also, it is about mopeds. (Did we mention that?) The video is less frustrating, presenting, for much of its running time, a genuinely enjoyable pastiche of unabashed old school hip-hop with a motorcycle chariot, or something.
Of course, if you're looking for an infectious, intentional throwback with pretty much the same visual aesthetic and ridiculous stuff, you're far better off
looking to the queen..