Peerless child star turned semi-recluse Macaulay Culkin granted The Guardian with the first interview he's done in a decade, and it's a doozy.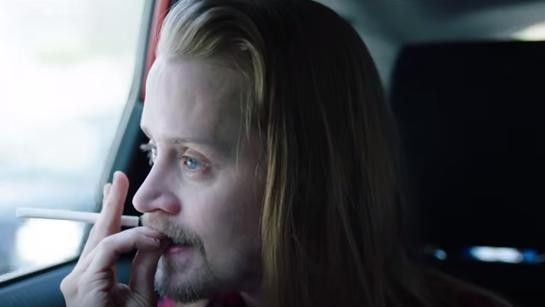 via YouTube
The former spritely-scion, who over the years has become a human meme of sorts for his willful exit from the the film industry and public eye, and his scrappy, gaunt appearance, which has spurred many rumors of drug abuse.
Sightings of him around New York (he lives in Paris mostly, nowadays)--when reported by various media outlets--often read like sightings of the Loch Ness Monster.
As with the Olsen Twins, the fascination with Culkin is ceaseless, and something he's clearly learned to both deal with, and have fun with.
Even today, as a 35-year-old man, the fixation on his life remains heavy; Culkin admits to taking 4 am strolls around Manhattan, free of the constant gawking.
The interview gives Culkin a chance to clear up our common misconceptions about him (hi, death hoax!), if he's poised for a comeback, and his band, The Pizza Underground, which plays pizza-themed Velvet Underground covers.
On his alleged heroin habit, which the tabloids said spiraled out of control in the wake of his breakup from ex Mila Kunis in 2012:

"I was not pounding six grand of heroin every month or whatever. The thing that bugged me was tabloids wrapping it all in this weird guise of concern. No, you're trying to shift papers."
On if we'll see a Macualey Culkin-sance on the silver screen anytime soon:
People feel they have to be in perpetual motion, or drown. I've never had a problem saying I've got nothing lined up. Maybe I'll take the next year off.
I'm not much active. If I knew what I wanted to do, I'd be writing it myself.

On why he's such a paparazzi target:
I don't just turn my back, I actively don't want it. The paps go after me because I don't whore myself out.
On how he's kept himself human amidst his intense fame:
It's been like that my whole adult life. You take on a prey-like attitude, always scanning the horizon. It's strange on dates, as it looks like you're not paying attention. But I've stopped trying to think of myself in the third person, because that's just gonna drive me nuts.
:(
On how his financial privileges have allowed him to be a better musician (with his band The Pizza Underground):
It's allowed me to become the person I am, and I like me, so I wouldn't change a thing. Not having to do anything for my dinner, financially, lets me treat every gig like it's the last.

If it is, I'd think: Culkin, you had a good run.
Ham.