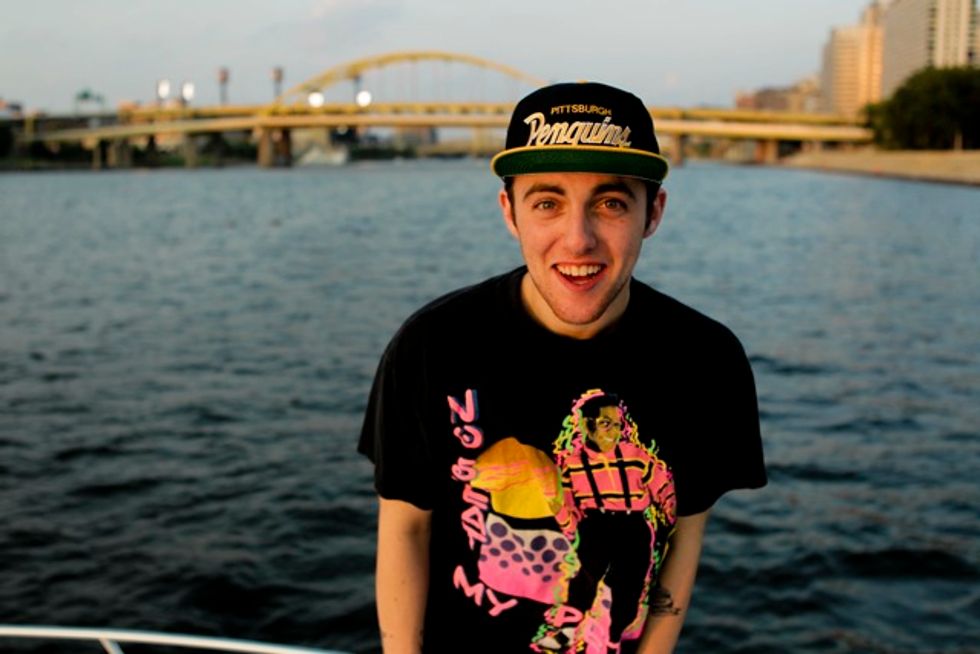 1. The
David Wojnarowicz
film, "A Fire in My Belly," will remain a part of the
Brooklyn Museum
's (200 Eastern Parkway, Brooklyn)
"Hide/Seek" exhibit
opening on November 18. Last year, the
National Gallery in Washington
pulled the film from the group show after complaints from the Catholic League and several Republican Congressmen.  The museum is also screening
James Bidgood
's classic
Pink Narcissus
on December 8, 7 p.m.
2. Pittsburgh rapper
Mac Miller
(pictured above)'s album
Blue Side Park
is
expected
to enter next week's album chart at #1.  If so, it will be the first indie-distributed LP to enter at the top since 1995.
Watch
his "Party on Fifth Ave." video and see if you know what song was sampled.  Speaking of samples,
Rihanna
uses
The xx
's "Intro" on her new album.
3.
Terry Richardson
's show of photos from his latest monograph, "Mom & Dad," opens at
Half Gallery
(208 Forsyth St.) on 11/11/11 from 6 to 8 p.m.  It's up until December 4. (BTW: We're already planning big things for 12/12/12, so start the countdown.)
4. A Norwegian airline
is re-thinking
its ban on "in-cabin" cellos after an uproar from musicians.
5. Don't forget to stop by
The Standard Hotel
's gift shop (442 W. 13th St.) from 6 to 8 p.m. tonight, November 10, for an exhibit and book signing by UK artist
James Jarvis
.  There's also an opening tonight at
ArtJail
gallery (50 Eldridge St., 6th fl., 7 to 10 p.m.) for
Clive Murphy
.
6. The week-long celebration of the
Universal Zulu Nation
's 38th Anniversary continues tonight with "All Out War," featuring a B-Boy/B-Girl battle and jam at
Gauchos Gym
(478 Gerard Avenue, The Bronx, 7 p.m. to 2 a.m.).