After getting his start as a road manager for rap greats Run-D.M.C. and the Beastie Boys, Lyor Cohen has gone on to have one of the most storied careers in the music industry. Having previously served as the president of Def Jam and the CEO and president of recorded music at Warner Music Group, Cohen has gone on to co- found 300 Entertainment, an independent record label and self-described "music- based content company" that represents artists like Young Thug, Fetty Wap, Highly Suspect, ASTR, Coheed and Cambria, Migos and more.
Have you ever had a mentor?

My mentor was the game, the hustle. Russell [Simmons] and I had the unique ability to learn from our mistakes. Because for seven years, the majors thought rap music was a fad -- simply a fad. We made every possible mistake there was to make. And yet, we survived. But as for a human mentor, I would say Russell [Simmons] and Ahmet Ertegun. Russell [taught me] about the spirit of light and curiosity. Ahmet [taught me] the importance of song. He had a very special saying that when someone asked him, "how are you successful in the music business?" he would say, "well, you put your head down and you keep walking until you bump into genius."
What would you consider your biggest mistake or your biggest failure, and what did you end up learning from that experience?
My biggest mistake was staying at ['80s and '90s era after hours club] Save the Robots too late.
Tell me more about when you were launching 300; what were some of the things that you wanted to make sure you were doing differently this time around from any of the other positions or labels or companies you had worked with?
Discipline! Discipline. Discipline.
In what sense? In every sense?
In all senses. But primarily, discipline not to get caught in the noise, but still get caught in the music.
300 has so many different kinds of artists -- hip-hop, rock, electronic, R&B. When you're scouting new talent, what do you look for? Is it all instinctual?
So, we're always looking for an artist that when they walk in the room, they change the molecules of that room. And that goes to the discipline. But we are a modern music business that also has to recognize data and the will of the people. We have two masters: the fans and our mission statement.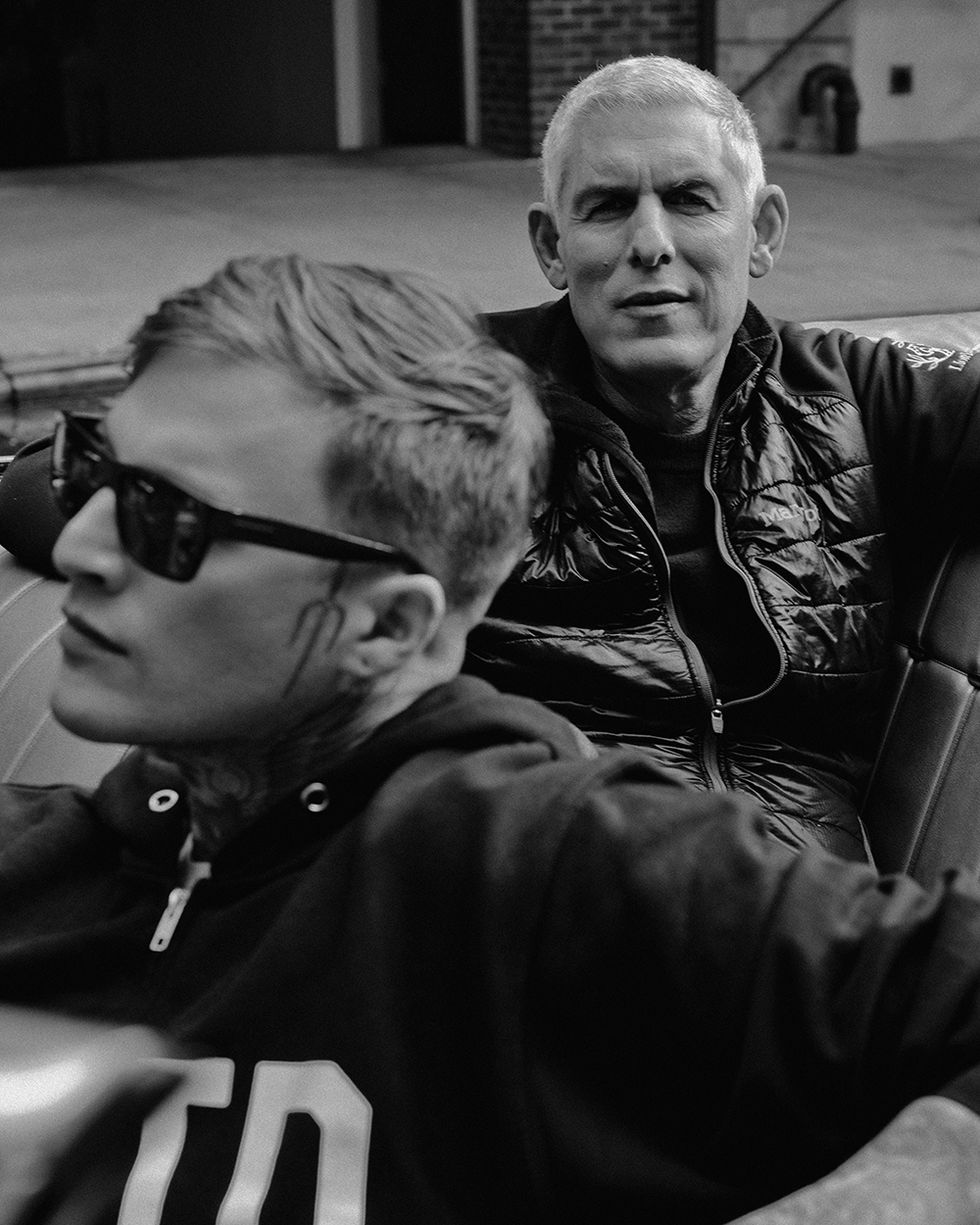 Lyor Cohen and Highly Suspect's Johnny Stevens. This and splash photo by Ryan Pfluger
When you look back on your career so far, is there one moment or one person that you think launched everything?
I rarely look back. I'm not interested in history at all -- I'm only interested in how I can contribute today -- but there are three significant moments in my career. During one period, I signed every bad act there was to sign and that didn't sell anything. The artist that saved me from going under was Redman. The next [significant moment] was when I was being tossed out of Sony, I had this little record called "Regulate" by Warren G that ended up selling 4 million albums and gave PolyGram the confidence in Def Jam. And the last one was when I invented December. Before my releases, the traditional record industry refused to release big albums in December because the retailers were too busy stocking and unstocking. I broke that pattern by dropping Ja Rule, Jay Z, DMX and Method Man all in the same month.
What do you do to relax and clear your head after you've had a busy day?
I don't feel like I need to relax, because I'm so fully passionate about the process of building a modern-day music-based media business. I love bumping into the people that I work alongside, and I adore the challenges and the creativity that my artists offer me every day. So I don't feel [anxious], or tense or a need to relax. But I love being a parent. I love hiking, sailing, golfing and reading. I read primarily nonfiction, historical characters…
Are you reading anything good right now?
I'm adoring reading Hamilton. My last book before that was Stalin. And I'm just so fascinated by different periods of time. Before that, it was the Medici family.
What were you like as a child?
I'm from the first batch of [kids from the] Ritalin case study. It's very fashionable now, ADHD or whatever they call it, but I was part of that original batch of Ritalin kids. I've always, always, always, as far as I can remember in time, had a profound understanding of time. And I remember that being an incredibly advanced and mature thing that I had and the other little kids didn't. I understood that we have a beginning, middle and an end. And I'm never not on time; if I'm not on time, I will let people know. The essence of who I am is that I want to know what lies beneath. I have zero interest in seeing or understanding what everybody's able to see. I'm not interested in the veneer, but I'm interested in why and how come.
What would you consider your greatest achievement, or the thing that makes you proudest?
Well, my son is about to graduate college, and I can't think of a more proud moment. Also, my daughter was born deaf, profoundly deaf, so that means the deafest of the deaf. There's no one deafer than her, and you could actually play with those words, as in D-E-F, because that's what I call her, the deffest of the def. And I found a miracle device called the cochlear implant, and now she's an auditory girl, so that was a really remarkable thing that I wake up to every day -- I'm just blown away that I wake up to a miracle every day. So it's between those two things and my capacity to love -- I'm in love with [my fiancée] Xin Li.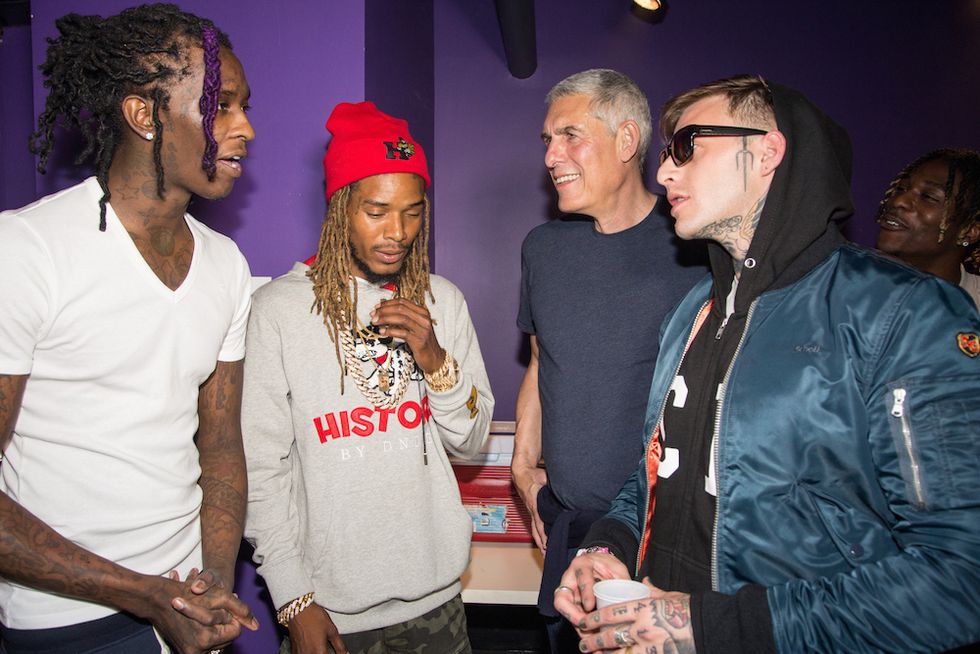 Lyor Cohen with (from left) 300 Artists Young Thug, Fetty Wap and Highly Suspect's Johnny Stevens. Photo by Jena Cumbo
What has been your biggest career obstacle?
I don't see obstacles.
Have you always been like that, or is that sort of a philosophy that developed over time?
No, no. I don't see obstacles.
Since your interview is part of our 'Sexy Issue,' what qualities do you find sexiest in a person, or in a romantic partner?
Their laugh, confidence and outlook on the world.
Have you ever been driven to succeed by the desire to impress a potential romantic partner?
No, I never pull [that card] ... that card is not interesting because if I go to a club and they don't recognize me, I'll stand at the back of the line. I'm never going to say, "hey, my name is Lyor Cohen." Even if I'm throwing the party.
How is it that you don't worry about those kinds of things or don't have an ego about that?
I think I'm so souped up that I don't need any additional reminders or acknowledgement. I am so personally souped up that if someone recognizes me, cool; if someone doesn't, cool…
What do you think is the sexiest quality about yourself?
The fact that it doesn't take long to see the truthfulness of who I am.
You're authentic.
Thank you -- that's a good word. Authenticity.
Behind-the-scenes with Lyor Cohen, video by Dre Films

Grooming: Emily Amick
Location: Cooper Classic Cars
You May Also Like