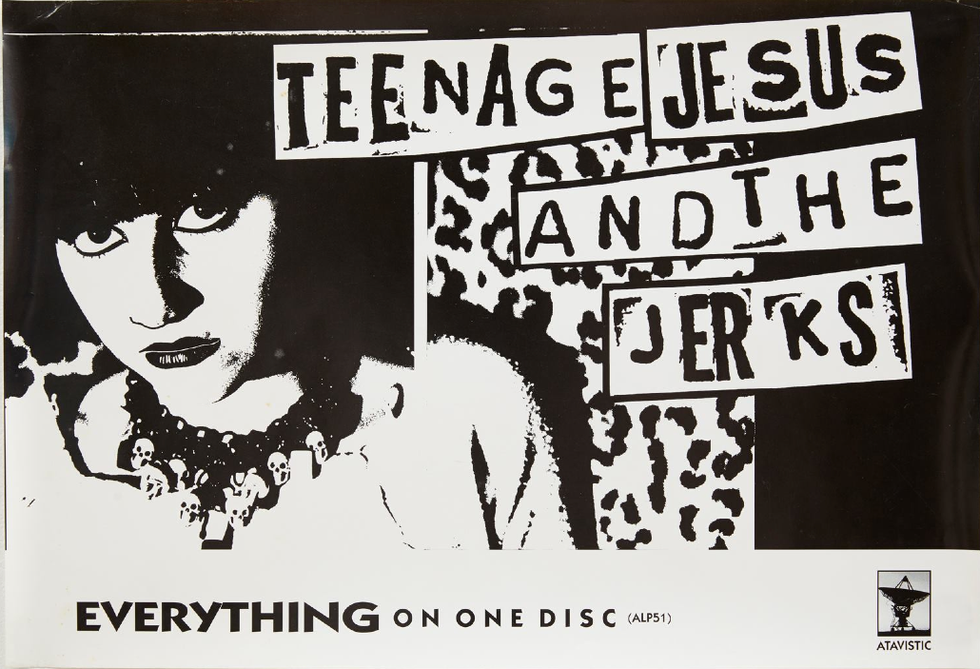 Lydia Lunch
is the original riot grrrl. Knowing how cantankerous and particular she can be, I expect she'll find fault with the reference but it's close enough to give you an idea of the force that once was, and continues to be, Lydia Lunch. After some 30 years in the game, the singer, poet and no wave icon is still feeling it. "I have a calling," she says over a recent lunch we shared; "a responsibility for people who could not speak for themselves. I feel as I always felt from young age -- I'm going to be the lone woman on a mountain with a bullhorn, a rifle and a dog. If the dog is the only one listening, that's fine."
The dog isn't the only one listening. As the years go by, her critique of the patriarchy and its devastating impact on culture and society has become part of the feminine discourse, disseminated widely on social media channels everywhere and embraced by a new generation of millennial feminists. It wasn't always so.
Landing like an asteroid from planet Rochester, she imposed her will on New York's '80s downtown scene with primal performance pieces, boundary-breaking Super 8 films like
Fingered
(directed by Richard Kern) and her seminal, radical no-wave band Teenage Jesus and the Jerks, leaving an indelible impression on anyone brave enough to stand in her line of fire.
It was a small community when Teenage Jesus and the Jerks started popping up on bills at CBGB in the late '70s, and Lunch played before audiences consisting of friends and fellow downtown pilgrims who were blown away by the ferociousness of her presence. Many years and residences later, the nomadic Lunch has returned with a show surveying the sweep of her career from her days as a teenage runaway and instigator of no wave to the present. The exhibition
So Real It Hurts
 (opening May 8 at Howl Happening) includes ephemera, photos, posters, letters and materials from some of her most well-known collaborators in music, spoken word and literature; the photographic series 
The War Is Never Over
; the X-rated, scene-of-the-crime installation 
You Are Not Safe In Your Own Home
; and performances and live events by Lunch and friends. (See the complete schedule
here
.)
Times have changed, but Lunch continues to speak out, her post-punk, no wave sensibility as sharp as when she first alighted on the isle of Manhattan at 16 with an ax to grind and an unhealthy attraction to the New York Dolls. "The music was trashy and here were hot guys dressing like women," said Lunch. "What could be better? What else could I do? Stay in Rochester and hang out with Hell's Angels for the rest of my life?"
Her point of view -- once very personal -- has become more universal, an all-out assault on the patriarchal industrial complex. "It's not men that are the enemy," she clarifies. "It's the system that's run by men. It's never been men. It's always men in positions of power. I used to be called 'The Great Exaggerator.' Can't exaggerate reality."
She describes herself as a "faggot truck driver in a Mae West body" for whom "pleasure is the ultimate rebellion. It is the only thing. We have to take back pleasure. Because this campaign of terror and fear and homicidal genocide the world over kills our capacity for pleasure by numbing us. And to reclaim that as women is very important to me."
"You mean, like Hillary," I ask as we pick at our quiche.
"Don't let those boobs fool you. Those are her balls. She's a war whore like all the others."
And other outspoken musicians still making noise today, like Courtney Love?
"Don't blame me for her crimes," she says.
I add Miley Cyrus, Rihanna and Madonna to the mix. "What's shocking to me is this," says Lunch. "Middle-aged women in leotards, you know how bad those smell, running around without their pants, playing really fucking bad music which they didn't write, are basically playing pop-princess-whore to steal the corporate big-daddy. This is not a step forward for women. This is grotesquerie. It's got us nowhere. It turns 12-years-olds into copycats. So the mainstream offers me nothing and I don't even pay attention."
Still, Lunch says she's mellowed over the years. She says she finds peace in making art. "No matter how heavy everything is, I always have this ridiculously positive side of me. I may be negative about the global situation, but on a one-to-one level I've been the cattle prod. I always consider collaboration and art the sacred place where no bullshit can exist. When you're in the mainstream corporate bullshit, you've got to be able to suck and provide the bullshit. It was never an option. I can't follow that program. I want to be known as someone who promotes the encouragement of the individual to drop their fucking traumas, to get over their fears, to relentlessly be seeking something better."
Lunch views her controversial spoken-word work, some of which accused her father of sexual abuse, and her transgressive films with Kern, as a sort of public psychotherapy. "It was all based on real life. I knew I wasn't alone and therefore I wasn't embarrassed that my first spoken-word piece was called '
Daddy Dearest
.' We did those films because I'm not the only one who's got the sickness."   
More than anything, Lunch says promoting positivity and self-acceptance is her mission as an artist. "All the shameful things I've done, I never felt shame. I feel like I'm not doing this only for myself. I'm doing this for other people who are also suffering. We can and must feel better. Contrarian, confrontational... at the end, I always had a bizarre positivity because its my ultimate rebellion. It's what I want to give to anybody I spend five minutes with."
You May Also Like