The internet has become not only ubiquitous, but responsible for the ways we collectively identify and build our public image. To many a netizen, the online experience is so omnipresent that the words we have chosen to describe separating from it, or taking time away from it, allude to cutting off a toxic, unhealthy habit.
In 2013, the term "digital detox" was officially added to the Oxford English Dictionary, and defines our ways of unplugging from electronic devices to increase social interactions in the physical world. The word "detox" implies the need to completely cut off all forms of digital consumption — that the only way to counter harmful media is by completely removing ourselves from it.
What if, instead of counteracting unhealthy digital habits with stopping exposure altogether, we attempted to consume healthier kinds of media? The founders of New York's Luxury Escapism: The Oddly Satisfying Spa believe that problems caused by screens can also be solved using screens.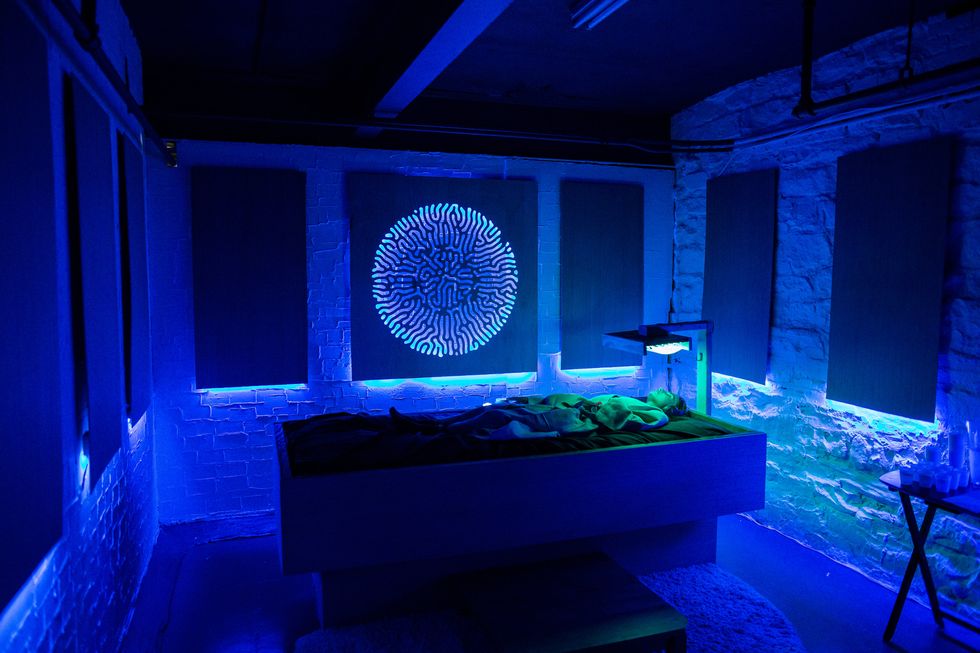 At the spa, tucked away on Dumbo's waterfront, guests are introduced to meditative experiences using technology to stimulate the senses. Staff members are available for questions, but until a group sound spa experience at the end of the treatment, guests are unguided and encouraged to use the space as they please. Each station offers a variety of ASMR triggers with virtual reality headsets. Strobe lights, hammocks and a water bed are also available.
Luxury Escapism immediately offers a cup of hot tea, with plush slippers and robes. Whispering is required and cellphones are prohibited. Staff members guide guests into what feels like a playground for adults, with various tents, a rock garden and mood lighting. Each station is equipped with its own site-specific VR goggles; ones in a hammock take you on a soothing forest river cruise, while another station's emulated a psychedelic '60s flower garden.
The spa's water bed is fitted with soundproof headphones underneath an overhead light screen. A dial allows you to amp up the light display's intensity, which in turn syncs up to the audio experience and the bed's vibrations. A similar rush of water is experienced in a group sound spa, where you're completely immersed in a pitch-black surround sound room with branches cracking and downpours of rain. If done correctly, Luxury Escapism should feel like a week's worth of rest and relaxation.
PAPER sat down with Luxury Escapism Co-Founder Tyler Pridgen to discuss the space's inspiration, virtual reality and seeking comfort in the uncommon. For more information, visit luxuryescapism.com.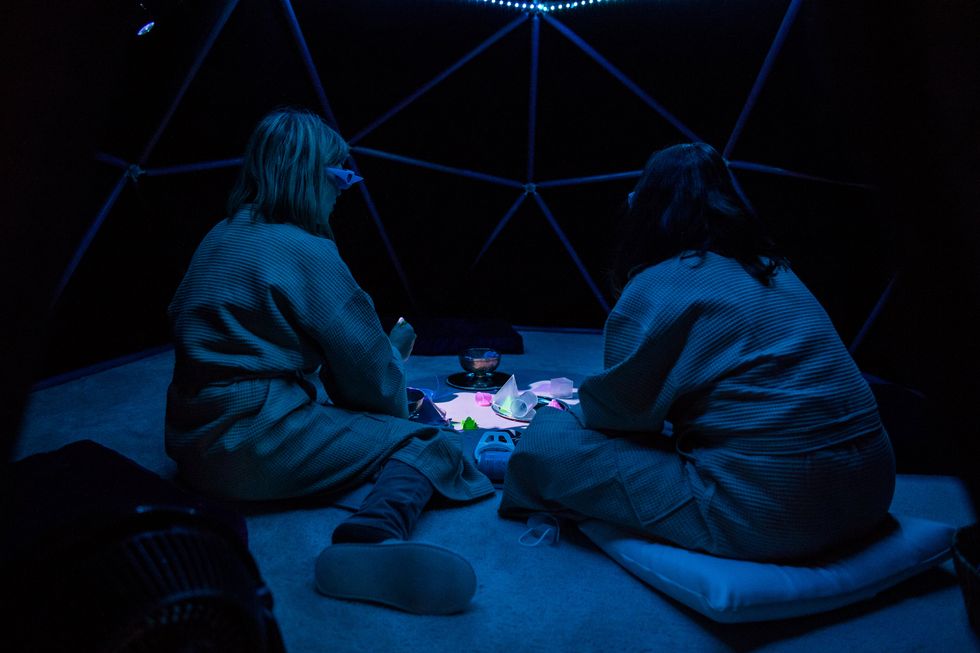 What made you want to start your own business?
Our team wanted to create something that we had true creative control over, so we decided to start a company that would allow us to drive a very forward-thinking vision without risk of being watered down. We figure that the first few years of any business will be a challenge, but it will all pay off as we continue to grow and find our voice as a company and collective.
Where did the idea for Luxury Escapism come from?
The idea was initially born of frustration with how virtual reality and immersive technology was being showcased — namely at film festivals with massive lines, hectic atmospheres and very serious attitudes. I wanted to create an immersive technology showcase that felt cozy, friendly and low-pressure. I also didn't want the experience to be all about virtual reality, but rather a mixture of physical and digital interaction. I think everything should be approached with a playful sense of humor, so adding a silly wellness and internet culture angle was the next step. I remember I was dancing with my thoughts in Berghain a few days after New Years in 2018 when it all came together.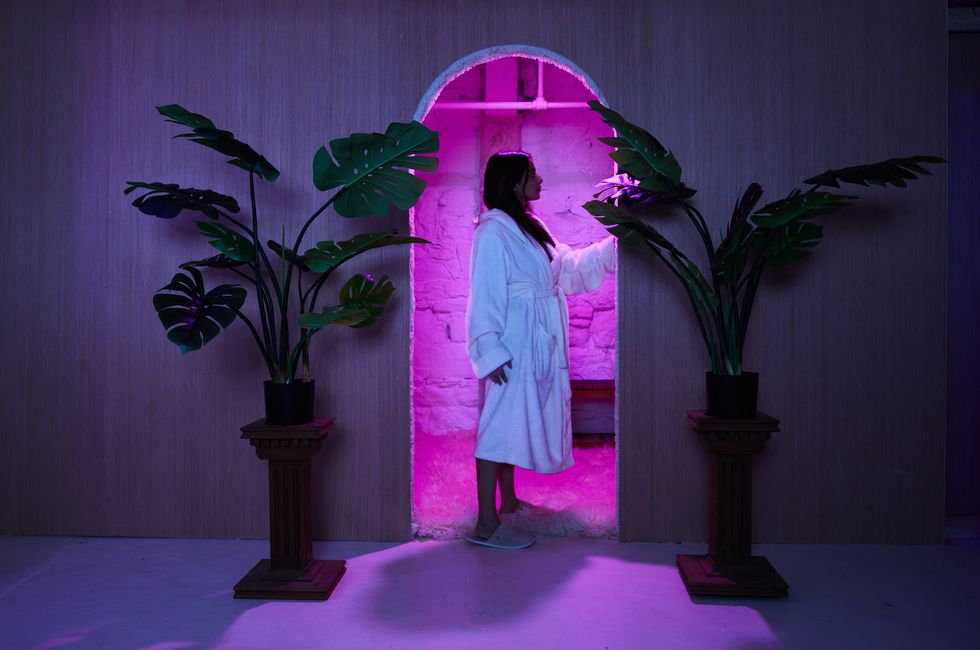 What made you decide on that name?
The name Luxury Escapism is obviously a bit tongue in cheek and has a lot of meanings. I wanted to play on the idea of the digital world as an escape, but more mental so make it escapism. I wanted to play with the idea of wellness being inaccessible, so make it luxury. Anyways, everyone knows that experiences are the new luxury, don't you read?
On a semantic level, I think "escapism" is a very fraught term right now — one that has negative connotations of someone who can't exist in the real world and turns to drugs or alcohol. In reality, everyone practices escapism in one form or another. Think of the last time you got caught up in a good book and lost track of time and space — sleeping, partying, superhero movies, hot yoga — I can think of a million examples. Escapism should be recontextualized, and active imaginations should be celebrated.
"Escapism should be recontextualized, and active imaginations should be celebrated."
You have a background in production, what motivated you to make this move?
I've been producing immersive technology projects for the past four or five years, mostly for clients, but I've produced and directed countless forms of media and events throughout my life since high school even. My partner David has been developing and directing his own virtual reality and augmented reality pieces for even longer than I have. Before that he worked for some of the top VFX and 3D animation companies in the world, so he really has an illustrious career in the creative tech sphere. We both felt that developing a larger brand would allow us to create the projects that we felt passionate about.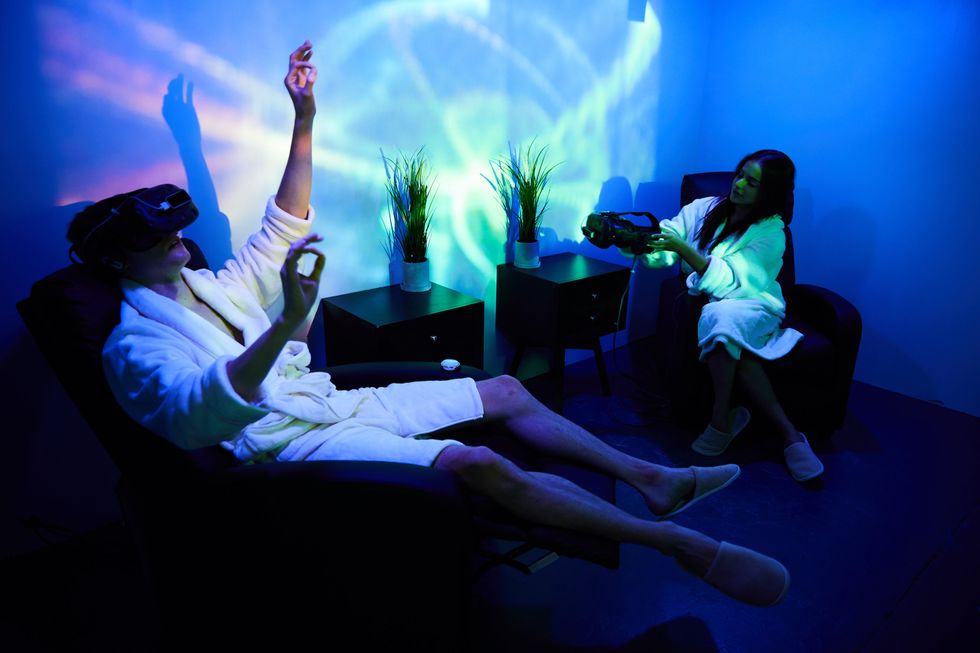 How did you design the space?
The space is designed to be cozy, charming, disarming and imaginative — like you're visiting your wacky friend's basement with all the coolest new gadgets and toys — but you're an adult now so make it about self-care. I think all of us are nostalgic for those simple, exploratory moments, and we don't get enough of them in this damn serious city. We maintained a DIY style and built our spa out of about 75% repurposed items found on craigslist. That crafty touch immediately puts guests at ease and allows them to enjoy the space with an open mind. It makes the powerful technology feel more down to earth, less cyber-futuristic.
How did you make sure to create a space that would thoroughly engage guests throughout?
That came with a lot of testing and evolution. We have the pleasure to really observe our guests and talk to them about their experience while they are in the space, so we are constantly updating little things here and there to make the experience more cohesive and engaging. The open floor plan also helps in letting one thing flow into the next, and since everything is colorful and perception-bending, it all exists within the same realm in a way. That's essentially curation.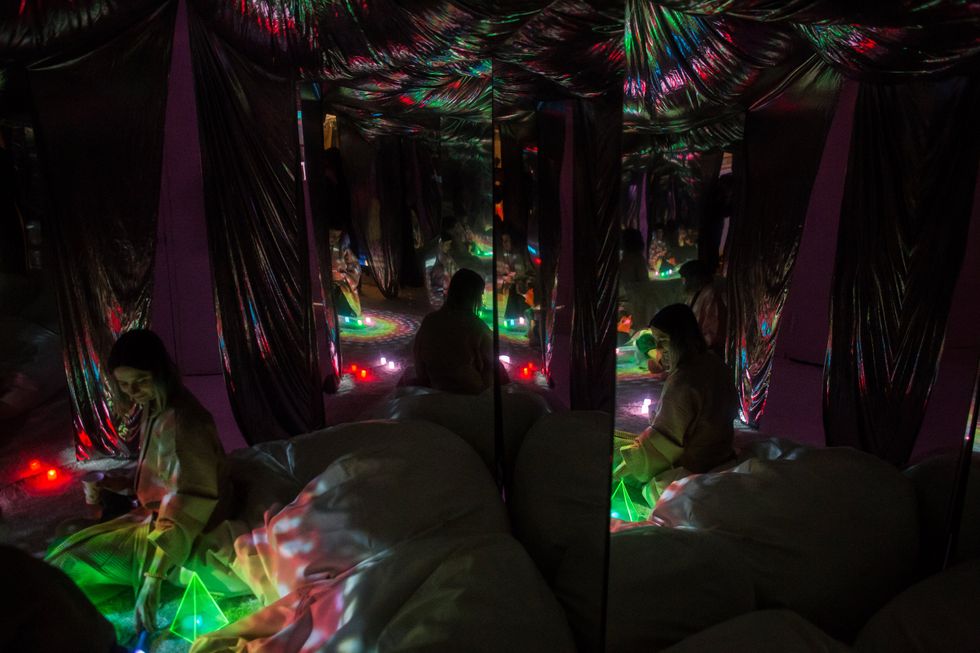 What is the background of Luxury Escapism's staff? Are they professionals in this space?
Our staff is a total mixture of people — we have artists, fashion designers, healers, grad students, V.R. enthusiasts, you name it. At the end of the day we bring on individuals who genuinely want guests to feel comfortable experiencing the spa in their own unique way. The staff represents the spirit of the space, which is all about a judgement-free exploration of comfort. Also, our staff tends to lean queer which is amazing.
"Self-care is all about actively seeking and recognizing personal comforts without fear of judgement."
How do you define self-care?
Self-care is all about actively seeking and recognizing personal comforts without fear of judgement, and it can be totally different for different people. That's natural. No matter who you are, what you like, how you think, how you see, smell, listen — whatever — your reality is valid. I think people spend a lot of their lives afraid of seeking comfort, especially in a public setting. They feel guilty about doing cute weird little things for themselves just because it feels good. Das wrong.
What's the most relaxing thing to you?
Rock climbing and crochet.
Photos courtesy of Luxury Escapism